If you're looking for an even stronger and more precise electronic die cutting machine, you might just be in the market for a Cricut Maker. The Maker opens up a new range of DIY possibilities, being able to cut delicate fabric to balsawood with power and precision. In this Cricut Maker review, we'll cover everything you need to know before you buy – including features, benefits, pros and cons, and some alternatives. Let's get started!
The Review
The Maker machine is 10x stronger than the Cricut Explore Air 2 and uses a Knife Blade crafted for thicker materials, a Rotary Blade for use on fabrics without risk of tearing or fraying, and an Adaptive Tool System that automatically controls the blade direction and cutting pressure. You can read my full comparison of the Explore Air 2 vs the Maker to learn more about the differences between these two machines. Its wide range of tools and precision and power make it one of the top die cut machines on the market. Let's get on with the Cricut Maker Review!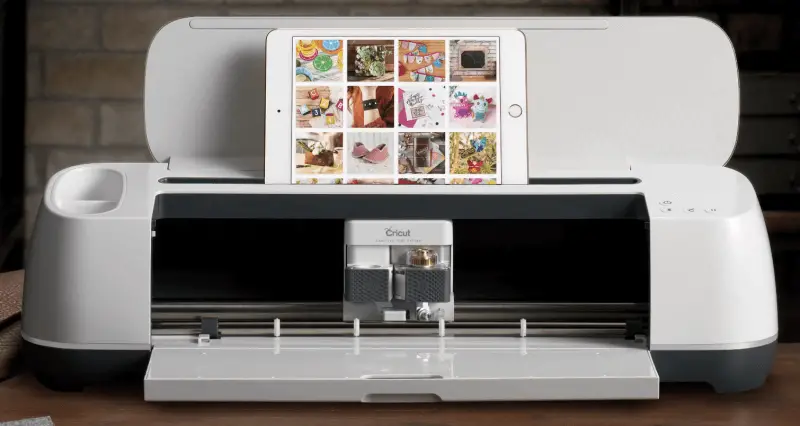 The Cricut Explore machines are well-known for their ability to cut a huge range of materials, and the Cricut Maker brings even more power and variety. The Cricut Maker can cut thin wood and has plenty of storage space for all your tools. It also comes with an enhanced sensor for print and cut.
The Cricut Maker offers some neat features and tools to make cutting easier. Let's take a tour and review the Cricut Maker machine.
Adaptive Tool System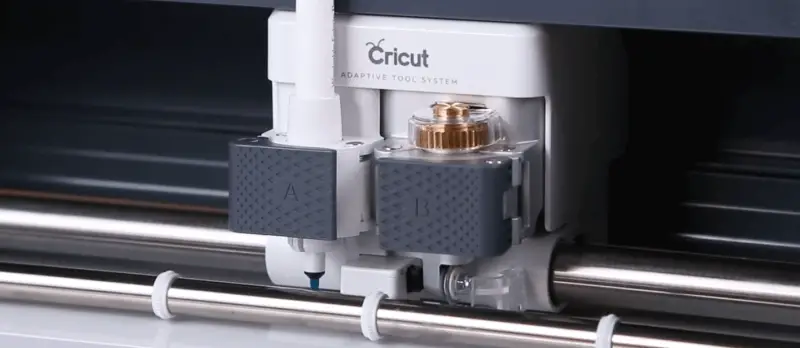 The Adaptive Tool System is the probably the most impressive feature. It adjusts the direction of the blade as well as the pressure and depth to match the material you're cutting. This works by you selecting the material in the Design Space software, which talks directly to the machine. That way, you can be sure to get the right cut every time. This also allows for the Rotary and Knife blade to have much cleaner cuts.
Two-Tool Capacity
Like the Cricut Explore Air 2 and Silhouette Cameo 4, the Maker has dual carriages. This means you can finish projects a lot faster and easier compared to machines that have only one carriage. Single carriage machines allowed for using only one tool at once, which meant you had to stop the machine, swap tools, and resume again. Not anymore with dual carriages. You can score or draw projects, then cut them after all in one go.
The first tool compartment, labeled 'A', is designed for the writing tools and scoring stylus. It comes with a pre-installed accessory adapter, allowing the tools to fit right in. The second compartment, labeled 'B', is for the cutting tools and scoring wheels. If you use the scoring wheel instead of the scoring stylus, you will need to stop the machine to swap tools. This is because the scoring wheels and cutting tools both use the same compartment, which will require swapping. You can still cut and score all in one go as long as you use the scoring stylus in compartment 'A'.
Fast Mode vs Normal/Precise Mode
Fast mode is a Cricut Maker setting which allows the machine to cut 2x as fast as previous Cricut machines. This is ideal for more simple shapes that don't need a lot of detail, such as hearts and stars. Keep in mind that Fast Mode is only available when cutting certain materials, which are vinyl, iron-on, and cardstock. When cutting in Fast Mode, expect some extra noise from the machine. If you find your cuts aren't as precise as you want, turn off Fast Mode and go back to using regular mode.
Docking Station

The docking system is a single slot that runs on top of the machine. It's designed to hold your tablet or phone right inside the Maker. This allows you to easily see your design while you're cutting and help conserve space. It's also quite handy if you are watching video tutorials or want to watch a movie while you wait for your job to complete. The cool thing is that is that the Maker also comes with a charging port, so you never have to worry about draining your battery.
Extra Storage Space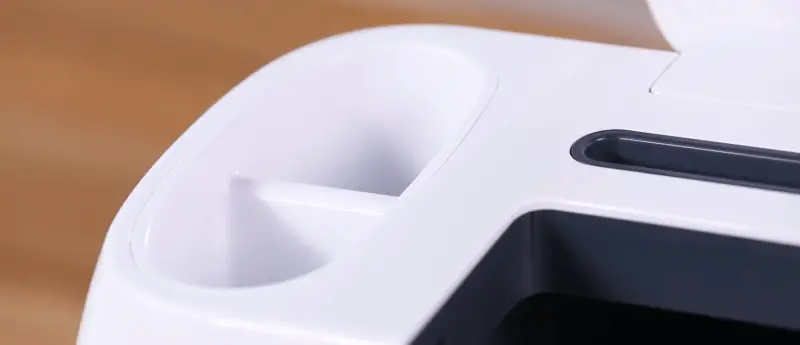 The Maker has a surprising amount of storage space – more than what meets the eye. The most accessible storage compartments are the storage pockets on the side of the machine. There are two pockets, both of which are padded with silicone rubber to protect your blades and prevent them from chipping.
The larger pocket on top is the deep pocket. This is great for holding pens and tools such as pens, styluses, and picks. The smaller pocket on the bottom is more shallow and is great for storing drive housings.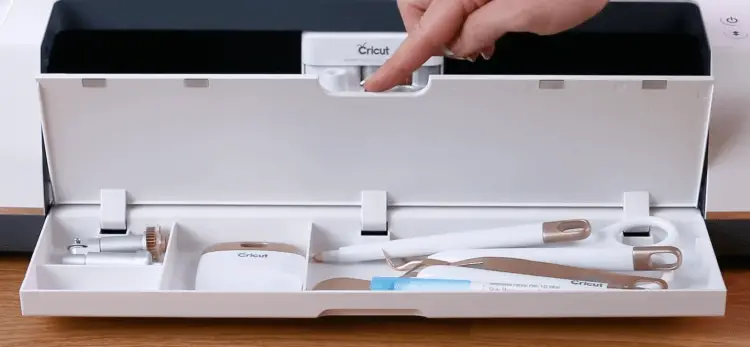 Another storage compartment is found inside the front lid. There are 3 main sections. The largest section is great for Cricut Tools, such as spatulas and scissors. The middle compartment fits the scrapper perfectly, and the last section holds gear housings. Keep them flat side down to make them fit nicely. The smallest compartment in the bottom left even comes with an attached magnet to hold your blades, preventing them from tumbling around.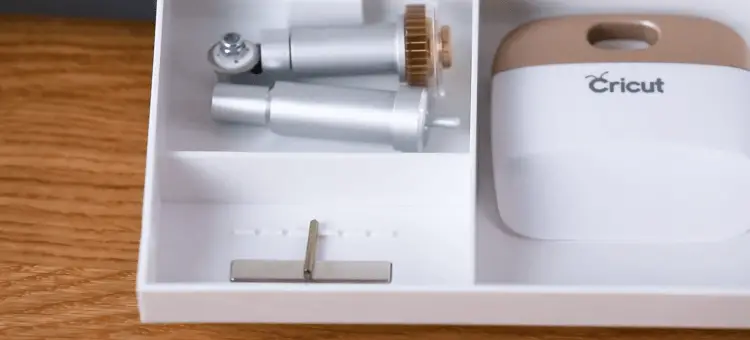 Print then Cut
The Cricut Maker comes with an upgraded Print then Cut feature. This feature allows you to print images using your printer, then cut them with the Maker. The Maker comes with an enhanced sensor. Unlike the Cricut Explore machines, the Maker now allows you to cut on colored and patterned cardstock.
Wireless Convenience
The Maker comes with Bluetooth technology so that you can connect to your computer or a mobile device without having to mess around with extra wires. This also enables you to upload your own designs easily, even on the go. For example, you could download images to your mobile device while traveling and upload them to the machine when you get back.
Tools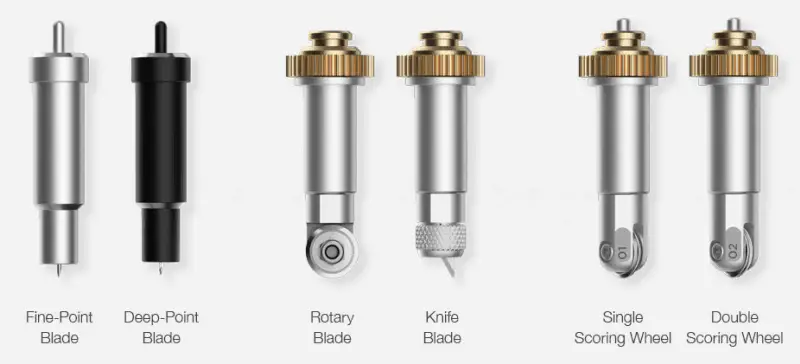 There are several tools that can be used with the Cricut Maker. Cricut sometimes even comes out with new tools, expanding the capabilities of your existing machine.
These tools include the Rotary Blade, Knife Blade, Single Scoring Wheel, Double Scoring wheel, and Fine and Deep point blades.
Rotary Blade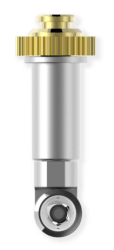 One of the neatest tools for the Maker is the Rotary Bade. The Rotary Blade works with almost any fabric, including delicate fabrics like tissue paper and less dense material such as cork. You can even cut multiple layers of light cotton using this blade, up to 3 layers.
Keep in mind that this blade should be used with designs 3/4″ or larger. Designs that are smaller than this can cause the blade to scrape during tiny turns which can gouge the mat and dull the blade quicker.
The Rotary Blade is designed to cut fabric using the FabricGrip mat. The FabricGrip is made from a stronger material that can withstand the pressure of the machine while it cuts.
Knife Blade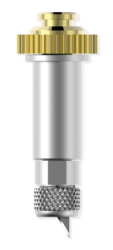 The Knife Blade is another great tool only compatible with the Cricut Maker. It is designed to cut through thicker materials up to 2.4mm (3/32″), such as balsa wood, matboard, and chipboard.
Materials that the Cricut Knife Blade can cut are:
Balsa wood (1/32″, 1/16″, 3/32″)
Basswood (1/32″, 1/16″)
Cricut Chipboard
Craft Foam (1.5mm, 2mm, 3mm)
Leather (Garment Leather, Soft 2-3 oz., Garment Leather, Soft 4-5 oz., Tooling Calf Leather, Stiff 2-3 oz., Tooling Calf Leather, Stiff 4-5 oz., Tooling Calf Leather, Stiff 6-7 oz.)
Mat board (2 ply, 4 ply)
One tip when cutting thicker materials is to be sure to move the white rings on the roller bar to the far side. These roller bars are designed to hold materials in place, but for thicker materials, they aren't needed and can leave marks.
The Knife Blade is best used with the StrongGrip mat. Similar to the Rotary Blade, cutting shapes smaller than 3/4″ is not recommended. Cutting width should also be no less thick than a pencil, or else it runs the risk of breaking apart during the cutting process.
Scoring Tool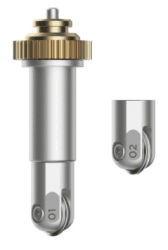 The Scoring Tool is another nifty tool designed to create creases. When folding by hand, it's sometimes difficult to get straight folds. And when folding material such as foil, cracks can often appear. The Scoring tool fixes these issues by making straight, clean folds.
The main advantage to use the Scoring Tool over the Scoring Stylus is the amount of pressure that can be applied. The Scoring Tool applies 10x more pressure than the Scoring Stylus. This makes folding quite easy, especially on harder materials.
There are two scoring wheels, the Single Scoring Wheel, and the Double Scoring wheel. These two wheels are labeled 01 and 02 respectively. The Single Scoring Wheel is best for regular paper and regular cardstock. The Double Scoring Wheel creates two parallel score lines. This is ideal for thicker materials such as poster board and cardboard.
The Scoring Wheels can be used on any mat. The mat you use will depend on the material. When you are using the Scoring Wheel, it's best to have "pretty side" down.
Fine Point Blades
Aside from the blades used in the Adaptive Tool System, there are even more blades that can be used with the Maker. They are manufactured using premium german carbide steel, making them durable and precise. They are now color-coated to help distinguish them:
Premium Fine-Point: Gold
Deep point: Black
Bonded Fabric: Pink
These blades and blade housings can also be used with the Cricut Explore machines.
Premium Fine-Point Blade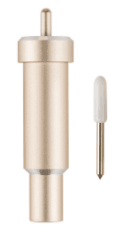 The Premium Fine-Point blade is a "general purpose" blade to cut material that is thin to medium weight. Such materials would include paper, cardstock, posterboard and vinyl, iron-on.
Deep Point Blade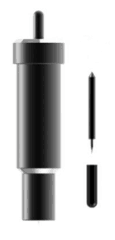 The Deep Point or Deep Cut Blade is designed to cut thicker materials. It's made from a more durable steel and has a blade angle of 45 degrees versus the normal 60-degree blade angle.
Suggested cutting materials for this blade include:
Magnet
Chipboard
Stamp material
Thick cardstock
Stiffened felt
Foam sheets
Cardboard
And some fabrics
Bonded-Fabric Blade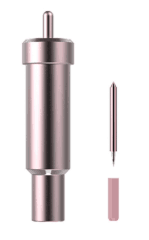 The Bonded-Frabic blade may seem like a different blade, but it's really the same type of blade as the Premium Fine-Point Blade! Cricut made this blade a different color to be used only for fabric. By having a dedicated blade only for fabric, you can have a blade that lasts longer and remains sharp when you need it. These blades can also fit inside the Premium Fine-Point Blade housing.
Cricut Explore Comparison
The Cricut Maker is similar to the Cricut Explore machines but isn't part of the Cricut Explore line. One of the differences between the Cricut Maker and Cricut Explore is that the Maker does not have the Smart Dial. The Smart Dial made it easy to select the right settings on the Explore machines, which has been replaced by the Adaptive Tool System, automatically adjusting pressure and depth to the material being cut. The Cricut Maker is also 10 times stronger than the Cricut Explore, which is quite impressive. See the chart below for differences between the Cricut Maker and Cricut Explore Air 2 or read my full article:
| | | |
| --- | --- | --- |
| | | |
| | | |
| | | |
| | | |
| | | |
| | | |
| | | |
| | | |
| | | |
| | | |
| | | |
| | | |
| | | |
| | | |
| | | |
| | | |
| | | |
| | | |
| | | |
| | | |
| | | |
Software
The Cricut Machine uses the online Design Space software, which is compatible with Windows and Mac computers. It is now a downloadable program but you still need an internet connection to use the full suite of features. There is also an app you can download for iOS which can be used offline. As for Android devices, the app is in beta and is only available in the US.
Cricut Design Space is free to use and you can even use it prior to buying a Cricut machine if you want to get a feel for the software. There a subscription available from Cricut called Cricut Access, it's a monthly or yearly cost that gives you access to a ton of designs and fonts.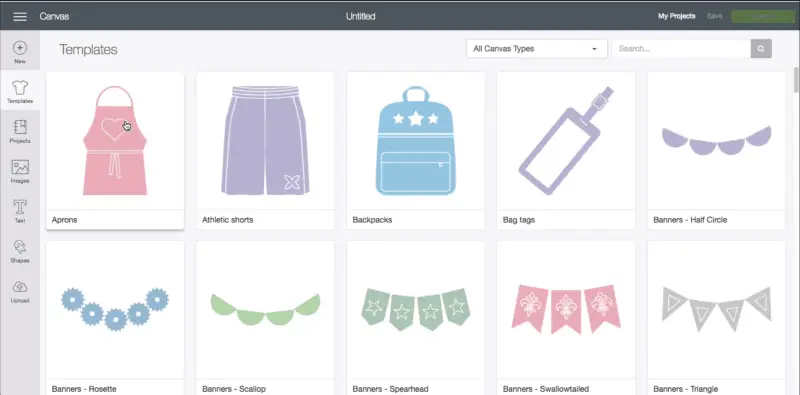 The software is easy enough for beginners to learn and use, yet powerful enough to allow more advanced users to feel the freedom of using their own designs. Design Space comes fully loaded with Offline Mode (iOS), Print Then Cut, and SnapMat features. You can also import .JPG, .BMP, .PNG, .GIF, .SVG, and .DXF files for free, then convert them into cuttable shapes. This means you can use other design software like Photoshop or Illustrator to create images or find images online to convert.
The Maker also comes with 50 free ready-to-make projects to help you get started right away. These not only help you get started with the Cricut Maker but allow you to explore new ideas that you may not have thought of before.
Maintenance, Warranty, and Support
The Maker comes with a 1-year warranty, starting at the date of purchase. The warranty is only valid from authorized resellers, which does include Amazon and the Cricut website if you are ordering online.
Aside from switching out the cutting blades, cutting mats and other tools every so often, not much maintenance is required on the Cricut Maker. You will though want to make sure the machine is kept free from debris after cutting.
Cricut offers a huge range of tutorial videos on their site. You can watch introductory videos explaining how to use each machine, get guidance on using new tools, and follow along with specific projects. Their How-To videos offer tips and tricks to perform specific actions, helping you master skills simple and advanced.
Where Can I Buy the Cricut Maker?
If you want to find the best price on the Cricut Maker, you'll need to shop around. The two best places to buy the Cricut Maker are from Amazon and from the official Cricut Website, which often has sales. Clicks the links below to find the best deals.
Overall Review
Overall, the Cricut Maker die cut machine offers unprecedented cutting power, flexibility, and capability. If you are a serious craft hobbyist, you will benefit not only from the high-quality individual tools that are compatible with the Maker but from the increased power in using them. Because of the ability to switch easily between tools, use two tools at once and import a huge range of design files, even the most advanced crafters find the Maker fits their needs.