This post contains affiliate links.
Two of the most popular cutting machines on the market right now are the Cricut Maker and Silhouette Cameo 4. The Cricut Maker is quite popular and has been out for a good while, and then just recently, the Silhouette Cameo 4 was released (and yes, you can order the Cameo 4 here). Both of these machines are quite popular. They are some of the strongest machines and come with similar toolsets. But which is really better for you, the Silhouette Cameo 4 or Cricut Maker? Let's compare.
UPDATE: The best and fastest place to order the Cameo 4 right now is from Swing Design. Check out the Cameo 4 on Swing Design.
It was originally announced that preorders were being taken for the Cameo 4 and now it's finally out! Let's compare the differences between the Cameo 4 and Cricut Maker machines.
Silhouette Cameo 4 Comparison

Silhouette has always been one of the most popular brands of electronic cutting machines. And the Cameo 4 is certainly a big step up from their previous machines. We even did a full review of the Cameo 4 here.
Cutting Force
The first notable difference between the Cameo 4 and the Cricut Maker is the downward cutting force. The Silhouette machines have been known to have the least about of cutting power of all the cutting machines, which means we were surprised to learn the Cameo 4 has a whopping 5000 grams of cutting force, 1000 more grams than the Maker machine! If you're looking for the most power, then the Cameo 4 is your best bet.
Machine Tools
And like the Cricut Maker, with more power, comes more tools. Tools like the Silhouette Rotary Blade for cutting fabric and the Silhouette Kraft Blade for cutting thicker materials will all be available for the Silhouette Cameo 4.
This means the Cameo 4 Silhouette should be able to cut everything the Maker can and more with its higher cutting force. Welcome leather, matboard, and balsawood!
Other Features
And when you're comparing the Cameo 4 to the previous Cameo 3 machine, the Cameo 4 will come with a lot of the same features such as dual tool holders, print and cut, and the ability to cut up to 10 feet long.
What's also pretty neat is that the Cameo 4 comes with a built-in feed roller, something that was only available when purchased separately. There is even a cross cutter in the back of the machine for cutting vinyl. These features the Cricut Maker doesn't have, which makes the Cameo 4 better for cutting big vinyl projects.
Silhouette Studio Designer Software
When it comes to using the native design software for the Cameo 4, there is a little bit more of a learning curve compared to Cricut's Design Space. The Studio Designer software allows users to create designs from scratch and import their own designs or purchase them. To be able to import SVG files, however, it does require a $50 one time purchase.
The Silhouette Studio software can only be used with a computer. It also needs to be a Windows or a Mac computer. There was once a Silhouette Studio App but that was discontinued though Silhouette has mentioned they are working on a new app.
Cameo 4 Price
When it comes to price, there is a big difference too. I would have expected the Cameo 4 to cost the same or even more than the Maker, but it's actually less. The Cameo 4 retails for $299. That's $100 cheaper than the Maker.
The best place to get the Cameo 4 is from Swing Design. Head over there now and check it out.
Cricut Maker Comparison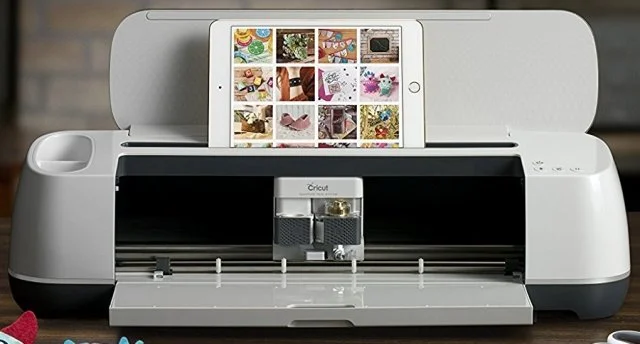 One of our top favorite machines for a while has been the Cricut Maker (see our full Maker review) and since the Cameo 4 is still new, the Cricut Maker continues to be our top pick (for now). It works wonders for cutting anything from vinyl to fabric to balsawood.
Cutting Force
With 4000 grams of force, the Cricut Maker was pretty much uncontested for a while until the Cameo 4. There were other machines on the market with the same cutting force, such as the KNK Force, but unfortunately, those machines have been discontinued.
If you're looking to cut thicker materials, a 1000 extra grams on the Cameo 4 could make a big difference depending on what you are cutting.
Machine Tools
As of now, The Maker does have more tools that can be used with the machine and new ones are always being released. Here are some tools you can use with the Cricut Maker:
Knife Blade
Rotary Blade
Single and Double Scoring Wheel
Perforation Blade
Wavy Blade
Debossing Tip
Engraving Tip
That's a lot more tools than the Silhouette. It's entirely possible that Silhouette will come out with future tools for the Silhouette Cameo, but it's not certain.
Cricut Design Space Software
One area that Cricut excels at is making user-friendly products, and their software is no exception.
The Cricut Design Software is pretty simple to use and it's free. While it's not as powerful as Silhouette's Studio Designer software for creating designs from scratch, Design Space allows you to easily import SVG files free. Being able to import SVG in Studio Designer requires a $50 upgrade.
There are some drawbacks for some. With the Maker, the Cricut Design Space must be used online. Design Space has now become a downloadable program from Windows and Mac it still needs an internet connection when you initially start the program so you can login to your Cricut account. After that, you can disconnect from the internet if needed. Design space also has an Android App and an iOS App but they have more limited functionality.
Cricut Maker Price
The Maker is a little more expensive than some of the other die cutting machines on the market. At $400 retail, it's not as affordable as the Cameo 4, but all things considered, it's still a fair price for a great product. Fortunately, Cricut loves a sale so be sure to shop around for the best price.
Silhouette Cameo 4 vs Cricut Maker Differences
Check out the chart below for a full list of differences between these two die cutting machines:
| | | |
| --- | --- | --- |
| | | |
| | | |
| | | |
| | | |
| | | |
| | | |
| | | |
| | | |
| | | |
| | | |
| | | |
| | | |
| | | |
| | | |
| | | |
| | | |
| | | |
| | | |
| | | |
| | Silhouette Studio Designer | |
| | | |
| | | |
Which Is Better, the Cameo 4 or Cricut Maker?
We won't make a definitive decision about which machine is better. It all really depends on what you are looking for in a cutter.
If you're looking for the most cutting force, more powerful software, and a more affordable price, then the Cameo 4 will be better than the Maker.
But if you're looking for something a little more easy to use, has a more variety of tools, and don't mind spending a little more money, then perhaps the Cricut Maker will be best.