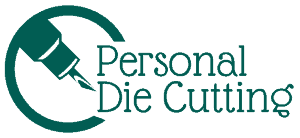 Personal Die Cutting is dedicated to providing the best information about the different die cutting machines available on the market and how to use them. We know it can be frustrating figuring out what the best machine is for you and learning about the different types of paper, vinyl, and fabrics you can use.
Our goal is to take some of the mystery out of how to set-up your machines and use them for a multitude of projects without ruining your materials or multiple cutting mats!
Our Story
Personal Die Cutting was started when Diane was trying to figure out how to use her mom's Silhouette Cameo (her mom didn't know either) back in 2015. She spent hours upon hours researching how to use it properly and what the right settings were for different materials.
After many frustrating hours and yards of wasted fabric, vinyl and paper she decided to put together everything she had learned into her own site.
That was when Personal Die Cutting was born. Now it has become the go-to site for machine reviews, how-tos and everything you need to know about different mechanical and electric die cutting machines.
Have a question and don't see it answered on our site, send us an email diane@personaldiecutting.com, we'd love to answer it for you!
Learn more about Diane on her About Me page
Our Favorite Craft Stores
Cricut – Our favorite place to buy Cricut Machines and supplies is direct from the source.
Swing Designs – The best place on the web for Silhouette Machines and supplies plus they carry supplies for other machines and materials as well.
Sizzix – Get the Big Shot and its siblings plus dies and materials direct from the company that makes them.
Find Us
YouTube – https://www.youtube.com/channel/UC81eRUoibbXg0BH3rRMj3ug
Pinterest – https://www.pinterest.com/DieCutting/
Facebook – https://www.facebook.com/PersonalDieCutting/