This post contains affiliate links.
Some people wonder if they can use their Silhouette Cameo without a computer. What about the Silhouette Studio Mobile app? Can I use a Chromebook? And do I even need to use a computer at all? This post will cover all that and how to cut with the Cameo while not connected to your computer.
Do I Need a Computer for the Silhouette Cameo?
You need a PC or Mac computer to use the Silhouette Cameo. The Silhouette Cameo connects and cuts through the Silhouette Studio software, which is not compatible with phones, tablets or Chromebooks.
I've reached out to a Silhouette Support specialist to confirm:
Our cutting machines need to connect/cut through our Silhouette Studio software, which means the device would have to be compatible with our software.
Currently, we do not have any version of our software compatible with phones, tablets, or Google Chromebooks. Although the software is compatible with any desktop or laptop that meets the following requirements:
Operating System: PC (Windows 7, Windows 8, or Windows 10) OR Mac (OS X 10.7 and higher). Chromebook is currently not supported.
Internet connection: Strongly recommended for updates and access to the Silhouette Design Store. Required to activate a license key for upgrade.
RAM: 1 GB of RAM (2 GB recommended)
Processor: 2 GHz (or faster) processor speed
Memory: 2 GB hard disk space
USB Port: USB 1.1 Port (or higher)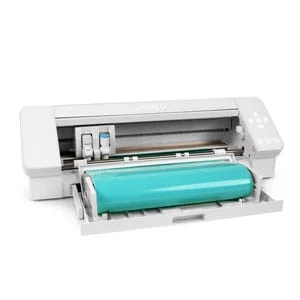 Can I Use My Silhouette with a Chromebook or Tablet?
Chromebook and tablets are not compatible with the Silhouette Cameo. To use the Silhouette Cameo, you'll need a compatible laptop or desktop. This is because Silhouette Studio is an advanced program that requires more resources than what a Chromebook or tablet can provide.
If you're shopping around for the best laptop or desktop for Silhouette, you'll want to find a machine with lots of memory and an SSHD (solid state hard drive). These drives are much faster, longer lasting, and much quieter than teh more traditional types of hard drives.
How to Use Your Silhouette Cameo Without a Computer
While you'll need a computer to use the Silhouette Cameo, there is one exception. The Cameo 2 and Cameo 3 machines come with a USB port to upload designs directly to your machine without being connected to a computer.
Update: The Cameo 4 does not have this function. It does not have an LCD to select the files on your USB stick.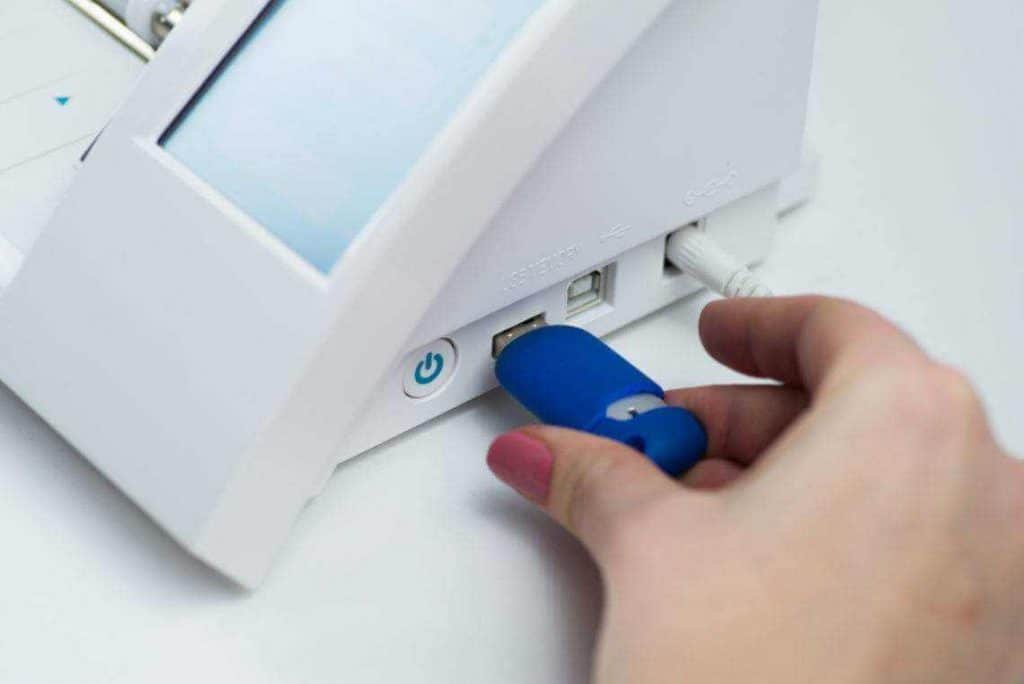 While you can cut from a USB drive using the Cameo 2 and 3, you cannot edit the design without Silhouette Studio, which does require a computer. This means you'll need to create your design first in Silhouette Studio, save it to USB, then insert the USB drive into your Cameo machine.
I hope that all made sense! Basically, The Cameo 2 and 3 machines have a spot to plug in a USB thumb drive. Once you have saved designs on the thumb drive, you will be able to operate the machine without a computer. While the machine may have built-in cut settings for thickness, speed, and blades, and line segments, it might be lacking in some features such as "double cut".
How to cut from USB drive:
Turn the Cameo machine on and insert your thumb drive into the USB port on the side of the machine.
Load your material into the Cameo.
After you load your material, a screen will appear. Choose the "Browse USB" option on the touchscreen.
Choose "Select file" and browse for your image.
Choose "Select" when your image is highlighted
Choose your cut setting and press "Start"
If you need more instructions on how to cut from USB drive with the Cameo machines, check out the Silhouette USB tutorial.
Can I Use the Silhouette Studio App?
While there was a Silhouette Studio Mobile app released at one point, it's been discontinued. Lots of users were quite disappointed with the app, which could have been one reason why it's no longer available.
But good news- Silhouette has mentioned they are working on a new seamless mobile app.
Currently our Mobile App is not available for new download. However, we are working hard to reboot and revitalize these apps to provide a more seamless experience for our users.