Note: Silhouette has discontinued the Cameo 3 and replaced it with the Cameo 4. The Cameo 4 is more powerful than the Cameo 3 and has upgraded the blade designs. Read more about the Silhouette Cameo 4 in my review.
If you are searching for a die cutting machine to cut your own custom designs, the popular Silhouette Cameo die cutter just got better. The Silhouette Cameo 3 is similar to the Silhouette Cameo 2, but has some key upgrades and new features. In this review, we will be going over everything you need to know about this electronic cutter – the pros, cons, and things you should know before you buy the Silhouette Cameo 3.
Some of the new features of the Cameo 3 include dual carriages, Bluetooth, and some upgrades to Silhouette Studio, which is powerful design software allowing users to create their own custom designs from scratch. The Cameo 3 isn't as powerful as other machines like the Cricut Explore but can cut most paper and vinyl materials just fine. Let's get started with the Silhouette Cameo 3 Review.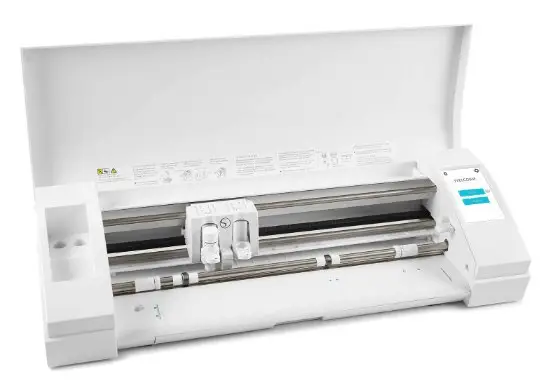 Silhouette Cameo 3 Features
The Silhouette Cameo has everything you would expect from a digital die cut machine. It has dual carriages, Bluetooth technology, a touchscreen, and the all-new Autoblade, which is exclusive to Silhouette.
Here's a quick overview of features.
Dual carriages to cut and print without stopping.
12-inch cutting and drawing width
2mm cutting clearance to cut more materials
Full-color LCD touch screen for navigation and use. This touch screen allows you to choose between languages, set the sleep time, change the color scheme, display help icons, and even view a tutorial.
PixScan™ technology compatibility
PC and Mac compatibility
Bluetooth enabled to send cut jobs wirelessly
Matless cutting capability to cut lined media up to 10 feet long

Handy on-unit cross cutter for cutting materials fed directly from a roll.

Built-in accessory storage unit to store spare blades.

Dual Carriages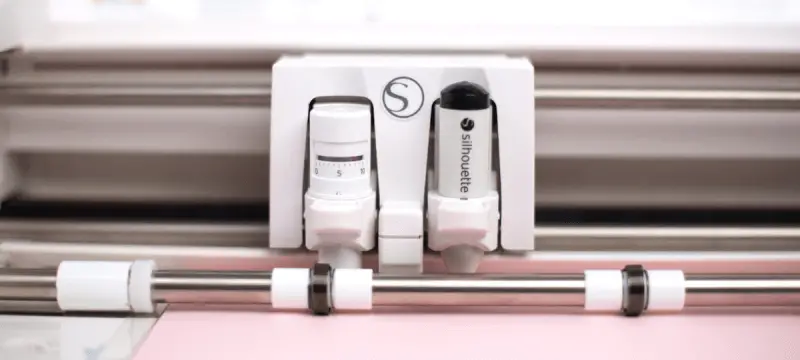 One of the biggest upgrades to the Cameo is the dual carriages. Previously, if you wanted to draw and cut a single project, you had to stop the machine, swap out the blade or pen, then start the job again. With dual carriages, there is no stopping, making things a lot easier. You can either draw with two different colored pens at the same time.
Print and Cut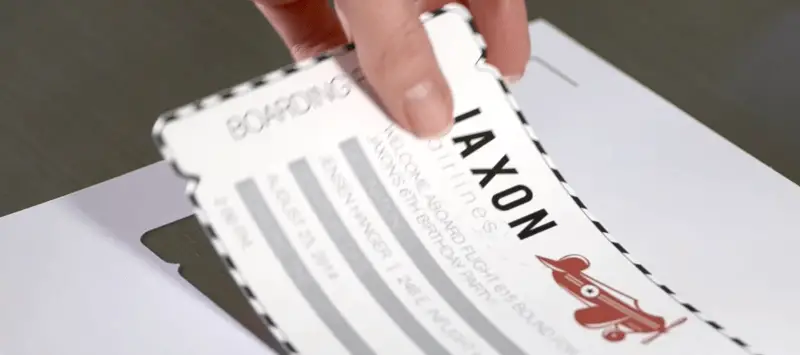 The Print and Cut feature comes standard with all the Silhouette machines. This feature allows the Cameo to cut out printed images. This is ideal if you are cutting things like stickers, labels, tags, gift cards, or invitations so you don't have to cut them out by hand. Keep in mind you will need a printer to initially print the designs.
How to use Print and Cut on the Cameo 3:
Create or upload the design you want in the Silhouette Studio software.
Tell the Silhouette Studio software to print your image using your home printer
Load the printed image into the Camo 3 and start the cutting job!
What makes it so simple is, when you go to print your image from the Studio software, it will be printed with registration marks. When the printed material is loaded into the machine, the Cameo will use a sensor to detect these marks and know exactly where to cut around the image.
PixScan Technology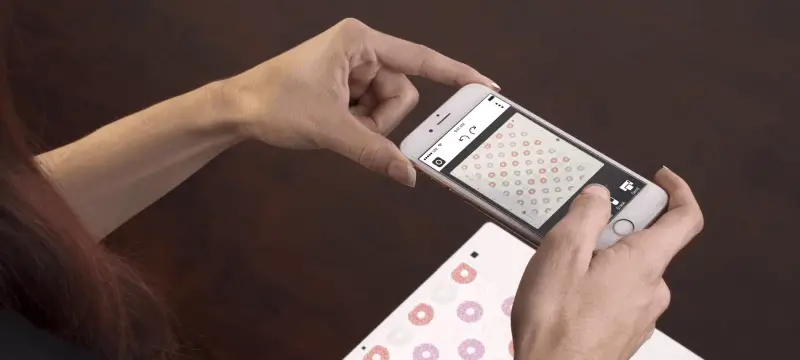 Similar to the Print and Cut feature, the Cameo 3 comes with PixScan technology. However, instead of printing the design from a printer, the image is placed on the PixScan cutting mat, where the mat itself contains the registration marks. Once the material is placed on the mat, a picture can be taken with your camera or smartphone and uploaded to the Design Studio software, where the trace lines can be created and then cut.
The PixScan technology is ideal for making patters digital, such as:
Hand drawn designs
Fabric patterns
Stamp patterns
Magazine cut outs
The cutting PixScan mat can be used as a regular cutting mat too, but it's nice to have a dedicated mat used only for PixScan to make it last longer.
AutoBlade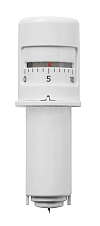 The AutoBlade is a new blade that comes with the Cameo 3. It automatically adjusts its depth based on the material being cut. This means it saves you time from having to take the blade out and adjust its depth each time you want to cut different material. The way the AutoBlade adjusts itself is by tapping itself in the corner of the machine to adjust the blade before the cutting begins.
A common mistake that is often made is inserting the AutoBlade in the carriage but not locking it in. When you insert the AutoBlade into the machine, make sure the push mechanism is in the lock position. If you don't do this, you won't get the right cutting depth.
Other Blades
Besides the AutoBlade, there are a few other blades that can be used with the Cameo3.
Here are all the blades that can be used with the Cameo 3:
| Blade | Blade Material | Adjustment | Blade Length |
| --- | --- | --- | --- |
| AutoBlade | Sintered Tungsten Alloy | Automated | 0.1mm – 1mm |
| Standard Blade | Carbide | Ratchet | 0.1mm – 1mm |
| Premium Blade | Sintered Tungsten Alloy | Manual/Hand | 0.1mm – 1mm |
| Deep Cut Blade | Sintered Tungsten Alloy | Manual/Hand | 0.1mm – 2mm |
| Fabric Blade | Carbide | Ratchet | 0.1mm – 1mm |
Standard Blade – Also known as the ratchet blade, can be used for most projects.
Premium Blade – Last 3 times longer than the standard blade.
Deepcut Blade – Can cut up to 2mm. Great for craft foam.
Fabric Blade – Same as the Standard Blade but in a blue housing. Reserved to be used on fabric only to last longer.
Full-color LCD Touch Screen
The touch screen replaces all the buttons on the Cameo 3. It's here where you can load/unload your mat and even get mini tutorials. If you get stuck, the touch screen helps guide you through the machine. A neat addition is that the Cameo 3 provides audio feedback to help you navigate.
Storage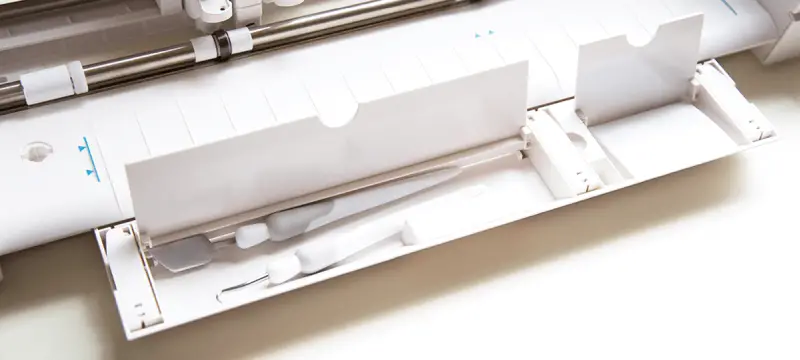 The Cameo 3 also comes with multiple storage compartments to make sure your tools have a nice home. When you open the lid, the left-hand side has 2 slots for your blades. There is also a groove that runs near the back of the machine large enough to hold 10 sketch pens horizontally. And lastly, there is a pullout from under the machine that is separated into two compartments. The left compartment hold tools such as picks and spatulas, while the right compartment is perfect for your cross cutter.
Cut up to 10 Feet Long with the Roll Feeder
One feature that sets the Cameo 3 apart from the rest is the ability to cut up to 10 feet long. If you are making a long banner or large vinyl decal, the Cameo 3 is perfect. What makes this super easy is the Roll Feeder attachment.
The Roll Feeder attachment holds the roll for the material and helps feed it into the Cameo. Not only does this make it easier to feed, but keeps the material straight and prevents it from being crooked.
The Roll Feeder is sold separately and is compatible with the Silhouette Portrait 2.
What Can the Silhouette Cameo 3 Cut?
The Cameo has a cutting force of 210 grams. This lags behind in comparison to other digital die cutting machines such as the Cricut Explorer Air. The Cameo won't be able to cut balsa wood or thin sheet metal, but it's perfect for scrapbooking, card making, and vinyl projects.
Here are some materials that the Silhouette Cameo can cut:
Paper/Cardstock up to 350 gsm thick.
Tissue paper
Vinyl
Iron-on transfer
Cereal box chipboard
Craft foam
Lightweight fabric
Rhinestone template material
The Studio software does come with a 'double cut' feature, which will help with thicker materials.
Silhouette Cameo 3 vs Cricut Explore Air
When buying a die cut machine, a lot of people are wondering what the differences are between the Silhouette Cameo 3 and the Cricut Explore Air. They are the two most popular machines on the market, and for good reason.
While they both have similar capabilities such as dual carriages and print and cut, the Cricut Explore is almost twice as strong and more precise than the Silhouette Cameo. One big difference is the software. If you are an advanced user who wishes to create designs from scratch using the native software, the Silhouette Studio software is more powerful. You do need to pay to upgrade to import .SVG files, however, while it's free with Cricut Design Space.
See how the Silhouette Came 3 compares to the Cricut Explore Air:
| | | |
| --- | --- | --- |
| | | |
| | | |
| | | |
| | | |
| | | |
| | | |
| | | |
| | | |
| | | |
| | | |
| | | |
| | | |
| | | |
| | | |
| | | Silhouette Studio Designer |
| | | |
| | | |
Silhouette Studio Software
The Silhouette Studio software is free and allows you to either buy, import, or create your own designs from scratch. The software is compatible with Windows Vista and higher, and Mac OSX 10.6.8 & higher. If you are a graphic designer or have previous experience using graphics software, you'll feel more comfortable getting started with Silhouette Studio. If you aren't familiar with creating your own designs, there are lots of tutorials and communities that would love to help you.
If you won't be creating your own designs, you can import files that you have on your computer, which could have been found online. The Studio Software comes with a trace tool so you can import an image and have the software auto-detect the outline to cut as a design.
Another way you can use images is by buying them from the Silhouette Design Store, where most designs are 99 cents. Along with the 100 free designs that come with the software, every week the Design Store releases a free design as well. Designs that you purchase are stored in your online account, so if your computer crashes, you can go back to your online account and download the designs you previously bought at no additional charge.
You also receive 1 month Basic Subscription to the Silhouette Design Store with the purchase of your machine. That's $25.00 monthly credits to download any designs you want. The subscription plans allow users to pay a monthly price for credits to use at the Design Store. There are many subscription plans, for 3, 6 and 12 months, ranging from $5 a month to $100 dollars a month, so you can pick the subscription you want. This is a good option to save money if you plan on buying a lot of designs.
The basic version of the Studio Designer is free. If you would like to have more software features, you'll need to upgrade. See the chart below for what features come with the different versions.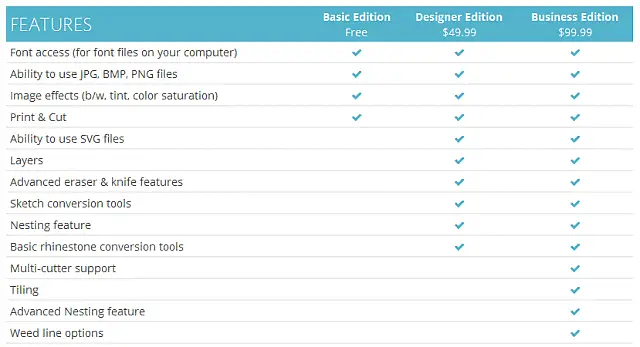 If you upgrade to the Designer Edition, you'll be able to use SVG files. There are many websites online where you can download SVG files for free.
If you are working with larger files, the software may run a little slow, even on current machines.
The Cameo is also compatible with other design software, such as Make The Cut (MTC), Sure Cuts a Lot (SCAL), and Inkscape.
To compare these software options, view the Silhouette Software Comparison Chart.
There is another Silhouette program called Silhouette Connect. Silhouette Connect gives you the ability to send projects you've designed in Adobe Illustrator or CorelDRAW straight to the machine without the need to convert them first to a Silhouette Studio compatible format. The license key to use Connect cost $39.99.
Maintenance, Warranty, and Support
There is little maintenance required with the Cameo beyond the normal blade changes and getting new cutting mats.
The Silhouette Cameo comes with a 1-year limited warranty for US and Canadian customers.
Silhouette support has been mixed from both extremes. Some users have had quick and painless customer support, while others haven't had good experiences.
There are though lots and lots of community resources online to help you out, ranging from forums to yahoo and Facebook groups. There are thousands of enthusiastic and helpful users who are ready to help answer your questions. There are also video tutorials on youtube to teach you hot to get started and how to create fun projects using your Cameo.
Overall Review

Overall, the Silhouette Cameo 3 isn't the most versatile craft machine, as it can only cut thinner materials. This may be fine depending on the type of projects you will be creating. Some users don't have a need to cut leather or balsa wood. It does have all the features that we can expect from a die cut machine in this price range, having dual carriages and Bluetooth functionality. One main advantage of using a Cameo is that it can work without the internet and has powerful software for creating custom designs.