The Cricut Explore Air 2 has become one of the most popular die cut machines, and for good reason. Cricut's philosophy of making cutting fun and easy to use can be seen in the Cricut Explore Air 2. Unlike other more complicated machines, users have been able to open the box and start cutting within minutes. Let's see what's inside with the Cricut Explore Air 2 review!
Cricut Explore Air 2 Review
The Cricut Explore Air 2 is one of the most user-friendly machines on the market. It's great for beginners but also has everything a more advanced user would need in a die cut machine. It has 350 grams of cutting force, which is more than the Silhouette Cameo.
You can expect to cut a lot with this machine including vinyl, cardstock, glitter paper, and leather to name a few – but don't to be cutting heavier material like basswood. Save heavy cutting for the Cricut Maker machine.
Design and Features
Before we go into more detail about the Cricut Explore machine, here's a quick list of features:
Cut, draw, and score
350 grams of cutting force
Cuts over 100 different materials with 12″ x 12″ or 12″ x 24″ cutting mat
Dual tool holders to cut and draw in one step
Long lasting German carbide blade
Smart Set Dial to easily configure blade to material
Print then Cut feature
Bluetooth capability to cut wirelessly
Online Design Space software
What Can the Cricut Explore Air 2 Cut?
The Cricut Explore Air 2 can cut over 100 materials using up to 350 grams of force. Here is a list of some of the most popular items it can cut:
Paper
Vinyl
Iron-on
Cardstock
Fabric such as wool, felt, silk, genuine leather, bonded denim, and burlap
Craft Foam
Wrapping Paper
Aluminum Foil
Wax Paper
Magnetic Sheet
Aluminum – 0.14mm
For thicker materials, the Cricut Explore comes with a multi-cut feature to cut designs multiple times.
And for certain materials, you'll want to be sure you are using the right blade. For example, some thicker materials will require the Deep Point Blade.
Double Tool Capacity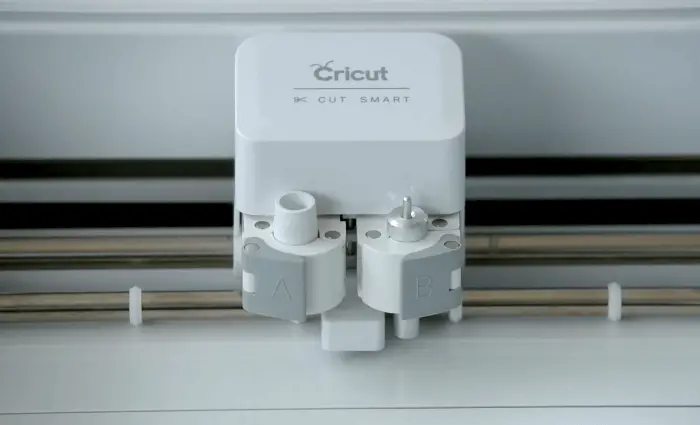 Pretty standard nowadays with electronic cutting machines is having the ability to use two tools at once. Cricut was one of the first companies to come out with such a feature.
With the double tool holder, you can now cut and write or cut and score in a single step. You won't have to pause the project to swap out tools like you previously would. It's a nifty feature, but if you know you won't be using two tools at once, you can check out the Cricut Explore One. The Cricut Explore One has one blade holder and is cheaper than the Cricut Explore Air 2.
The Cricut Explore Air 2 comes with the housings pre-installed in the clamps. Remembering which tool goes in which holder is easy:
Clamp A – For Accessories
Clamp B – For Blade
The Cricut Maker comes with additional tools such as the Knife Blade, Rotary Blade, and Scoring Wheels. These tools are exclusive to the Cricut Maker and are not compatible with the Cricut Explore machines.
Smart Set Dial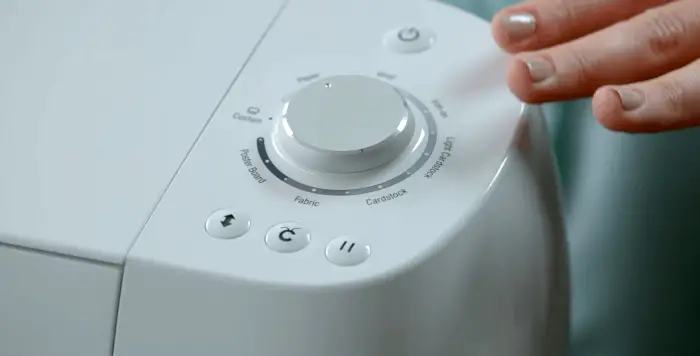 The Smart Set Dial is a large dial on the side of the machine that makes cutting so much easier. All you have to do is turn the dial to the material you want to cut, and the Cricut Explore takes care of all the settings for you. No more guesswork!
The most common settings are shown on the machine, but if you wanted additional settings, select 'Custom' and select the material you want to cut in the software. You can ever enter in your own settings and save them to be reused later.
Print then Cut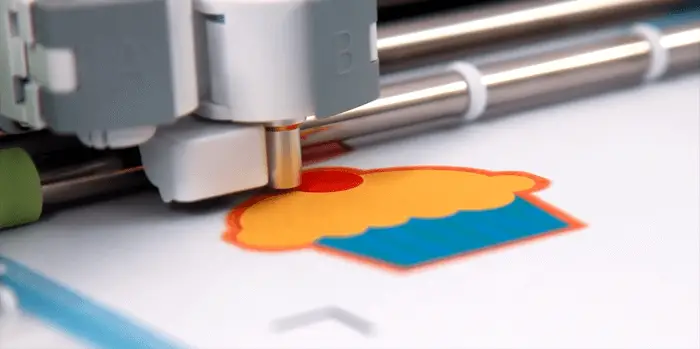 The Print and Cut feature is another feature that comes standard with all electronic cutting machines. What this feature allows you to do is print your favorite designs off your home printer and cut them out using your Cricut machine.
Now, keep in mind the Cricut Explore is not a printer itself, so it won't be able to print on paper as a regular printer would.
Cartridge Support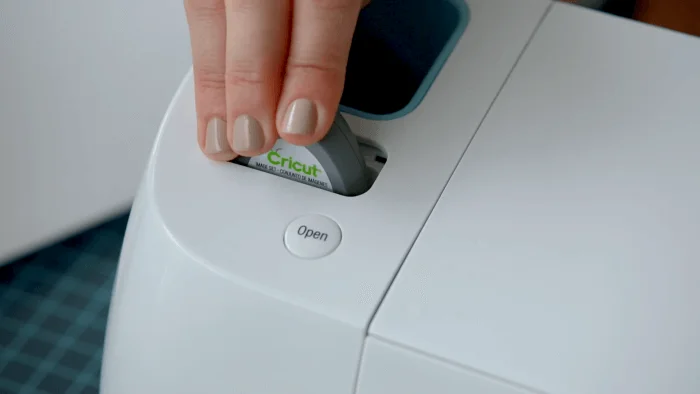 Does the Cricut Explore require cartridges? Nope! Cartridges are now becoming a thing of the past, and that's a good thing.
However, if you do still have cartridges, you can still use them in the Cricut Explore Air 2. The only thing is, you'll need to link your physical cartridges to the online Design Space software. Unlike some of the older Cricut machines, you won't be able to use your Explore machine without internet unless you have the iOS app.
Built-In Storage Space
The Cricut Explore actually has a surprising amount of storage space. The most obvious is the storage cup on the side of the machine. This storage cup is perfect for storing tools that you use most often and easy storage when the machine is in use.
Other storage compartments are under the bottom flap keeps everything organized that you might not use as often, such as other tools and blades. There's even a magnetic strip to store extra blades and prevent them from moving around.
Cricut Design Space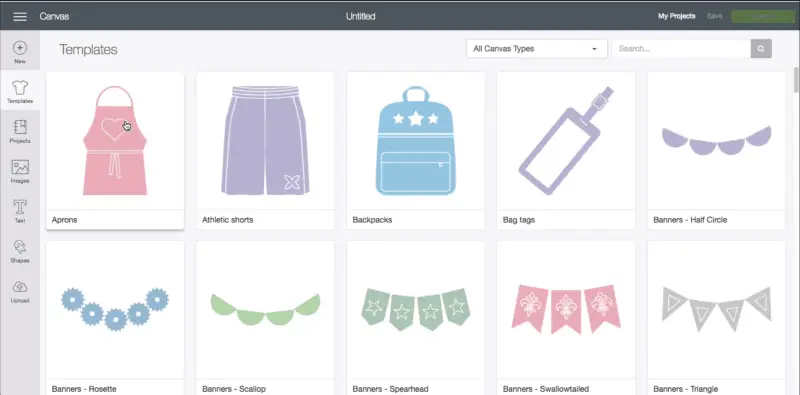 The Cricut Design Software is a free online software for creating your own designs for the Cricut Explore. The software is web-based and does require an internet connection. If you have a slow or unreliable internet, this could be a problem.
The good news to using online software is that it's always updated automatically and projects are stored in the cloud.  If you use multiple computers or get a new computer, all your designs and purchases will be available.
Creating and Importing Designs
If you want to create your own designs from scratch, design space is more limited. The software allows you to select and manipulate existing designs, so if you're looking to create designs from scratch, you'll be better off creating them in a different program like Adobe/Illustrator and importing them.
Unlike the Silhouette software, importing SVG files is free. Other compatible file types for Design Space are are .svg, .png, .dxf, .gif, .bmp and .jpg.
Cricut Access Subscription
One thing people sometimes get confused about is whether or not you have to pay for Design Space. Design Space is free. However, if you want to purchase designs and fonts, you can. If you plan on purchasing a lot of designs, Cricut offers a monthly subscription plan called Cricut Access.
Cricut Access gives you:
Unlimited access to over 400 beautiful fonts
Unlimited use of over 50,000 premium Cricut images
And a lot of other perks like 10% off Cricut Purchases and Licensed images and fonts.
There are a few payment options that come with slightly different benefits. I won't go into too much detail here, but Cricut Access can be a great way to save on designs.
The important thing to understand here is, with Cricut Access, you are paying to have access to these designs. Once you cancel your subscription, you will no longer have access to the designs unless you sign back up.
What happens with some people is they use the free trial and once it expires, they no longer have access. This leads some people to mistakingly believe they have to pay for the Design Space software.
The Cricut Explore Air vs Cricut Explore Air 2
The differences between the Cricut Explore Air and Cricut Explore Air 2 is that they are exactly the same, except that the Explore Air 2 can cut twice as fast. The Air 2 is more expensive, but if you are cutting a lot or run a craft business, it could be worth the time savings.
What's included in the Cricut Explore Air 2
What I like about buying the Cricut Explore Air 2 is that it really does come with everything to get started, including material to create your first project.
• Cricut Explore Air 2 machine
• Premium Fine-Point Blade + Housing
• Fine Point Pen (Black)
• LightGrip Mat 12″ x 12″
• Welcome Guide
• USB cable
• Power adapter
• Free trial membership to Cricut Access (for new subscribers)
• 50 free ready-to-make projects
• Materials for a practice project
Overall Cricut Explore Air 2 Review

Overall, the Cricut Explore is one of our favorite die cutting machines. It's more powerful and precise than the Silhouette Cameo. If you are a beginner or don't want anything too complicated, the Cricut Explore Air will be a great choice. The Smart Set Dial makes it easy to create projects and the Cricut Design Space allows SVGs to be imported for free.
Where can I buy the Cricut Explore Air 2?
The Cricut Explore Air 2 can be bought online from the following: