In this Silhouette Cameo 4 review, we're going to cover everything you need to know about the Silhouette Cameo 4 so you can make an informed buying decision. What are the new features? How is it different from the Cameo 3? What is the Cameo 4 price? What are the Cameo 4 colors? We'll answer all that and more in this review.
 Looking for availability? YES! Swing Design offers the fastest shipping and includes free Online Cameo 4 Instructional Class and 1 month free to Silhouette U. Check out the offers at Swing Design. No need to pre order!
Cameo 4 Overview and Features
There are lots of great things about the Silhouette Cameo 4. Before we go super in-depth, here's a quick rundown of the specs:
5000 grams of cutting force – highest of all our rated die-cutting machines
Duel tool holder with Smart Tool System – Automatically detect tools and adjust cut settings
Dual Motor System
Built-in cross cutter for clean media cuts
Built-In roll feeder – hold up to 150 feet of media
LED touch panel
Matless cutting – Cut vinyl, heat transfer, and card stock without a mat
Bluetooth connectivity for wireless cutting
Cameo 4 Sizes, Prices, and Release Dates
There are 3 versions of the Cameo 4 that are expected to be released. The first version is the standard 12″ version, while the other two are the Cameo 4 Plus at 15″ and Cameo 4 Pro version at 15″.
The release dates for the Plus and Pro machines have been getting pushed back. Below are the latest Silhouette Cameo 4 release dates and prices.
| | Size | Price | Release Date |
| --- | --- | --- | --- |
| Silhouette Cameo 4 | 12" | $299 | Available |
| Silhouette Cameo Plus | 15" | $399 | Feb / March 2020 |
| Silhouette Cameo Pro | 20" | $499 | March / April 2020 |
The only difference between the Camo 4 machines is the size. Everything else is exactly the same!
If you're comparing the physical size, the Cameo 4 12″ dimensions are practically the same size as the Cameo 3 machine. The Cameo 4 is a little bit taller which makes it seem like it's a lot bigger than it actually is. Then nice thing though is that the lid slides inward, unlike the Cameo 3 that slides upward, taking up more space when you open it.
Cutting Force and Materials
The biggest news about the Cameo 4 is that it has 5000 grams of cutting force. This is 1000 grams more than the Cricut Maker (view our Cameo 4 vs Cricut Maker comparison) and 20 times stronger than the Cameo 3 machine which was only 250 grams.
What's also exciting is that the Cameo 4 has 3mm worth of clearance.
While an official cut list is not yet available, we can expect the Cameo 4 to cut things like balsawood and basswood as the Cricut Maker can when the Kraft Blade is available.
One thing to note is that only the 2nd carriage on the machine has 5000 grams of force. This is the tool holder you want to use for the special Cameo 4 tools. The first carriage has the same cutting force as the Cameo 3. This is where you would use your adapter sets if you wanted to use blades from the Cameo 3.
Blades, Tools, and Adapters
There are a lot of new blades that are scheduled to come out for the Cameo 4.

The Cameo 4 toolset includes:
Autoblade – Cut ordinary materials like cardstock and vinyl
Rotary blade – Cut fabric smoothly
Punch Tool – Marks your vinyl or heat transfer to make weeding easier
Kraft Blade – The Knife or Kraft blade is for cutting thicker materials like leather and basswood and comes in a pack of two.
Despite there being 4 blades showing on the Cameo 4 box, the Cameo 4 as of now only comes with the Cameo 4 Autoblade, which only fits into the Cameo 4 machine. The Rotary blade, Punch blade, and Kraft blades are not yet available.
TIP: If you order from Swing Designs, you'll receive a 40% Off Coupon for all Cameo 4 blades along with lots of other goodies like 200 extra designs and the Cameo 4 Instructional Class all included.
And if you still want to use your older Cameo tools in the Cameo 4 you can with the included adapters. Included in the Cameo 4 are four types of adapters:
| Adapter Color | Tool |
| --- | --- |
| Black | Ratchet Blade |
| Blue | Sketch Pen |
| White | Kraft Blade |
| Grey | Deep cut and Premium Blade |
The adapters fit into the first carriage, labeled "1", while the Cameo 4 specific tools fit into the 2nd carriage, labeled "2".
And what's really cool is that the Cameo 4 machine will automatically detect the different adapters and know what tools are loaded into the machine automatically.
If you have been using the Amy Chomas Pen Holder, it won't fit into the Cameo 4, even with the adapter. Most of the other tools will be fine though, such as engraving tools. Those tools will fit the Cameo 4 using the blue sketch pen adapter.
Feed Roller and Cross Cutter
The Silhouette Cameo 4 comes with a built-in feed roller and cross cutter. The feed roller pulls out from the bottom in the front and holds 150-foot rolls. And if you're not using it, the feed roller slides back in to stay out of the way.
The cross cutter is located on the back of the machine and can cut the rolls of vinyl when you're projects are finished. To make this work though, you'll need to tell the Silhouette software to feed out the back instead of "Return to Origin" in the feed options.
And the cross cutter blades are replaceable. If the blade ever dulls, you can replace it with a fresh one.
Cutting Mats
Yep, you'll be able to use the same cutting mats as you did in the older Cameo machines in the Cameo 4 machine. The Cameo 4 does come with a slightly different looking mat than usual. The previous Cameo mats had 1-inch gridlines, while the new one has quarter-inch gridlines. Besides that, the mats are still the same.
If you have older Silhouette mats that you want to use in the Cameo 4, you can still do that too, even mats for the Portrait machine.
Bluetooth
Bluetooth has been fairly standard on newer cutting machines now. The Cameo 4 does come with Bluetooth and it's much easier to set up compared to the Cameo 3 machine. All you need need to do on the machine is press the Bluetooth button on the Cameo 4 and then confirm the connection on your computer.
What the Bluetooth allows you to do is have the Cameo cutting machine talk to your computer without being connected with a cable. If you wanted to have your laptop and machine in different parts of the room, you totally can.
The Bluetooth is optional, which means you can use it, or if not, you'll need to use the USB cable which is included.
Cameo 4 Software and Download
The Cameo 4 will run on the same Silhouette Studio software just like the older Silhouette machines would. But, you'll need to make sure you have the latest version of the software installed.
To run the Cameo 4, you'll need Silhouette Studio version 4.3.240 or higher. Head over Silhouette America and go to the software download page.
You can download the Silhouette Studio software without having a Cameo, so if you wanted to download the software and get acquainted with it beforehand, you can. The Cameo 4 options won't be available through until you connect your Cameo 4 machine.
If you have upgraded your Silhouette Studio and want to use the Cameo 4, you don't need to repurchase your upgrade. The upgraded version will still work with the Cameo 4.
Cameo 4 Colors
The Cameo comes in 3 different colors:
These are very similar to the Cameo 3 colors, except Blush Pink was Glitter Pink and the Cameo 3 had an additional color which was teal.
Right now, if you order anything other than White, there will be a delay in shipping. Black and Blush Pink have an "Estimated Ship Date End of October".
Cameo 4 vs Cameo 3
The Cameo 4 is a big upgrade from the Cameo 3. Here is a full comparison between the Cameo 4 and Cameo 3 machines.
| | Silhouette Cameo 3 | Silhouette Cameo 4 |
| --- | --- | --- |
| | | |
| Cutting Size | 12 inches by 10 feet | 12 inches by 10 feet |
| Cutting Force | 250 grams | 5000 grams |
| Cutting Speed | Normal | 3x faster |
| Cutting Speed | Normal | 3x faster |
| Cut | Yes | Yes |
| Draw | Yes | Yes |
| Print then Cut | Yes | Yes |
| Double Tool Holder | Yes | Yes |
| Kraft Blade | No | Coming soon |
| Rotary Blade | No | Coming soon |
| Punch Tool | No | Coming soon |
| Built-in Feed Roller | No | Yes |
| Wireless Bluetooth | Yes | Yes |
| Software | Silhouette Studio Designer | Silhouette Studio Designer |
| MSRP | $299 | $299 |
| Amazon Price | Check price | Check Price |
Cameo 4 Bundles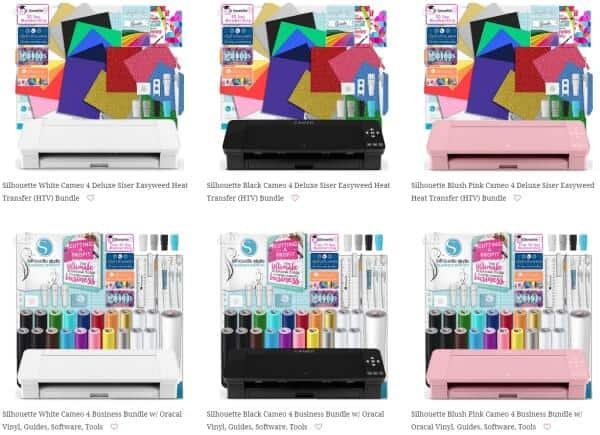 As of now, the only place that is offering bundles are Swing Design, and there are LOTS of bundles.
Oracal and sketch pen bundle
Educational bundle
HTV bundle
Business bundle
Heat press bundle
And more!
 Head over to Swing Design and check out all bundles
Silhouette Cameo 4 – Where to Buy
You can order from the Silhouette America website, but the best place to order from is Swing Designs. You get a whole lot more included in your order and they ship faster.
Here is what you get extra when you buy from Swing Design:
Online Cameo 4 Instructional Class
7 E-Guides by Silhouette School to help get you up and running faster
1 Month Free Membership to Silhouette U – Receive Exclusive Access to over 250+ Videos, Guides, Tips, Q & A, and much more! (new users only)
1 Month Free to Club Silhouette – Latest News, Designs, Discounts
$25 Dollars in Downloads from Silhouette's Design Store – Code Sent During Registration
40% Off Coupon for all Cameo 4 Blades – Coupon Code sent via Email
Additional 200+ Bonus Designs – Valued at $300+
Lifetime Customer Support
 Check out the Cameo 4 machines at Swing Design.
If you're looking to have your Cameo 4 shipped to Canada or the UK, Swing Design will ship there too. Note that pricing for international orders does not include any customs or import fees and internationally shipped orders will be charged an additional transportation charge.
And if you're looking to order the Cameo 4 from HSN, sorry, they aren't yet available!