This post contains affiliate links.
Update March 2021: Cricut announced some major changes to Design Space that would affect all non-Cricut Access users, essentially forcing many to become Cricut Access members. Due to overwhelming feedback Cricut's CEO announced on March 18, 2021 they retracted this change. "Right now, every member can upload an unlimited number of images and patterns to Design Space for free, and we have no intention to change this policy. " Read on for the full details.
There's a lot of confusion out there as to whether or not Cricut Design Space is actually free. People buy a new Cricut machine like the Cricut Maker (check out my Maker Review) or Cricut Explore Air 2, get a free Cricut Access trial, and later find out they need to pay money to keep using their designs. So how much does Cricut Design Space cost?
Cricut Design Space is the free software that is used to connect to any Cricut digital die cutting machine. It allows users to upload an unlimited number of designs and any type of file to the program for free. But some images and fonts present in Design Space must be purchased.
Cricut Access is a subscription based image and font library built into Design Space. New Cricut owners are given a free monthly trial with the purchase of their machine. There are some free images and fonts available in Design Space. Many of the images and fonts available are included in Cricut Access but there are still some that need to be purchased seperately.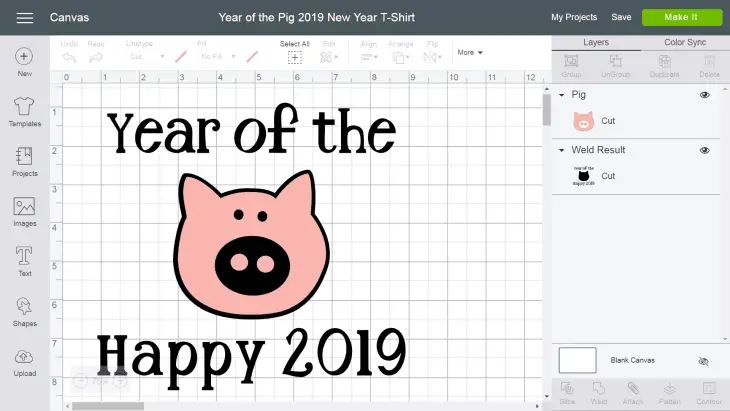 What is Cricut Design Space?
Cricut Design Space is Cricut's design software (check out more software options) that lets you cut with the Cricut Maker, Cricut Joy, and Cricut Explore machines. Older machines like the Cricut Expression 2 and Cricut Mini used the older software known as Cricut Craft Room, which is no longer available (sorry!).
Design Space is a downloadable program for your Mac or PC computer which allows you to create unique designs, import premade designs, or use free or for purchase designs directly in Design Space. You can also use the Design Space App on your Android or iOS device but it does have more limited functionality. Sorry Chromebook users, currently you can't use Design Space on your Chromebook.
If you have cartridges from older machines you can link these to your Design Space account and have full access to use them with your newer Cricut Machine. The Cricut Maker needs a special adapter to link your cartridges, learn more in my how to article. The Cricut Explore has a cartridge slot so it's a little easier to link your cartridges, find out how to link your cartridges here. Once you've linked your cartridges you can use your design in Design Space with any machine that is registered to you.
Cricut Sales! Save up to 50% OFF on Materials and Accessories. Plus, get up to $150 off Machines and Heat Presses!
Check Out the Current Deals
Get Free Shipping with Code JANSHIP
So why do so many people think Cricut Design Space costs money? Well, when you purchase a new Cricut, you are given a free trial to Cricut Access. If you use any designs available through Cricut Access in a Design Space project, once your free trial expires, you won't be able to use that project unless you continue to pay for Access.
This can make things quite confusing! To continue using projects that you created in Design Space that have images from Access, you'll need to continue to pay. If you don't want to pay for Access anymore, you can still use Design Space by using their free designs or by creating or importing your own.
One of the biggest issues crafters have with Cricut Design Space is the program being slow. I've put together all the reasons and fixes that I have come across in my article Why is Design Space so Slow? And How to Fix It.
How Do I Get Cricut Design Space?
Cricut Design Space is downloaded from the Cricut Design Space website. In fact, you don't even need to buy a Cricut to use it. To use Design Space you do need to have an internet connection in order to connect to your Cricut account.
Once you have logged in you can disconnect from the internet if you need to and continue to design offline and even save your designs to your computer.
March 2021 Update and Retraction
On March 12 2021, Cricut announced a major change to how Design Space could be used by non-Cricut Access members. The announcement was this:
"Also, soon we will be making changes that affect members who use the free Design Space app without a Cricut Access plan. Every calendar month, these members will be allowed to upload up to 20 personal images and/or patterns." Read full letter here.
This change would essentially force many Cricut users to subscribe to Access. As you can imagine there was a serious uproar in the Cricut Community.
So the company tried to appease us with what they considered a compromise. On March 16 a letter from the Cricut CEO, Ashish Arora, was sent saying the following:
"We will continue to allow an unlimited number of personal image and pattern uploads for members with a Cricut account registered and activated with a cutting machine before December 31, 2021. This benefit will continue for the lifetime of your use of these machines." Read full letter here.
Basically, if you currently owned a Cricut machine or purchased one before the end of 2021 then you would still be allowed an unlimited number of image uploads.
But many in the Cricut Community were still outraged for future Cricut owners. There was still enough negative feedback that Cricut completely retracted this announcement.
So now, as of March 18 2021, Cricut Design Space is still free with an unlimited number of personal uploads available. This means you can upload an infinite amount of images you created yourself, purchased online or found for free online.
You can read the full letter from the Cricut CEO here.
What is Cricut Access?
Cricut Access is the Cricut's subscription to its Image Library. This means you can get access to use certain images for a monthly fee. Unlike Cricut Design Space, Cricut Access is not free.
But for that monthly fee you get a ton of stuff. You have access to 100's of thousands of images, more than 400 fonts plus 10% off all purchases made on Cricut.com. There are even Access member specific sales that occur.
But do you NEED Cricut Access? In short NO. You do not need Access to use your Cricut. In fact you can find many free images online, see our Free SVG list, and import them into Design Space. But Cricut Access does give you a seamless way to look for designs and ready made projects and it's pretty reasonable starting at just $8/month.
How Do I Get Cricut Access?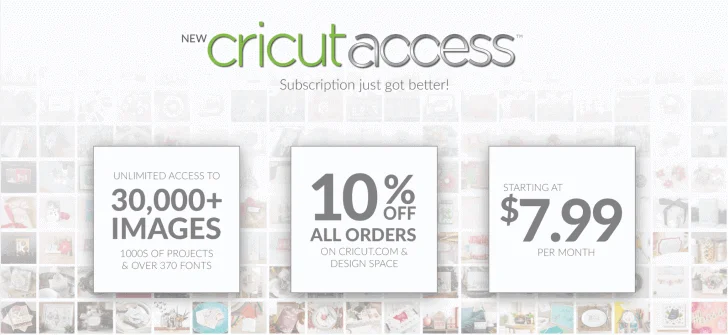 If you want to try Cricut Access, you can head over to their Cricut Access Page. Once there, you'll see the prices for Cricut Access.
They have 3 pricing options:
Annual Subscription for $95.88 per year ($7.99/month)
Premium Subscription for $119.88 per year ($9.99/month)
Monthly Subscription for $9.99 per month
Cricut Design Space vs Cricut Access
Here are some quick differences between Design Space and Cricut Access
Cricut Access
Requires monthly subscription
Gives you access to Cricut's Image Library
Is not required to use Cricut Design Space
Cricut Design Space
100% free
Design software to use the Cricut machines
Does not require Cricut Access to use
Includes some free images and fonts
Allows unlimited image and pattern uploads
Final Thoughts
A lot of the confusion in people thinking they might need to pay for Design Space (which is free) comes from their Cricut Access subscriptions expiring, often from their free trials. Once this happens, projects that contain Access images won't be available unless you pay for the Access membership. This doesn't mean you won't' be able to create new projects with Design Space.
Remember Cricut Design Space is FREE and you NEED it to use your Cricut. Cricut Access is a monthly subscription and is NOT FREE but does provide a ton of value with easy to access fonts and images.