This post contains affiliate links.
Cricut Design Space can be extremely frustrating to use sometimes. It can be very slow and laggy. You'll be working on a project and it will take forever to load or register any change. You are probably wondering what causes this and how can you fix it.
Cricut Design Space is usually noted to be slow after an update. Rebooting your computer helps with this issue. Other factors that can slow the program down are an aging computer, poor internet connection, multitasking, complex images, and designs with many images or text.
As a Cricut crafter, I know how annoying Design Space is when it's slow. So I'll cover the main reasons why Design Space is slow and possible ways to fix it.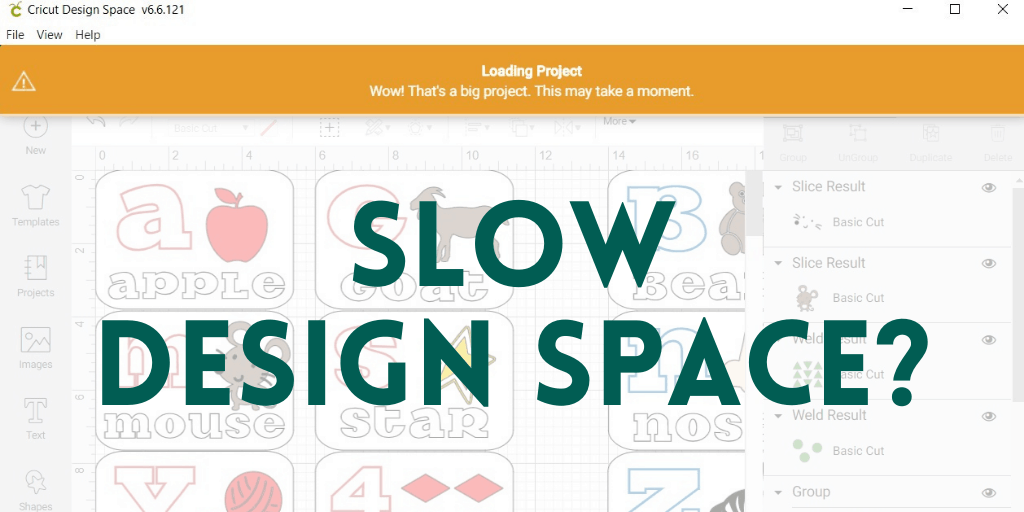 Design Space Recently Updated
The biggest complaint from Cricut users occurs after Design Space updates. This is when most users who have been using Design Space with no issues start running into slowdowns.
Fortunately, there is an easy fix for this. Every time Design Space does an update, immediately reboot your computer. This can help prevent lag and glitches after an update.
But sadly this doesn't always help. Sometimes there are glitches with the program that rebooting doesn't resolve. I find checking with a Cricut Facebook group or online community is helpful to see if I'm the only one having issues.
If the issue is with the latest update then Cricut will likely release another update to fix any bugs shortly. But it is a pain waiting for them to fix it.
In one of the most recent updates, there were a lot of changes made to the Canvas. Cricut has included an option to revert to the original Canvas if users are experiencing issues with the new one.
To do this, open Design Space and login. Select your profile, the three bars in the top left corner, go to settings then under "Canvas Style" select "Classic" and hit "Done".
Another option Cricut recommends is to "Force Reload". In Design Space go to the "View" menu at the very top between "File" and "Help" From the drop down menu select the "Force Reload" option.
NOTE: Before reloading, or restarting Design Space make sure you have saved your project!
Cricut Sales! Save up to 50% OFF on Materials and Accessories. Plus, get up to $150 off Machines and Heat Presses!
Check Out the Current Deals
Get Free Shipping with Code JANSHIP
Design Space Minimum System Specs Aren't Met
Many Cricut users will claim "I've had my computer for years and never had an issue before" but that might be exactly the problem.
As computers get older they run slower, get bogged down with bloatware and hard drives get full. Not to mention the fact that when software gets upgraded it needs more resources to run properly.
You can start by checking if there is an update available for your operating system. If there is, download and install the update to see if that resolves your issue. Normally, this is simple and free to do.
The next step will be to check if your computer, smartphone, or tablet meets the minimum Design Space specifications. Often RAM can be upgraded fairly inexpensively and disk space can be cleaned up and defragmented.
I have listed the requirements, as of March 2021, in the table below but you can also check them directly at Cricut.
Desktop/Laptop Minimum Requirements
| | | |
| --- | --- | --- |
| | Windows | Mac |
| Operating System | Windows 8 or higher | macOS 10.15 or higher |
| CPU | Intel dual-core or equal AMD processor | 1.83 GHz CPU or higher |
| Screen Resolution | Min 1024px x768px | Min 1024px x768px |
| RAM | 4 gigs | 4 gigs |
| Disk Space | 2 gigs free | 2 gigs free |
Mobile Devices
Apple Devices
Android Devices
Operating System
iOS 12 or later
Android 8.0 and up
Compatible Phones
iPhones starting from iPhone 5s and up
– Google Pixel
– LG G, V, or K series
– Motorola Droid G, E, Z, Moto or Turbo
– Samsung Galaxy S or Note
Compatible Tablets
– iPad mini 2 and up
– iPad 5th generation and up
– iPad Air (all generations)
– iPad Pro (all generations)
– Samsung Galaxy Note
– Samsung Galaxy Tab A or S
Unfortunately, there are some devices and operating systems that will not work with Design Space. Chromebooks and Linux/Unix computers are not supported. Devices running Windows 7 or older and Windows "S Mode" are also not supported.
Design Space doesn't like your Multitasking
If you're like me, you tend to open a lot of apps/programs and let them run in the background on your computer. I like to call it multi-tasking. But it could be the reason your Cricut Design Space isn't going as fast as you want.
Too many windows or apps open reduces the amount of processing power and RAM available for Design Space to run well.
You will want to close all other programs or apps on your computer/device. If you think you have all programs closed, double check in your task manager. See if there are any programs using resources in the background.
You never know if you have a program running an update or a virus scan that's hogging some of your processing power. Closeout any programs that you don't need right now to free up additional resources.
Your Internet is too Slow for Design Space
At a minimum, you will need 3Mbps download speed, and 2 Mbps for upload speed for Cricut Design Space. Honestly, most internet providers should be able to produce these speeds.
You can easily run a speed with Google. Just type "speed test" or "internet speed test" into a Google search and they have their own speed test button.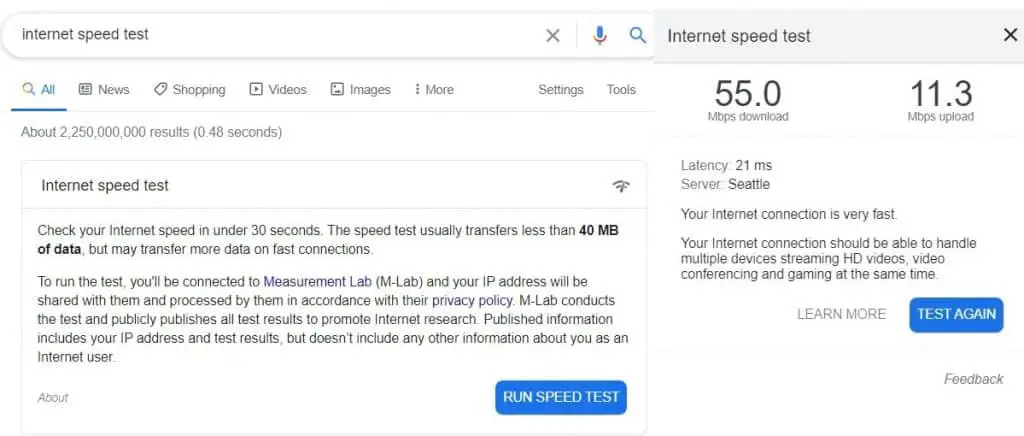 But you might want to keep in mind that some days your internet works better than others. Or at least mine does. Depending on the type of internet you have you may be "sharing" your bandwidth with your neighbors.
The more people on the internet at one time the slower your internet will be. You can also try rebooting your router to see if that helps.
Another thing you can try is working offline. Since Design Space moved to a desktop based application you don't need the internet all the time.
You DO need an internet connection when you first sign into Design Space. This allows it to retrieve your profile and projects.
But once you are signed in you can save your projects for offline use then disconnect from the internet. This takes internet issues out of the equation.
The desktop version for both MAC and PC as well as the iOS app can all be used offline. Unfortunately, the Android app requires an internet connection
Intricate Designs Slow Down Design Space
Custom designs are one of the most amazing things about owning a cutting machine. I love making beautiful patterns and shapes with my Cricut Maker, and I can make them as intricate as I like.
But very detailed images and intricate cuts can lead to lag with Cricut Design Space. You could be experiencing slowdowns due to the detailed nature of your desired image.
When you create your own design or one you have purchased an SVG outside of Design Space you need to upload it. You have the option of uploading it as "simple", "moderately complex" or "complex". Learn more about SVG files in my article, SVG File Format: 21 Common Questions.
Most of the time we want to upload our images as "complex" since we don't lose any details. But using a complex image may be causing our painful slowdowns. Try the "simple" option first to see if you still get the desired effect.
Or, you can try using other software to edit your image until you are ready to cut it with your Cricut machine. You can use a free program like Inkscape to make any edits to your design before importing it into Design Space.
Sometimes we are working with a big intricate design, like mandala art. In this case, try some of the other tips mentioned here to get a little more speed out of Design Space.
Your Project has many Images or Text on the Canvas
The more images or text in a project the longer it will take Design Space to load it. You may notice when you go to save your project or select "Make it" the "Wow! That's a Big Project. This may take a moment". This message will occur if you have lots of text or elements on your canvas.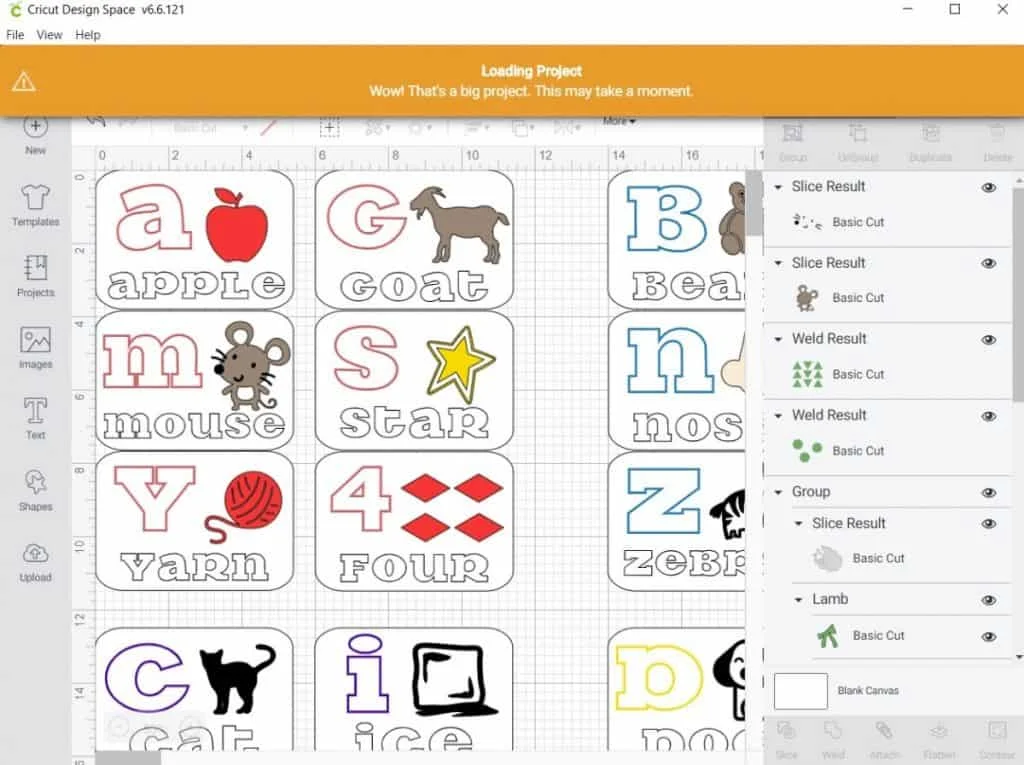 If you are trying to cut multiple copies of the same design there is a way to reduce the size of your project. Start by creating one instance of your design.
Then select "Make it". Once your mat screen appears, in the top left corner you'll see "Project copies". Toggle the arrow until you have the desired number of copies. Then select apply.
Design Space will add the number of copies to your mat. You can move the designs around to help them fit best on your mat and material. This only works for projects where you want multiple identical designs.
Another option is to break your project up over several canvases. Take the cue card project in the picture above. I can create a separate project for each sheet of cardstock that fits 6 cue cards.
This option is much easier now since Cricut has enabled the ability to copy designs from one project to another. You simply select the images you want to copy, press ctrl+c or command+c or right click copy, then open a new canvas or an existing canvas and paste it (ctrl+v, command+v, or right click paste).
Outdated Design Space Issues
A couple of Cricut Design Space problems you may see discussed in outdated blog posts or older forums are browser issues and the "spinning circle". These issues stem from the old web based Design Space.
Design Space used to be a web based application requiring you to access it from a web browser. Some browsers worked better than others. Internet Explorer wasn't properly supported so users were suggested to use Chrome and Firefox. Frequently users needed to clear their cache and cookies to help the program run better.
You also always needed an internet connection. After late 2019 Cricut change Design Space to a downloadable desktop app. As of September 2020, Design Space for Web is no longer available.
Final Thoughts
As much as I love using my Cricut machine to cut designs from cardstock and vinyl the software can be a headache. But there are a few ways to reduce lag in Cricut Design Space.
Sometimes simply restarting the program or rebooting your computer can get you back to creating projects. Othertimes working offline is a good option when your internet is being slow.
Learn more about Cricut Design Space and Cricut Access in my article explaining if Design Space is Free and what Access is.