This post contains affiliate links.
Does the Cricut Maker use cartridges? The answer is 'no', but there are still ways to link your cartridges. Keep reading, because in this article we'll show you how to link Cartridges with the Cricut Maker.
Does the Cricut Maker Use Cartridges?
The Cricut Maker does not use physical cartridges directly, as it does not have a slot to accept them. When you're looking at older machines, like Explore Air 2 and prior, linking cartridges to those machines was straightforward because they had a slot for cartridges. So how do you link cartridges with the Maker?
If you're not using an older machine like the Explore to upload your cartridges, you'll need to purchase the Cricut Cartridge Adapter.
**Cricut has discontinued the Cartridge Adapter. Contact Cricut customer service for help linking cartridges to your Design Space Account**
Cricut Sales! Save up to 50% OFF on Materials and Accessories. Plus, get up to $150 off Machines and Heat Presses!
Check Out the Current Deals
Get Free Shipping with Code JANSHIP
Using the Cricut Cartridge Adapter to Link Cartridges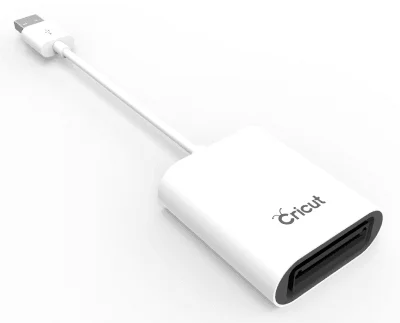 UPDATE: Cricut has had some major stocking issues for the Cartridge Adapter, they plan to get them back in stock but do not have a time frame. Cricut recommends users contact them directly and they can "look into adding the cartridges to their accounts" You can contact Cricut Here.
The Cricut Cartridge Adapter allows you to upload cartridges to design space without using a machine. This means if you have a Cricut Maker, you can still upload your cartridges to Design Space.
Here's how to upload cartridges using the cartridge adapter:
Make sure your cartridge adapter is plugged into a USB port on your computer, but without the cartridge plugged in. If you are using an Android or iOS app, uploading cartridges won't work as you need to be on a desktop or laptop.
Login to your Design Space account and select 'Link Cartridges' from the menu.

Select 'Adapter' from the drop-down menu.

When Design Space alerts you, plug the cartridge into the adapter.

Design Space will then detect the cartridge. When this happens, select 'Link Cartridge'.

Press 'Link Cartridge' and you're done! If you wish, you can continue to link additional cartridges.
Help Linking Cartridges
Sometimes you may have trouble linking cartridges or receive errors. Here are the common problems with linking cartridges.
'Cartridge already linked' error
Cartridges can only be linked once to one account. If you purchased a pre-owned cartridge, it's possible it has already been linked.
If the cartridge was linked to Cricut Craft Room, it will automatically be available in Design Space if you are logging in under the same ID.
Is your cartridge linked the Gypsy? If so, you'll need to contact Cricut Support.
'Cartridge not recognized' error
Try clearing your browser history, cache, and cookies.
Be sure your machine has completed the new machine setup.
Be sure you are on a desktop or laptop. Linking cartridges does not work with the Android or iOS apps.
Be sure your machine has the latest firmware. You can do this by going to the Design Space menu and selecting 'Update Firmware'
If you still have trouble, contact Cricut Support. Some cartridges such as the George and Basic Shapes cartridges have trouble linking.
Is the cartridge linked to your Gypsy? If so, contact Cricut Support
Is the cartridge purchased used? If so, it may be linked to another account. Linking to multiple accounts is not allowed.
'Machine already in use' error
Be sure your machine has completed the new machine setup.
Try Design Space in a different browser
Try to use a different USB port or USB cable
Disconnect the machine from your computer, and turn it off. Restart your computer and plug in your machine again.