The Cricut Expression 2 is a fun machine. It doesn't require a computer, which means you can move it from room to room or travel with it without having to lug your computer around with it. It's decently powerful, and it can cut more materials than the Silhouette Cameo from 3/4″ to 23.5″. However, unlike the Silhouette Cameo, you cannot design your own custom designs. The Cricut Expression 2 is purely cartridge based.
UPDATE: The Expression is no longer being made by Cricut. Cricut has two amazing newer machines that boast more features and functions. Learn about the Cricut Explore Air 2 and the Cricut Maker in my in depth reviews or check out my comparison of these two machines, Cricut Maker vs Explore Air 2.
The Cricut Craft Room software is also no longer accessible. It has been upgraded and replaced with Cricut Design Space you can learn more about it in my article.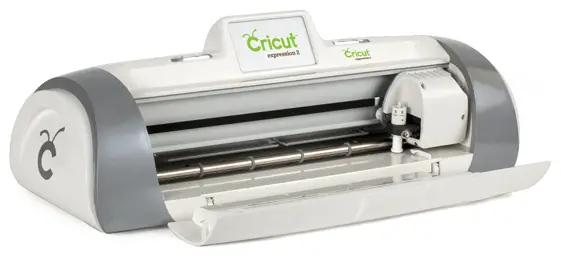 Cricut Expression 2 Design and Features
Here are some of the features of the Cricut Expression 2:
Full-color LCD touch screen to move and manipulate images – no computer required
Connects online to the free Cricut Craft Room Software where you can browse thousands of images
Cut or print images from ¾" to 23 ½ (larger 12″ x 24″ mat sold separately)


Compatible with all Cricut cartridges (Imagine cartridges will only cut images, not print)

Cricut Sync software allows for free Expression 2 updates
Using the Cricut Expression 2
Using the Cricut Expression 2 is pretty simple once you familiarize yourself with the controls. Designs are selected by plugging the cartridge into the machine. Designs can then be moved around and resized. There are a few helpful options. The Auto-Fill option, once selected, automatically copies the shape onto the mat as many times as possible at the selected size. This feature is great if you want to cut a few dozen identical shapes for a party. You can even tell the Expression to pre-load mats to be cut. This means as one mat is being cut, you can prepare the next mat and simply switch out the mats when one is done cutting. These features help save paper and maximize time.
Check out the quick view guide:
Cartridges
The Cricut Expression 2 is a purely cartridge based system. This means you cannot create custom shapes with the machine, as they must come from the cartridge. Cartridges are typically "theme" based and come with about 50 different shapes. There are literally thousands of shapes you can use. Cricut even has shapes that are Licensed by Disney, which is fun for the kids. The Expresison 2 can also take Cricut's Imagine cartridges. The other downside to using cartridges is the cost. Cartridges can range anywhere from $15-$100. After purchasing a few cartridges, the price can quickly add up. Even if you want a single image from a cartridge, you have to buy the whole thing. Waiting for sales or shopping around will save you some money. One advantage to being able to use cartridges is that there is no need to use a computer. You can even share physical cartridges with friends, which is another advantage.
The Expression 2 comes with two built-in cartridges that include images and fonts, so you'll be able to use your machine right out of the box.
With the Cricut Expression 2, you can even "weld" multiple shapes together to make 1 shape. For example, if you have a shape of a snowman, and a shape of a hat, you can weld the two shapes into one.
Cricut Craft Room Software
A computer isn't necessary to use the Expression, but you can connect it to the computer to use the Cricut Craft Room Software. Using the Craft Room software is convenient, as you can set up and choose your designs on the computer rather than the screen on the machine. The software does require an internet connection and you have to create an online account. Once your account is set up, you can link up your physical cartridges to your online account, so you don't need to plug them into the machine each time. Using the Craft Room, you can even browse digital cartridges to buy.
Digital cartridges are cheaper than physical cartridges, which is another way to save money. You can also buy a subscription. At either $9.99 a month or $99.99 a year, you have access to over 25,000 shapes.
Once you have linked a physical cartridge to your online Craft Room account or Gypsy, the cartridge can no longer be linked to any other online account or Gypsy. Keep this in mind if you are sharing or buying/selling cartridges.
What can the Cricut Expression 2 cut?
The Cricut Expression 2 can cut a variety of materials including:
Vinyl
Light, medium and heavy cardstock
Cricut stencil Material
Fabric including felt (use with fabric stabilizer)
Foam
Cricut magnet material
Cricut stamping material
Chipboard
Balsawood
For heavier materials, such as magnet, stamping material and chipboard, you'll need to use the deep cutting blade.
What's also neat about the Expression is that it can also draw. The blades can be replaced with drawing pens and markers. This is great if you are making invitations, cards, or addressing envelopes to give it that professional, handwritten feel.
Maintenance, Warranty, and Support
As you use your Cricut machine regularly, you'll notice that the blade becomes dull. Once this happens, the blade will need to be replaced. It's also a good idea to keep the blade and blade housing clean. With cutting mats, they will lose their stickiness with repeated use. Check out our tutorial on cleaning and restoring cutting mats,
The machine comes with a 1-year limited warranty.
Generally, most users are happy with the machine. There have been a few users who have had poor experiences with the machine and have experienced less than ideal product support from Cricut. Returning defective machines, in particular, have been quite the hassle, as shipping labels take a long time to arrive. When returning defective products, users have had much better experiences returning the machine to Amazon where they purchased the machine.
Overall Review
The Cricut Expression 2 cutting machine isn't for everyone. If you are looking to create your own custom designs, then the Expression 2 isn't the machine for you. However, there are still tens of thousands of shapes to choose from in the Cricut Craft Room software. Before one purchases this machine, they must consider the cost of added cartridges or a subscription to the Craft Room Software.
Cost aside, the machine is fun and doesn't require a computer, which is better for kids. It's relatively powerful and can cut through materials such as chipboard, balsawood, and magnets.
You can purchase a refurbished Cricut Expression 2 machine from the Cricut website, or purchase a new one from Amazon.