This post contains affiliate links.
So you're super psyched because you just bought yourself a Cricut machine and are looking for 'must-have' tools and accessories for beginners. Whether you have a Cricut Explore Air 2 or the Cricut Maker, or any other die cutting machine, you'll want to check out these Cricut essentials.
Okay, not all of these are must-haves, but they do make your crafting a whole lot easier. Let's take a look!
Cricut Sales! Save up to 50% OFF on Materials and Accessories. Plus, get up to $150 off Machines and Heat Presses!
Check Out the Current Deals
Get Free Shipping with Code JANSHIP
Weeder Tool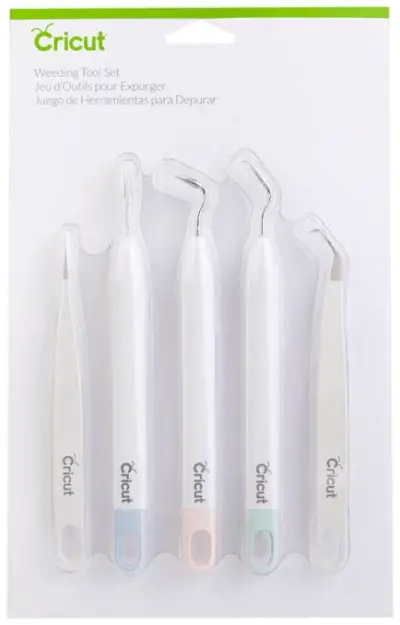 If there's a single most important tool you'll want to have, it's a weeding tool. While the spatula and tweezers are nice, the weeding tool is absolutely essential for lifting vinyl.
There are quite a few different tools people use for weeding, and they all work to lift vinyl from the backing sheet.
The most popular tool is the Cricut Weeder Tool, but I really recommend the Weeder Toolset because it has finer points.
Some other popular tools used for weeding are:
Pin Pen– This tool works wonders on the tiniest pieces and can also pop those vinyl bubbles without tearing. Though it's comfortable and sharp, it doesn't curve to help hold down the vinyl while peeling.
Dental Picks – Users who use dental picks for weeding swear by them. They are fantastic, but the handles may not be as comfortable.
Exacto knife – The sharp point is small and precise enough to get into the small details. Combine this with tweezers to be extra careful not to damage the project.
Experiment with different kinds and find which weeding tools work best for you.
Scraper Tool
A clean mat is important to getting clean cuts and making sure your material doesn't mover around during cutting. The spatula tool can help remove the tiny pieces, but the scraper tool does a much faster job.
The scraper I recommend is the extra large scraper. It's much easier to hold and is just faster and better than the smaller one. It also helps to get all the bubbles out of vinyl. When you're mat starts losing it's sticky, and trust me it will, you can clean and restick your cutting mat easily learn to do it yourself in my article.
Spatula
The spatula is another tool you absolutely must have. When you're lifting material from the cutting mat, you don't want to worry about tearing the material. The spatula takes care of this by lifting material from the mat nice and easy. The spatula can also be used with the scraper to keep that mat clean and debris free.
Cricut sells the spatula and small scaper together for a really good price. There's no reason not to have them!
Tweezers

If you don't have tweezers yet, they are super helpful. I actually like to carry two different types, one for vinyl and one for picking up tiny items.
Okay, this is not a tool by Cricut, but it's too good not to share! The tweezers I like for weeding are the Pazzles Needle Point Tweezers.  These tweezers have a sharp point, making them excellent for vinyl. These points are sharp enough to pick up vinyl right from the middle without having to use the edges. They can also pick up the tiniest little scrap!
The other tweezes I like are mainly for picking up items and holding them in place. The Cricut Tweezers are no longer sold separately, they are only sold in the Essentials Tool Set. If you're still looking for a good pair, the EK tools Craft Tweezers are strong! They are great for picking up rhinestones and other embellishments using reverse action. The reverse action is great so you don't get sore hands.
Scissors

The right scissors for the job can make a world of difference. The Cricut Scissors are made with hardened stainless steel blades, which creates even cuts while remaining durable.
The scissors are quite sharp and come with a mico-tip blade, so working on the fine details in smaller areas is easier and clean right down to the point. It also has an interchangeable, protective, colored end cap, which allows the scissors to be stored safely. Cricut only sells its scissors in the Basic Tools Set but this set includes many of my must have Cricut items.
An awesome alternative to the Cricut brand scissors are the Cutter Bee Precision Scissors. They have been my mom's and my go to craft scissors for years and are still very sharp.
If you plan to do many fabric projects you will want a designated pair of fabric scissors. Nothing is worse than trying to cut fabric with dull scissors and nothing dulls scissors faster than paper.
Paper Cutters/Trimmers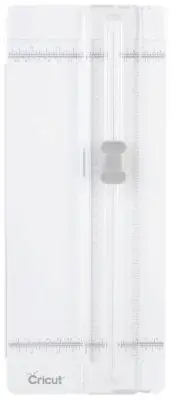 A paper trimmer is just super handy when you want to get straight cuts. No more using a ruler and scissors. A paper trimmer makes cutting so much easier, especially when you are working with vinyl.
Cricut has its own trimmer, but the one I like which is a little more advanced is the Fiskars SureCut Paper Trimmer. It even has the option for scoring to get those perfect folds.
Brayer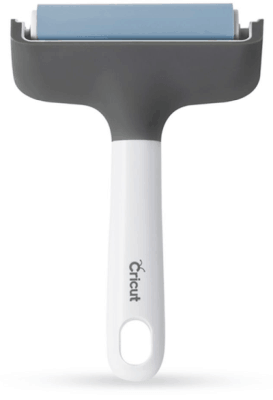 If you're working with fabric or larger vinyl (or anything really), you'll want to get yourself a brayer. Not fully stabilizing material before cutting is one of the most common mistakes beginners make, learn what the other top mistakes are in my article. A brayer fixes this by making the material stick to the Cricut mat without damaging it.
You simply run the roller over your material on your cutting mat using firm even pressure to get it to stick properly and remove any wrinkles. It can also be used in a variety of other applications like applying vinyl or ink-blocking.
Extra Mats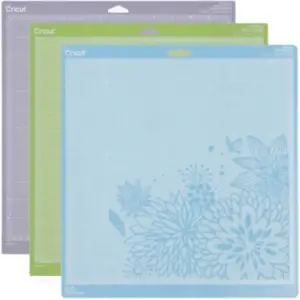 Something you should also have a backup of all mats. There's nothing more annoying when you're in the middle of the project and realize your mats are no longer sticky. There are ways to restick your cutting mats (learn how in my article) that can save money, but it's still a good idea to have extra mats on hand.
You'll want extra mats for the types of mats you use most often. Be sure you are getting mats for the right material:
LightGrip (Blue) – for paper and cardstock projects
StandardGrip (Green) – for vinyl and iron on
StrongGrip (Purple) – for posterboard, thick cardstock and other thicker materials
FabricGrip (Pink) – for fabric
Cricut has variety mat packs which include Light, Standard and Strong Grip mats in 12″x12″.  You can also buy them extra long in 12″x24″ or in multi-packs. Just make sure you get the right mat for your machine an material. The Cricut Joy uses specific mats compares to the Explore and Maker.
Cricut EasyPress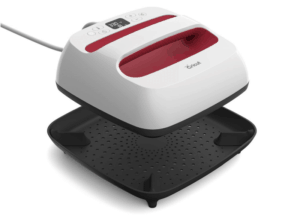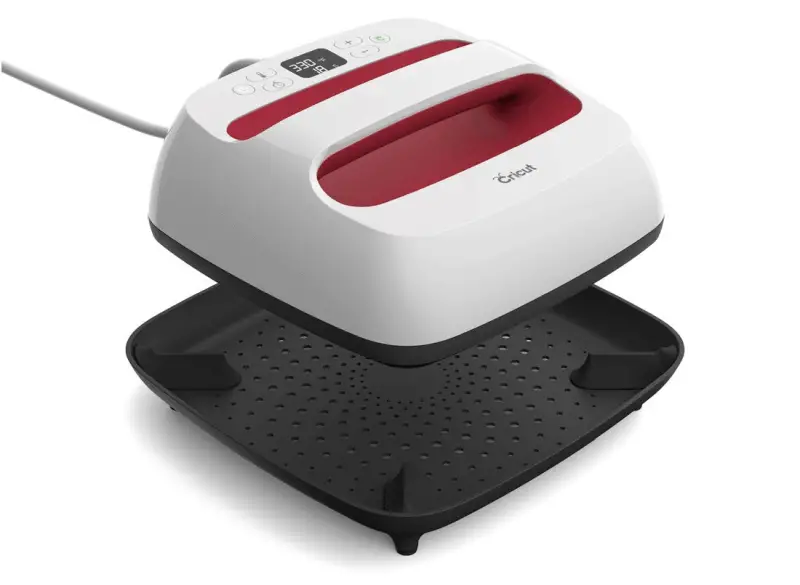 If you're still using an iron for heat transfer vinyl, it's really time for an upgrade. The Cricut EasyPress will make things so much easier than an iron. I've written a full in depth review of the Cricut EasyPress plus there are 4 different sizes to suit your needs. No more peeling after 1 or 2 wears. The EasyPress takes out all the guesswork of the right time and temperature.
If you have space, you can get a real heat press for just a little more money. Consider a beginner heat press (find the best beginner machines in my article), especially if you are doing anything in mass quantity or commercial purposes.
BrightPad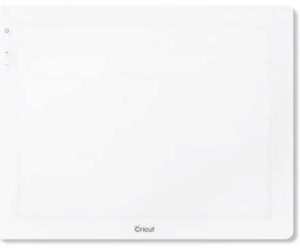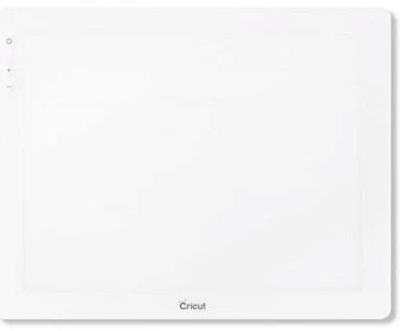 The BrightPad is great for a lot of reasons. First, it makes weeding sooo much easier by making the cut lines visible. If you have anything more than a simple cut, this will help out tons. You can even use it for tracing and adapting patterns. I also wrote an in-depth review for the new BrightPad and BrightPad Go.
There are also alternatives to the BrightPad that will work just as well.
Essential Tool Set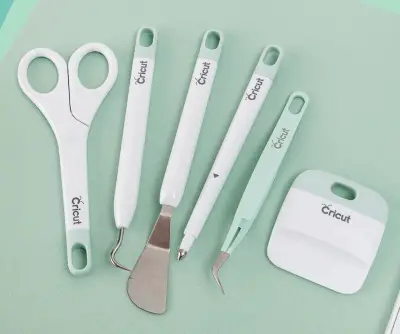 A lot of these tools can be bought in bundles to save money. The Cricut Essential Tool Set comes with pretty much everything you need to get started – great for beginners!
This kit includes:
Tweezers to lift and secure delicate material
Weeder to remove tiny negative cuts
Scissors with protective blade cover
Spatula to lift cuts from the mat
Scraper to burnish material and clean all cutting mats
Scoring stylus to add fold lines to cards and envelopes
High-quality trimmer for materials up to 12″ wide
Replacement blade for the trimmer
Scoring blade allows you to add score lines to your projects
You can also get the Cricut Basic Tool Set which includes the tweezers, weeder, scissors, spatula, and scraper.
Where to Buy the Best Cricut Tools
Getting the best deals on Cricut tools requires a little bit of shopping around. The two places I like to look are:
Cricut.com – Cricut frequently has sales on tools, accessories, and materials. Check my sidebar for current deals or subscribe to Cricuts mailing list
I do find items can be out of stock on Cricut.com but available on Amazon or vice versa.  It's useful to do a quick search on either site to see if the tool you're looking for is available in a different color.
If you liked this article, please share!