This post contains affiliate links.
Wait, they have printable vinyl?? Yep! And they even have printable HTV too! But hang on, knowing the differences between the different types of printable vinyl can get a little confusing.
Some of the questions we often see are "how does printable vinyl work?", "can I print on vinyl with a laser printer?", and "is printable vinyl waterproof?" We'll answer all these questions and more, so you'll understand what printable vinyl is and how it works.
What Is Printable Vinyl?
Printable vinyl is a permanent craft vinyl that you can print on using your home printer. Generally, an inkjet printer is used. What kind of printable vinyl you get really depends on the brand. For example, Cricut offers temporary printable vinyl, while Expression Vinyl offers permanent printable vinyl. There is also waterproof printable vinyl out there as well, so it all depends on what you are looking for.
What makes printable vinyl so awesome is that it can save you a lot of time and energy from having to do complex layering, especially if you are working with lots of details or smaller projects. You can print on the vinyl using your own inkjet printer and cut it out using your Silhouette Cameo or Cricut Explore or your other favorite die cut machine.
And printable vinyl works like any other kind of vinyl, so you can use it for car decals, mugs, tumblers, laptops, and more! Some crafters even use it on shirts, check out my article, Can I Use Adhesive Vinyl on Shirts? for more details.
Cricut Sales! Save up to 50% OFF on Materials and Accessories. Plus, get up to $150 off Machines and Heat Presses!
Check Out the Current Deals
Get Free Shipping with Code JANSHIP
Is Printable Vinyl the Same Thing as Sticker Paper?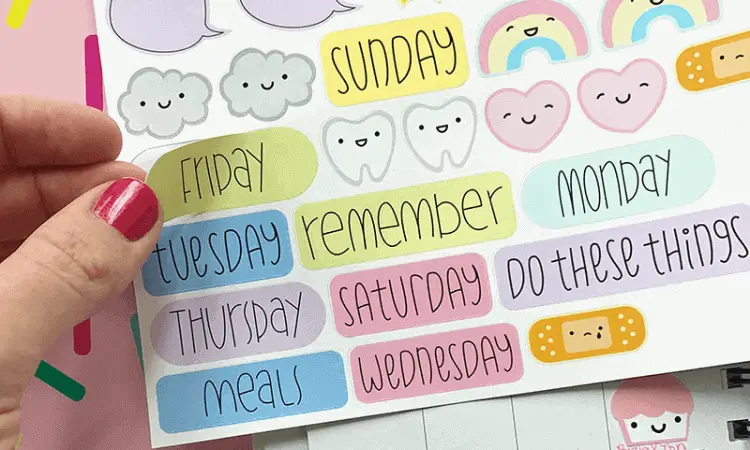 Printable vinyl is a bit different from sticker paper. Printable vinyl is for things like car decals, mugs, laptops. Stickers are just that, stickers. Stickers are good for things like binders and notebooks.
The thing about stickers is that if they get wet, they won't last very long and the ink will smear. So if you are expecting anything to get wet, you are better off going with the vinyl.
If you are looking for sticker paper, these sticker paper sheets are perfect for your Cricut or Silhouette. If you are curious about using different brand supplies with your cutting machine, check out my article Are Cricut and Silhouette Supplies Interchangeable?
What Printer Do I Need for Printable Vinyl?
When using printable vinyl, you'll want to use a regular inkjet printer, not a sublimation printer. And when you are printing, you'll want to make sure you are using the right kind of vinyl too. If you can get a printer to print high-quality images, that's even better. Find out my favorite printers for printing stickers in my article, Best Printer for Printing Stickers.
One question people ask is, "Can I print on vinyl with a laser printer?" There might be some vinyl for laser printers out there on the market, but you'll want to be careful to get the right kind. Laser printers heat up to as hot as 400 degrees, which could melt your vinyl and damage your printer if you use the wrong kind.
Is Printable Vinyl Waterproof?
Well, that all depends on what of vinyl you get. There is waterproof and non-waterproof vinyl on the market. if you buy non-waterproof vinyl, you can try making it waterproof by adding a clear vinyl adhesive. The clear adhesive vinyl also protects it against UV rays that can fade the ink.
What about Printable HTV or Printable Heat Transfer Vinyl?
Yep, there is also printable HTV on the market as well. Typically, there are two kinds of printable HTV, one kind to apply to light colors, and another to apply for dark colors.
StarCraft Printable Iron-on Transfer is the best inkjet printable HTV there is. Here's a quick review of the product from Troy of 651Vinyl.com
Printable heat transfer vinyl is used the same way as regular HTV but at a higher temperature and pressure. Normally, HTV requires a temperature of 305F or 320F. Printable HTV will require a higher temperature and pressure.
For dark materials:
Press at 350 Degrees for 30 Seconds under MEDIUM pressure
For light materials:
Press at 375 Degrees for 30 Seconds under HIGH pressure (heat press highly recommended)
Because of the higher temperatures, it's highly recommended that you use a heat press and not an iron. Most irons don't have even heat distribution, are small, and aren't hot enough.
The Cricut EasyPress 2 can work with enough pressure, as it does have even temperature and can heat up to 400 degrees. If you plan doing a lot of iron-on however or any commercial work, a heat press will be your best bet. Check out the Best Heat Presses for Beginners with reviews.
How Do You Wash Printable Heat Transfer Vinyl?
With any iron-on transfers, you want designs to stay intact wash after wash. The best way to wash your iron-on to make them the longest is:
Wash inside out
Use cold water
Tumble dry on low heat or hang to dry
Recommended Printable Vinyl Products
Enjoyed this post? Share the image below on Pinterest!