This post contains affiliate links.
Both the Cricut and Silhouette are great machines for cutting paper and vinyl and even other heavier duty materials. But some people are looking to mostly cut stickers. So when it comes to the Cricut vs Silhouette for stickers, which is best?
Cutting Stickers with Cricut and Silhouette
Cutting stickers is a pretty easy task for both machines. While the Cricut machines are more powerful than the Silhouette machines, you won't need a lot of power here to cut sticker paper.
As far as accuracy, Cricut is more accurate than Silhouette. But for stickers, if you're not cutting super detailed designs, then both machines are going to work great.
So if power and accuracy don't matter much for cutting stickers, what does matter?
Well, I think there are a lot of other important things to look at. One of the questions to consider is, what else are you going to be using the machine for? Another very important factor to consider is software.
Cricut Sales! Save up to 50% OFF on Materials and Accessories. Plus, get up to $150 off Machines and Heat Presses!
Check Out the Current Deals
Get Free Shipping with Code JANSHIP
Software for Cutting Stickers
While both machines can cut stickers just fine, the software is going to be an important factor to consider.
The good news is, before deciding to buy either machine, you can try out both of their software for free.
Previously one of the biggest differences you'll find was that Cricut Design Space was an online software, while Silhouette Studio is downloaded to your computer. Now Cricut has made design space downloadable but you still need internet to access your Cricut account and start designing. Once that connection is established you no longer need internet. The downside of this is that if you don't have internet access the software isn't going to work. If you don't have stable internet, then the Silhouette might be better.
The software itself is different too. Cricut Design space is more beginner friendly, while Silhouette Studio is a little more advanced and gives you more freedom to create designs.
But the software might not matter that much either way. How come? If you're creating designs for stickers, you can create those designs in other programs and import them into the machine software. You don't have to use the native software to design them. This means you can use programs like Adobe, Inkscape, Coreldraw, or your other favorite program.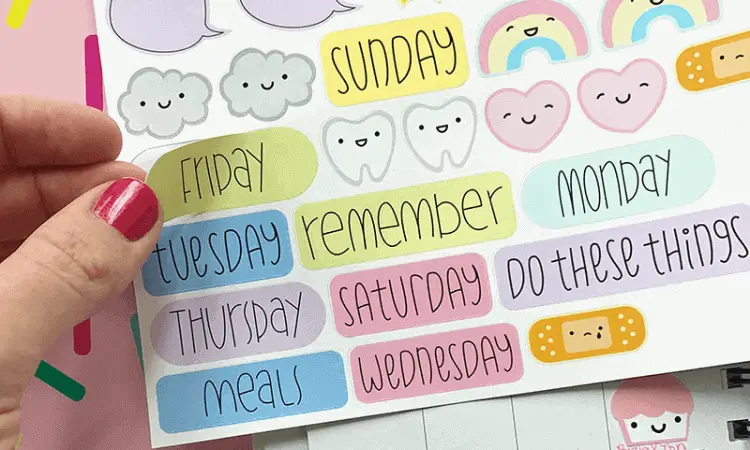 Cutting Stickers with Print and Cut
In both types of software, you'll be using the Print and Cut features. This is a feature on both the Cricut and Silhouette machines that allow you to print designs from your regular printer and cut them out using the machine.
One thing that people ask is if the cutting machines can print like a printer. The answer is no. If you're cutting stickers, you'll need to print out the designs on sticker paper beforehand, then have the machine cut the stickers out. What the machines do is save you a lot of time instead of having to cut out the stickers by hand. Check out my article to find out my favorite sticker printer, Best Printers for Printing Stickers.