This post contains affiliate links.
Cricut is known for creating some of the best die cut machines on the market, and now, they've created an easy way to heat press. If you're looking for an easy way to heat press iron on vinyl, keep reading. In this Cricut EasyPress 2 review, we'll cover everything you need to know about the EasyPress.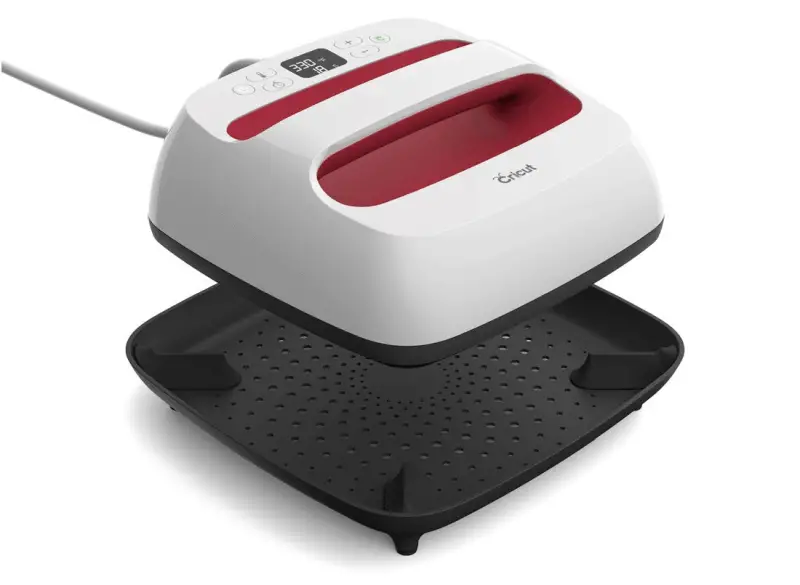 During our research, we found there to be a lot of misinformation out there about the EasyPress machines. We hope this review clears up a lot of confusion about whether or not the EasyPress is actually worth buying. Let's get started with the EasyPress 2 Review!
Cricut EasyPress 2 – What Is It?
The Cricut EasyPress 2 combines the convenience of an iron with the power of a heat press to allow you to heat press your own designs to a variety of items. Think of it like a big iron, but a lot better.
Cricut's EasyPress 2 helps crafters iron-on vinyl material to t-shirts, tote bags, aprons, pillows, and much more. The Cricut EasyPress even lets you heat press wood, metal, and cardstock!
Unlike an iron, the EasyPress allows for precise temperature control and heats up evenly. There's also safety features such as automatic shut off and a safety base.
With the power of a heat press, the EasyPress heats up faster and can reach temperatures as high as 400°F, but is much more portable.
Features Summary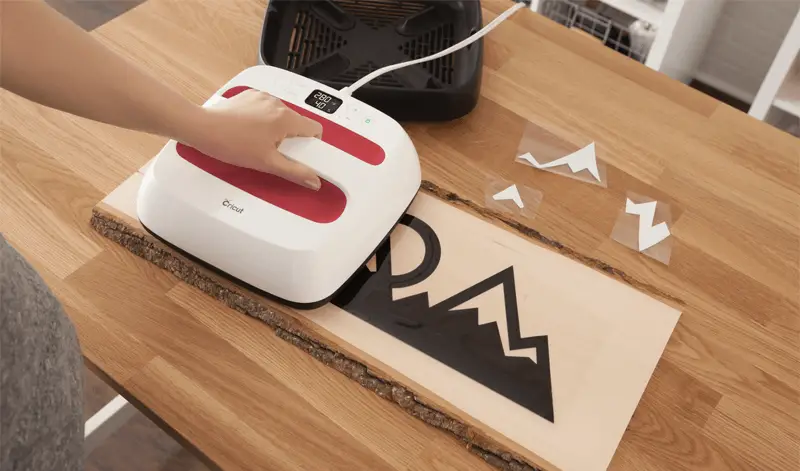 Here's a quick overview of the features of the EasyPress:
Portable for easy storage – Don't have space for a large heat press machine? The EasyPress is perfect to store on a shelf or inside a cabinet.
Even heat distribution – The EasyPress' base plate heats up evenly,  giving every inch of your material the right amount of heat.
Automatic shut-off feature – Forget to turn off your EasyPress? The EasyPress automatically shuts off after 10 minutes of inactivity. The EasyPress sounds 3 beeps to alert you before this happens.
Insulated Safety Base – Don't worry about burning your table or knocking over the EasyPress. The Saftey Base keeps your surface cool and secure.
Remembers last set time and temperature – When you turn your EasyPress on, it will automatically heat up to your last settings – giving you more time to prepare your project.
Easy adjust controls for time and temperature – The EasyPress is super simple to use. Just set the time and temperature and the EasyPress will beep and change color to let you know when it's ready.
Fahrenheit and Celcius units – No matter what units you prefer, the EasyPress allows you to switch between Fahrenheit and Celcius with the hold of a button.
What Material Can You Heat Press with the Cricut Easypress 2?

Most people just think of heat pressing t-shirts when they are interested in getting started with heat pressing, but there's so much more you can do.
You can heat press with a lot of different material. Here's a list of common types of material the Cricut EasyPress can iron:
Burlap
Cardstock
Chipboard
Corkboard
100% Cotton
Cotton Canvas / Muslin
Cotton / Poly blend
Faux Leather
Felt
Mesh
Neoprene
Nylon
Polyester
Silk
Wood
You can even get a little more creative and iron on things like metal! Basically, you can attach iron-on vinyl to pretty much anything that can take the heat.
There are a lot of materials you can press and Cricut has made an EasyPress reference guide to tell you exactly what temp and time you need to use.
Easy to Use Controls
The Cricut EasyPress really is simple to use. Let's take a quick look at the controls:
Power Button – This button turns the machine off or on. When you turn the EasyPress 2 on, it will revert to the last settings you last used.
Temperature Button – To set the temperature, press this button and use the + or – buttons to change the temperature. Hold this button to change the temperature between Fahrenheit and Celcius.
Timer Button – This works the same way as the temperature button. Press this button, then press the + or – buttons to change the timer.
Plus and Minus Buttons – These buttons are used to set the temperature and time. Press and hold these buttons down to reach your designed number faster.
Iron-On Results – Does it Really Work?
You might be wondering, does the EasyPress really work as well as a heat press? For most materials such as fabric and anything that requires no more than 400°F, the answer is yes!
To get the best results though, you do want to cover best practices when using your EasyPress. The following heat press tips will help get the best "stick" with your heat transfer vinyl (HTV).
Prewash any clothes that you want to iron
Always preheat your fabric to remove any moisture
Make sure your heat plate is flush with the fabric
Make sure there are no thick seams getting in the way
Use the correct EasyPress settings for your material
And if you want to have a really good stick, heat press the back of the fabric as well.
If you follow best practices, you can be sure your material and t-shirts will last.
EasyPress vs EasyPress 2
When the original EasyPress came out, it had a few issues. The main issues were around temperature control. Many people using the original EasyPress claimed that the temperature was 20-40 degrees lower than the temperature displayed on the machine. This resulted in users having to either set the temperature higher or apply the EasyPress for longer than the recommended settings.
The new EasyPress 2 seemed to take care of a lot of these issues. The EasyPress 2 has a higher temperature rating and a new ceramic-coated surface for better heat distribution. The new machine also heats up much faster.
Check out the chart below to compare and see the differences between the EasyPress and EasyPress 2:
Different EasyPress Sizes – How to Pick the Right Size

Knowing which EasyPress size to pick can be a little tricky, so we'll show you how to pick the best size for you.
Choosing the right size is important for a few reasons:
A heat plate that is too large may interfere with the seams, resulting in an uneven surface needed for a good press.
A heat plate that is too small will require multiple passes, which could overheat the iron-on material.
While there is only 1 size for the original EasyPress (9″ x 9″), there are 3 different sizes for the EasyPress 2.
EasyPress 2 Sizes:
EasyPress 6″ x 7″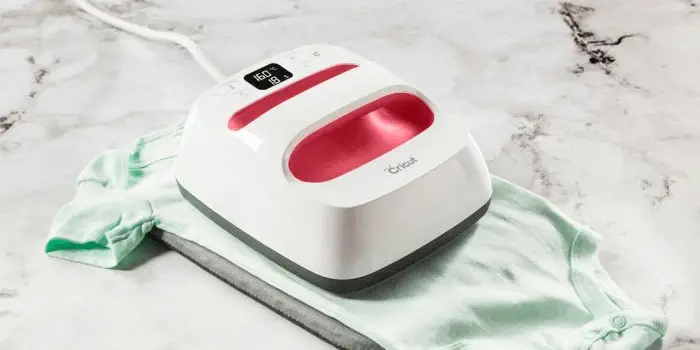 This little guy is the most portable and weighs only 3.3lbs. If you do a lot of traveling and want something to put in your tote bag or backpack, the 6″x7″ will fit nicely.
With a smaller size, it's best for baby materials, accessories, and hard to reach places. Some projects include:
Baby clothes
Ties
Hats
Napkins
Shoes
Mittens/Gloves
Socks
Scarves
Storage containers
Small make-up accessories
Small sewing projects
EasyPress 9″ x 9″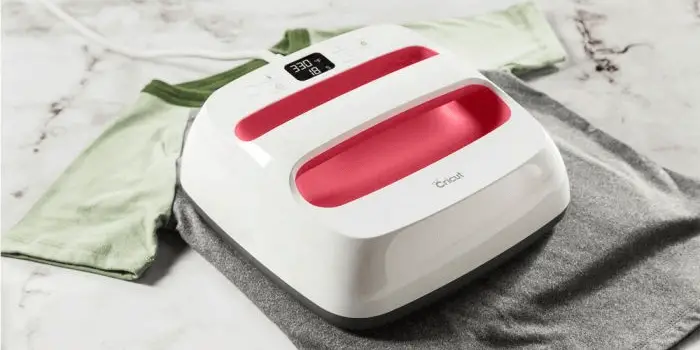 The 9″ x 9″ is a pretty standard size, and is a little heavier at 5.7lbs, but still pretty manageable. Some projects for this medium size EasyPress are:
Smaller T-shirts
Bags
Sweatshirts
Pillows
Aprons
Towels
Table runners
Costumes
EasyPress 12″ x 10″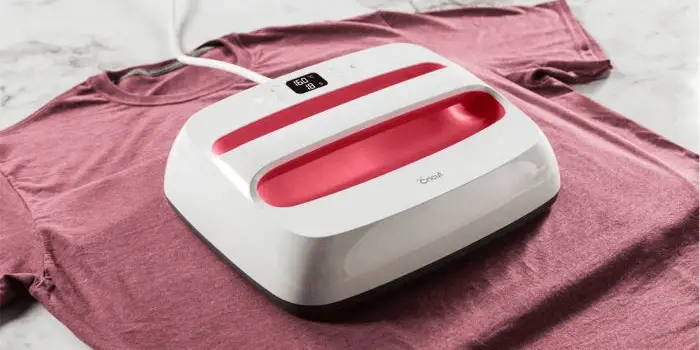 This larger machine is great for jumbo projects. It can easily cover full-size sheets of paper without having to do multiple passes. Some projects include:
Larger T-shirts
Sweatshirts
Sleeves
Pants
Banners
Blankets
Curtains
Adult sized clothing
When deciding what size EasyPress to get, consider the types of projects you will be creating. If you are creating smaller projects, consider the 6″x9″. If you are doing larget projects, consider the 12″x10″ instead.
Cricut EasyPress Mats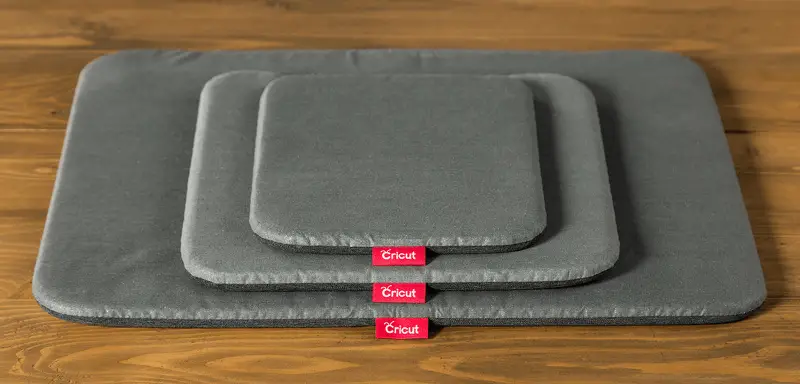 Cricut also sells mats to protect your surface when doing iron-on. These mats are a must-have if you want the best results.
Some people recommend a towel, but there are a lot of reasons why this is a bad idea.
Towels don't offer moisture wicking capabilities and they don't have flat surfaces, two things that cause bad adhesion.
Imagine you are working with a nice shirt or an expensive item, you obviously want everything to come out right.
The EasyPress solves all of these problems. The EasyPress mats consist of 5 layers of heat resistant, moisture-wicking insulation. And they come in 3 sizes, making them the perfect fit.
Here are a couple of places to buy the EasyPress Mats:
Cricut EasyPress vs Iron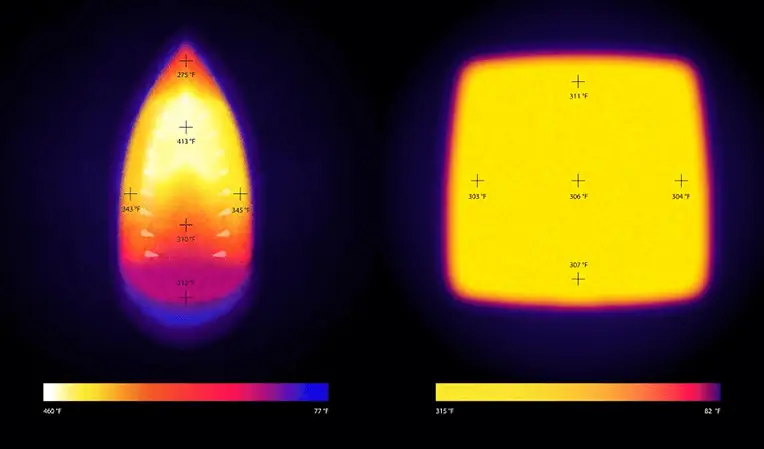 The cheaper and quick and dirty way of doing iron-on is to use a standard clothes iron. When you are comparing irons to the EasyPress, irons can still work, but with the drawbacks, it's probably best to get the EasyPress.
The first reason why the EasyPress is better than irons is for its size and heat distribution. The EasyPress comes in different sizes, but the standard 9″x9″ size practically covers an entire sheet of paper, a lot more than an iron.
Not only that, but when it comes to heat distribution, the EasyPress distributes heat evenly, making sure every part of your iron-on adheres to your material. If you want to make sure you are getting a good "stick", the EasyPress will do a much better job.
Another important factor when it comes to heat pressing is temperature and timing. The Cricut EasyPress comes with easy to use controls to set the temperature and time. The countdown timer lets you know when to remove the EasyPress machine for the perfect iron-on. Unlike an iron, the EasyPress removes all the guesswork, resulting in a perfect stick every time.
And because irons are so light and have varying temperatures, they will require a lot of constant pressure during the ironing process – not so fun.
Cricut EasyPress vs Heat Press
Before the Cricut EasyPress came onto the scene, the only ways to heat press were to use an iron or to use a heat press machine. But which is really better, the Cricut EasyPress or a heat press machine?
Knowing if you should get the EasyPress or a heat press machine really depends on what you want to do. I won't say the EasyPress is always better because there are still good reasons to choose a heat press machine over the EasyPress.
Why the EasyPress Is Better
Heat presses do have their advantages, but the main advantage to the Cricut EasyPress is its portability. Heat presses typically weigh over 50lbs and can take up a whole corner of your room. If you have limited space or don't want to constantly see the machine while it's not in use, the EasyPress is a good option.
The largest EasyPress weighs less than 9 pounds, which isn't super heavy. It can be easily stored on a shelf or cabinet, and easily moved. It's also much easier to travel with.
The EasyPress also heats up in a couple of minutes. Compare that to having to wait 10 minutes or more with a heat press.
Another advantage is having different size options. If you know you'll mostly be heat-pressing smaller items, the smaller EasyPress is great.
Why the Heat Press Is Better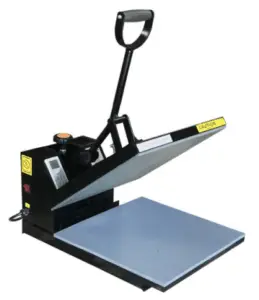 While the EasyPress has it's advantages, in some cases, a heat press is better. A clamshell heat press just does a better job and has a more professional look and feel.
If you are starting a t-shirt business or heat pressing a lot, a real heat press is definitely a better way to go. Even an entry-level heat press will perform better. For starters, it has a larger heating area and comes with its own platform. There's no need to hunch over your kitchen table and constantly remove the EasyPress after each job.
The heat press takes more time to heat up, but if you are doing a lot of t-shirts at once, you'll get done much faster. A cotton t-shirt will take only 10 seconds to press, while the same shirt could take up to 30 seconds with the EasyPress.
Many heat presses on the market also come with various attachments to heat press hats, mugs, and plates, something that is more tricky to do with the EasyPress.
Which to Buy, EasyPress or Heat Press?
Still can't decide between the EasyPress and heat press? Follow this guide below:
Pick the EasyPress if you…
Want something to travel with
Want to save space
Plan on working with smaller projects
Are hobbyist who wants to do crafts or occasional gifts
Pick the heat press if you…
Want something more reliable
Are starting a t-shirt business
Are doing anything commercial or in mass quantity
Where Can I Buy the Cricut EasyPress 2?
If you are looking for the cheapest places to buy the EasyPress 2, there are a few places to look. Occassionally, the Cricut website will have free shipping and sales, but Amazon is also a good place to check as well.
Here are a few places to check the lowest price to buy the EasyPress 2:
Keep in mind, for those looking to buy the EasyPress in the UK or other countries, the EasyPress 2 requires maximum input 120V outlet and is not recommended for use outside North America.
Overall Review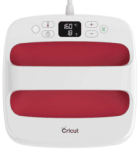 Our overall review of the Cricut EasyPress 2 was favorable. If you are looking to do occasional projects or gifts, the EasyPress 2 is worth buying. What we really like about the EasyPress is how fast it heats up, it's portability, and ease of use.
However, if you are doing anything in mass quantity or for commercial purposes, we would recommend a heat press instead. Learn what is the Best Heat Press for Beginners.