This post contains affiliate links.
There are so many types of craft vinyl on the market that it can be hard to know which one to use for which crafts. When you're putting a design on fabric, like shirts, it might be tempting to use adhesive vinyl for a fast and easy project.
You can use adhesive vinyl on shirts, but it will not last long. Adhesive vinyl works best on smooth, hard surfaces. It will easily peel off of fabric and will not withstand washing, making it a better option for stencils that don't bleed through. It can work temporarily for short-term decals.
While adhesive vinyl isn't the best choice for garments, it is an excellent choice for other crafts. There are also plenty of ways to add a design to a shirt without adhesive vinyl, such as heat transfer vinyl (HTV) or infusible ink. Read on to learn which vinyl type is right for your next project.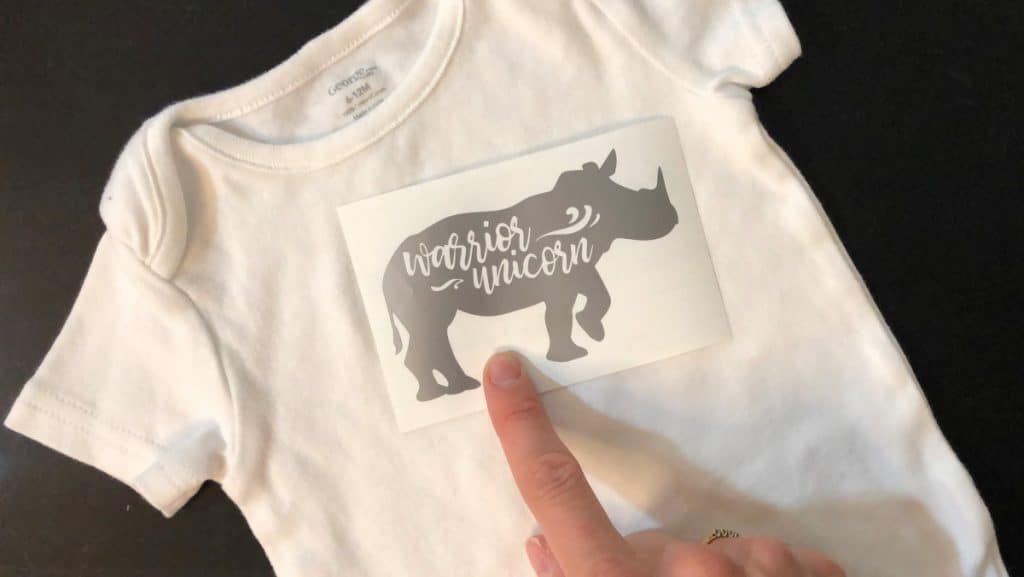 How Adhesive Vinyl Works
Adhesive vinyl is sometimes known as sticker vinyl because it works just like a sticker. It has a sticky side covered in a protective paper backing. The other side is where your design will be. The designed side can be matte or glossy and can even come with embellishments like glitter or a metallic finish. 
Many places sell adhesive vinyl in a size that's ready for your digital die cutting machine. Most full size cutting machines like the Cricut Maker, Cricut Explore Air 2, and Silhouette Cameo 4 will take vinyl that is up to 12 inches in width. Find out my favorite vinyl cutting machine in my article, Best Vinyl Cutting Machines.
Cricut Sales! Save up to 50% OFF on Materials and Accessories. Plus, get up to $150 off Machines and Heat Presses!
Check Out the Current Deals
Get Free Shipping with Code JANSHIP
My favorite type of adhesive vinyl is Oracal 651. It is a permanent adhesive vinyl that cuts well, easy to weed, and long lasting. Expressions Vinyl is a great place to buy your vinyl since they have a ton of selection, great prices, and free shipping. Curious about using other brands supplies in your machine? Check out my article, Are Cricut and Silhouette Supplies Interchangeable?
Once you've cut out your design you will need to "weed" it. Weeding is removing the excess vinyl from your design. Using a weeding tool, similar to a dentist pick, you will remove any vinyl from the carrier sheet that is not part of your design. Now, it's ready to use.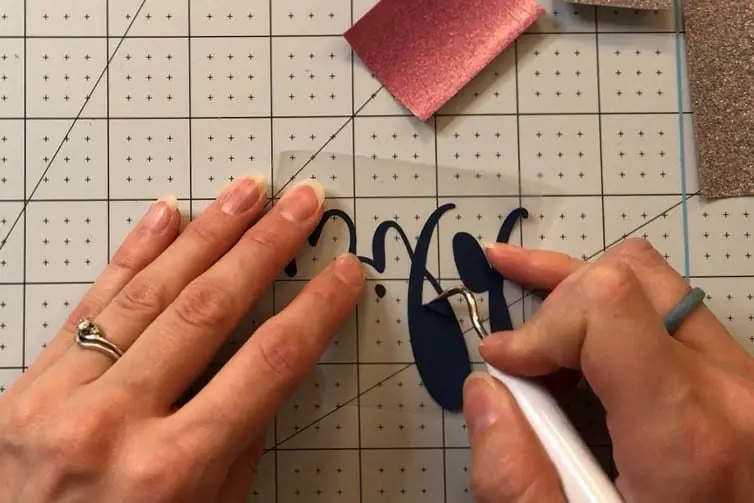 Like a sticker, you peel off the paper backing (aka carrier sheet) and stick the design onto the object you are using in your craft. If you have a more complex design with little pieces transfer tape should be used.
When To Use Adhesive Vinyl
The best places for adhesive vinyl are hard, smooth, non-porous surfaces. Ceramic mugs, mirrors, glass objects or windows, and walls all work well with adhesive vinyl. 
Adhesive vinyl comes in two different strengths, depending on how you plan to use it. There is indoor or removable vinyl and outdoor or permanent vinyl. Removable vinyl is for projects that won't see a lot of wear and tear. Permanent vinyl is for projects that need to be long lasting in harsher conditions.
Indoor adhesive vinyl works well for temporary wall decals for parties or seasonal decoration. You can remove it without damaging the wall's surface. It's also a great option for low-impact items like household decorations and mirror ornamentation.
Outdoor adhesive vinyl is better for items that you want to decorate permanently. Mugs, water bottles, and items that are more heavily used or need to be washed do better with permanent vinyl.
Removing permanent adhesive vinyl is likely to damage the surface it was stuck on, so only use outdoor vinyl when you're sure you want the design to be permanent.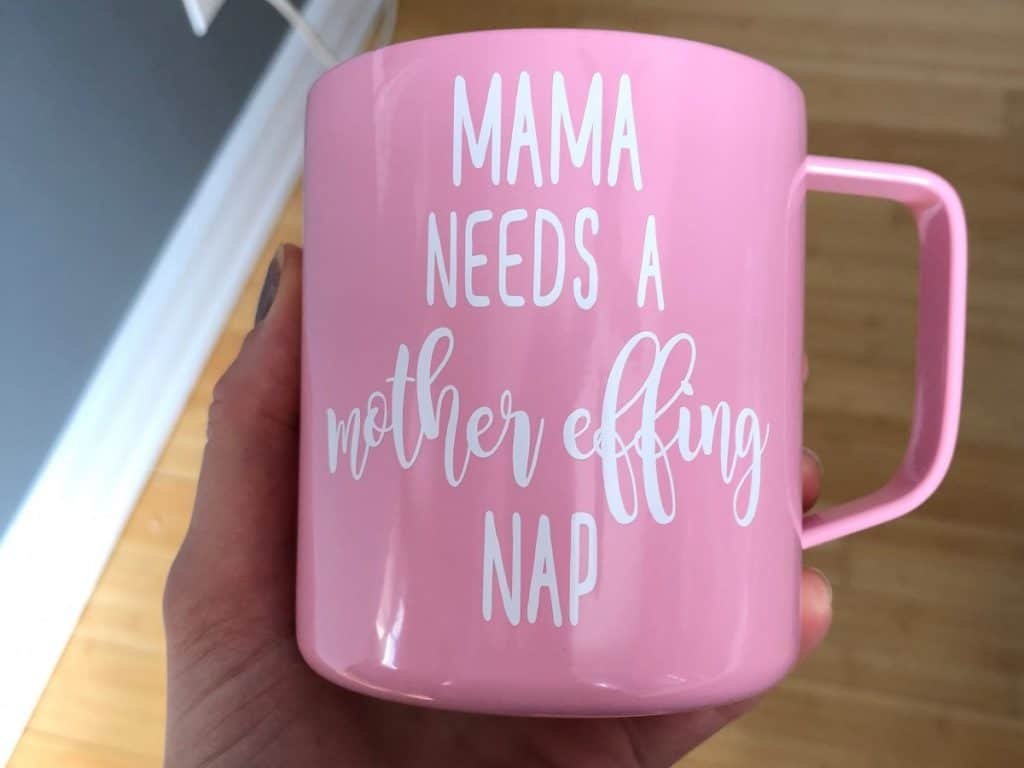 When Adhesive Vinyl Is the Right Choice for Fabric
While adhesive vinyl isn't the best option for making a durable fabric design, it can be a useful and creative tool for making shirts. It will peel off the fabric or t-shirt cleanly without leaving a sticky residue. It is a great choice to create stencils.
Adhesive vinyl is a smart stencil choice for adding designs to a shirt or canvas tote with fabric paints or paint pens. An adhesive vinyl stencil will stick onto the fabric securely enough that you won't get bleed through, but it will lift off easily when you're done filling in the design. 
Adhesive vinyl is also a great option for temporarily changing the look of a shirt. If you need to make a quick costume, you can cut out a design in adhesive vinyl and stick it to the shirt. Once you're done with the costume, you can pull the vinyl off, run the shirt through the wash, and it will be as good as new.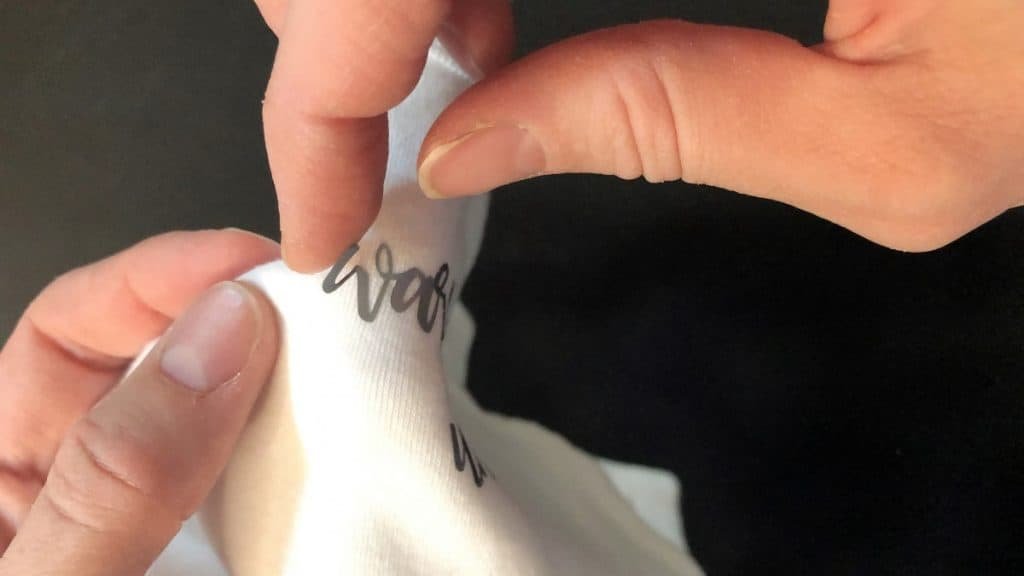 Alternatives to Adhesive Vinyl for Tshirts
Adhesive vinyl isn't a permanent option for adding a design to shirts or other garments. Heat transfer vinyl, infusible ink, and sublimation are alternatives that work better with fabric projects. 
Unlike regular vinyl, these three methods require heat to work; you can't just simply stick them on your project. These application methods are sturdier than adhesive vinyl. The heat bonds the design with the project more securely than a sticker does. 
Heat Transfer Vinyl
Heat transfer vinyl, also known as iron on vinyl, is a similar material to adhesive vinyl, but it doesn't have a sticky side. The adhesive on heat transfer vinyl (HTV) is only activated when you apply heat to it. You can activate most heat transfer vinyl with an iron.
A heat press can provide even pressure and heat for a better attachment compared to an iron. These are made for crafting and t-shirt making. The Cricut Easy Press is one of the most popular heat presses for home crafters. It comes in several sizes, learn more in my review of the Cricut Easy Press.
If you are interested in a full size heat press check out my article the Best Heat Press for Beginner.
Like adhesive vinyl, more complicated designs on heat transfer vinyl will require weeding. You'll use the same method as adhesive vinyl to remove extra vinyl from the carrier sheet. This can be a pain, but the right tools make it easier.
For projects that require weeding, I like Plantional Weeding Tools for Vinyl kit from Amazon. It includes tools for precision cutting and tools to easily place vinyl and smooth out designs once you've placed them.
Designs made with HTV will last on fabric for a long time. You can wash shirts with heat transfer vinyl in the washing machine without ruining the design.
The application technique can be tricky, which sometimes leads to flaking or cracking. Over time, the design might start to peel, but you will usually get years of use out of a heat transfer vinyl application. 
Using a high quality HTV will give you the best result. It will be easier to weed, transfer well onto your fabric and stand up in the wash. I like using Siser Easyweed Heat Transfer Vinyl for my HTV projects.
Infusible Ink and Sublimation Printing
Two other excellent alternatives to adhesive vinyl are infusible ink and sublimation printing. These are two similar techniques for permanently dying a design onto fabric. Instead of bonding a design to a blank surface, these methods actually infuse the ink into the material you're using.
For example, when you use infusible ink or sublimation printing to decorate a t-shirt, you're actually dying the shirt's fibers where your design is. The primary difference between infusible ink and sublimation printing is how the ink gets delivered.
Infusible ink works like any other vinyl sheet you would use in your digital die cutting machine. These are sheets of dried ink that are infused into the fabric with heat after you cut out your design. They come in solid colors and designs, just like adhesive vinyl and heat transfer vinyl. And just like vinyl your design needs to be weeded.
Generally, the term "infusible ink" will refer to Cricut brand specific products. Cricut carries lots of different patterns of infusible ink transfer sheets as well as infusible ink pens.
Sale
Cricut Infusible Ink Transfer Sheets -2 Sheets 12" x 12" - Midnight Sky Pattern - For Cricut...
INFUSIBLE INK: Unlike iron-on transfers or heat-transfer vinyl that adheres to your project's surface, Infusible Ink designs become one with your compatible material,...
INNOVATIVE TRANSFER SHEETS: Each pack comes with two 12inches x 12inches (30. 5cm x 30. 5cm) Infusible Ink Transfer Sheets and 2 sheets of butcher paper to protect all...
VIBRANT COLOR AND PATTERN OPTIONS: These innovative transfer sheets come in a wide variety of colors and patterns. When transferred using high temperatures, these...
Sublimation printing requires a printer with special ink. Rather than cutting out a design from a sheet of dried ink, sublimation printers use ink cartridges to print out a design that you can then infuse onto your project.
An inkjet printer like the Epson Ecotank ET-4760 can easily be converted to a sublimation printer since it doesn't have ink cartridges. Sublimation ink and sublimation paper are required.
This gives you a lot of design flexibility, as the color of sheets available doesn't limit you. A significant advantage of sublimation printing is that you don't have to weed your design. Only the areas where the design is printed will adhere to your garment.
Infusible ink and sublimation printing are both durable and permanent ways to bring your designs to life. The method of application is the same, but they are different ways to create the initial design.
Final Thoughts
Adhesive vinyl won't make the best permanent t-shirt designs, but it has lots of useful applications for fabric and other materials. Heat transfer vinyl, infusible ink, and sublimation printing are all more reliable methods of adding designs to shirts and other fabrics. No matter what your project is, there's a way to take it from a dream to a finished object.