This post contains affiliate links.
The Cricut Explore Air 2 is an older machine made by Cricut that is still wildly popular with crafters. It might not have the same capabilities as the newer Cricut Maker or Silhouette Cameo 4 but it still packs a serious punch when it comes to cutting out your crafting projects and is much more affordable.
I'm going to dive into the detailed specifications of this machine and help you decide if this old dog can learn new tricks. You can also head over to my article comparing the Explore Air 2 with the Maker.
Cricut has several lines that appeal to DIY lovers, but the Explore line is all about versatility and speed. If you're currently looking for a new vinyl cutting machine, it makes sense to explore the Explore Air 2 and see what it's all about.
Cricut Sales! Save up to 50% OFF on Materials and Accessories. Plus, get up to $150 off Machines and Heat Presses!
Check Out the Current Deals
Get Free Shipping with Code JANSHIP
The Cricut Explore Air 2 Overview

The Cricut Explore Air 2 is one of the most user-friendly machines on the market. It's great for beginners but also has everything a more advanced user would need in a die cut machine.  It's actually my top pick in my article Best Cutting Machine for Beginners. It has a sleek design and tons of fun colors. But it's what's underneath that shiny exterior that we are interested in.
This machine uses smart technology and offers two operational speeds; normal and fast. It's designed to work 2 times faster than previous models to help you, whether you're working on a small or large scale. Also, this machine allows you to cut more than 100 different materials with excellent precision, putting no limit to your creativity regardless of the project you're working on, check out the Explore Air 2 cut list.
Switching between the two speed modes is extremely easy, giving you total control over how fast your project will go. It's an excellent choice for avid as well as DIY first-timers because you can easily customize it.
It also has a dual-carriage so it can use a blade and a tool, like a pen, at the same time. I'll dig into this more later on.
The Cricut Explore Air 2 comes with several features to provide you with flexibility, speed, and convenience. It's a reliable machine that allows you to cut, write, and score.
You can use it to make décor for various celebrations, write in multiple fonts, and create folds for 3D paper crafts and customized cards. This machine is excellent value for money because it won't disappoint you regardless of what you need to do.
What's in the Box
The Cricut Explore Air 2 is sold on its own and is available in various bundles. It's available in at least 10 colors including: mint, candy apple, peach kiss, periwinkle, raspberry, boysenberry, blush, sunflower, periwinkle, rose.
Here are the things that you will receive with your incredible machine.
Welcome Book
Premium Fine-Point Blade + Housing
Fine Point Pen, Black
LightGrip Mat, 12 X 12 inches
USB Cable
Power Adapter
Free trial membership to Cricut Access™
Several material samples
50 ready to go projects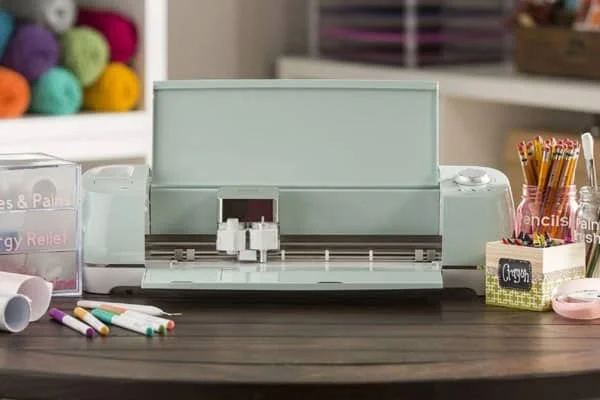 You'll need to download the Cricut Design Space software, which is free to use and can be downloaded whether you own a machine or not.
The machine is compatible with the scoring stylus, pens, bonded-fabric blade, and deep-point blade, these are sold separately. The basic box is enough to help you start working on your first DIY project.
If you're like me and you want to most bang for your buck you should look at the bundles. Cricut offers two types of bundles the Essential Bundle, which includes a little material and some key tools and the Everything Bundle, which includes a ton of materials and some essential tools
I personally picked the Everything Bundle when I bought my machine since it gave me a ton of different materials to try out. I've listed below what the bundles include but Cricut changes them up from time to time so see for yourself what goodies they include.
The Essential Bundle includes:
The Portable Trimmer.
A Basic Tools Set.
Standard Grip Cutting Mat 12 x 24 inches, 3 Pack.
Transfer Tape.
Premium Vinyl Sampler Removable, Everyday Iron-On Sampler, and Express Iron-On Sampler.
The Everything Bundle includes:
Multi-Pen Set, Gold
Weeder Tool
Scraper & Spatula Set
Cutting Mat, Lightgrip
Vinyl Transfer Tape
Stencil Vinyl
Glitter Vinyl, Gold
Premium Vinyl Sampler, Basics – Permanent
Premium Vinyl Sampler, Summer – Permanent
Shimmer Vinyl Sampler, Royalty
Everyday Iron-On Sampler, Neutrals
Everyday Iron-On Sampler, Nautical
Everyday Iron-On Sampler, Metallics
Everyday Iron-On Sampler, Dusk
Everyday Mesh Iron-On Sampler, Classics
Glitter Iron-On Sampler, Jubilee
These extra tools will allow you to explore the machine's potential to the maximum, and they provide excellent value for money. You can also buy just the machine on its own and pick up the tools and supplies you need as you go. I have a great list of essential tools for your Cricut Explore Air 2.
Details of the Cricut Explore Air 2
Now I'm going to run through the most important details and features of the Explore Air 2 like size, cutting force, blades, and tools among other awesome features that make this machine stand out from the competition, in spite of its age.
Size and Weight
The Explore Air 2 is not a lightweight machine, but it's fairly compact, given what it can do. You should have a dedicated workspace where you can keep it and all the necessary accessories to help keep you organized. It is a great size for a desktop machine.
The control panel is on the right side of the machine. It has the power button, the Smart Set Dial, in addition to the go and pause buttons. On the left side, you'll find the cartridge port, the open button, and a small storage cup.
The Cricut Explore Air 2 actually has a surprising amount of storage space. The most obvious is the storage cup on the side of the machine. This storage cup is perfect for storing tools that you use most often and easy storage when the machine is in use.
Other storage compartments are under the bottom flap keeps everything organized that you might not use as often, such as other tools and blades. There's even a magnetic strip to store extra blades and prevent them from moving around.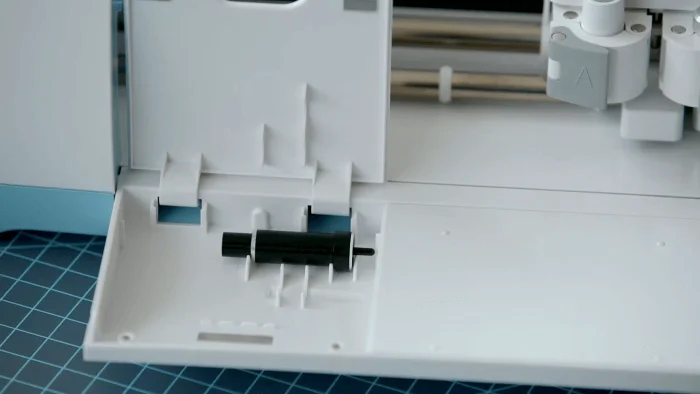 Specifications
Size: 22.17″ x 7″ x 6″ (source)
Weight: 21 pounds
Cutting Size: 11.5 X 23.5 inches
Cutting Force: 350 grams
Maximum Thickness: 2 mm
Compatible Software: Design Space
Adhesive Cutting Mat: Yes
Built-In Images: Yes (In Design Space)
Bluetooth Wireless Connectivity: Yes
Cutting Force & Cutting Width
The Explore Air 2 has a cutting force of 350 grams, so it can even cut the most challenging materials like wood, aluminum sheets, and heavy leather. Most cutting machines will only offer a cutting force of 210 grams. This will be enough to work on various materials, but not all of them.
Only the Cricut Maker and Silhouette Cameo 4 have higher cutting forces. The Maker with 4000 grams and the Cameo 4 with 5000 grams. So if you want to cut heavy duty fabrics or other tougher materials the Explore Air 2 won't cut it. Literally.
The Explore Air 2 still boasts an extensive list of over 100 different materials you can cut with your machine. See the complete list of what the Cricut Explore Air 2 can cut in my article.
As long as you stick with the materials Cricut recommends using the results will always be precise and accurate, regardless of how challenging the material is. Fabrics and woven materials should be bonded or have some sort of a stabilizer that would hold the material in place. The Cricut Explore Air 2 also suggests the best material for your chosen design.
The Cricut Explore Air 2 can cut materials up to 12 inches wide by 24 inches long. This size is limited by the largest cutting mats available from Cricut. Cutting mats come in two sizes 12″x12″ or 12″x24″. While your material can be a little bigger the maximum sized cut you can only cut designs that are a maximum of 11.5″x11.5″ or 11.5″x23.5″
Most cutting machines available can cut up to a 12 inch width with the exception of the Silhouette Cameo 4 which has three widths available regular at 12″, Plus at 15″ and Pro at 20″ (coming soon). 12 inches is plenty for most crafters out there since scrapbooking card stock it typically 12″ in width and other materials have been designed to work with most standard size machines.
Cutting Blades
The Cricut Explore Air 2 features high-quality blades that are made of German carbide. This ultra-resistant steel can withstand heavy-duty use, so this machine's blades won't disappoint you, even if you're working with challenging materials.
The maximum material depth is 2mm, which is thicker than what other machines can offer. As a result, the machine can cut more than 100 materials, giving you lots of options when you're working on your scrapbook, cards, and decorations with world-class simplicity. The blades are said to last up to 3 times longer than standard steel blades.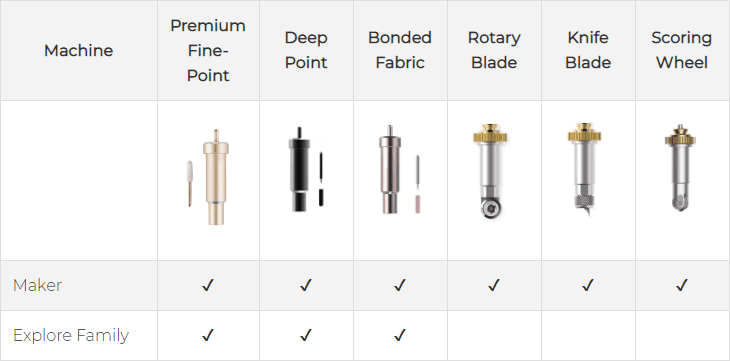 Fine-Point Blade
The fine-point blades are originally designed to work on thin and medium-weight materials like poster boards, iron-on, vinyl, and cardstock. It comes standard with your Explore Air 2 and is the that blade will work for most projects.
When your blade starts getting dull and not cutting well you get replacement blades in a multi-pack of 5 or 10.
Bonded-Fabric Blade
If you know anything about cutting fabric you know you want specific fabric scissors and your machine blades are no different. The bonded-fabric blade is designed to work exclusively with fabric materials with backing on them. It allows you to create amazing appliques and embellishments to customize your clothes and quilts.
The bonded-fabric blade is pink to match the pink FabricGrip mat and both should only be used with bonded fabric for a longer lifespan. Both the bonded-fabric blade and FabricGrip mat are sold separately.
Deep-Point Blade
The deep-point blade is used for thicker materials like leather or even magnet. It has a steep angle of 60 degrees instead of the standard 45 degrees of the fine-point blade, so you can cut through thicker materials with no issues.
It is made of harder and more durable steel and also must be used with the deep-point blade housing. It is also sold separately from the machine but can be found on Cricut.com.
Double Tool Holder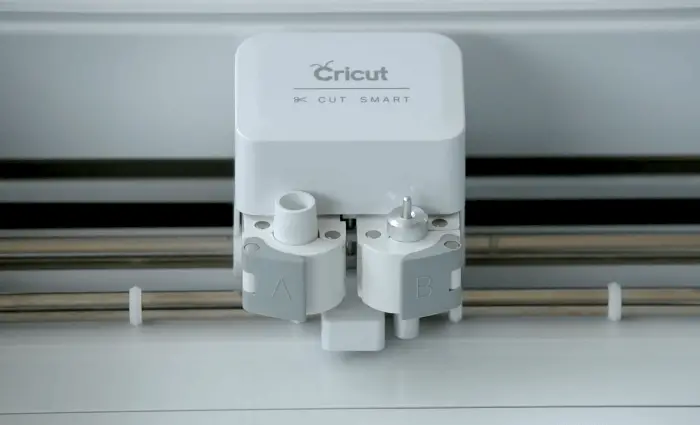 Pretty standard nowadays with electronic cutting machines is having the ability to use two tools at once. Cricut was one of the first companies to come out with this feature.
With the double tool holder, you can now cut and write or cut and score in a single step. You won't have to pause the project to swap out tools like you previously would. This tool saves time and effort because you can do two things at the same time.
The Cricut Explore Air 2 comes with the housings pre-installed in the clamps. Remembering which tool goes in which holder is easy:
Clamp A – For Accessories
Clamp B – For Blade
Tools and Accessories
The Cricut Explore Air 2 has a few accessories and tools availble. The main two are pens and the scoring stylus. Cricut makes pens specifically compatible with its Clamp A and they come in tons of different colors and types. Everything from gel pens to glitter pens and to just basic black
The basic black pen is included with your machine purchase so you can get a feel for how to use the pens before investing in some of the fancier, more expensive ones. The pens are awesome for custom labels and custom hand-written cards.
You aren't just limited to Cricut pens. You can buy third party pen adapters from Amazon that will let you use just about any pen on the market. The Ranger Embossing pen is one of my favorites since it lets you wet emboss with your Explore machine.
The scoring stylus allows you to create perfect fold lines. This is ideal for creating cards, envelopes, 3D paper crafts, party boxes, and pinwheels. It's similar to a pen but with a metallic tip. But you can't use the stylus and a pen at the same time, they both use the Clamp A.
The Cricut Maker comes with additional tools such as the Knife Blade, Rotary Blade, and Scoring Wheels. These tools are exclusive to the Cricut Maker and are not compatible with the Cricut Explore machines.
Smart Set Dial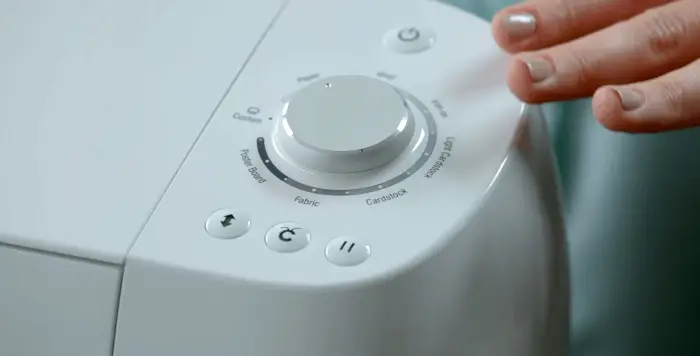 The Smart Set Dial is a large dial on the side of the machine that makes cutting so much easier. All you have to do is turn the dial to the material you want to cut, and the Cricut Explore takes care of all the settings for you. No more guesswork!
The dial features the most commonly used materials including paper, vinyl, iron-on, light cardstock, cardstock, fabric, and poster board. But if you wanted additional settings, select 'Custom' and select the material you want to cut in the software. You can ever enter your own settings and save them to be reused later.
If you use any of these common materials the Smart Set Dial is extremely handy since you don't need to hunt around in the software for your material.
Double Speed
As an avid crafter, the Explore Air 2's double speed feature is life-changing. Although DIY projects are all about patience and customizability, the fast speed allows you to accomplish a lot more. This is especially true if you run a home crafting business and will be making multiple of the same design.
Fast mode lets you cut and write up to 2x faster than normal mode. The speed doesn't affect the accuracy, but you can simply finish double the work in a given period. One thing to keep in mind is not all materials can be used with double speed fortunately your most common thinner materials like vinyl and iron-on are perfect for fast mode.
Your machine won't let you select fast mode on materials that won't work well with it saving you a lot hassle. If you notice your cuts aren't as good in fast mode then you might want to go back to normal mode and see if that helps but there are many things that can affect the quality of your cut aside from speed.
Noise Level
Everything comes with a price, and so does the high speed of the Cricut Explore Air 2. When using the normal speed, the noise level when cutting isn't too bad and is actually one of the quieter machines available.
However, things change a bit when you activate fast speed. The high-speed mode saves a lot of time and allows you to finish multiple projects in limited time, which can be a great option if you're preparing decorations for a party or need to complete an urgent order for your crafts business. But, you should keep in mind that the higher speed means that the machine will be a lot noisier.
The noise level won't disturb the neighbors or wake up your family members if you're using the machine at home. But it's something that you should take into consideration. If you're not in a hurry, the normal speed will deliver the same quality, and the machine will be a lot quieter.
Print Then Cut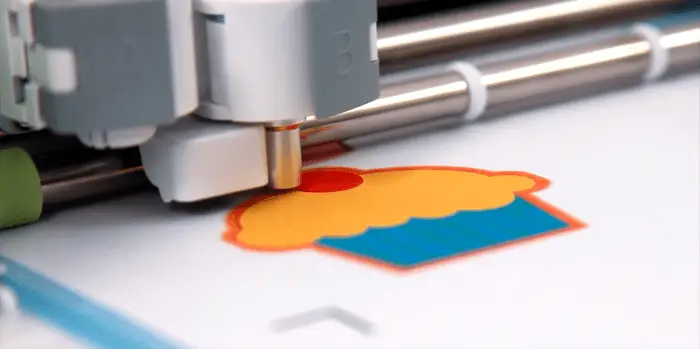 The "Print Then Cut" feature is another feature that comes standard with most electronic cutting machines. What this feature allows you to do is print your favorite designs off your home printer and cut them out using your Cricut machine.
Now, keep in mind the Cricut Explore Air 2 is not a printer itself, so it won't be able to print on paper as a regular printer would. It is a fun feature that lets you create custom stickers using both your Cricut and home print. Find out what the Best Vinyl Sticker Printer is to pair with your Explore Air 2.
There are some limitations to the "Print Then Cut feature". It can only cut images up to 9.25″ x 6.75″. The Explore Air 2 is also limited to using white materials whereas the Maker can use light or medium colored material.
Wireless BlueTooth Connection
The Cricut Explore Air 2 allows you to work anywhere you like thanks to the wireless BlueTooth connection. You don't have to work with your machine tangled in multiple wires, as it wirelessly connects to your laptop, tablet or phone.
This is an excellent feature if you're using this machine at school or home with your enthusiastic kids. The machine is not lightweight, but you'll be able to move it around easily since you won't have to worry about any wires.
You can still connect via a wired USB connection too if you prefer your machine to be hardwired to your computer.
Cartridges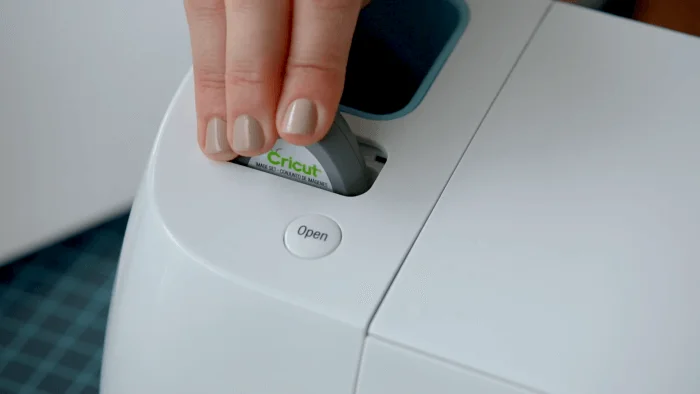 Originally Cricut used cartridges for crafters to buy and use designs. Fortunately, they have been retired but can still be used if you have some around. The Explore Air 2 is the last machine model to come with a cartridge slot, the Cricut Maker, and Joy do not have these.
You can link your cartridges in Design Space with your machine then never have to worry about using your cartridges again. Learn how to do this in my article How to Link Cartirdges with the Explore Air 2.
Cricut Software
Cricut uses its own software called Design Space to connect seamlessly with your machine. The same software is used across all Cricut digital cutting machines. It is available as a downloadable program for Mac and PC as well as an app for iOS and Android. Unfortunately, the Andorid App is seriously lacking in features and most users deem it useless.
Design Space is free to use and you don't even need a Cricut machine to use it. There is also another membership offered by Cricut called Cricut Access and you'll get a free trial membership when you purchase your new Explore Air 2 machine. I'll dig into the details below.
Cricut Design Space Software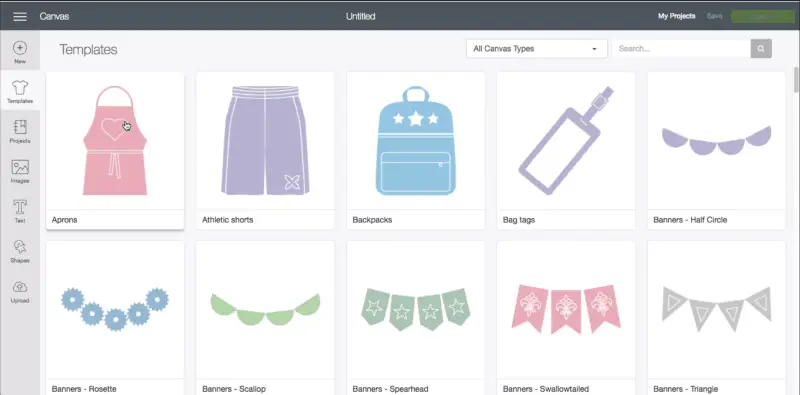 Cricut Design Space used to be a cloud-based software but it has been updated to a downloadable program for your Mac or PC. Sorry Chromebook users Design Space is NOT compatible. Unfortunately, even though it's a downloadable program you still need internet access when you start the program.
This because Design Space needs to connect with your Cricut Account in order to access any projects or images you have stored in the cloud. Once you've made your initial connection you can download your projects, disconnect from the internet, and work offline.
The software is user-friendly, and in no time, you will be able to learn how to explore and use it, even if you're not that tech-savvy. You will quickly learn how to save your customized SVG files, or any other format like JPG or PNG. The software allows you to upload your own images for free and to protect your private designs if you change the device, so no one else will have access to them. Other compatible file types for Design Space are are .svg, .png, .dxf, .gif, .bmp and .jpg.
The main drawback to Design Space is if you want to create your own designs from scratch. The software allows you to select and manipulate existing designs, but if you're looking to create designs from scratch, you'll be better off creating them in a different program like Adobe/Illustrator and importing them.
Cricut Access

Cricut Access is a membership program offered by Cricut that includes tons of fonts and images you can use in your projects and designs. Many new Cricut owners get confused between Design Space and Access. As I mentioned Design Space is Free but Cricut Access is a membership.
When you purchase your machine you get a free trial to Cricut Access but once that trial expires any projects you have created using Cricut Access images and fonts will no longer be available unless you sign up.
There are some free designs in Design Space and you can certainly find plenty of free designs all over the internet. There are also a ton of designs and fonts available for purchase through Cricut and many other websites. But Cricut Access provides you with a simple way to find many fonts and images for a low monthly fee.
Cricut Access gives you:
Unlimited access to over 400 beautiful fonts
Unlimited use of over 50,000 premium Cricut images
And a lot of other perks like 10% off Cricut Purchases and Licensed images and fonts.
There are a few payment options that come with slightly different benefits. I won't go into too much detail here, but Cricut Access can be a great way to save on designs.
Pros and Cons of the Cricut Explore Air 2
This machine is a dream come true for craft lovers and comes with a ton of advantages that make it one of the best options on the market. But, as with anything, there are a few drawbacks as well.
Pros
It offers a long list of flexible materials that you can use to create the decorations of your choice.
Easy cutting with fast speed will help you save your time and effort, especially when you're working on multiple projects.
The Cricut Explore Air 2 gives you precise and accurate cuts and designs, even on more challenging materials.
The Bluetooth connectivity feature gives you more freedom as you explore the full potential of this machine.
The machine comes in multiple color options that appeal to every DIY lover.
Packed with functional features that appeal to every crafts lover.
Lots of useable storage space helping you, keep your workspace neat and organized.
It saves your settings. The large and user-friendly analog switch is your go-to tool if you're working with the same material
There are lots of free designs that you can use in Design Space. You can also download endless designs from your computer, and the machine will bring them to life.
It's one of the most affordable full sized cutting machines available.
Cons
Cricut Design Space doesn't work without an internet connection unless you're using the iOS app. This might be a bit limiting if you're trying to work away from home.
If you're only planning to use the machine every now and then, you can pay for projects when you need to. Projects are available for as little as $0.99 on Cricut Access. However, if you're planning to use the machine more often, then you should consider paying for the monthly subscription.
Activating the "Print Then Cut" feature is extremely helpful, but you might get disappointed because the size of the image you picked is different from what you end up with. However, you can fix that by altering the size of the chosen image before executing it.
Some thick materials can't be cut using the fast mode option. More complicated designs are better executed using the normal speed.
Doesn't have as extensive tool options as the Cricut Maker.
Where Can I Buy the Cricut Explore Air 2?
The Cricut Explore Air 2 is available from many retailers. My favorite to buy online are from Amazon and the official Cricut website. I do tend to prefer duing directly from the manufacturer for a machine like this since you don't need to deal with a third-party middle man.
Cricut frequently has sales on their Explore Air 2 machine and updated regularly. Keep an eye on my sidebar for currently Cricut sales.

Final Verdict
Overall the Cricut Explore Air 2 is a versatile, budget friendly, and dependable cutting machine. It's an excellent choice for a DIY lover or someone who has a medium-sized business. You can use it to cut, write, and score various materials for party decorations, stencils, embellishments, and other DIY creations using more than 100 materials.
For the price, it's the best bang for your buck. This machine has been around for awhile but it still is a top contender as one of the best cutting machines on the market. If you are looking for a more versatile machine then the Cricut Maker or Silhouette Cameo 4 might be the machine for you.
Check out my review of the Cricut Maker and my comparison of the Explore Air 2 vs Maker. I also have an in-depth review of the Silhouette Cameo 4 and a comparison of the Maker vs Cameo 4.