This post contains affiliate links.
Finding a good high quality vinyl cutting machine can be tricky especially if you've never used a machine like it before. There are many different reasons to invest in a vinyl cutting machine from just enjoying doing arts and craft projects to starting a home based business.
There are several factors to consider as well, like if you want your machine to cut more than just vinyl, what sort of space you have available for a cutting machine as well as your budget.
In order to find the best possible vinyl cutters, I've looked for machines that met the criteria to look out for in a vinyl cutting machine. These are things such as machine dimensions, warranty, connection, cutting force, and cutting size. After hours of research, I've come up with the best possible vinyl cutting machines for you, alongside a handy buyers guide to give you the inside scoop on our selection criteria.
In a hurry? This is our winner!
Silhouette Cameo 4
Our rating:

Sale
Silhouette Cameo 4 with Bluetooth, 12x12 Cutting Mat, Autoblade 2, 100 Designs and Silhouette Studio...
Built-in roll feeder allows you to easily load and cut rolled materials like vinyl and heat transfer. Built-in crosscutter lets you trim vinyl or heat transfer right from...
Full 12-inch cutting width (when using a cutting mat). Cut up to 10 feet in length (with select materials). Matless cutting capabilities (see Tech Specs for full...
3 mm clearance for thicker materials. Automatic tool detection. Sleek, compact aesthetic with a sliding lid and feather-light backlit touch panel.
Best Vinyl Cutting Machines – Comparison Table
Best Vinyl Cutting Machines – Reviews
Our Pick
Silhouette Cameo 4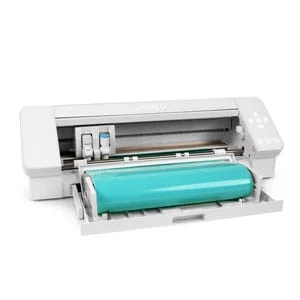 Our rating:

Silhouette has been making some brilliant cutting machines for many years now, and the Silhouette Cameo 4 is yet another entry into their vinyl cutting range that is sure to impress. 
The Cameo 4 boasts 3 times the cutting speed of the Cameo 3, has 20x more force and a redesigned dual carriage. It even has a bunch of new tools included! You can get this machine in 3 different sizes: 12" Cameo 4, 15" Cameo Plus, and the 20" Cameo Pro (coming soon).
This machine really does cut FAST, so if you need a lot done in a short amount of time you're in luck. With 5000 grams of cutting force, you are also able to cut through more materials and make much deeper cuts.
The feature that makes the Cameo 4 stand out as the best vinyl cutter is the integrated vinyl roll feeder. You can use vinyl rolls up to 150 feet in length and the built-in crosscutter lets you cleanly cut your design from the roll. Depending on your materials and setting you don't even need a cutting mat so you can cut designs up to 10 feet in length.
With this machine you will get fantastic accurate cuts, helping you to create seamless arts and crafts projects and in half the time it would normally take. It's also quite affordable, especially considering just how much it has to offer.
The Silhouette Cameo 4 uses Silhouettes Studio Software which is free to use unless you want to import your own SVG files. Then you will need to upgrade to the Designer Edition.
For more information on the Silhouette Cameo 4, read my full review of this awesome vinyl cutting machine.
Powerful
Crosscutter and vinyl roll feeder built-in
Easy to use interface
Can cut a range of different materials
Free version of Silhouette Studio Software is limited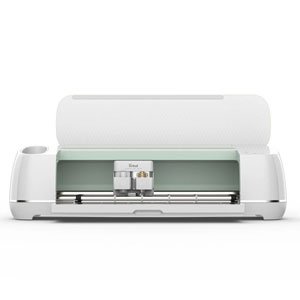 Our rating:

The Cricut Maker is an excellent option for cutting vinyl. Frequently the Maker and the Cameo 4 go head to head jockeying for position as the best digital cutting machine. You can read more about the difference between these two machines in my comparison article Silhouette Cameo 4 vs Cricut Maker.
The Maker is also a very powerful cutting machine with 4000 grams of cutting force. It's biggest drawback for cutting vinyl is it's limited to designs 12″ x 24″ due to the size of the cutting mat. The Maker needs to use a cutting mat when cutting any material.
This machine boasts a ton of different blade and tool options making it the most versatile of all cutting machines. It has options like a debossing tool, perforated blade, knife blade, rotary cutter, engraving tip to name just a few. It can also cut 300 different materials.
The Cricut Maker uses Cricut Design Space, a free program, to design and send projects to your machine from either you computer or mobile device. You can upload any file format to the program to send to your machine. It's made to be easy to use too, so whether you're just starting out or are a professional there's no extra headache involved. 
Unfortunately, you can't make your own designs from scratch in the software, you'll need to design them in another program like Adobe Illustrator first then send them to design space.
Get the full details on the Cricut Maker in my detail review.
Can cut through 300 different materials
Multiple tool and blade options for increased versatility
Easy to use
Expensive
Can't design images or projects from scratch in software
Limited cut size
Best Budget Option
Cricut Explore Air 2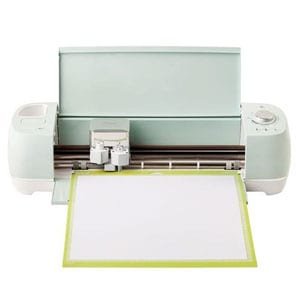 Our rating:

The Cricut Explore Air 2 is the perfect machine to use at home! This machine cuts and draws very quickly and even comes with Bluetooth connectivity, so you can easily set up a job right from your couch.
This machine can cut more than 100 different materials and can score and write as well as cut. The double tool holder allows you to cut and score, or cut and write, in just one step. It also has adjustable speeds, so it can cut in normal mode or fast mode. The machine has a maximum cutting size of 12 x 24 inches, so if you're using your vinyl cutter as a hobby this is more than sufficient.
The machine can only be used with the Cricut Design Space Software, but it's possible to convert and upload images and fonts at no extra cost to you. The Design Space software is used for all Cricut machines. There is also an app for iOS that you can use so you can make any designs straight from your tablet or phone.
Learn more about the Cricut Explore Air 2 in my review. You can also see the difference between the Cricut Maker and the Explore Air 2 in my comparison article Maker vs Explore Air 2.
Easy to use
Good speed selection
Bluetooth connectivity
Affordable
Can only work with the Cricut Design Space Software
Limited Cutting Size
Best Small Scale Option
Silhouette Portrait 3
Our rating:

The Silhouette Portrait 3 is perfect for beginners just looking to get started in the world of vinyl cutting. The machine is very easy to set up right off the bat, so you don't need to spend hours trying to figure out what parts go where, you can just get straight onto working on your DIY arts and crafts project.
It's much more compact than any other machine listed here, the only smaller machine on the market is the Cricut Joy. It weighs only 3.5 lbs so it's easy to store if you don't have the desk space for your machine.
In spite of the Portrait 23s small size it can cut vinyl projects up to 60 feet long but can only cut 8 inches in width. Other materials are limited to 8″ x 12″ which is the size of the cutting mat. It also has 210 grams of cutting force which is plenty for most commonly used materials.
Simply by having the machine you also get a month of free access to extra designs and shapes on the Silhouette Online Store, which you need to pay for after this point. It also utilizes Silhouette Studio Software the same as Cameo 4.
The machine is very budget friendly too, which is even better for beginners who aren't sure if vinyl cutting is something that they intend to continue with. Despite this budget friendly price, the machine still makes very accurate cuts and gives some impressive results, much like more expensive machines.
Learn all the details of the Silhouette Portrait 3 in my detailed review.
Very affordable

It's easy to use for beginners who have never used a vinyl cutting machine before
Easy to set up
Can cut through a lot of materials
Can cut long designs
Can only cut up to 8 inches
Weaker cutting force
Best Professional Grade Option
Graphtec CE6000-60 PLUS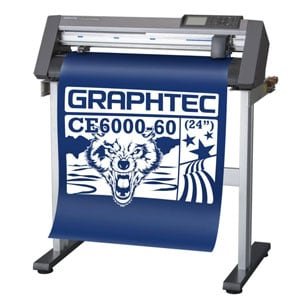 Our rating:

The Graphtec CE6000-60 PLUS is aimed more towards the professional vinyl cutting enthusiast than it is towards the beginner. There are a number of versions of this machine but the PLUS version is a 24 inch vinyl cutter which is great for those that want to cut wider materials.
There is also a bigger version that can cut 48 inches. If you want a professional machine that is a little smaller Graphtec also offers a 15″ desktop machine and a 20″ desktop machine.
This is a pretty straightforward machine to use. You can create a design on your computer and then connect it up to the vinyl cutter. Then load the machine up with your design and cut. The machine is incredibly fast, running at around 35 inches per second.
The CE60000-60 comes with straight forward instructions for set up in the manual. The machine is easy to operate, with a large LCD screen and large buttons, so even the slippery fingers can use this machine without issue.
It is also able to memorize up to 8 settings so you can easily access your preferences without having to select it every time you use the machine. If you're running a business that requires the use of a vinyl cutting machine, you will not be disappointed with this machine, and it's even quite quiet too!
It also has a strong cutting force of 300 grams. Finally, if you need some extra peace of mind the product has a one year warranty that can be extended to two, just in case you're anxious about it breaking.
Quiet operation
Good price range for a high end model
Fast speed
Built in error detection
Well positioned grid rollers for better feeding
The technology is a little outdated
Expensive
Best Vinyl Cutting Machines – Buyers Guide
Regardless of what you're looking to buy your vinyl cutting machine for, you're going to need to know what makes these machines differ from one another and what things you need to look out for when making your purchase. These are some of the main things you should look for in a vinyl cutting machine and what impact they will have on the end result of your project.
What Do You Plan to Use it For?
It's important to know beforehand why you're going to be buying the product. You will need to know in advance the kind of materials it can cut through, but you'll also need to know the kind of dimensions of the cuts and how durable it is.
What you need it for will differ depending on whether you're using it for a hobby or for commercial use. If you're using it for commercial purposes, opt for a professional vinyl cutting machine because the ones that are made for home use just aren't going to last as long and you may not get the amount of precision that you're looking for.
If you plan on making vinyl car decals you'll want to read my article, Are Vinyl Stickers Safe for Cars?
Things to Look For in a Vinyl Cutting Machine
There are a lot of specifications in vinyl cutting machines so naturally it can seem a little bit overwhelming if you've never had one before. There are a lot of different makes and models on the market so first of all you need to think of the key features and specifications you're going to need for your projects before you spend that hard earned cash.
Cutting Force
Cutting force is one of the most important parts of a cutting machine, as the cutting force determines how precise your cut is going to be. It will also influence the kind of materials you can work with using the machine.
Vinyl is a material that doesn't a super high cutting force since it's a thinner material but it is important for helping you achieve the best possible result for your project.
Available Connection
Most craft cutting machines like the Silhouette or Cricut machines come equipped with BlueTooth so you can connect your computer or device to them wirelessly. This isn't necessarily the case for professional style vinyl cutting machines.
Before buying, you should also always check their compatibility as some only work on certain operating systems, such as Windows. Ensure the machine is compatible with your relevant operating system before buying, otherwise, you're going to be disappointed.
Cutting Size
The cutting size is in reference to the width and length of material you are able to cut. Some machines are able to cut materials up to 12 x 24 inches, and you shouldn't need much more for projects at home. If you're using it professionally you should opt for a cutter with a larger cutting width, and consider the length of the material. Though some 12″ wide cutters can cut much longer materials.
Dimensions
It's important to consider the dimensions of the actual machine, and even more important if you don't have a lot of space to work in. If you're running commercial projects however you could opt for a larger cutter to get more done at once. But for home projects consider where you will store your cutter when not in use and if it's easy to move in and out of storage.
Warranty
Before you select a model you should always check what kind of warranty the manufacturer and the retailer offers. This way, you will be covered in the event of ineffective products. This gives you extra peace of mind that your purchase was the right one.
In order to make sure you get the proper kind of support that you want, always keep an eye on the availability of the customer service too in case you have any problems further down the line.
Compatible Materials
You will want to consider the types of materials you intend to craft with and the kinds of materials your machine can cut. If you plan to use vinyl exclusively then pick a machine that excels at cutting vinyl.
If you want a cutter that can do more than just vinyl, the majority of cutters tend to work with common materials like vinyl, cardboard, paper or fabric for things like quilting and sewing. However, if you intend to cut on thin metal, leather or balsa wood then you need to make sure that the machine you choose is compatible with those materials.
Added Accessories
Some machines actually come with additional accessory bundles, while with others you're going to need to buy those separately. They may come with things like USB cables or extra blades or even some materials. There are a lot of accessories you can use to make for a more enjoyable experience, so make sure you check first what add ons come with your machine.
Frequently Asked Questions
What other things can you use a vinyl cutting machine for?
Depending on the machine, vinyl cutters can usually cut many other materials. So you can use your machine to make signs, cards and iron-on transfers for t-shirts. If you have one of the more advanced digital die cutting machines you can even make things like magnets or cut out fabric for quilts and sewing projects.
Are vinyl cutting machines okay for children to use?
Vinyl cutting machines are safe to be used by children but it's still good to supervise them while they use the product. A lot of models are easy enough for a child to be able to operate, and they can have lots of fun creating designs on a computer or tablets and seeing them cut out on the machine.
Do you have to use the designs provided or can you make your own?
The vast majority of vinyl cutting machines allow you to be able to cut your own designs that you make using a computer, tablet, or by scanning a hand drawn sketch. There are also many ready made options available for purchase on the internet or for free.
What's the point in having a Bluetooth connection?
One of the main reasons to get a vinyl cutting machine with a Bluetooth connection is that it means you are able to create a project on your tablet, laptop, or smartphone and then can send the file to the cutter right from your sofa when you're finished. Not having to deal with cables is also handy but you need to check that the machine you get will work with your devices or computer operating system.
How do I choose a vinyl cutter as a beginner?
Choose a basic model if you're inexperienced, so you are able to play around with a range of different materials without spending too much money. Find out my pick for the Best Die Cutting Machine for Beginners