This post contains affiliate links.
The Cricut Joy is the latest digital die cutting machine from Cricut. It can cut the most popular crafting materials and is 1/3 the size of most standard cutting machines.
While the Joy is limited to cutting and drawing it has some great features and it's small size makes it the perfect travel companion and easy to use around the house. In this review, I'll cover the key features of the Cricut Joy, the tools, blades, and accessories it uses, who should buy the Cricut joy, what the pros and cons are as well as compare it to Cricut's full size machines.
If you are new to electronic/digital cutting machines you can find out more about cutting machines in my article Introduction to Die Cutting. But basically you send an electronic cut file from your computer to the machine and the machine will cut out your desired shape.
Cricut Sales! Save up to 50% OFF on Materials and Accessories. Plus, get up to $150 off Machines and Heat Presses!
Check Out the Current Deals
Get Free Shipping with Code JANSHIP
Cricut Joy Overview
The Cricut Joy is probably the smallest electronic die cutting machine available. As I mentioned it's about 1/3 the size and weight of its siblings the Cricut Explore Air 2 and the Cricut Maker. Its size makes it extremely portable and perfect for craft shows, cutting retreats, traveling to the cottage, or even just moving it around the house.
Its biggest claim to fame, aside from being adorably small, is its ability to perform matless cutting using Cricuts new Smart Materials. This matless cutting feature is new to Cricut cutting machines and means you can cut unique designs up to 4 feet long or repeating designs up to 20 feet long.
Since the Joy has such a small profile it is a bit limited in its maximum cutting width, that being 4.5 inches. Cricut has also had to redesign its pens and blades to fit in the smaller housing so you need to purchase Cricut Joy specific supplies.
The Joy is limited to cutting and writing. It does a wonderful job of these but these are the only two functions this machine can do. So if you want to make more complex projects that involve scoring then you'll need to use a different machine or do it by hand.
The Joy specializes in making long and narrow projects out of vinyl, iron-on, and paper. It also can make gorgeous intricate cards in just minutes with the innovative new card mat.
Overall the Cricut Joy is a handy little machine perfect for small projects and excels at making cards. It can cut your standard materials like vinyl, paper, and iron-on. Keep reading to learn all the features this machine has.
What's in the Box?
The Cricut Joy is sold on its own or there is one bundle available from Cricut at the time of this review. I expect in the near future Cricut will offer more bundles similar to the Essential and Everything bundle offered with the Explore Air 2 and Maker.
If you purchase your machine on it's own you will receive the following:
Cricut Joy machine  
Blade + Housing (Joy Specific)
Fine Point Pen, Black (Joy Specific)
StandardGrip Mat, 4.5" x 6.5" 
Power adapter 
Free 30-day trial membership to Cricut Access (for new subscribers) 
50 ready-to-make projects online 
Sample materials for practice cuts.
Bundles tend to give you the best bang for your buck since they will include materials at a discount compared to the retail price. Right now there is only one bundle available.
Currently the Subscribers Bundle includes:
Smart Vinyl™ Permanent, Gold – 10′
Smart Vinyl™ Permanent, Silver – 10′
Smart Iron-On™, Silver – 24″
Smart Iron-On™, Gold – 24″
Cricut Joy™ Insert Cards, Sampler
Cricut Joy™ Card Mat, 4.5″ x 6.25″
Cricut changes up their available bundles all the time so check their website for the latest offers. If you aren't sure what tools you need for your Cricut check out my 10 Must Have Tools for Cricut.
Details and Features of The Cricut Joy
I've given you a basic overview of the Cricut Joy and now it's time to get into the nitty gritty details. Let's talk about the physical size and weight, cutting size, cutting force, connectivity, and software.
Size and Weight
I've said this a few times but the Cricut Joy is probably the smallest digital die cutting machine available. At least it's the smallest of the mainstream machines. It can fit in the palm of your hand and is quite light too at less than 4 lbs.
It has no buttons on it! Just a status light at the top and a power plug at the back. The Joy has a plastic housing that is mat turquoise on the top and sides and glossy white on the front and back. The front panel flips down when you are ready to start using it.
Specifications
Size: 5.50″ x 8.40″ x 4.25″ (source)
Weight: 3.85 pounds
Cutting Width: 4.5 inches
Compatible Software: Design Space
Adhesive Cutting Mat: Yes
Matless Cutting: Yes
Bluetooth Wireless Connectivity: Yes
One drawback to the small size of the Joy is there is no storage. There is a handy little spot to keep your blade on the upper right or left corner when using the pen but that's it.
Cutting Force and Cutting Size
One of the biggest features of the Joy is the cutting length. As I mentioned earlier it can cut a single design up to 4 feet long. If you have a repeating design it can be 20 feet long. But you are limited to a maximum of 4.5 inches in width. So it's awesome for long skinny projects.
Another thing to note for cutting size is 4.5 inches is the maximum cutting size when you are using Cricuts Smart Materials. Smart Materials are technically 5.5 inches wide but the machine needs a1/2 inch on either side to let the rollers feed the materials into the machine. It's also only with the Smart Materials that you can cut those 4 foot and 20 foot projects.
If you are using a cutting mat the maximum cutting width goes down to 4.25″ and maximum length is 11.75″ and that's if you are using one of the long length cutting mats. Otherwise, if you are using the included cutting mat the maximum size design you can cut is 4.25″ x 6.25″.
Now I looked high and low to find the cutting force of the Cricut Joy but I couldn't find it. I reached out to Cricut and their response was "We don't have an exact cutting force for our machine. At this time the only material the Joy machine can cut is cardstock, vinyl, and infusible ink sheets. "
Its closest competitor is the Silhouette Portrait 3 and it has a cutting force of 210 grams. So it's safe to assume the Joy less than that. Learn more about how the Portrait 3 stacks up against the Joy in my article, Silhouette Portrait 3 vs Cricut Joy.
Material Sensors
One of the really cool features of the Cricut Joy is its material sensors. When using Smart Materials the Joy will actually check that you have a large enough piece inserted before it starts cutting. This saves you the pain of cutting your project only to realize a corner of your design is off the material.
Unfortunately this only works with Smart Materials, the Joy is not able to check the size of you material when using a mat.
The Joy also checks the alignment of your material when feeding it through. It will make sure your Smart Materials or your mat is properly aligned in the machine prior to starting cutting.
Wireless Connection
As I mentioned earlier the Joy's sleek design has no buttons or plugs aside from power. This means you MUST connect your machine to your computer, phone, or tablet via Bluetooth. It also means there is no power button so if your machine is plugged in it is on.
Some people love these features while others do not. The Joy is designed to be used then stored away unlike other Cricut machines. Which makes sense why there is no power button on the Joy. Cricut didn't intend for it to be left out and plugged in all the time.
As for the Bluetooth connectivity, the downside to only being able to connect via Bluetooth is sometimes the Bluetooth connection can be unreliable. This is usually caused by interference in your house like being close to your WiFi router or other wireless devices. Since the Joy is super portable you can easily try a different area in your house if you notice connection issues.
Cricut Design Space Software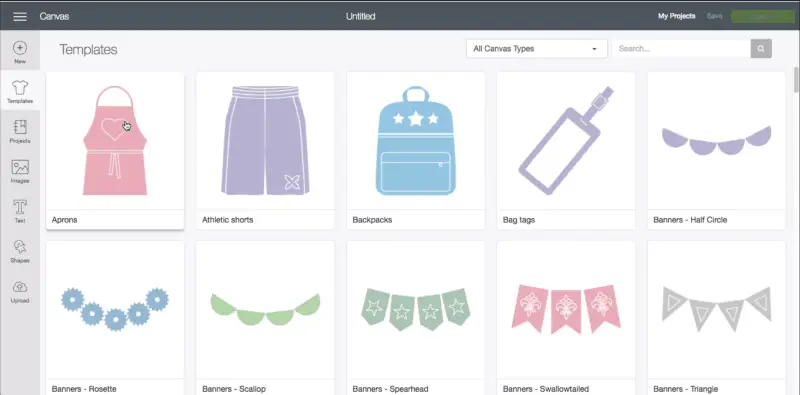 If you have used a Cricut Machine in the last few years you will be familiar with Cricut's software Design Space. If you are new to Cricut, Design Space is a free downloadable software created by Cricut to use with their machines.
Design Space is compatible with Windows and Mac computers and there is also an iOS app and an Android app. But the Android app is a lot buggier than the iOS app, learn more about the Design Space Android app in my article.
Cricut Design Space lets you import and edit premade designs not only from Cricut itself but other designers on the internet. You can import SVG files as well as JPEG, BMP among others. Cricut also has a membership to get tons of design and fonts called Cricut Access. Learn more about Design Space and Access in my article.
One very handy thing about Design Space is you tell it what machine you are using and it will let you know if the design you have selected is too big for your Joy to cut or draw. Fortunately, you can easily resize your design until it works with the Joy.
Another very useful feature is when you select a Smart Material in Design Space it will tell you exactly how big your piece of material needs to be. You'll need material cut about 1.5″ bigger than your design to allow for the rollers to grip your Smart Material.
One of the best places I have found to learn how to use Design Space well is the Cricut Academy. They have courses dedicated to Design Space, the Cricut Joy as well as learning more about tools and materials. So instead of scouring YouTube and Google, you can find everything in one convenient place at the Cricut Academy.
Cricut Joy Tools, Mats and Blades
The Cricut Joy has been designed to cut and write on a more limited set of materials, I'll cover the materials it can cut in the next section. Right now there are only two types of tools the machine can use and 3 types of mats, though one is brand new and super cool.
Unfortunately, you will need to purchase new blades, pens and mats specifically designed to be used with the Joy.
The Joy only has a single tool holder carriage, most other cutting machines are equipped with a dual tool holder. This means that with the Joy you need to switch between the pen and the blade if you are making a design that has drawing and cutting.
Cricut Joy Blades
Right now there is only one type of blade available for the Cricut Joy. The Cricut Joy blade is an all-purpose blade suitable for cutting paper, vinyl, iron-on with a few more materials thrown in the mix, see the next section for more details on what the Joy can cut.
One of the biggest downfalls of the Joy's small size is the redesigned blade housing. Cricut had to make the Joy's blade and housing much smaller to fit in its tiny body. The housing is not only shorter, about 25%, it is also thinner. This means all other Cricut blades are NOT compatible with the Joy. So if you have an Explore Series or Maker machine you will need to purchase new blades.
The Joy's replacement blades are a similar price to the cost of the Explore's replacement blades. It's highly possible Cricut will develop new blades for this machine in the future but that's just speculation.
Cricut Joy Mats
There are three types of mats available for the Joy, standard grip, light grip, and the card mat (this one is so cool). The standard and light grip are similar to the normal Cricut mats and come in two sizes, 4.5″x6.5″ and 4.5″x12″. You may notice there is no strong grip mat or fabric mat since the Joy doesn't have the cutting force or blades appropriate to be used with materials normally used with these mats.
The price point on the Joy's standard and light grip mats is a bit disappointing. It's around $10 for one of the larger mats and $9 for one of the smaller ones. You can usually find the normal Cricut mats on sale for less than $12 for one 12″x12″ mat.
Now that we are have talked about the boring mats, let's talk about the card mat. The card mat lets you cut/write a design on a prefolded card without marking up or cutting the inside of the card. You simply slide your card into the mat with the insert between the front and the back and away you go.
The card mat is actually fairly reasonable in spite of it being one of the hottest features of the Joy. It'll run you about $6.
Cricut Joy Tools
At the moment the only tool available for the Cricut Joy is the Cricut Joy pens. You will need to purchase Joy specific pens since the diameter of the pen has changed. There are plenty of pen options to choose from like gel pens, metallic markers, infusible ink markers, and standard fine and extra-fine point pens.
The price per pen is a little more than the standard Cricut pens. Joy pens cost about $3 per pen and Explore/Maker pens cost about $2.60 per pen.
Materials for the Cricut Joy
As mentioned the number of materials the Cricut Joy can cut is quite limited when compared with the Explore Air 2 and the Maker. The Joy can cut around 50 different materials whereas the Explore Air 2 can cut over 100 and the Maker can cut over 300.
What can the Cricut Joy Cut?
The Joy's cut list includes the most common types of materials used by crafters. These include:
Art board – corrugated and flat cardboard, foil poster board
Card Stock – including glitter cardstock and medium weight cardstock (up to 80lbs)
Iron-on – including glitter and holographic as well as infusible ink
Faux Leather – only if it's paper thin
Paper – including adhesive backed and foil paper
Foil Acetate
Vinyl – including most premium vinyls
Party Foil
Window Cling
There are more details on the Cricut website and the list there will be expanded as Cricut continues to test and approve different materials to be used with the Joy.
Smart Materials
I've mentioned Cricut's new Smart Materials quite a few times throughout this review. Smart Materials are materials specifically created by Cricut to be used in the Joy without a cutting mat. This frees you from the size limitation of your cutting mat.
The Smart Materials have a special backing on them to which allows for matless cutting. There are several different types of materials available like Smart vinyl, Smart iron-on, and writable Smart labels in both paper and vinyl.
To me, there are two main downfalls to Smart Materials. The first issue is cost. Smart Materials are much more expensive than their "dumb" counterparts. So unless you have an extra long project you want to create then the matless cutting feature isn't that helpful.
The second issue is material waste. Like I said these materials are expensive and in order for your Joy to properly load the Smart Material it needs 1inch above your design and 0.5inch below. It also needs the full 5.5inch width of the material.
That being said if you do have scraps of Smart Material less than full width or less than 4inches in length you can always use them on your trusty cutting mat.
Pros and Cons of the Cricut Joy
I've talked about all the different features of the Cricut Joy. Some of its benefits and the drawbacks but I'll break it down for you into an easy pro con list.
| Cricut Joy Pros | Cricut Joy Cons |
| --- | --- |
| – small in size | – can only cut and write |
| – light weight | – Smart Materials are expensive |
| – highly portable | – not compatible with current Cricut tools |
| – makes amazing cards | – only cut up to 4.5 inchs wide |
| – can cut unique designs up to 4 feet long | – low cutting force |
| – can cut repeating design up to 20 feet long | – limited materials |
| – detects if you have enough material with Smart Materials | – can't Print-then-Cut |
| – has matless cutting option | – single tool holder |
| – cuts common materials very well | |
Comparison with Other Cricut Machines
I have to say comparing the Joy with other Cricut machines like the Cricut Explore Air 2 and Cricut Maker is difficult. The Joy was designed specifically to be very portable and to do a very good job of a few small things.
The Joy is much more limited than the Explore or Maker in it's cutting size, compatible materials, and available tools. It's technically cheaper than the Explore and a lot cheaper than the Maker, Cricut is frequently putting these machines on sale so the price gap isn't that large between the Explore Air 2 and the Joy.
| | | | |
| --- | --- | --- | --- |
| | | | |
| | | | |
| | | | |
| | | | |
| | | | |
| | | | |
| | | | |
| | | | |
| | | | |
| | | | |
| | | | |
| | | | |
| | | | |
| Smart Material Compatible | | | |
| | | | |
| | | | |
| | | | |
| | | | |
| | | | |
| | | | |
| | | | |
| | | | |
| | | | |
| | | | |
The closest competitor the Joy has is the Silhouette Portrait 2 which is another lightweight, portable cutting machine. But this comparison needs an article all to itself. You can read my detailed comparison of these two machines in my Silhouette Portrait 2 vs Cricut Joy article.
Who should buy the Cricut Joy?
The Cricut Joy is a great travel or companion machine but is quite limited in the size it can cut and the materials it can cut. It's extremely portable making it perfect for the traveling crafter, if you do a lot of craft shows and want your machine with you to create projects if you enjoy cutting retreats and even if you live in a small space like full time RVers or tiny house dwellers.
I've seen the Joy marketed as perfect for the crafting "dabbler". Someone who doesn't want a big monetary or space commitment but would like to try their hand at paper crafting, vinyl decals, and iron-on projects.
Honestly, if you are a dabbler, you are better off buying a Cricut Explore Air 2. It's much more versatile, pretty close in price, especially if you snag it on sale, and you likely won't outgrow it. It's actually the machine I recommend if you are a beginner, see my article Best Cutting Machines for Beginners.
The Joy is great as an addition to your current crafting tool kit. Many avid Cricuters (if that's even a word) have found themselves reaching for their Cricut Joy over their Explore Air 2 or Maker when they want to do a quick project or make a stunning card.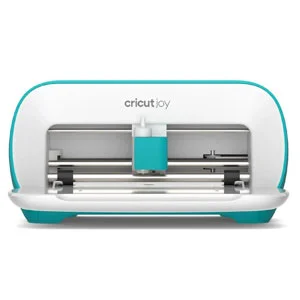 Final Thoughts
The Cricut Joy is a neat little cutting machine that does two things exceptionally well, cutting and writing. It's perfect for narrow and long projects and makes the cutest cards faster than you can imagine. It lacks the versatility of Cricut's full sized machines with a limited cutting width and limited compatible materials but Cricut designed it to be a companion to a full sized machine.
It does boast matless cutting with Smart Materials and is the most portable machine on the market. If you are in the market for a machine that can go anywhere, make beautiful cards, narrow vinyl and iron-on designs then this is the perfect machine to get you started in the world of digital die cutting. It's also the ideal sidekick to your existing full size electronic die cutting machine.
Recommended Cricut Joy Accessories