This post contains affiliate links.
When it comes to personal desktop die-cutting machines, Silhouette and Cricut have been neck and neck for as long as the DIY community can remember. These two manufacturers have made quite a name for themselves with units like Silhoutte's Cameo 4 and Cricut's Maker.
In this article, I'm going to compare two of the most portable die-cutting machines out there: Silhouette Portrait 3 and Cricut Joy, in order to find out which machine reigns supreme. The two units cover very similar grounds but have some important differences.
Silhouette Portrait 3 vs Cricut Joy: Short Answer
If you're in search of the most compact die-cutting machine available and you don't mind being limited to small projects, Cricut Joy is the way to go. However, if you want a unit that can tackle larger projects while being highly portable, Silhouette Portrait 3 is certainly the better option.
Silhouette Portrait 3 vs Cricut Joy: Comparison Table
 

thin materials (not specified)

4 feet unique design
20 feet repeating design

Use most Silhouette Blades/Pens

Yes (Only with Smart Materials)

16.2 in. x 5.5 in. x 4.4 in.

5.50 in. x 8.40 in. x 4.25 in.

Silhouette Portrait 3 vs Cricut Joy: Overview & Features
Before I put these two cutting machines against each other, I'd like to give you a little background on each unit so that you have a solid idea of their features and capabilities.
Silhouette Portrait 3 Overview
The Silhouette Portrait 3 is considered the little brother of the Silhouette Cameo. It's about 30% smaller and about 1/3 of the weight. It can cut all the same materials as the Cameo 3.
The small size of the Portrait 3 makes it ideal for crafters looking for a portable cutting machine or someone that just doesn't have a ton of space for a large machine. It's also a great option if you are a beginner looking to get your feet wet with a cutting machine.
The Portrait 3 can cut designs up to 8 inches in width and can perform matless cutting on both types of vinyl, and cardstock. It also can cut designs up to 60 feet long! It is perfectly sized to cut any letter (8.5″x11″) or A4 materials.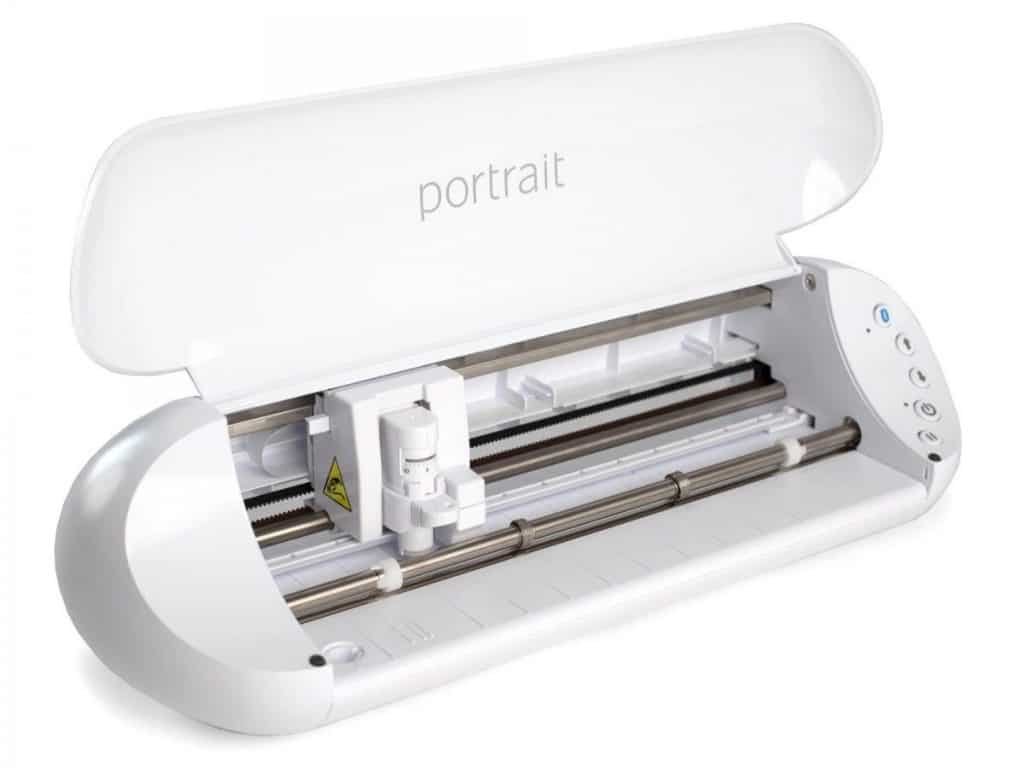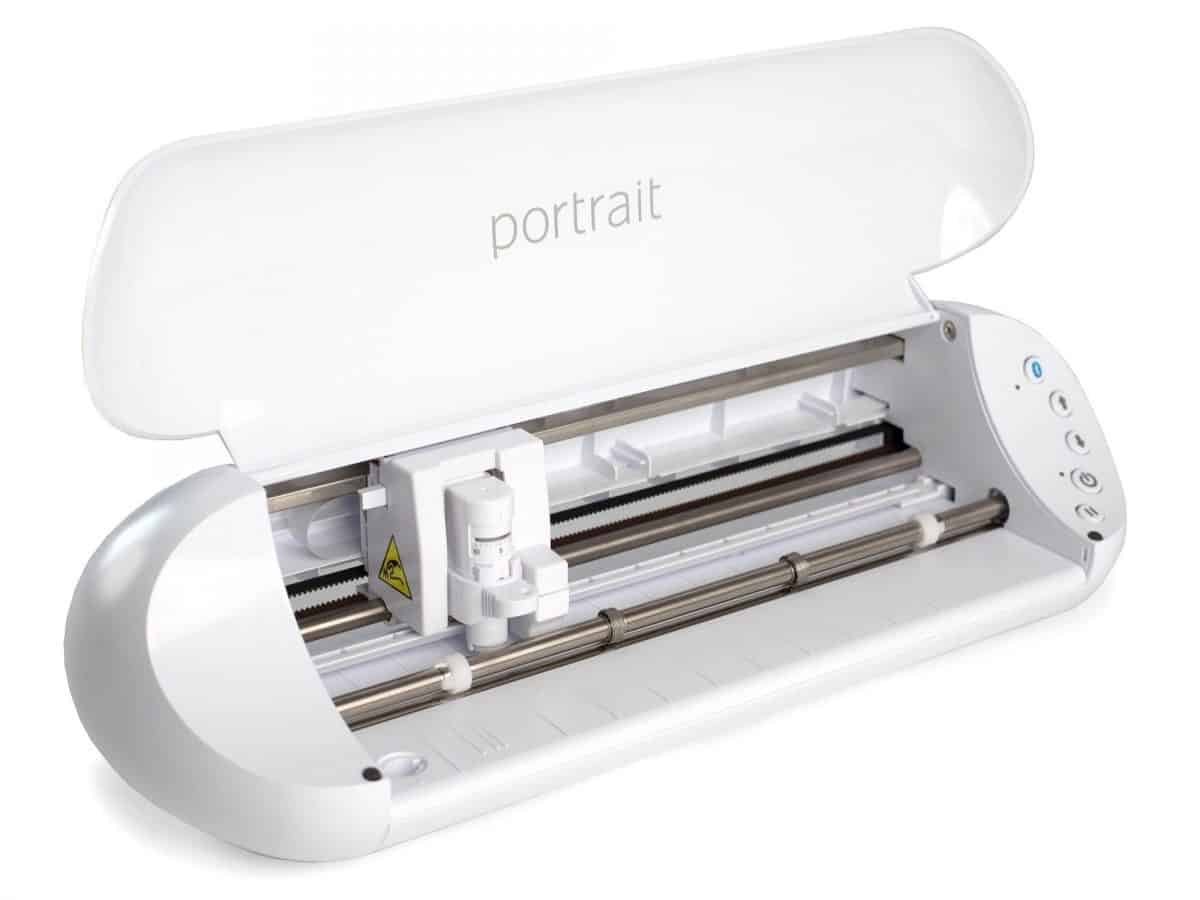 It uses the same Autoblade, the Autoblade 2 (Type B), that the Cameo 4 uses in its carriage 1. It is also compatible with most existing Silhouette blades and tools as long as you have the correct adapters, which are unfortunately sold separately.
The Portrait 3 is an affordable alternative to the Cameo 4 but still boasts many of the same features just with a smaller cutting width. It also uses the same Silhouette Studio software that all other Silhouette machines use. It has the ability to do Print-and-Cut and use the Pixa-scan technology.
However, Portrait 3 isn't a perfect die-cutting machine by any means, as it suffers from a few notable drawbacks, including the lack of dual carriages. You can find more details about the Silhouette Portrait 3's features in my detailed review.
Swing Design is my favorite place to purchase Silhouette products. They offer great customer service and awesome bundles. Check out the bundles available for the Portrait 3 on Swing Design.
Cricut Joy Overview
The Cricut Joy is probably the smallest electronic die cutting machine available. It's about 1/3 the size and weight of Cricut's other machines, the Explore, and the Maker. Its size makes it extremely portable and perfect for craft shows, cutting retreats, traveling to the cottage, or even just moving it around the house.
Its biggest claim to fame is its ability to perform matless cutting using Cricuts new Smart Materials. This matless cutting feature is new to Cricut cutting machines and means you can cut unique designs up to 4 feet long or repeating designs up to 20 feet long. The new Explore 3 and Maker 3 now have the ability to do matless cutting too.
Since the Joy has such a small profile it is a bit limited in its maximum cutting width, that being only 4.5 inches. Cricut has also had to redesign its pens and blades to fit in the smaller housing so you need to purchase Joy specific supplies.
The Joy is limited to cutting, writing, and foiling. It does a wonderful job of these but these are the only three functions this machine can do. So if you want to make more complex projects that involve scoring, Print-and-Cut, engraving, or cutting thicker, stronger materials then you will need a different machine.
The Joy specializes in making long and narrow projects out of vinyl, iron-on, and paper. It also can make gorgeous intricate cards in just minutes with the innovative new card mat. An important thing to note is the Joy can only connect to a computer, tablet, or phone via Bluetooth. There is no USB plug and all controls must go through Cricut Design Space, Cricut's free software. There are no buttons on the machine.
Overall the Cricut Joy is a handy little machine perfect for small projects and excels at making cards. It can cut your standard materials like vinyl, paper, and iron-on. Learn more about all the details of the Cricut Joy in my in-depth review.
I prefer to buy my Cricut machines and tools directly from Cricut. They always have some sort of sale going on for supplies and even machines. Check out the latest price of the Joy on the Cricut website.
Silhouette Portrait 3 vs Cricut Joy: Cutting Size
Cricut Joy, as I've already mentioned, is one of the smallest cutting machines out there, at just 8.4 inches in width. It's also quite lightweight at 3.85 pounds, which makes it a better option than Silhouette Portrait 3 in terms of portability. It's an excellent small machine for cutting vinyl.
However, Cricut Joy's small size can be viewed as a drawback because its cutting width is only 4.5 inches. To achieve Joy's small size, Cricut had to cut down on the tools that you can use with the machine, limiting them only to the Joy pens, the Joy cutting blade, and the Joy foiling tip.
To put it differently, any tools that you used to use with other Cricut machines will not work in the Cricut Joy. It's also worth noting that the depth of the cutting blade isn't adjustable. Not only that but the speed of the cut cannot be adjusted as well.
The Joy can cut designs up to 20 feet in length if the designs are repeating. It can cut unique designs up to 4 feet in length.
Silhouette Portrait 3, on the other hand, which is also another compact cutting machine, flaunts a way wider cutting area that spans 8 inches. This also means that Portrait 3's profile is almost double that of Cricut Joy. Oddly enough, Portrait 3 is lighter than Joy, weighing at 3.53 pounds.
The Portrait 3 can cut designs up to 60 feet in length. That's 3 times the length of the Cricut Joy. But to cut these longer lengths you will have to purchase a roll feeder for the Portrait 3 otherwise the machine may not keep the material straight.
The cool thing about Portrait 3 is that despite the smallest Silhouette machines it is equipped with the same tool carriage found in the Cameo line of machines. In other words, you'll be able to use the same tools the Cameo units are using. Some of the tools you can utilize include the popular AutoBlade 2, 2mm Kraft Blade, and various sketch pens.
In terms of cutting size and tools available the Silhouette Portrait 3 is the clear winner over the Cricut Joy.
Silhouette Portrait 3 vs Cricut Joy: Matless Cutting
Both the Silhouette Portrait 3 and the Cricut Joy can perform matless cutting. This is how these two machines can cut such long designs as mentioned in the last section.
In order for the Joy to perform matless cutting Cricut's Smart Materials must be used. Smart Materials were specifically designed for matless cutting with the Joy, Explore 3, and Maker 3. The backing is thicker than other materials which is what allows the machines to do this. Smart Materials come in a few different materials including Smart Vinyl, Smart Iron-On, Smart Label Paper, and Smart Label Vinyl.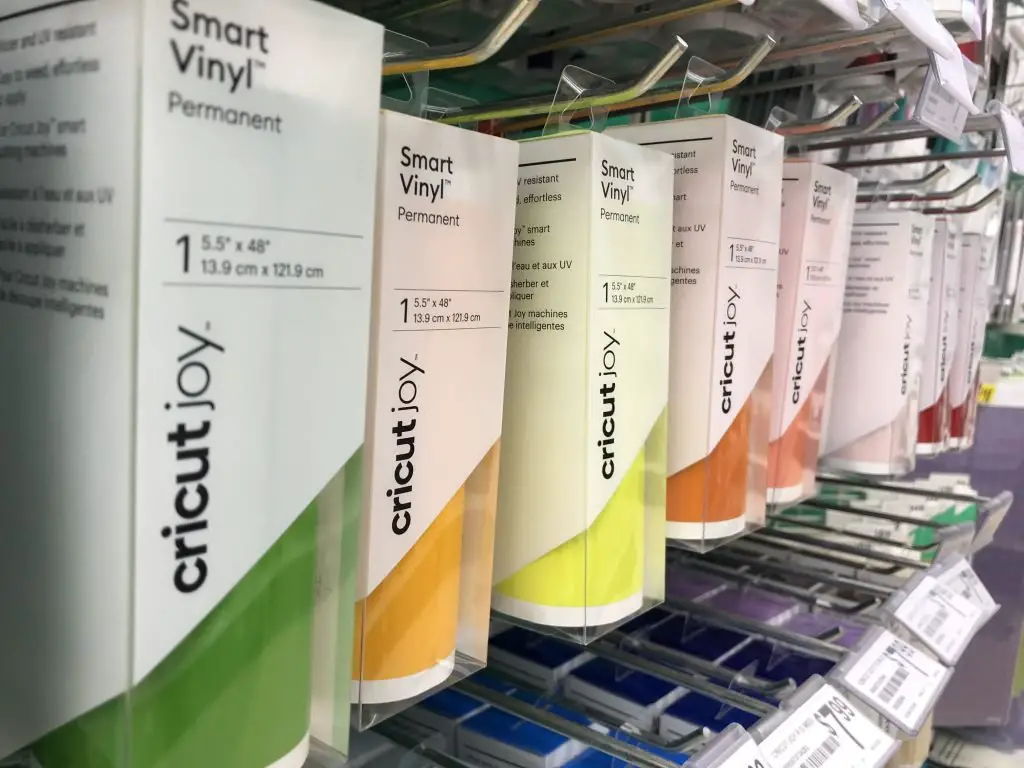 Silhouette Portrait 3 is also able to perform matless cutting, with a maximum cutting length of 60 feet using any lined material, including stencil material, heat transfer vinyl, and regular vinyl. This means you are not limited to a specific brand of material or vinyl like you are with the Cricut Joy.
The Portrait 3 also can perform matless cutting on cardstock using the new pop-out feature. The machine has a channel under the blade area which allows these materials to be cut without a mat. The blade actually leaves tiny sections of material attached so the cut image and the main material stay attached until you pop-out the cut.
The Silhouette Portrait 3 is clearly the winner for matless cutting with its ability to cut a variety of materials and different brands of materials.
Silhouette Portrait 3 vs Cricut Joy: Smartphone App
Both Silhouette Portrait 2 and Cricut Joy feature Bluetooth connectivity, allowing you to use them without the need for a desktop or laptop. You can manage the entire operation from your smartphone or tablet. Actually, the Joy can only be connected via Bluetooth so your laptop needs to have Bluetooth capability (which isn't an issue these days).
The Cricut Design Space App works quite well on Apple devices but is known to be much more finicky and difficult on Android devices, learn more in my article Design Space for Android. The iOS version of the App is very similar to the desktop version and has almost all of the same capabilities.
Silhouette released a new mobile app, Silhouette GO, in 2020. It is not a replacement for using the desktop version of the Silhouette Studio software but it is handy to have. Learn more in my article Using a Silhouette without a Computer.
The advanced capabilities of the Cricut Design Space App make Cricut Joy the winner in this section.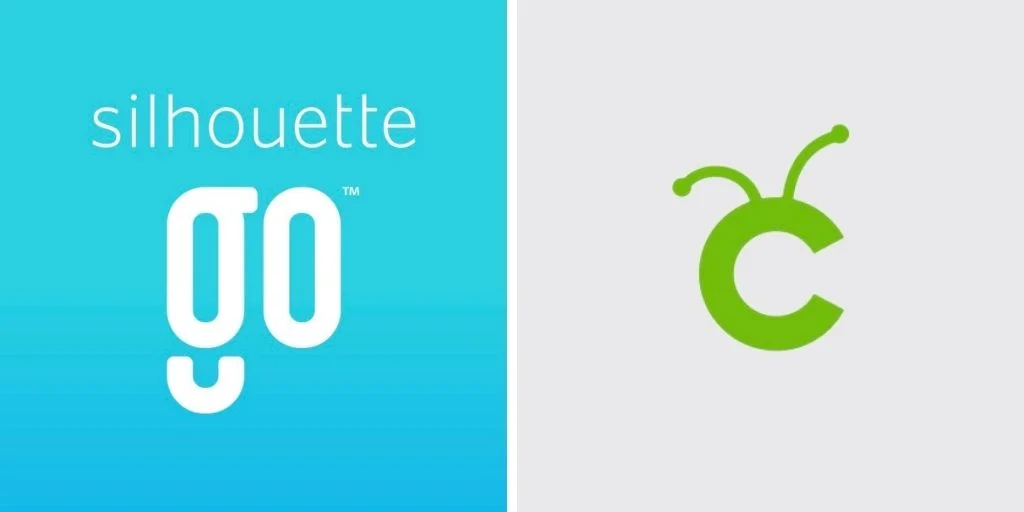 Silhouette Portrait 3 vs Cricut Joy: Design Software
Cricut's design software is called Design Space. It's free, downloadable desktop software. It can be used offline though you do need an internet connection initially to connect to your Cricut account. You can use it to design and cut materials with the aid of downloaded content without the internet.
Design Space allows you to use your own fonts and images completely for free. You can import your own or purchased images into Design Space and it will convert them to a .svg format. Cricut offers various images and fonts that are available for purchase. If you aren't sure what an SVG is learn more about this file type in my article Common SVG File Questions.
You can also join Cricut Access for $9.99/month in order to use Access' library of fonts and images. When you purchase your machine you'll get a free 1 month trial of Access. I would like to point out that your Access membership has to always be active in order to utilize and cut any of the images and fonts downloaded through Cricut Access. Learn more about Cricut Design Space and Cricut Access in my article.
Silhouette machines, on the other hand, utilize the Silhouette Studio software, which also offers a downloadable computer program that you can utilize without internet access. The software is equipped with an extensive range of graphic design features that offer a great deal of value.
Silhouette Studio allows you to utilize any of the fonts downloaded on your computer device. The free version of Silhouette Studio allows you to open and save files in .studio format, which is a proprietary file type. But to upload .svg images, you need to get the paid version for $50.
There are two ways you can go about getting files from Silhouette Studio. You either purchase them one at a time from the Silhouette Studio online store, or you can purchase a subscription that enables you to download files at a discounted rate, which can help save you some money.
Silhouette Portrait 3 vs Cricut Joy: Other Differences
Silhouette Portrait 3 offers Print-and-Cut technology, which allows you to cut printed images. This feature can be extremely useful when trying to create stickers. The Portrait 3 also features PixScan technology. This allows you to cut around an image or place cut and draw lines in specific locations on the mat. Neither feature is found in Cricut Joy.
Another feature that sets Portrait 3 apart from its competitor is its 2mm clearance. It allows you to utilize Silhouette's Kraft Blade and cut thicker materials. Sadly, Cricut Joy cannot make use of Cricut's Knife Blade or any other non-Joy-specific tool.
Silhouette Portrait 3 vs Cricut Joy: Pros and Cons
Silhouette Portrait 3
Cricut Joy
Pros
– Small but highly capable
– Compatible with AutoBlade and other Silhouette tools
– Surprisingly quiet operation
– Design software is intuitive
– Very compact construction
– Features matless cutting
– Beginner-friendly interface
– Perfect for simple designs
Cons
– Relatively weaker cutting force than full size machines
– Lacks a storage compartment
– Not compatible with other Cricut tools
– Can only cut and write
– Weak cutting force
Final Thoughts
Both Silhouette and Cricut make high-quality cutting machines. While the Cricut Joy is physically smaller than the Portrait 3 it has a lot fewer features and tools available. If you are already a Cricut user and have a full-size machine like the Explore Air 2 or Maker then the Joy is a handy portable addition to your craft room. You won't have to learn new software and will be able to use great features like matless cutting.
If you are a Silhouette user or are looking to get into the die cutting space the Portrait 3 is an amazing machine that can perform almost all of the functions of a full-size machine while being a fraction of the size.
Even though I am a Cricut user myself, I would personally buy the Portrait 3 over the Joy due to its versatility and matless cutting features. It might be a little larger physically but it still weighs next to nothing which is the biggest factor for portability.