This post contains affiliate links.
Cricut machines have an enormous list of materials they can cut, including foam. But before you spend a bundle on materials and focus your time on planning a project, you may wonder, can my Cricut actually cut foam board or foam sheets? 
Most Cricut machines can cut foam sheets but cannot cut foam boards. The Maker can cut foam less than 3mm thick while the Explore can cut foam less than 2mm thick. Foam boards are too thick to cut with a minimum thickness of 4mm. The Joy cannot cut foam.
Different blades and settings are needed to be used to cut a foam project and intricate designs should be avoided. You should adjust the type of blade you use and the settings on your machine for the kind of foam that you're cutting.
Finding the right balance for your project can take a few rounds of trial and error. This is why you should always perform test cuts. The tips in this article will help to get you started.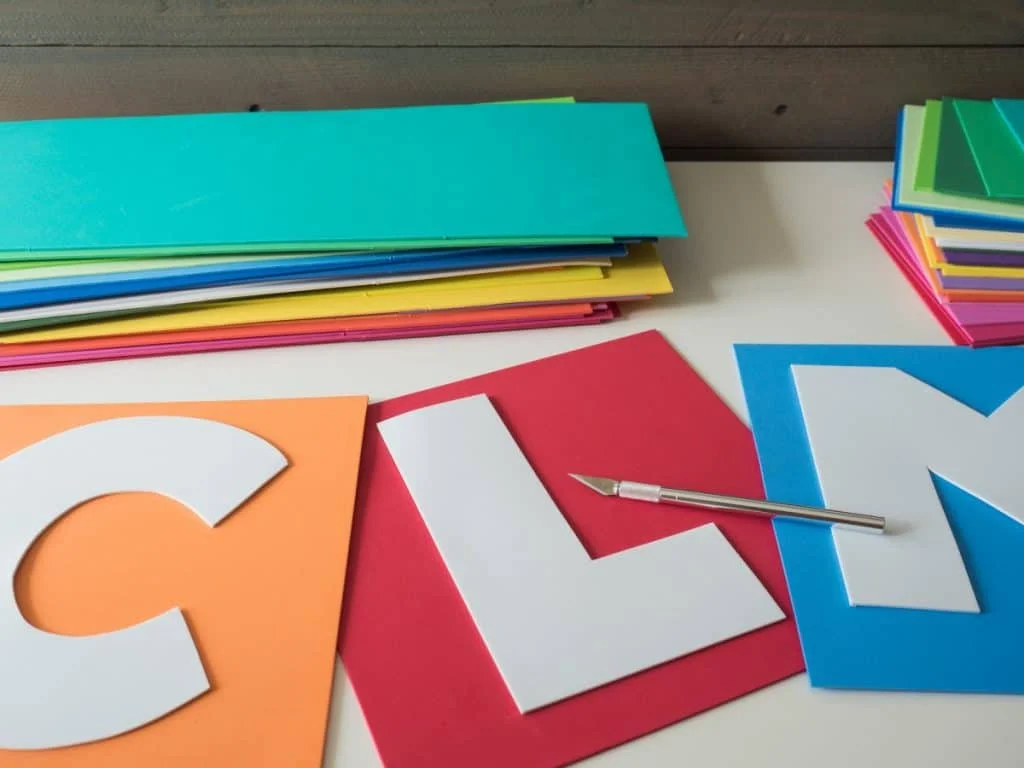 Cricut Sales! Save up to 50% OFF on Materials and Accessories. Plus, get up to $150 off Machines and Heat Presses!
Check Out the Current Deals
Get Free Shipping with Code JANSHIP
What Types of Foam Can a Cricut Cut?
The type of foam you can cut will depend a little on whether you own a Cricut Maker or Cricut Explore Air 2.
The Explore Air 2 can cut three types of craft foam using the deep point blade. These types are:
Craft Foam
Distressed Craft Foam
Plush Craft Foam
The Maker can cut more types of foam. It uses the deep point blade, the Kraft blade or the Rotary blade. The types of foam sheet it can cut are:
All Craft foam
EVA foam
Flex foam
Glitter/specialty foam
What these types of crafting foam have in common is their thickness. All of them can fit under the Cricut machine's metal roller bar without trouble. If your material is thicker than the space under the metal bar, the machine can't cut it, even if the blade is sharp enough to slice through the material. 
Foam is a popular crafting material because it can be easily manipulated and holds shapes well. EVA foam, in particular, is easy to reshape with heat. Craft foam is usually a thinner EVA foam and has similar properties
Flex foam is made of a different material, urethane. Flex foam is flexible but doesn't hold shapes as well as EVA foams. 
The Cricut Maker can cut specialty foams like glitter foam or any foam with a textured surface as long as it's within the size and thickness guidelines. However, you may need to adjust your settings and blade choice to account for the different textures.
Your Cricut cannot cut the foam board. It's too thick; it won't clear the rollers, even if the blade you choose could theoretically cut through the material. Most foam boards are at least 4mm thick, and the thickest foam a Cricut can cut is 3mm.
If you're just getting started with foam crafts, Amazon sells a variety pack of EVA Foam Sheets that includes 20 different colors. That's enough foam for test cuts as well as your final product.
100 Pack EVA Foam Sheets, 5.5 x 8.5 Inch, Assorted Colors (20 Colors), 2mm Thick, by Better Office...
100-PACK: 5.5 x 8.5-inch sheets of colored EVA foam in 20 beautiful colors: 5 each of red, dark red, fuchsia, pink, orange, yellow, green, dark green, lime green, teal,...
PERFECT THICKNESS: 2mm (1/12") foam for easy cutting, shaping and gluing
EVEN COLOR: Every sheet is consistently colored across the sheet's surface
How Thick Should Foam Be for a Cricut to Cut?
There are three recommended foam thicknesses for Cricut machines: 1.5 mm, 2 mm, and 3mm. Anything thicker won't fit under the metal roller bar. Foam that's less than 1.5mm thick is also more likely to tear or cut unevenly in a Cricut. 1mm thick foam is available but may not result in good cuts.
The Cricut Explore Air 2 cannot cut 3mm foam, it does not have enough clearance or a long enough blade. The maximum thickness of craft foam an Explore Air machine can cut is 2mm.
You're also limited in the width of your material when you're using foam. The star wheels can damage foam. You'll need to slide your star wheels to the side and leave clearance on the side of your mat. If your foam sheets are wider than 11 inches, you'll need to cut them down to that size before you load them into your machine.
It's also important to note that that maximum size of cut is reduced since Cricut recommends taping down the edges of your material. The maximum size you design should be is 10.5″x11.5″ or if you have a longer mat 10.5″x23.5″
Which Cricut Machines Can Cut Foam?
Both the Cricut Maker and the Cricut Explore series can cut foam. You can learn more about the differences between these machines in my article, Maker Vs Explore Air 2.
The Cricut Joy cannot cut foam. The Cricut Joy does not have enough clearance, a long enough blade or enough cutting force to cut through craft foam.
The settings, blade, and mat that you choose for your cut job depend on the type of foam you're using. Design Space has pre-made settings for craft foam, EVA foam, flex foam, and glitter foam that you can use as a starting point.
How to Select the Correct Settings on your Cricut for Cutting Foam
Cricut Design Space makes it fairly simple to select the right settings to cut foam. If you have an Explore series machine the dial will need to be on "Custom".
In Design Space select the material you are wanting to cut and install the recommended blade. Depending on your material and your machine you may need the premium fine-point blade, the deep point blade, the knife blade or the rotary blade.
You have the option of selecting more or less pressure for your cut as well as custom making your material settings. Custom settings cannot be created for the Knife-blade. You will also need to have prepped your material on the correct Grip mat.
Cricut also recommends not cutting intricate designs with foam. They actually recommend not cutting images smaller than 2″x2″.
Choosing the Right Cricut Blade for Cutting Foam
The best blades for cutting craft foam are the knife blade and the deep-cut blade. Foam sheets that are 1mm or 1.5 mm work well with the deep-cut blade, but anything thicker does better with the knife blade. If you own an Explore Air 2 you are stuck with using the deep-cut blade, the knife and rotary blade are not compatible.
With flex foam you need to use the rotary blade. This is due to the high pressure required to cut the material as well as it will reduce stretching since the blade rolls over the foam versus dragging.
Cricut has pre-made settings for different foams, but check with a test cut first. Depending on how dense your foam is, the pressure might be too high. You can change the pressure of a cut for settings that use the deep-cut blade or create brand new custom settings. 
However, you cannot change the pressure or customize settings that use the knife blade. For those projects, experiment with other material settings (like craft leather or cork) until you find the right one for your material. 
| Materials | Blade | Machine |
| --- | --- | --- |
| Craft Foam 1mm, 1.5mm, 2mm | Deep-point Blade | Maker, Explore Series |
| Craft Foam 2mm, 3mm | Kraft Blade | Maker |
| EVA Foam | Deep-point Blade | Maker |
| Flex Foam | Rotary Blade | Maker |
| Glitter Craft Foam | Fine-point Blade | Maker |
Preparing Your Cricut Cutting Mat for Foam
The strong grip mat and standard grip mats are the best choices for foam. Thicker foams will do better on the strong grip mat, whereas standard craft foam is fine on a standard grip mat.
Whichever mat you use, you should tape down the edges of your foam before you begin. You want your foam sheet stuck down really well because foam is naturally stretchy. The more secure it's on the mat, the cleaner the cuts will be. 
Blue painter's tape is a good choice because it won't leave a sticky residue on your foam. Amazon sells Stikk 14 Day Clean Release Tape that works well for this. Leave about an inch of room between the tape and your design for the best results.
Before you load your mat, move the star wheels all the way to the right side of the rollers. If the star wheels roll across your foam, they'll leave an imprint in the material. Foam has a good memory, so these marks will likely be permanent. 
If you're using a specialty foam, especially glitter foam, it's a good idea to put it face-up on the mat to keep the stickiness of the mat from removing the glitter. It may be trickier for the machine to cut all the way through, so do a test cut and adjust the pressure accordingly.
Can a Silhouette Cut Foam?
Unlike the Cricut line of machines, Silhouette doesn't have a foam setting or recommendations. However, Silhouette machines can cut foam as long as it's thin enough to fit in the machine. 
The company doesn't officially recommend using Silhouettes to cut foam, but they do offer guidelines for deciding if your machine is capable of cutting the material you have in mind. Again it'll depend on the machine you own for how thick of material you can cut.
If you own a Cameo 3 or older, a Curio series, or a Portrait series you can cut materials up to 2mm in thickness. The Silhouette Cameo 4 has more clearance and can cut materials up to 3mm thick.
Different blades will also have different depths that can be cut. The standard blade can cut up to 1mm thick, this is the blade that comes with the machine. If you purchase the deep-cut blade or the 2mm Kraft Blade you can cut material up to 2mm in thickness. Cameo 4 owners can purchase a 3mm Kraft Blade for very thick materials.
As with Cricut machines, your best bet is to experiment with pressure settings and blades to find the best combination for your material. I would also recommend taping the edges of your foam just like you would with a Cricut.
Final Thoughts
With a bit of patience and trial and error, Cricut and Silhouette cutting machines can cut various foam types. As long as the foam can fit under the rollers and the blade can cut through it without tearing, you can cut foam sheets with your digital die-cutting machine. Test cuts are essential for any project, but for foam projects, they're crucial to getting a clean result.