The Sizzix Big Shot is an award-winning die cutting machine that certainly lives up to its name! This machine is dependable, versatile, and backed by Sizzix's excellent customer service and 3-year warranty. It cuts and embosses, and can use dies and folders from many different companies.
The Sizzix Big Shot has a 6″ wide opening to cut or emboss. The sides don't fold up like the Cricut Cuttlebug, so it's not as portable. The larger sides though are an advantage, as you'll have more space to work with, and you'll be able to work with extra large dies. The machine weighs 7.5lbs, so it's not heavy to move around.
Note: Sometimes you'll hear about the Sizzix BIGKick machine. What's the difference between the Big Shot and BIGKick? They are exactly the same! The only difference is color. They work exactly the same and take exactly the same dies.
How does the Sizzix Big Shot work?
Using the Big Shot is easy. Simply place the material to be cut between the cutting plates, and following the directions on the multipurpose platform to get the right thickness before sending it through the machine.
Tip: If you want a deeper cut or emboss, try using a shim. A shim is a very thin sheet that is added to your sandwich to give it the extra thickness it needs.
Here's a video demonstration:
You can see how easy it is to turn the handle. Depending on the material and die, it may be tougher to turn at times. The Big Shot is a sturdy machine and has rubber feet to prevent it from moving when you are cutting and embossing.
Tip: Over time, the Big Shot cutting plates will start to curve. This is normal, and shows how much you love your machine! If your plates do start to curve, flip them over when using the machine to straighten them out.
What can the Big Shot Cut?
The Big Shot can handle a lot! Here's a short list of some materials it can cut:
cardstock
felt
fabric
foam
magnet
leather
craft aluminum
chipboard
metallic foil
vellum
and much more!
Certain dies, however, will only be able to cut certain materials. Here is a Sizzix Die Cheat Sheet.
If you are looking for a machine specifically for fabric and felt the Big Shot is a great option but it's not my top pick. Learn which machine is the Best for Cutting Fabric and Felt.
Which dies and folders work in the Big Shot?
Although cutting dies and embossing folders must be purchased separately, the Big Shot works with a variety of dies from different companies. Here are some to name a few:
Cuttlebug dies
Spellbinders dies
QuicKut dies
Anna Griffin dies
AccuQuilt dies
Virtually all folders that are less than 6″ will work with the machine. I haven't found any that don't work!
If you are quilting, you the Big Shot is compatible with all Sizzix dies up to their Bigz XL 25″ dies. Be aware that the Big Shot has a 6″ wide opening. If you are interested in using bigger dies, consider purchasing the bigger and stronger Big Shot Pro, Read my review for more info.
What's included with the Sizzix Big Shot?
The Big Shot comes with all the necessary plates you need. All you need is to purchase your favorite dies and embossing folders.
Here is what is included with the Big Shot:
1 Big Shot Machine
1 Extended Multipurpose Platform
1 Pair of Cutting Pads
Note: The Big Shot comes with the Extended Multipurpose Platform, which is 14 1/8″ long. The plates, however, are standard size, at 8 3/4″ long. If you wish to use dies longer than the standard sized plates, you'll need to purchase the extended plates separately.
Maintenance and Warranty
Upon receiving the machine, some assembly is required. The handle needs to be attached with the hex wrench and screw that is provided.
No maintenance is required other than keeping the machine clean and free of debris. No oil or lubrication is needed.
Sizzix is an excellent company that stands behind their products. The Big Shot is a quality machine that is expected to last and comes with a 3-year warranty. They also have great customer service, which I have personally used on multiple occasions.
Overall Review
The Sizzix Big Shot is an excellent machine and more serious crafters tend to enjoy it more than the Cricut Cuttlebug, primarily for its versatility. You can compare the two machines in my comparison article. The Big Shot can work with dies and folders from many different companies and has a larger working area. It can also work with longer dies for your quilting needs. If you're looking for a manual die cutting machine and don't need a whole lot of space, I highly recommend the Sizzix Big Shot.
Click below to compare the price on Amazon and on the Sizzix website. You never know when a sale will happen.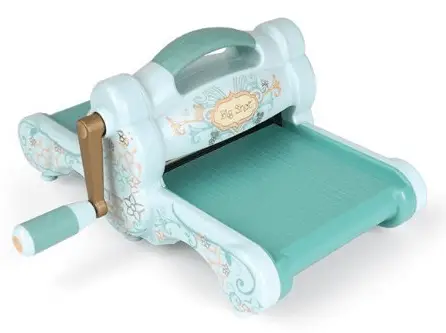 I hope you enjoyed this review! Please reply with comments, questions or tips!