The Sizzix Texture Boutique Embossing Machine is a cute machine designed specifically for embossing. This machine does not die cut, but it's great for making homemade and personalized cards and other embossing projects. Cards that would run you several dollars in stores, will now cost you only a fraction of the cost, plus the added reward and enjoyment. Of course, there are many other embossing applications that can be done, such as scrapbooking and decorations.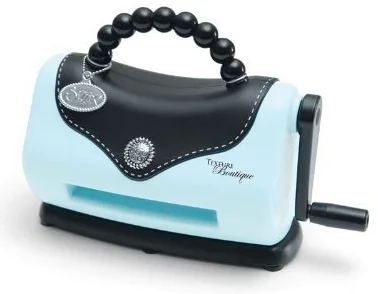 The machine is quite portable and lightweight, weighing just over 3 pounds. The dimensions are 8 inches long, 5 inches wide, and 9 inches high. The handle is about 2.5 inches. Because of how light and small the machine is, it's easy to carry around. Its cute purse design will also look nice on the shelf when it's not in use.
How does the Sizzix Texture Boutique Embossing Machine work?
The Sizzix Texture Boutique Embossing Machine works just like any other manual embossing or die machine. The paper material, such as cardstock, fits inside an embossing folder. This folder is then fit between two embossing pads to create a sandwich. This sandwich is then sent through the slot in the embossing machine by cranking the handle. The crank is easy to use but does require another hand to help stabilize the machine from moving around. Unlike the Cricut Cuttlebug, the Sizzix Texture Boutique Embossing Machine does not suction to the table.
Here's a video of how easy the machine is to use:
What embossing folders can I use with the Sizzix Texture Boutique Embossing Machine?
The Sizzix Texture Boutique Embossing Machine accepts the following:
Sizzix A2 Large (5 3/4″ x 4 1/2″)
Sizzix A2 Medium (4 1/2″ x 2 7/8″)
Sizzix Small (2 7/8″ x 2 1/4″)
Users also had success using embossing folders from other companies:
Cuttlebug A2
Cuttlebug 5×7*
M-Bossabilities A2 (no shims)
M-Bossabilities 5×7*
Darcie A2
Darcie 5×7
*Sometimes you have to shave a tiny bit off the width off these folders to make them fit. It seems some users had success with older Cuttlebug folders without any modifications, but the newer Cuttlebug folders won't fit without some shaving off the sides.
One downside to using these folders is that the A2 folders cannot be orientated sideways and be put into the machine. Another downside is that Sizzix Texturz Texture Plates won't fit into the machine either.
A few users have had trouble getting embossing to work. Some have reported that the folders emboss too much, cutting the material, while others have reported trouble getting a good emboss all around the material. Depending on the material and folder, getting the right emboss may require some experimentation. Shims can be added and removed to help get the right emboss.
While most users don't have trouble operating the machine, some users found it difficult to roll the embossing sandwich through and even having the handle break on them. Thankfully, there is a 1-year limited warranty on the machine.
What comes with the Sizzix Texture Boutique Embossing Machine?
The machine comes in two different packages. These are exactly the same machine, except one comes in a beginners kit, and the other comes with the only the machine, a pair of embossing pads, and one mylar shim.
Here is what is included in the Beginner's Kit:
Texture Boutique Embossing Machine
Textured Impressions Embossing Folder – Flowers, Daisies (Small)
Textured Impressions Embossing Folder – Flower & Dots Border (A2 Medium)
Textured Impressions Embossing Folder – Swirls & Dots (A2 Large)
1 Pair of Standard Embossing Pads
1 Mylar Shim
10 White Cards
10 White Envelopes
10 Ivory Cards
10 Ivory Envelopes
40 Assorted Samples of Cardstock
1 Sheet of Black Rub Ons
1 Sheet of White Rub Ons
1 Rub Ons Applicator
1 Sandpaper Sample
1 Idea Booklet
1 Instruction Booklet
This beginner gift has everything you need to get started. It does come with 3 embossing folders, and if you want more, they can be purchased individually and are reasonably priced. The beginner kit also makes for a great gift and is easy enough for children to operate.
Maintenance and Warranty
Before you operate the Sizzix Texture Boutique, you must screw the handle on. This assembly isn't difficult and Sizzix even includes a screwdriver.
The machine comes with a 1-year limited warranty.
There is no maintenance required, but remember to keep good care of the machine and don't force anything through.
Overall Review
The Sizzix Texture Boutique is an affordable option for a decent machine. Buyers must be aware that this is an embossing only machine, and does not die cut. Users have experienced a few problems with the machine, but generally, users are happy with it. Embossing folders are reasonably priced which makes this machine great for people wanting to get their feet wet without breaking the bank.