This post contains affiliate links.
Cutting mats go hand in hand with digital die cutting machines like Cricut and Silhouette. But not all materials and machines need a mat for cutting.
Most digital die cutting machines need a mat for cutting but there are some exceptions. All Silhouette machines can cut backed materials like vinyl without a mat. Silhouette's Cameo 4 and Portrait 3 can cut cardstock without a mat. Cricut's Joy, Maker 3 and Explore 3 can perform matless cutting using Cricut's Smart Materials.
The machine you buy will determine whether you will need a mat to cut every material. Now let's look more in-depth at cutting mats, when you should use one, and how to take care of the mats to give them a longer life.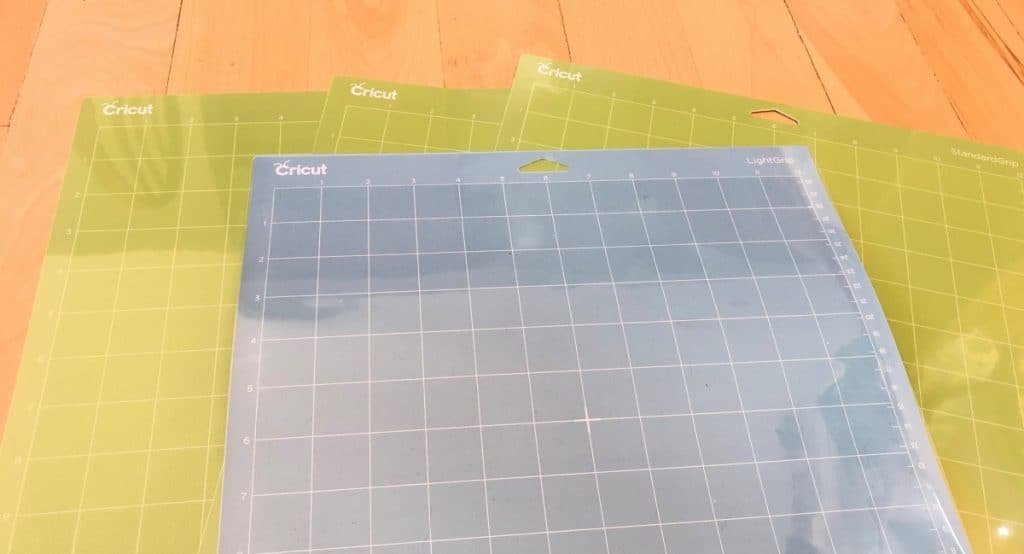 What is a Cutting Mat?
It is as simple as it sounds, a cutting mat is a mat that is used for cutting. But there are several different types of mats available on the market and the one you need will depend on what you are using it for.
There are two main types of cutting mats, mats specific to cutting machines and self healing cutting mats.
Cricut Sales! Save up to 50% OFF on Materials and Accessories. Plus, get up to $150 off Machines and Heat Presses!
Check Out the Current Deals
Get Free Shipping with Code JANSHIP
Cutting Mats for Cutting Machines
Mats used in cutting machines are tacky, this is to hold your material firmly in place while it is being run through your cutting machine. They come in many different sizes and levels of tackiness.
The most common size of mat is 12"x12" which is used in most full sized cutting machines, such as the Cricut Maker, Cricut Explore Air 2, and Silhouette Cameo 4, that can cut materials up to 12" in width. There are also mats that are 24" long.
Smaller mats are also available for the smaller machines. The Cricut Joy uses a 4.5" mat while the Silhouette Portrait 3 and Curio use an 8.5" mat.
The different levels of tackiness of a mat will depend on the material that is being cut. Thinner more delicate materials require a mat that is less sticky while stronger, thicker material requires a stronger adhesive. I'll go into more detail on this later.
Self Healing Cutting Mats
Self healing cutting mats are used when hand cutting items whether with an X-acto/craft knife or with a rotary cutter. They are called self healing because when your blade cuts into the mat the cut left by the blade will close itself up. 
What makes a cutting mat "self-healing?" A self healing mat is actually made up of many small pieces of material, usually rubber. These pieces and pressed together to create a smooth surface.
So, when you cut the mat, you are simply separating the pieces and not actually cutting into the mat. Then, after the cut is made, the pieces move back together giving the mat a "self-healing' effect.
Self healing mats are designed to be used with a sharp blade. A dull blade won't separate the pieces of material the way a sharp blade will and may actually cut the material which would prevent the mat from healing itself.
The self healing properties of these mats helps you to make very accurate cuts since old cuts and grooves in your cutting mat may cause your blade to slip slightly. Since the mat should have "healed" after each cut you will have a clean surface to cut on.
Self healing mats will have measurements scored into them that are used as a guide to cut different materials. The primary use of these mats is to protect the table you are working on from scratches from your cutting tool or needles, but they are extremely essential for making clean, precise cuts. 
They can be used for everything from clay to a simple piece of paper. They also can come in literally any size. Some can even cover the whole top of your desk. Protecting it from any scratches and giving you the ability to cut very large projects.
Fiskars Self Healing Cutting Mat with Grid for Sewing, Quilting, and Crafts - 24" x 36" Grid -...
ARTS AND CRAFTS STAPLE: Extra large self-healing cutting mat for sewing and other fabric-cutting projects, with easy-to-read measuring grids and 30, 45, and 60-degree...
PRECISION ART SUPPLIES: Great for sewing, quilting, scrapbooking, stationery, wrapping gifts, and anything that requires precision while protecting your work surface;...
LONG LASTING AND RELIABLE: Self-healing cutting surface lasts longer than other mats and is designed to provide you with precise measurements and results; Fiskars craft...
When Don't I Need a Cutting Mat?
Matless cutting with your digital die cutting machine is a feature that not all cutting machines can perform. It will depend on the machine you own and the materials being cut.
All Silhouette cutting machines can cut certain materials without a mat. Materials that have a backing or lining are cut using a kiss cut. A kiss cut only cuts through the top layer of the material leaving the backing fully intact.
Materials with a backing include vinyl, iron-on or heat transfer vinyl (HTV), sticker paper, stencil material among others. The material must also be wide enough to fit under the rollers properly so it can be fed into the machine.
The Silhouette Cameo 4 and Portrait 3 can cut paper materials like cardstock without a mat as well. These two machines have a grove under the blade and can perform a "pop-out" cut.
A "pop-out" cut basically leaves tiny pieces of material attached much like a perforated cut. Then once the cut is complete you can just push the cut shape out of the material and it will pop out.
The Cricut Joy, Cricut Maker 3, and Cricut Explore 3 can also perform matless cutting but only when Cricut Smart Materials are used. These special materials have a thicker backing and are the correct width to feed into the machine properly.
One of the main advantages of matless cutting is the ability to cut very long projects. The Silhouette Cameo and Portrait can cut projects up to 60 feet long. While the Cricut Joy can cut unique designs up to 4 feet long and repeating designs up to 20 feet long. The Maker 3 and Explore 3 can cut designs up to 12 feet long.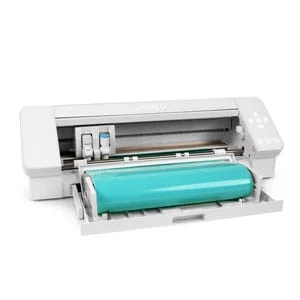 When Do I Need a Cutting Mat?
Most cutting machines, aside from those mentioned above, require a cutting mat when cutting any materials. The mats allow the material to be properly loaded into the machine and to keep the material in place during cutting.
The popular Cricut Maker and Cricut Explore Air 2 require a cutting mat for any cut being performed on any material. The Cricut Joy also needs a cutting mat unless full width Smart Materials are being used.
The Silhouette Cameo 4, Curio, and Portrait 3 require a cutting mat for materials that do not have a backing like fabric and craft foam. If you want your paper products to be fully cut from your material, compared to the "pop-cut" mentioned above, you will need to use a cutting mat.
Also, if you want to cut backed materials, like vinyl and iron-on, that are not full width such as when you are trying to use up scraps, then a cutting mat is also required.
Machines like the Brother Scan-n-Cut and other less well known digital die cutting machines all require the use of a cutting mat.
Types of Machine Cutting Mats 
The type of material you will be cutting determines which type of mat you need to use. There are a few different types as mentioned above.
It's always good to know which type of mat you need for what materials and your cutting machine software will typically prompt you on which type of mat to use. If you use one that is too tacky it will rip your paper, one not sticky enough will allow your project to shift. That is why using the correct tackiness is very important.
Another important feature of the different mats is strength. Some mats are meant to withstand a stronger cutting force than others. Some cutting blades will apply more force than others and you need to use the correct mat with the correct blade or else you could damage your mat and machine.
Now it is best practice to use the brand of cutting mat with the same brand of cutting machines i.e. Cricut cutting mats with Cricut cutting machines and Silhouette cutting mats with Silhouette cutting machines.
Off-brand cutting mats are available and as long as the mat is the same size as the brand's cutting mat then it should work in the machine. But there is no guarantee that the no-name brand mat will stand up as well as the brand name mat.
Cricut Cutting Mats
Cricut has five different types of mats. They come in a variety of sizes depending on the machine they are meant to be used with. Cricut's full sized machines, the Maker and Explore Air 2, can use either a 12"x12" or 12"x24" mat. While the Cricut Joy uses a  4.5"x6.5" or 4.5"x12" mat.
You can find all the mats Cricut has available as well including different sizes and sticky levels as bundle packs from Cricut.com
FabricGrip Mat
The FabricGrip Mat is a mat made just for fabrics. It has a special adhesive on it to help release your fabric from the mat but still holds it in place when being cut. You'll want to avoid touching this mat with your hand as the oils on them can interfere with the adhesive
This mat is designed to be used with the rotary blade and bonded fabric blade only. It can withstand the higher pressures applied when using the rotary blade. It is pink in color to distinguish it from the other mats.
The FabricGrip Mat should be used for the following materials:
LightGrip Mat
The LightGrip Mat is the least tacky of all Cricut's cutting mats. It is designed for thin or delicate materials that need the lightest of tackiness so they are not torn when removed from the mat.
It also works well for vinyl and iron-on. Usually, the standard fine point blade is used with this mat. This mat is included when you purchase your Cricut Maker.  It is blue in color to distinguish it from the other mats.
The LightGrip Mat should be used for the following materials:
Tissue Paper
Light or Thin Cardstock
Printer Paper
Construction Paper
Vellum
Washi Tape Sheets
Sticker Paper
Wrapping Paper
Any Fragile Materials
StandardGrip Mat
The StandardGrip Mat is used for the most commonly used materials. It is the mat that typically comes with a machine though sometimes the LightGrip Mat is included instead.  It is green in color to distinguish it from the other mats.
It works best for medium weight materials. These materials include:
Cardstock
Iron-on Vinyl
Vinyl
Kraft Paper
Textured Paper 
Embossed Cardstock
Medium weight materials
StrongGrip Mat
The StrongGrip Mat is used for thick and heavy duty materials. These materials usually require more force to cut which means a stronger adhesive is required to prevent the material from moving.
It has the strongest adhesive of all the Cricut mats. Lighter and even medium weight materials can easily rip when trying to remove them from this mat. It is purple in color to distinguish it from the other mats.
It is a highly durable mat to withstand the higher cutting force needed as well as designed to be used with the Kraft Knife which is meant for cutting denser materials.
TheStrongGrip Mat should be used for the following materials:
Wood
Chipboard
Corrugated Cardboard
Thick cardstock
Any magnet material
Poster board
Faux Leather
Glitter Cardstock
Heavyweight materials
Fabric With Stiffener
Faux Suede
Heavy And Thick Materials
Cricut Joy Card Mat
The Cricut Joy Card Mat is the newest of all the cutting mats. It is designed and sized to be used specifically with the Cricut Joy, Cricut's small scale and highly portable cutting machine.
What makes this mat unique is it has a divider that lets you cut prefolded cards. So you can cut just the front of a card.
The Card Mat works by sliding the back of a prefolded card behind the divider on the mat. You line the top of the card with the top of the mat, then fold over the front of the card and press it against the adhesive cutting mat.
Unfortunately, the Cricut Joy Card Mat is only compatible with the Cricut Joy cutting machine. It is not meant to be used in the Cricut Maker or Cricut Explore machines.
Silhouette Cameo Mat
Silhouette also has five different types of mats. They come in a variety of sizes depending on the machine they are meant to be used with. The Silhouette Cameo can use either a 12"x12" or 12"x24" mat, while the Cameo Plus needs a mat that is 14" wide.
The Portrait uses a mat that is 8.5" wide and the Curio also uses an 8.5" wide mat. It's important to know that the Portrait and Curio mats are not compatible even though they are the same width. This is due to the unique features of the Curio.
The best place to purchase Silhouette cutting mats is from Swing Design. They have all the Silhouette cutting mats available for each machine plus you can find bundles that include replacement blades or multiple mats.
Light Tack Cutting Mat
The Light Tack cutting mat is made to be used with thinner materials. It has the lightest adhesive of all Silhouette cutting mats. This less tacky adhesive is best for materials like vellum, patterned paper, and standard printer paper. It has a blue border to distinguish it from the other mats.
Standard Tack Cutting Mat
The Standard Tack cutting mat is designed for medium weight materials. It is the most commonly used mat and is the mat included with most machines. The medium tack adhesive is best for materials like cardstock, chipboard, and craft foam. It has a white border to distinguish it from the other mats.
Strong Tack Cutting Mat
The Strong Tack cutting mat is designed for thicker and heavy weight materials.  It has a grey border to distinguish it from the other mats. The high tack adhesive is best for materials like fabric, felt, and other thicker materials.
PixScan Cutting Mat
The PixScan cutting mat is unique to Silhouette. It has special markings on the mat that allow you to place any material, image or photo on the mat take a photo and import it into the Silhouette Studio software.
This lets you make precise cuts on existing images like photos or materials. It works similar to the Print then Cut feature. The mat also lets you upload hand drawn images or other physical designs into the software to be cut.
The PixScan mat has a light tack to it and is all white with no gridlines. 
Curio Embossing Mat
The Curio Embossing mat is made to be used only with the Silhouette Curio machine. It is the only machine capable of embossing designs onto a material, learn the difference between embossing and cutting in my article, What's the Difference Between Die Cutting and Embossing?
This mat has a "special vacu-seal adhesion technology" that holds materials firmly in place while embossing. The mat is designed to be used with either the fine or wide embossing tool and should only be used with embossing or scoring paper or other materials that can be embossed.
Cutting Mat Maintenance 
Proper cutting mat maintenance will help you mat last for a long time. There are many methods like cleaning and rotating to help increase the lifespan of a mat. If you find your cutting mat has warped check out my article, Why your Cutting Mat is Warped and How to Fix It. You can also learn more about the effect of heat on a cutting mat in my article Can You Iron On A Cutting Mat?
Rotate Mat/Change Cut Position
One of the easiest ways to keep your cutting mat nice and tacky is to rotate is after each cutting session. If your mat is recommended to only be used in one direction, as indicated by load arrows, then you can change the location of your materials and image to be cut to use different areas of the mat.
Use Plastic Liner
Keeping your mats plastic liner on it when not in use is a simple way to protect the adhesive from collecting dust, lint, and debris when the mat is not in use. Also, storing properly by hanging it or laying it flat will keep your mat in top shape.
Refrain from Touching the Adhesive
As much as possible refrain from touching the adhesive on your mat as the oils on your hands will slowly breakdown the adhesive making your mat less tacky. 
Remove Debris
After a cutting session remove any leftover materials and debris from your mat as soon as possible. Any leftover materials that are not removed right away can stick permanently to your mat. This will cause adhesion issues and issue with getting a clean cut.
Tweezers are an easy way to get rid of debris on your mat. Another great option is using a lint roller, the sticky kind. You can run the lint roller over your mat to remove dust and bits.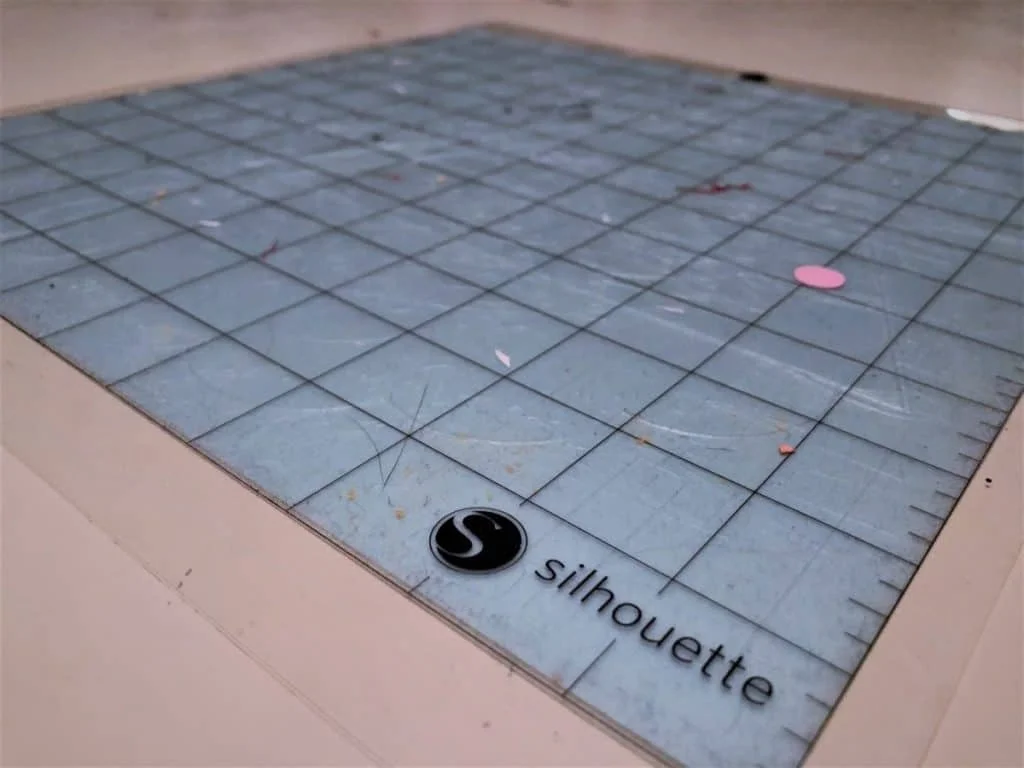 Learn more how to care for your cutting mat and extend its life in my article, How To Care for Cutting Mats for a Longer Shelf Life.
How to Clean Your Cutting Mat
The easiest way to make your cutting mat last as long as possible is to clean it regularly. Never use warm or hot water on your cutting mat as it will break down its tackiness faster.
To clean your cutting mat, you should:
Use room temperature water, a few drops of a mild detergent, and a brush with mild bristles to create a gentle lather. Do not ever soak your mat.
Rinse your mat with room temperature water.
Wipe the mat dry with a cotton towel.
For self-healing mats, you should:
Clean off little threads that have gotten caught in cuts as these prevent the mat from "healing" itself.
Once the mat is clean, moisturize and renew the surface by soaking it in vinegar and water.
Rinse the mat with cool water to rinse away residue. 
Dry the mat with a soft towel or let it air dry.
Learn more in my article How to Clean Your Cutting Mat.
Mat is Too Sticky or Not Sticky Enough
Two big issues you may run into is finding that your mat is too sticky, causing your material to rip, or if your mat has lost its sticking power your material can shift or fully come off while the machine is cutting, ruining your project.
How to Fix a Mat that is Too Sticky
This is a common problem with new cutting mats. Mats that are fresh out of the box are frequently a little bit stickier than desirable causing your materials to rip when being removed from the mat.
Reducing the stickiness of a mat is easy. Simply dab a clean cotton shirt on your mat to add just a little bit of fibers to it, making it a little less sticky than before. The more lint and fibers left behind the less sticky it will be.
How to Fix a Mat that is Not Sticky Enough
The more a mat is used, the less sticky it will get. Most mats that have lost their adhesiveness likely just need to be replaced. You'll know your mat has isn't sticky enough if your material shifts and moves during cutting.
You can try cleaning your mat as described above and hopefully this will be enough to breathe new life into an old mat.  If cleaning it doesn't help you can reserve that mat for lighter more delicate materials that need less adhesion.
There are ways of resticking your cutting mat. It involves removing the old adhesive then recoating your mat using some sort of repositionable or temporary adhesive. You can learn how to do this in my article 6 Ways to Clean and Restick Your Cutting Mat.
Final Thoughts
The question of whether you need to use a cutting mat or not for your project will depend on two factors, the material being cut and the machine doing the cutting.
All Silhouette machines can cut lined materials, like vinyl, iron-on, and sticker paper, without a mat. The Silhouette Cameo 4 and Portrait 3 can also cut cardstock without a mat using a "pop-out" cut. And the Cricut Joy can cut Cricut Smart Materials without a mat as well.
All other machines like the Cricut Explore Air 2 and Cricut Maker require a cutting mat to cut any and all materials.
Keeping your cutting mat clean and using the right mat for the right material will prolong the life of your cutting mat and prevent damage to your machine.