This post contains affiliate links.
The Cricut Maker and the Accuquilt GO! are two cutting machines that can both cut fabric. But they do this in a very different way and are best for very different functions. But many crafters, quilters, and sewers will ask which is best?
The Accuquilt GO! is the best cutting machine for quilters. It can cut multiple layers of fabric making it much faster to cut out a quilt. The Cricut Maker is the best cutting machine if you want to cut many different materials. It can only cut one layer at a time but can cut over 300 different materials.
I'll cover the main differences between these two machines, why I have come to the above conclusion as well as briefly touch on other available machines.
| | | |
| --- | --- | --- |
| | | |
| | | |
| | | |
| | | |
| | | |
| | | |
| | | |
| | | |
| Functions other than cutting | | |
| | | |
| | | |
| Cut Images/Dies Available | | |
| Additional Purchases Required | Yes - additional dies and cutting mats | Yes - additional tools and cutting mats |
| | | |
| | | |
| | | |
| | | |
| | | |
| | | |
| | | |
Difference Between the Cricut Maker and Accuquilt Go!
The main difference between the Cricut Maker and Accuquilt GO! is the type of machine. One is a digital die cutting machine while the other is a manual die cutting machine.
The Cricut Maker is a digital die cutting machine. It requires a computer, tablet, or smartphone to run design software.
Cricut Design Space is the software used. Design Space sends the design information to the cutting machine so it can cut out of your fabric.
It also uses a tiny rotary blade to cut out a single layer of fabric at a time. There are also many other tools and blades available to use with the maker.
The Acuquilt GO! is a manual die cutting machine that uses pressure to cut an image out of the fabric. The fabric is sandwiched between the die and a mat. It is then fed through a roller system.
This forces the metal die through the fabric cutting out your shape. In very simple terms it works like a cookie-cutter. A hand crank is used to turn the rollers that apply pressure to the die.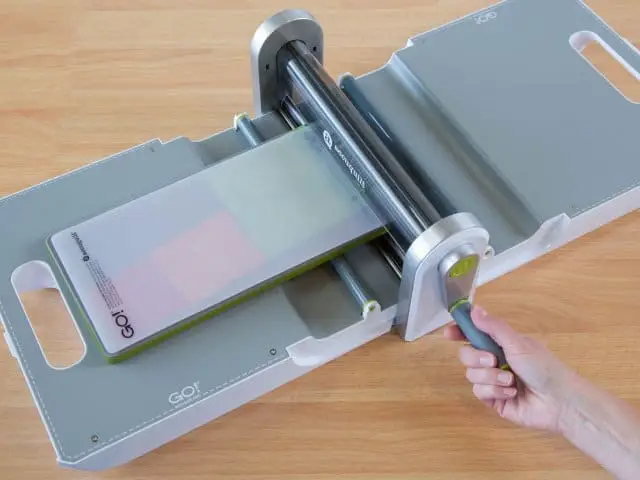 Why the Accuquilt GO!
Accuquilt was made specifically for quilters. The dies are designed to create beautiful quilts and save quilters tons of time cutting. Accuquilt boasts that their cutters cut up to 90% faster than using a rotary cutter or scissors.
If you are like me and think cutting is the worst part of a sewing project then this is one of the biggest selling points!
There are over 200 different dies available. This gives you a ton of options for different quilt designs and appliqués.
Since the dies were designed with quilters in mind, all dies have a ¼ seam allowance built-in. They have dog-eared or clipped corners so you don't have to spend time doing this after the fact.
While Accuquilt has several different models of cutting machines, more on this later, the GO! is the most commonly used. This is due to the size of the machine.
The GO! can cut dies up to 10″ wide and 24″ long. It can cut up to 6 layers of fabric (quilting cotton) at a time.
It can also fold up fairly small, 17″ W x 5″ L x 15″ H, and weighs only 15 lbs. This makes it portable and easy to store after you have cut your quilt.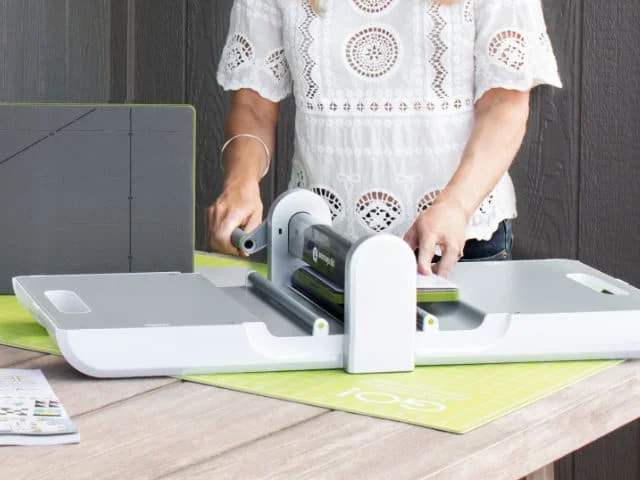 It is also a hand crank machine so you will need to physically turn the crank to feed your dies through. This may not be ideal for users with arthritis or other issues with their hands. The AccuQuilt Go! Big might be a better option in this case.
One of the biggest downsides to the GO! is you will need to buy your dies separately. This can add up to a lot of extra costs. The dies are not inexpensive but they are very high quality. You may wonder if the GO! is worth it, well I talked to multiple quilters to find out their opinions after they purchased an AccuQuilt. Find out their thoughts in my article, Is AccuQuilt Worth It? 10 Quilters Weigh-in.
Accuquilt does offer the Go! in a bundle with its most used dies and accessories. It includes a 2.5 inch strip cutter, a 10" x 24" mat, up to 70 free patterns, and the 8" Mix and Match Qube.
The Qubes are one way to reduce the cost of dies. They package together several dies that work well together. Plus they cost less than buying each die individually. There are 5 sizes of Qubes: 6", 8", 9", 10", 12". Each will make a square the size of its name, meaning the 8" Qube will make an 8" finished square.
If you want to learn more about how much dies cost and what are the most popular dies with quilters, check out my article  How Much Are AccuQuilt Dies? Cost Of 38 Common GO! Dies.
Accuquilt has also put a lot of time into creating easy-to-follow patterns for quilters. In each pattern, they tell you exactly what dies are required, how much fabric is needed, and how many of each die should be cut. Then they provide sewing instructions so it's a pretty simple process.
What Materials can the Accuquilt Go! Cut?
The Accuquilt GO! was designed with quilters in mind so it has been created to cut fabric. It can cut a ton of different types of fabric like batiks, cotton, denim, felt, flannel, fleece, leather, satin, silk, wool, and batting.
You can cut paper with your GO! but just like having specific fabric scissors, you will not want to do this too often as you will dull your dies.
If you plan on doing a large amount of paper crafting I suggest getting dies that you specifically use for paper. It's also not recommended to use other companies dies. I've heard you can if you don't mind a lot of trial and error and also make sure they fit the height of the opening.

Other Accuquilt Cutting Machines
As I mentioned the GO! is just one of the machines offered by Accuquilt. The other machines are the Accuquilt GO! Me, Accuquilt GO! Big Electric, and the Accuquilt Studio 2.
The GO! Me is the baby of the Accuquilts cutters. It is a manual hand-crank machine and is very affordable. It's very lightweight and portable but can only cut up to 6" in width. It's a great little machine if you are just starting out or make small projects. Learn more in my review of the Accuquilt GO! Me.
The GO! Big is an electric manual cutter. It's great for quilters who have issues with their hands, arms, or shoulders like arthritis. It can cut 2 6" dies side-by-side and is hands-free. It is bigger and does weigh a bit more than the GO! But the extra cutting space and electric function make up for that.
The Studio 2 is a professional commercial grade manual cutter. It is great for quilt stores, professional quilters, or hobby quilters who make a ton of quilts. It is big! And not overly portable but the sides do fold up so it can tuck away. It has a 16" cutting width and can cut up to 10 layers of fabric. Read more in my review of the AccuQuilt Studio 2.
Why the Cricut Maker?
The Cricut Maker is one of the most versatile cutting machines available on the market. It includes a fabric cutting rotary blade which allows you to cut tons of different fabrics.
Before the Maker, you would need to stabilize your fabric with some sort of backing. The blade was dragged through your material like an exacto knife. But with the Maker and introduction of the rotary blade bonded fabrics are a thing of the past.
The Maker is an all around crafting cutting machine. It can cut over 300 different materials. But can only cut through one layer at a time.
If you plan on making a lot of quilts it will take you longer to cut using the Maker than it would with an Accuquilt. But it'll still be faster than cutting it by hand.
The biggest bonus of the Maker is you aren't restricted to cutting just fabric. You can dabble in making all sorts of different non-sewing projects.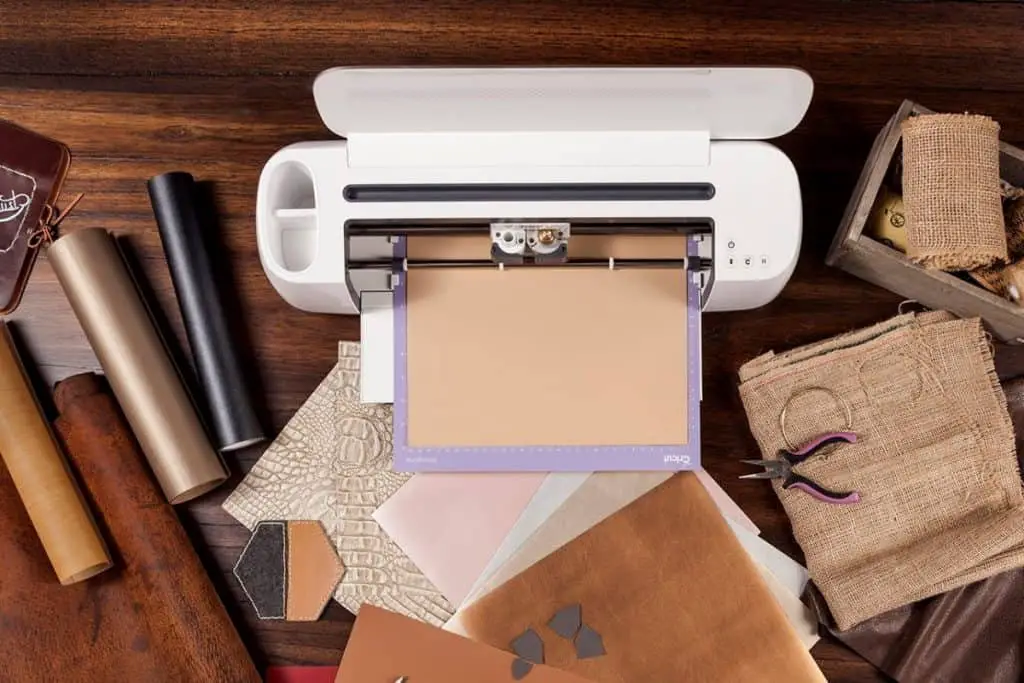 You will need a computer (Mac or PC), a tablet, or a smartphone to run the software, Cricut Design Space. The Android version of the app does tend to be buggier than the iOS version. Both apps are more limited than the full desktop version.
In Design Space you will have access to different images and cut files you can use in your project. You can also sign up for Cricut Access, a monthly membership. It gives you access to hundreds of different images and project ideas.
When I checked Design Space there were 100s of ready-to-go sewing projects including 45 different quilting projects. Plus you can always find designs online for free or to buy.
When you buy your Cricut Maker it includes everything you need to start cutting fabric. But if you plan on making anything longer than 11.5" then you will need to buy a larger pink fabric mat. The largest mat available is 12"x24" which allows you to cut up to 11.5″x23.5″.
This is because the Maker works by having the material you are cutting stuck down to the tacky cutting mat. You need to use the pink mat. It has a special adhesive to use with fabric and is strong enough to take the pressure of the rotary blade.
You can learn more in my article the Cricut Maker: A Detailed Review.
Other Cricut Cutting Machines
Cricut has 2 other machines in its lineup, the Explore Air 2 and the Cricut Joy. Neither of these two machines can use the rotary cutting blade.
The Cricut Joy is an extremely compact machine. But it is limited on the size and types of material it can cut. In terms of fabric, it can only cut very thin faux leather and only 4.5″ wide. Learn more about the Cricut Joy in my review
The Cricut Explore Air 2 is a full-size machine but can only cut bonded fabric. It is a good machine for cutting appliques but not great if you want to make other fabric projects like quilts. It can cut a ton of different materials like vinyl and paper. You can learn more about the Explore Air 2 in my detailed review.
The Silhouette Cameo 4 is worth a mention here. It's not made by Cricut, it's made by the company Silhouette. The Cameo 4 is the direct competitor to the Cricut Maker. It also comes in three sizes a 12" (the same as the Maker), 15" and 24". The rotary cutting blade is sold separately. Learn more about the Silhouette Cameo 4 here.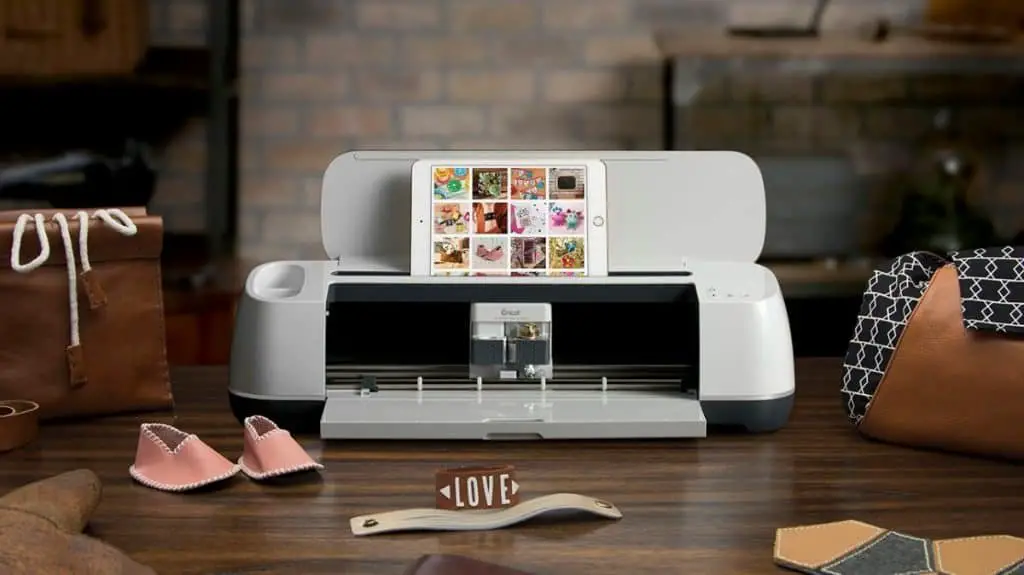 Price Comparison of the Accuquilt GO! And the Cricut Maker
Cost is always one of the biggest factors when it comes to choosing just about anything. And these machines are not cheap.
The Cricut Maker's average retail price is $399 while the Acuuquilt GO!'s average retail price is $299. These are the prices of just the machines.
Both machines require you to make extra purchases in terms of tools and accessories. Typically the Cricut accessories will cost less than the Accuquilt dies. But it is hard to make a direct comparison between the two.
Both companies offer bundles to get you started. These bundles include some of the most common tools and products. Bundles are ALWAYS the best way to go. They will cost you significantly less than if you were to buy the pieces individually.
Cricut has many bundles available but the Everything bundle is my favorite. It includes almost everything you need including pens, mats, vinyl, tools, and materials. And only cost about $30 more than the machine on its own (at least that was the case at the time of writing).
Accuquilt offers the GO! in their Ready.Set.Go! bundle which I touched on before. It includes the most common die sets to make strips and 8" squares.
Cricut and Accuquilt are always having sales. So keep your eye out for those. You can save tons of money on machines, materials, and dies when these sales.
AccuQuilt has had the GO! on sale for as low as $175. Cricut frequently has the Maker on for $329.
Which Cutting Machine is Right For You?
If you plan on doing a lot of quilting and are wanting to save time cutting, get the Accuquilt Go! It was designed with quilters in mind, you can cut multiple layers at once, and is fairly compact. Head over to the AccuQuilt site to see the current price of the GO! and its bundles.
If you prefer to try different types of crafts and make the occasional quilt then the Cricut Maker is perfect for you. You will be able to cut so many different materials and make tons of fun different projects. Check the current price of the Maker on the Cricut website.