This post contains affiliate links.
The AccuQuilt GO! Me Fabric Cutter is a small and portable fabric cutting machine. It's essentially a die cutter for fabric. If you are a quilter or sewer who wants to cut several pieces of fabric at once without having a large machine, then the AccuQuilt GO! Me might be right for you!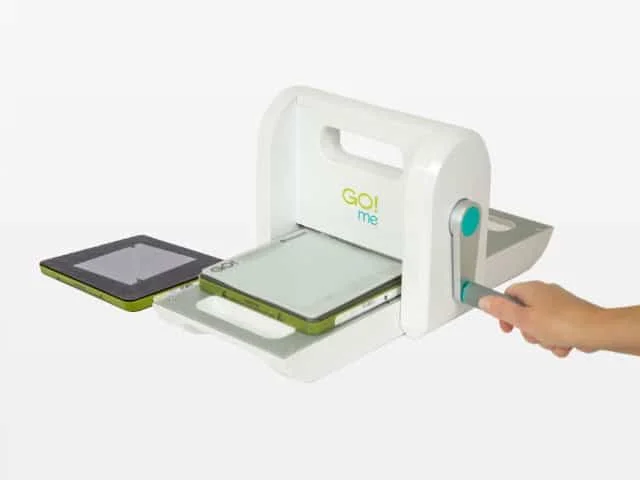 Machine features
The AccuQuilt Go! Baby is a portable fabric cutting machine. It's perfect for beginners, smaller projects, and quilters who want to take their machine on the go. The machine folds up and weighs only 8.5lbs, making it easy to carry with the handle.
Here are some of the machine features
90% faster than rotary cutters or scissors
Cut up to 6 layers of fabric at once
Doesn't use electricity or batteries.
Sides fold up making it portable.
Easy for children to operate
How many layers of Fabric can the Go! Me cut
The number of layers you will be able to cut will depend on what material you will be cutting. The maximum number of layers of quilting cotton is 6.
Check out the chart below to find out how many layers the AccuQuilt Go! Me can cut.
| Material | Layers |
| --- | --- |
| Cotton | 6 |
| Cotton with Fusible Web | 4 |
| Batiks | 6 |
| Fleece* | 2 |
| Flannel* | 2 |
| Denim | 1 |
| Leather | 1 |
| Wool | 2 |
| Batting | 2 |
| Felt | 2 |
| Silk | 6 |
*Cut only one layer with Rag Dies.
Sometimes some threads will remain that aren't cut. This is common with all die cut machine when cutting fabric.
What Dies work with the Go! Me
The Go! Me is compatible with all AccuQuilt Go! dies that are 6 inches or less in width. AccuQuilt recommends only using AccuQuilt dies with their machines. Dies from other manufacturers are not compatible.
There are over 160 GO! dies that can be used in the Go! Me. These come in the following sizes: 5″ x 10″, 6″ x 12″, 6″ x 6″, 6″ x 24″. Check out the Accuquilt Die Compatibility Chart.
Cutting with the dies is super easy. All you have to do is place your fabric on the die, add the cutting plate, and then crank the handle to push the sandwich out the other side.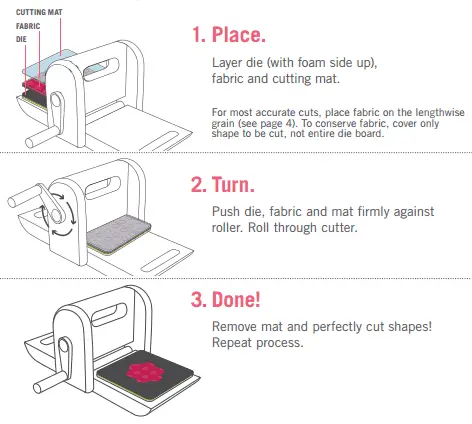 What is the difference between the AccuQuilt GO! Baby and GO! Me
You may see the GO! Baby referred to on forums or articles, this cutting machine is discontinued but is essentially the same as the GO! Me. I specifically asked AccuQuilt what the difference was and this was the answer I received.
"The GO! Me and the GO! Baby are essentially the same machine with different branding. Both will use any of our GO! dies that are 5″ or 6″ wide."
Overall Review
Overall, the AccuQuilt GO! Me Fabric Cutter is a nice, portable machine. Cuts are accurate and can save a lot of time if you are cutting multiple layers of fabric.
One downside to the machine is its limited size. If you are looking for something that is bigger or more versatile, check out other die cut machines for cutting fabric.