The Studio 2 Fabric Cutter is one of the largest machines from Accuquilt. It's large size and durability makes it the perfect fabric cutting machine to handle the frequent cutting done in quilt shops, fabric craft retail stores, and in the craft rooms of experienced quilters. The machine is 16 inches wide and is tough enough to cut up to 10 layers of 100% cotton at once.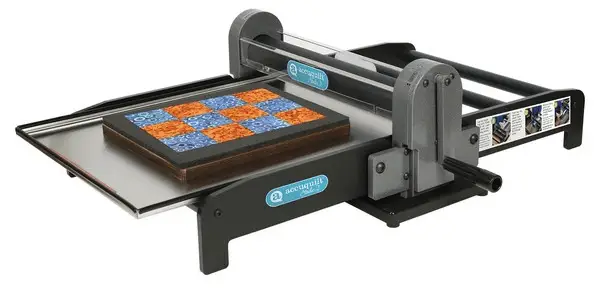 Studio 2 Features
The Accuquilt Studio 2 is a great machine for large fabric or quilting projects. The machine may seem intimidating due to its size, but it's quite easy to use. The Studio 2 is able to cut several layers of fabric at once, producing crisp clean cuts. The handle is easy to turn, and of course, is much quicker than using scissors.
This fabric cutter is a big and heavy machine, weighing 32lbs. The size is large, but the sides do fold up to save some space. Quilters who use the machine recommend getting a dedicated space for the machine. The original Studio machine (now discontinued) does not have foldable sides, but a conversion kit is available.
The cutting machine comes with 3 major parts:
Cutting tray
Cutting die
Plastic cutting plate
These 3 parts, along with your fabric, will create the cutting sandwich that is sent through the machine. Eventually, both the tray and cutting plastic will need replacement after continual use. Once the tray or plastic start to show excessive wear or the machine doesn't cut as well, consider replacing these parts. One sign that the tray needs replacing is that it will bulge and pop in the middle while cutting.
What Can the Accuquilt Studio 2 Cut?
The Studio 2 can cut multiple layers of fabric at once. the number of layers that you will be able to cut will depend on the thickness of the fabric. It's always a good idea to start with fewer layers first, then add more. Sometimes more layers will improve cutting performance.
One tip when cutting is to use quality fabric to prevent it from stretching and also to have the lengthwise grain running the length of the cutter.
See the Accuquilt Studio 2 cutting chart below.
| Fabric | Layers |
| --- | --- |
| Cotton | 8-10 |
| Cotton with Fusible Web | 4-6 |
| Batiks | 8-10 |
| Fleece | 4-6 |
| Flannel | 4 |
| Denim | 2-4 |
| Leather | 2 |
| Wool | 4 |
| Batting | 4-6 |
| Felt | 4 |
| Silk | 8-10 |
| Satin | 8-10 |
Dies for Accuquilt Studio 2
The Studio 2 machine can use Accuquilt's giant and super giant dies. If you have any Go! dies, you can still use them, but you'll need to purchase an adapter plate.
The Cutting Plastics are sold in several sizes to match varying sizes of dies. You should purchase additional sizes of cutting plastic depending on the dies you will be using with the Studio 2. However, as long as the desired shape is covered, you can use a different size plastic than your die board.
See the video on how to use the Accuquilt Go! adapters.
The dies never need sharpening and are designed to be used repetitively. Some dies feature specially designed corners to aid in alignment.
Maintenance
General maintenance is advised in keeping the machine and dies clean. After use, it is recommended to make sure all lint, thread, and debris are cleaned away from both the machine and dies. When cleaning the machine, use a soft dry cloth. Avoid abrasives, solvents and spray cleaners. When cleaning the rollers, canned air can help remove lint. No lubrication is required for the machine as all bearings are sealed.
When cleaning the dies, use tweezers or a die pick to remove threads that are embedded between the blades and the foam.

Warranty
The Studio 2 Fabric Cutter comes with a 3-year warranty which covers defects in the machine. Consumable parts such as die trays and cutting plates are not covered.
Studio dies are guaranteed for one year.
Overall Review
Overall, the Accuquilt Studio 2 Fabric Cutter is a great machine for large projects being able to cut several layers of fabric at once. The machine is big, sturdy, and heavy, and you can expect it to hold up for a very long time. One downside to the machine is that plates, trays, and dies can be a little expensive. Despite the cost, users seem to be ecstatic and happy with the Studio 2 cutting machine.
This cutter is my favorite for serious quilters but if you are looking for a machine to cut fabric and want something a little smaller and less expensive, check out my article Best Cutting Machines for Fabric and Felt.