Sizzix Texture Boutique Embossing Machine
This cute little machine is a great way to get started in embossing. The Sizzix Texture Boutique is specifically designed to emboss, and does not die cut. It's the most affordable option for embossing, and crafters often compliment their digital die cutting machines with it. It's also a very practical machine for making homemade cards.
▸Read the Full Sizzix Texture Boutique Review
Cricut Cuttlebug Machine by Provo Craft
Everybody loves their Cuttlebug, and for good reasons! It cuts and embosses, and does it well. It's a manual machine, so it requires no batteries or outlet. Its sleek design is cleverly engineered to unfold and suction to the table when in use. When you are done, just fold it up! It's durable, and weighs only 7 pounds, so you can use it anywhere, anytime.
▸Read the Full Cricut Cuttlebug Review
Sizzix Big Shot Machine by Ellison
The Big Shot is an award-winning die cutting and embossing machine that is durable, versatile, and reliable machine. It doesn't fold up like the CuttleBug, but it has a larger working any and can take dies from many different companies. You can even use Bigz XL 25″ dies for quilting. The Big Shot is backed by Sizzix's great customer service and 3 year warranty. A great embossing and cutting machine.
▸Read the full Sizzix Big Shot Review
Sizzix Vagabond Machine by Tim Holtz
The Vagabond machine is an electronic die cutting machine inspired by Tim Holtz. This cutting and embossing machine uses a strong electric motor to cut and emboss materials up to 1/8th" thick. This means no more cranking! This is perfect for those with wrist problems. The machine also folds up and the power cord get tucked away in a side compartment.
▸Read the full Sizzix Vagabond Machine Review
Sizzix Big Shot Pro Machine by Ellison
A great manual die cutting machine for the professional crafter, teacher, or business owner. Its large size makes it less portable, but able to cut multiple layers and even long pieces of fabric. The Big Shot Pro can work with almost any die. This machine is strong and rugged. A little pricey, but this machine is built to last.
▸Read the full Big Shot Pro Review
Silhouette  Portrait Electronic Cutting Machine
The Silhouette Portrait is one of the most affordable and portal machines on the market, and it cuts and draws great. It uses the Silhouette Design Studio software, where users can create import, purchase, or their own designs from scratch. It weighs only 3.5lbs, making easy to carry. A great cutting machine for vinyl and paper.
▸ Read the full Silhouette Portrait Review
Cricut Mini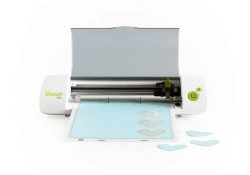 The Cricut Mini is a portable digital die cutting machine by Provo Craft. The machine weighs only 5.25lbs and can cut and draw up to 8.5 x 12″, making full room for letter sized material. The machine is moderately strong, being able to cut 1.5mm cardstock. The Cricut Mini works with the Cricut Craft Room software, where users can link cartridges or buy images online.
▸ Read the full Cricut Mini Review
Cricut Expression 2 by Provo Craft
The Cricut Expression 2 is a fun machine. It's a cartridge only based machine, so no computer is required. It comes with a full color LCD touch screen, allowing you to move and manipulate shapes without being connected to a computer. The Cricut Expression 2 also connects online to the Cricut Craft Room software, allowing you to access thousands of digital images.
▸Read the full Cricut Expression 2 Review
Cricut Explore by Provo Craft
The Cricut Explore is a huge improvement over the Cricut Expression 2. The machine is sleek, well built, and cuts well using the German carbide blade. It uses the free online Cricut Design Space software, where you uploaded .svg and .jpg files also for free. The software isn't great at creating designs from scratch, but it can import images created using other software.
▸Read the full Cricut Explore Review
Silhouette Cameo Electronic Cutting Machine
The Silhouette Cameo is a professional electronic machine that cuts simple or intricate designs up to 12″ wide and 10 feet long. The machine does not require any cartridges, and users can create, import, or buy designs, allowing users the freedom to cut whatever they want. Not the strongest machine, but great for cardstock and vinyl decor projects.
▸Read the full Silhouette Cameo Review
Brother ScanNCut
The Brother ScanNCut is the only die cutting machine that comes with a built-in scanner. Scan in hand drawn shapes, pictures, or magazine cutouts and have the Brother automatically create cut lines. The machine is cartridge free and works without a computer. You can even download files to the machine using a USB drive. The machine also comes with some unique fabric features for quilters.
▸Read the full Brother ScanNCut Review
KNK Zing Air
The KNK Zing air is over 3 times as power than the Silhouette Cameo with 750 grams of cutting force. It also has a 14″ wide opening for creating large vinyl pieces. It works with Make-The-Cut software allowing users to create or download their own shapes. Not only can this machine cut, it can draw, emboss, piece, and engrave.