This post contains affiliate links.
Die cuts and kiss cuts are both frequently used in the world of DIY projects and crafting. Although they're often used interchangeably, die cuts and kiss cuts are very different. And, each one is better suited for different uses and different materials.
The difference between die cuts and kiss cuts is the depth of the cut. A die cut will cut all the way through a material leaving just the desired shape. A kiss cut is a shallower cut that cuts the first layer of material into the desired shape but leaves the material backing untouched.
Die cutting and kiss cutting each has its own very specific use in the crafting world. Understanding the difference between the two can help you make the right decisions on what cuts are needed when and for specific materials.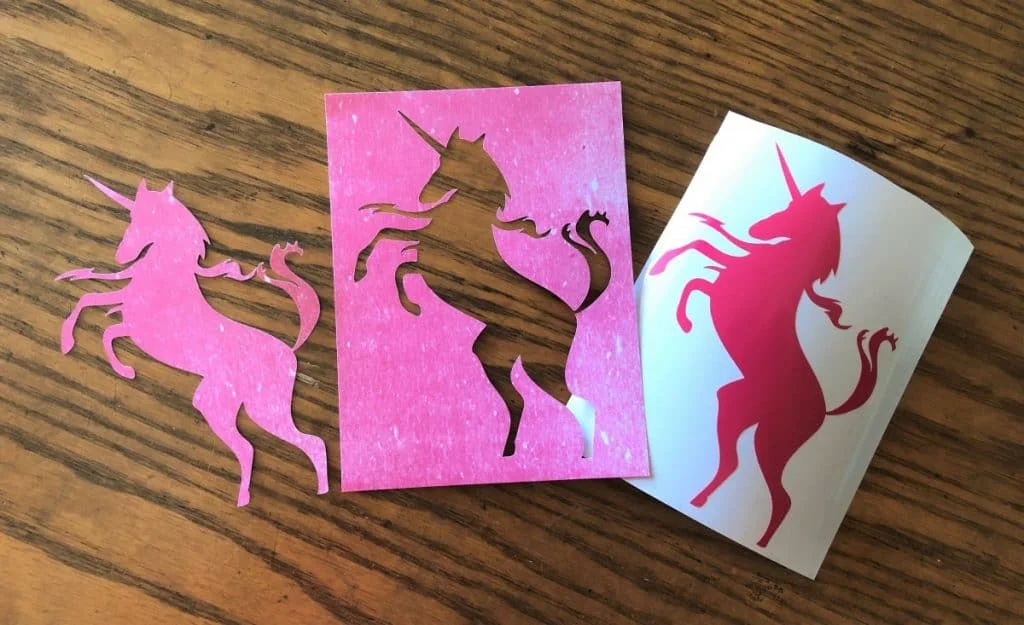 The Difference Between Die Cuts and Kiss Cuts
While at first glance, the two types of cuts appear to be the same, there are some key differences. The main difference in the two types of cuts is the depth of the cut and the type of material that is being cut.  
What is a Die Cut?
A die cut is a type of cut that cuts through all layers of a material. A die cut can be produced using a digital die cutting machine or a manual die cutting machine. 
A digital die cutting machine uses a blade, or sometimes laser for industrial applications, to cut a digitally designed image out of specified material like cardstock or fabric. The image can be any shape you want and you can use either premade designs or custom designs.
A manual die cutting machine uses premade dies to cut an image out of a material. The dies are similar to a cookie cutter and use pressure from rollers and a hand crank to cut the image from a material. The pressure used in die cutting has to be enough to completely go through the all layers of a material.
Learn more about the different types of die cutting machines in my articles Getting Started with Manual Machines and Digital Die Cutting Machines.
What is a Kiss Cut?
A kiss cut is a type of cut that only cuts through the first layer of a material and leaves any backing material intact. The reason it is referred to as "kiss" cutting is because when the material is cut, the top layer is "kissed" by the blade so it only cuts through the topmost layer. A kiss cut is usually produced using a digital die cutting machine since the pressure required to cut only the first layer will be very specific to the material being cut. 
Kiss cuts are typically used in sticker production as well as creating iron-on designs or vinyl decals. If you think of a sheet of stickers or labels, the kind with multiple on a big sheet, this is a kiss cut.
When creating vinyl decals or iron-on designs a kiss cut is usually used and the unwanted material or negative space is removed to allow the detailed design to be applied. Removing the unwanted material is called "weeding" and is removed by hand with a pick like tool.
Sometimes due to improper settings or changing materials, the blade will cut all the way through the backing material. Usually, you'll need to adjust your settings or check your blade and your project can be salvage with a little extra work. Learn more in my article Why Your Machine Cuts Through Vinyl Backing and How To Fix It.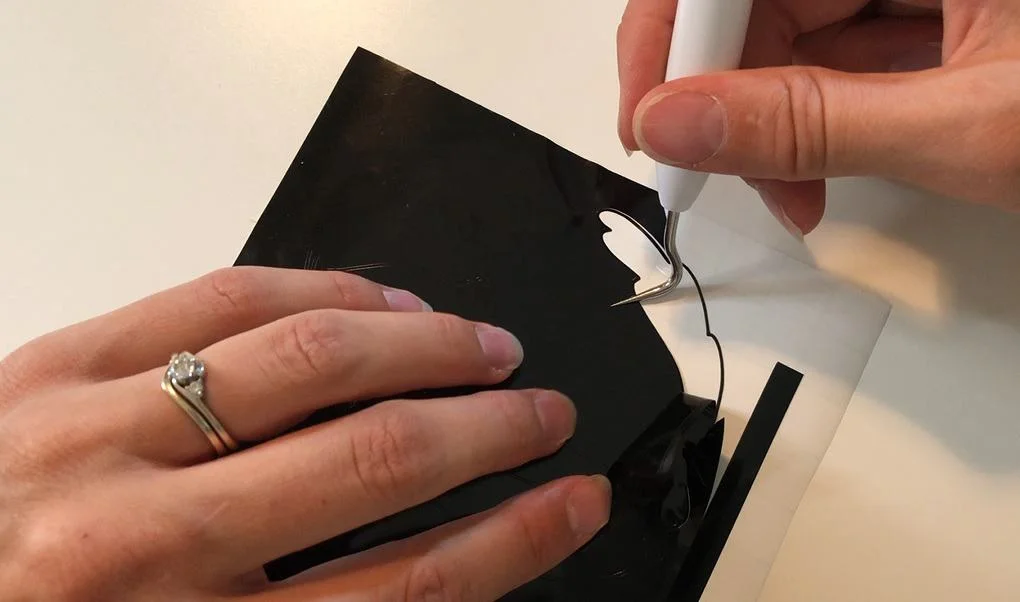 How to Use a Cricut or Silhouette to Make Your Kiss Cuts
When you are using a machine to perform your kiss cut, you want to be sure that you are choosing the correct blade depth and force since these will vary with the material that you are using.
Fortunately, most machines on the market, like the Cricut Maker, Cricut Explore Air 2, and Silhouette Cameo 4 will automatically set the correct blade depth, force, and the number of passes when you select your material within the software. 
Commonly used materials will have predetermined settings within the database but you do have the ability to customize your settings as well. If you have an older machine you may have to adjust these settings yourself to get a proper kiss cut. 
Die Cuts and Kiss Cuts with Different Materials
Many times you'll see a kiss cut in reference to the production of stickers.  But there are other materials that use kiss cuts. Die cuts can be done on many different types of materials as well and are more common than kiss cuts.
Materials for Kiss Cuts
Outside of the wide world of crafting, kiss cuts are used as a scoring method. When a more shallow cut is needed in different production methods, then a kiss cut is used. Basically, any time there is a need to protect one side of the material with a backing, then a kiss cut is a great option. 
The auto parts industry uses kiss cuts in the products of valves and gaskets. Plastic screen protectors are also a great example of a material that uses a kiss cut. 
As far as DIY projects and hobbies go, kiss cuts can be used for a few different things. If having one side of the material covered until it's ready to be used is a key part of the project, then a kiss cut is the only way to go. 
Sticker Paper
As I mentioned sticker creation is one of the most common uses of a kiss cut. The kiss cut will cut your desired image or shape from the top layer of the sticker paper and leave the backing material intact. This lets you peel off your sticker once it's ready for use.
One cool option to use sticker paper for is the Print Then Cut option that most digital die cutting machines have these days. It lets you print your sticker out on to the sticker paper using your home printer then use your Cricut or Silhouette cutting machine to cut the outline of the sticker.
Vinyl
Vinyl is another very common material that uses a kiss cut.  Many crafters use vinyl to create unique decals, signs, and stencils.  The detailed design is cut into the vinyl material while the backing is left intact.
The crafter then must "weed" or remove the extra material from the backing using a pick like tool. Once weeding is complete the vinyl decal can be applied to whatever surface desired with the help of transfer tape to keep your image together.
If you are curious about using vinyl decals on cars then read my article, Are Vinyl Stickers Safe for Cars?
Iron-On
Iron-On, also known as Heat Transfer Vinyl (HTV), also needs a kiss cut. A kiss cut will precisely cut your design through the material, leaving the plastic backing still intact. This will keep the design together until you're ready to iron it on.
Just remember to choose the "mirror" setting when using a kiss cut for an iron-on design. Your image will be cut in the material backward, so the backing will be peeled off after you complete the process of ironing on the material.
Other "Sticker-like" Materials
Other materials that are sticky such as window clings and washi tape sheets that have an adhesive backing will use a kiss cut.  This leaves the backing material intact and makes it easier to remove the design from the main material.  It also lets you create more detailed designs
Die Cuts
Die cutting can be done on a ton of different materials. The materials that can be used with a die cut are almost endless. The thickness of your material and the strength of your machine will be two factors that affect what materials you can cut.
A die cutting machine like the Cricut Maker can cut over 300 different materials though technically some of these will be cut with a kiss cut.
Some materials will require a longer, more sharp blade to go all the way through the material. But, most machines account for these settings and have changeable blades. From the thinnest and delicate materials to thicker and heavy, a die cutter can do it.
Here are just a few examples of materials that can be cut with a die cut:
Foil
Tissue paper
Wood
Cork
Cardstock
Foam
Cardboard
Fabric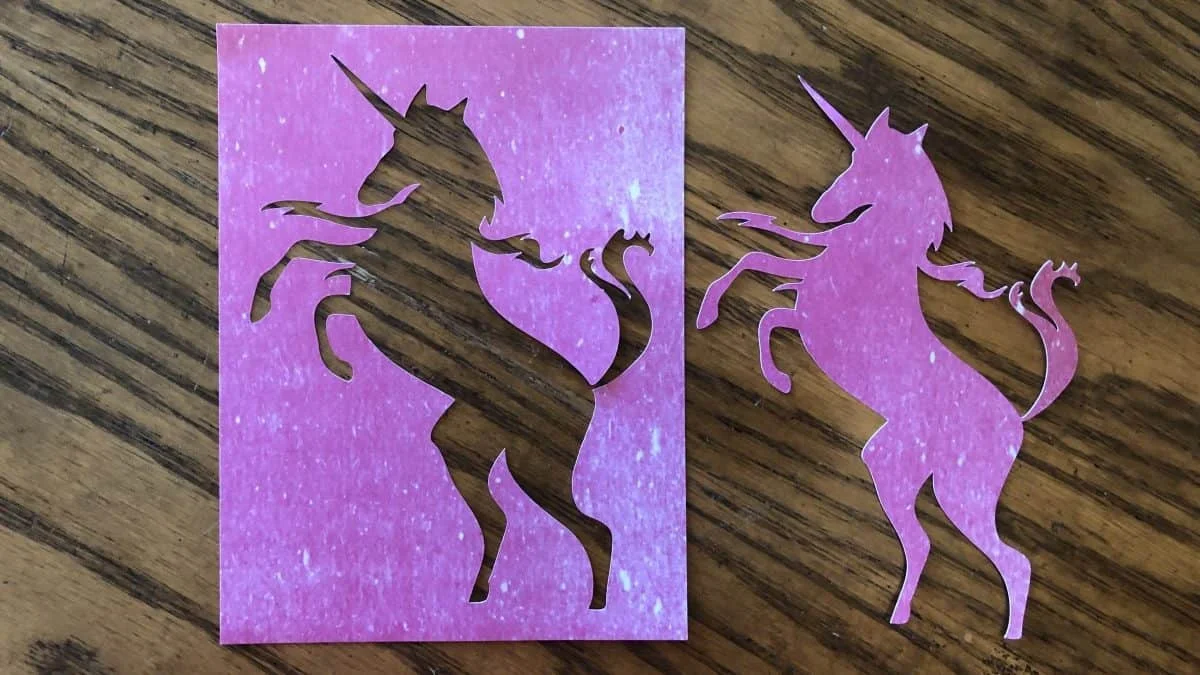 When to Use a Die Cut vs a Kiss Cut
As I mentioned whether you use a die cut or a kiss cut is really going to depend on the material you are cutting. If the material has some sort of adhesive backing then you will typically want to use a kiss cut since this will cut through the main material and leave the backing intact.
You'll use a die cut when you want to fully cut an image or design out of your material and have it cut all the way through.
Can You Use Die Cuts and Kiss Cuts on the Same Project?
Today's software and printing technology allow all sorts of functions that weren't possible in the past. It is possible to have both die cut and kiss cut stickers on the same sheet. 
For the image that you want to be die cut, you will need to duplicate the design and then line it up exactly on top of the first image. The background on the design has vectors that help you make sure it is lined up precisely. 
Once the design has been duplicated and stacked, the machine's software is able to identify that two cuts need to be made. It will then cut through the adhesive part of the sticker first and then perform a second through the backing material. 
When the sheet comes out, the die cut should be easily removable from the rest of the sheet, leaving the kiss cut in place. 
The Difference Between Die Cut and Kiss Cut Stickers
You'll find kiss cut and die cut referred to a lot when it comes to sticker production. The types of cuts are the same as described above. A die cut cuts through all layers while a kiss cut leaves the top layer intact. 
There is a difference in the appearance of the final product with the die cut sticker looking sleeker and more unique. A kiss cut only cuts around the sticky part of the vinyl. Rather than cutting the excess backing off to match the shape of the sticker, the "kiss cut" stickers are left with a border of paper around it as well as behind it.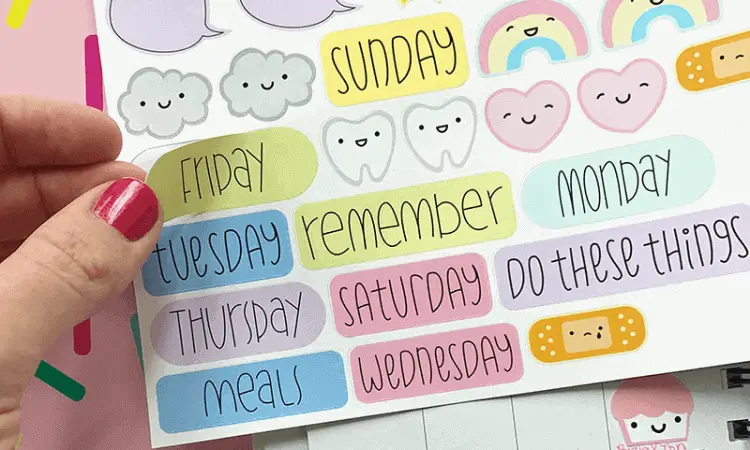 Benefits of Die Cut Stickers
The unique designs of a die cut sticker are a great advertising tool that will literally stick with the consumer. This type of sticker also makes a great giveaway with a purchase or as a product or service promotion. For businesses, it is easy to stack on a checkout countertop or in a cute basket to entice customers into a last-minute impulse buy. 
There are a lot of reasons you might choose to create or purchase a die cut.
Unique shape
They make a visual statement
Higher quality appearance
Great for advertising and branding
Great for retail
Stackable for easy display access
Quality adhesion 
Benefits of Kiss Cut Stickers
Kiss cutting is an efficient way to mass-produce stickers in a short amount of time. The stickers are easily removable from the backing. You can take one sticker off of the sheet at a time and the rest will remain untouched. 
Easily removable from the backing
Easy to produce in large quantities
Low production cost
Final Thoughts
When it comes down to it, your digital die cutting machine will decide what type of cut the material you are using needs. Home cutting machines like the Cricut Maker and the Silhouette Cameo 4 take the guesswork out of selecting the right pressure and cut settings when working on a project.
If you are creating a project using vinyl, iron-on, or some other adhesive backed material you will likely need a kiss cut. Otherwise, you will be using a die cut to fully cut out your design.