This post contains affiliate links.
If you're interested in learning more about manual die cutting machines, want to know how they work, or are looking to purchase one, this article will help you get started with manual die cutting.
What Is a Manual Die Cutting Machine? How Do They Work?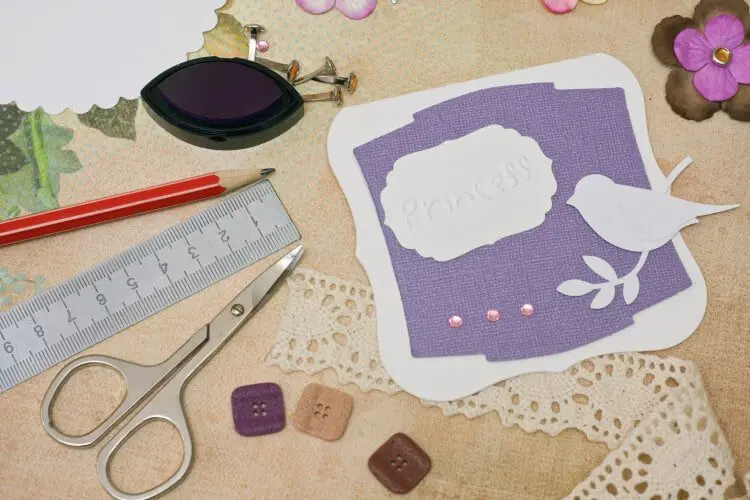 Manual die cutting machines are cutting machines to cut various shapes out of material using a die. These machines work by placing a cutting die on top of the material to be cut, which are then placed between two plates to create a "sandwich". This sandwich is then rolled through the die cutting machine using rollers and a crank handle, where the sandwich is compressed and the material cut.
What Can I Cut with a Manual Die Cutting Machine?
Manual die cutting machines can cut a variety of material for lots of different occasions. These are great for making decorations, home cards, or scrapbooking.
Here's a sample of some materials that can be cut:
Paper: Construction paper, cardstock, and poster board
Fabrics: Cotton, burlap, denim, felt, leather, and wool
Heavy duty: Balsa wood, cork, and magnet
Plastics: Thin acrylic, thin plastic, and vinyl
Metal: Craft aluminum, craft metal, foil, and tin
And more: Bubble wrap and craft foam
Manual machines for crafters are limited to cutting thinner materials. If you're looking to cut thin metal sheets anything more than a few mm thick, you'll want an industrial cutter instead.
Types of Dies
In order to cut your projects with your manual die cutting machine, you'll need some cutting dies.
Cutting dies come two styles:
Wafer thin dies
Steel rule dies
Wafer thin dies, also called thin metal dies or chemically-etched dies, are thin metal shapes with a blade around the edge. These dies can be thought of as a cookie cutter. Wafer thin dies are cheaper, lighter, and easier to store compared to steel rule dies.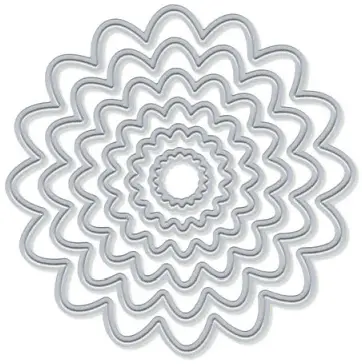 Because wafer thin dies are much thinner than steel rule dies, they are limited to what they can cut. Paper and cardstock are perfect for these dies, but because their blade is short, they won't be able to cut thicker materials no matter how much pressure is applied.
One advantage of these types of dies is that they can be nested inside each other to create new shapes. With nested dies, you can place a cutting die inside a larger die to create new designs. Nested dies are dies that are nested together as part of a set.
Lots of manufacturers will come out with their own brand and name for these dies, but they are all considered wafer thin dies. Some of these thin dies will also emboss at the same time.
Steel rule dies are the other type of die. These dies are larger, heavier, and more expensive than steel rule dies. However, steel rule dies can cut thicker materials and are great for cutting multiple pieces of fabric at once. If you're looking to cut fabric, chipboard, matboard, magnet, or other thick materials, then you'll want to get a steel rule die.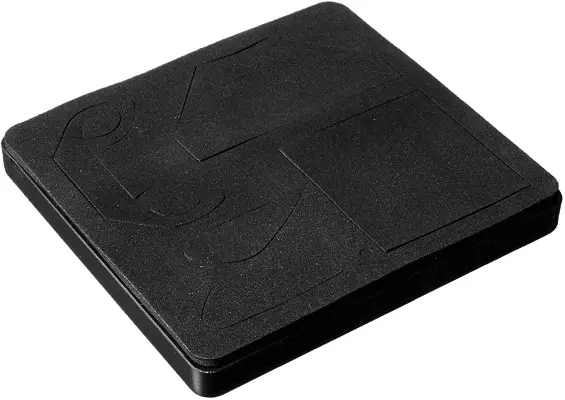 Another quality of steel rule dies is that a single die often comes with multiple designs that can be cut. Because these dies are made from thicker steel, you won't be able to cut designs that are super detailed like you would with the wafer thin dies.
There are two main manufacturers of steel rule dies, Sizzix and Spellbinders. Both companies sell die cutting machines along with steel rule and wafer thin dies.
Plates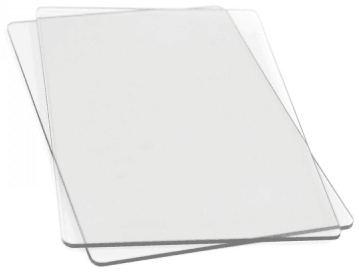 Along with having cutting dies, another important piece to make die cutting work in a manual machine are the cutting plates, which are sometimes called cutting pads. Die cutting plates are two pieces of plastic that go on the top and bottom of the material and die you wish to cut. This forms what is called a sandwich. The sandwich is then rolled through the machine where the pressure cuts the material.
Because these machines have so much pressure, it's normal and expected for the cutting die to leave an indent on the plate. So don't worry when your plates get scratched. Sometimes your plates may even begin to warp. If this happens, start putting the plates upside down when cutting to even them out.
Shims
Sometimes you need a little more pressure to cut materials when die cutting. This is where a shim comes in handy.
Shims are sheets of material, usually made from chipboard or cardstock, to add extra space or pressure inside the die cutting machine to ensure your material gets cut. Using shims is common when mixing and matching dies and machines from different manufacturers. If you're using the Cuttlebug machine, we've put together a Cuttlebug Sandwich Guide for you.
Embossing Folders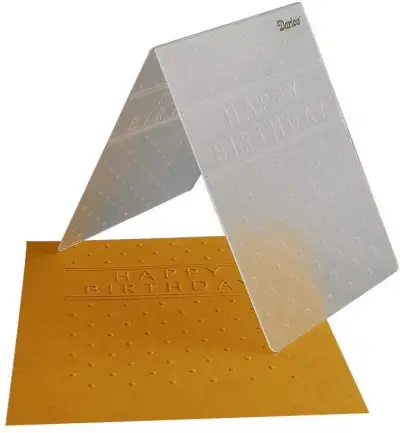 Not only can manual die cutting machines cut, but they can also emboss. Embossing works very similar to cutting, but instead of a die, you use what is called an embossing folder. An embossing folder is a foldable piece of plastic that imprints a design onto the material inside it. Embossing folders are fairly cheap, come in many different design styles, and can be used over and over again.
Types of Manual Die Cutting Machines
Manual die cutting machines come in different sizes. The smaller machines, like the Sizzix Sidekick, cut up to 2.5″ wide, while larger machines like the Sizzix Big Shot Pro (see our full review) can cut up to 13″ wide.
So what size machine should you buy? Well, that all depends on the type of projects you will be cutting. The Sizzix Big Shot is ideal for most people. If you're cutting large projects, especially fabric, then you'll want a bigger machine.
Another type of machine to consider is the motorized machine. Motorized machines work the same way as regular manual die cutting machines, but instead of cranking a handle, they have a motor that does all the work for you. This is great for people with sore wrist and arthritis.
Here's a quick look at some of the most popular manual die cutting machines and their sizes:
Sizzix Brand – Sizzix makes award-winning machines that come with a 3-year warranty. Many of these machines come with working platforms which makes using the machine much easier. Sizzix is a great brand to get started with and is what we recommend.
Here are some of the Sizzix machines:
If you're looking for Sizzix motorized machines, look at some of these machines:
Big Shot Express – A safe motorized version of the big shot that can cut up to 6″ wide.
Vagabond 2 – A more unique looking design by Tim Holtz, the Vagabond folds up to look like a suitcase and can cut up to 6″ wide with its strong motors.
Which Sizzix machine should you get? If you don't need a motorized machine, consider getting the Big Shot Plus or Big Shot Pro. If you need something larger than 9″, then consider the Big Shot Pro.
Compare the Sizzixs machines at Amazon or Sizzix.com
Spellbinders – While we do recommend Sizzix for their quality products, there are other popular manual die cutting machines out there too. SpellBinders is another reputable company that makes great machines.
Here are some of the Spellbinders machines:
Platinum – The Platinum machine is a strong durable machine that can cut up to 40 materials with it's 8.5″ opening.
Platinum 6 – The same great features of the platinum but smaller.
What about the Cuttlebug and Grand Calibur?
These two machines are also popular but are no longer in production. You can still purchase them from Amazon and other online stores.
You're Ready to Start Cutting!
Once you understand how die cutting works, the cutting dies you need and have a machine, you can start to create your first projects. Still trying to figure out what die cutting is? I'll break it down for you in my article, Introduction to Die Cutting.
Are you a beginner? Check out my article Best Die Cutting Machine for Beginners.
Interested in fabric projects? Read my top recommendations for Best Cutter for Fabric and Felt.