This post contains affiliate links.
Pulling a project off your Cricut cutting mat only to discover the mat has been cut through along with your material is a frustrating and expensive problem. Mats with cuts in them can be brittle and break easily, and pulling a project off a cut-up mat can be difficult. But what causes this problem, and how can you avoid it?
When your Cricut cuts the mat, it means there is an error in the settings or that you're using the wrong blade for your material. If the pressure is too high for a material, the blade will push through. An easy way to avoid this problem is to do a small test cut before cutting out your whole design.
When you aren't certain which settings to use, err on the side of lighter pressure. You can always increase the pressure and do another pass if the blade doesn't cut through the first time, but you can't undo a cut that's too deep. This article will help you pick the correct settings and avoid damaging your mats.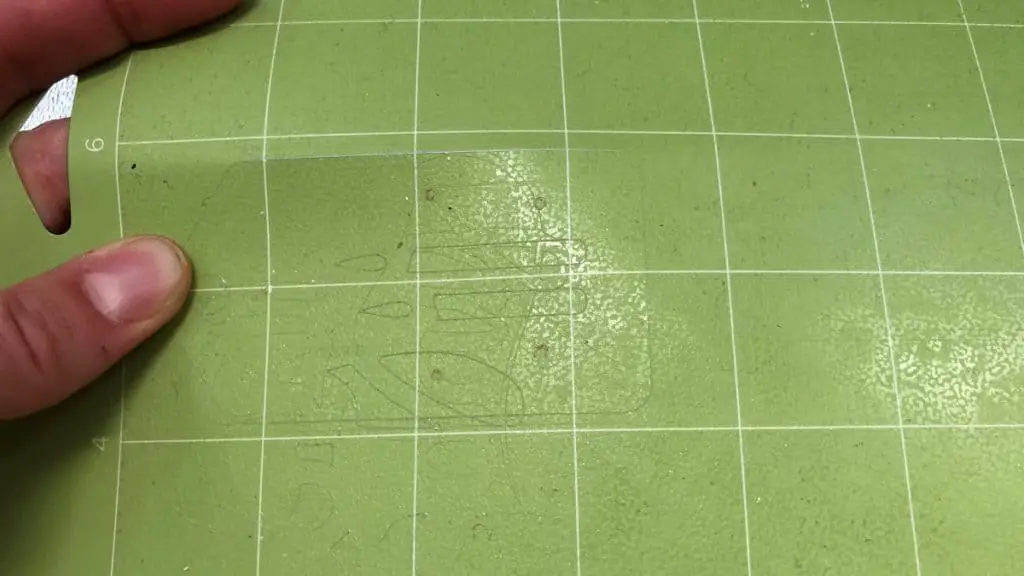 Cricut Sales! Save up to 50% OFF on Materials and Accessories. Plus, get up to $150 off Machines and Heat Presses!
Check Out the Current Deals
Get Free Shipping with Code JANSHIP
Use the Right Blade for Your Project
Cricut makes a variety of tools for its machines, particularly the Cricut Maker. This makes the machines flexible and versatile, but it also means you have to pay close attention to your materials and settings.
Different blades have different strengths. Before you start cutting a project, you should think about what material you are using and how intricate the design will be. Choosing the right blade is the first step to avoiding cutting through your project and into your mat.
Don't worry if this sounds complicated. The Cricut software will make recommendations for your blade when you send your design to the Make It screen and select your material. 
You can also stop your machine as soon as you notice it's cutting through the mat. Just hit the pause button to stop the cut, and then you can assess the issue and correct it. Learn more in my article How to Cancel a Cut.
Using a mat that has been cut through may affect the quality of later projects. Your machine may not cut your material properly in that area. Using a new mat will help prevent further frustration of blade cuts.
You can get a large multi-pack from Cricut or check out Craft-e-Corner for bundles and sales on Cricut Mats and products. As always Amazon carries both Cricut brand mats and off-brand but I can't speak to the quality of the non-name brand mats.
Sale
Standard vs. Premium Fine Point
An easy mistake is to use a standard fine point blade when you should be using a premium fine point blade instead. The names make it sound like the difference between them is quality, but the difference between them is actually the length.
While both blades fit into the same housing and are suited for the same types of projects, they are not interchangeable. The standard blades are for older model Cricut machines and is slightly longer, whereas the premium blades are for the current Maker and Explore models.
Premium fine point blades are good for intricate designs on thinner materials, like cardstock or vinyl. Anything thicker needs the knife blade or deep point blade, and for thinner materials like tissue paper or vellum, you should consider a rotary blade if you use the Cricut Maker. (Explore does not have a rotary blade.)
Sale
Cricut Premium Fine-Point Replacement Blade, Cutting Blade with Improved Design, Cuts Light to...
REPLACEMENT FINE-POINT BLADE - Cut designs of your choice and create fun projects using the Cricut Premium Fine-Point Replacement Blade, a blade with lasting sharpness...
HARD AND DURABLE GERMAN STEEL - With an improved blade design, this craft cutter tool is made of durable carbide steel that allows it to penetrate through different light...
COMPATIBLE WITH CRICUT MACHINE - The premium fine cutting blade is compatible with the Cricut Maker and Cricut Explore cutting machines (including Explore, Explore One,...
The Knife Blade
The knife blade is a larger blade than the premium fine point blade, made specifically for thicker and heavier material. It does best with larger, simpler cuts. This also means it uses more pressure and makes more passes than the machine would use for a smaller blade on material like vinyl or cardstock.
Keep an eye on your project as it goes through the machine. Design Space will tell you how many passes your machine intends to make. However, it may take fewer passes to cut all the way through your material. 
If you let the machine keep cutting once it's cut through your material, the blade will start to cut the mat. You can stop your machine at any time by hitting the pause button. If your design is ready to come off, you can unload your mat and be on your way! 
Use the Right Setting in Design Space for your Project
Regardless of which blade you're using, the setting you choose for your material will make a big impact on how much pressure your machine uses to cut. The thicker or more dense the material, the more pressure the machine will use. 
When you have the machine set to a heavier pressure than you need, the blade will go right through your material and into the mat. This can be frustrating when it cuts things like the backing of adhesive vinyl, but when it cuts through the mat, that frustration can grow exponentially. Learn more about how to fix cutting through the vinyl backing in my article, Why Your Machine Cuts Through Vinyl Backing and How To Fix It.
If you have an Explore Air 2 use the custom settings in Design Space instead of using the dial to select your material. It will help you be more specific about what you're cutting. This will lead to fewer errors and a happier crafting room. 
Not all cardstock is the same weight, and not all vinyl is created equal. Read the packaging on your material carefully, and match it up to your settings as closely as possible. There are tons of materials to choose from, so finding an exact match is likely. 
Sometimes it's difficult to find the right material in the Cricut Design Space list especially if you are using materials for the dollar store or from Amazon. Select the material that matches the one you have closest. You can always change the pressure from "Default" to "Less" just to make sure you don't cut into your cutting mat.
If you're worried that the settings don't quite match up to your blade and your materials, you can make a small test cut first. It's a good idea to make a test cut before you begin any project. That way, you can fix any errors before you ruin a whole sheet of material or your mat! Not making a test cut is the #1 mistake made by crafters, read more in my article 6 Common Cutting Mistakes Made by Crafters plus How to Fix Them.
Use the Correct Mat for your Project
Different mats have different levels of stickiness or adhesive but some have actually been created to withstand higher cutting force. The purple StrongGrip mat is meant to be used with the Knife blade.
The pink FabricGrip mat is made of denser material that can withstand the higher pressures required with the rotary blade. If you use another type of mat when cutting fabric with the rotary blade you are likely to cut your mat through.
Benefits of Performing Test Cuts
Test cuts are the best way to avoid the headache of cutting through your cutting mat and ruining your project. A test cut will let you check your settings and double-check that your blade is sharp, your material is securely attached to the mat, and your machine is running normally.
If you think you might need to replace your blade check out my article, How long does a Cricut blade last.
Make sure your test cut is a similar shape and size to the kinds of cuts you're going to make for your project. For example, if you are cutting out words in a fancy script, cut out a single letter in that font to test the cut. 
To prep your test cut, use a small amount of the material you are using for your project and make sure the recommended blade is loaded into your machine. Adjust your settings for your material, and you're ready to go!
It might seem like a waste of materials to make a test, but it's less wasteful than cutting a whole design wrong and ruining your materials and your mat. Plus, you can always save your successful tests for future projects. You never know when one will come in handy. 
Final Thoughts
Cutting into your cutting mat is a frustrating experience. It can ruin not only your mat but your material and quickly dull your blade. Choosing the right blade for your material and the right material setting on your machine is crucial to making cuts that are deep enough to go all the way through your material without damaging your mat. 
Running a test cut (or even two!) through your Cricut cutting machine before you commit to the whole design will let you get a sense of the final project. Plus, it gives you the chance to adjust your settings and correct any errors. 
Other Common Cricut Issues
These are a few common issues crafters have with their Cricuts. Find out why they happen and how to fix them.