This post contains affiliate links.
When you first pull your Cricut machine out of the box, it cuts like a dream. A new blade will easily carve out intricate designs on anything you can put through it. But after a while, that blade will get dull and start causing problems.
A Cricut premium fine point blade should last 12-18 months. Daily use and cutting heavy materials will dull your blade sooner. Paper and cardstock tend to dull your blade faster than vinyl. When your blade stops cutting well, even after cleaning and adjusting settings, it's time to replace it.
The amount of wear and tear on the blade is what determines when you'll need to replace it. The more you use the machine, the easier it will be for you to figure out when to change the blade. I'll cover how long the blade should reasonably last, how to change them plus ways to help your blade last longer.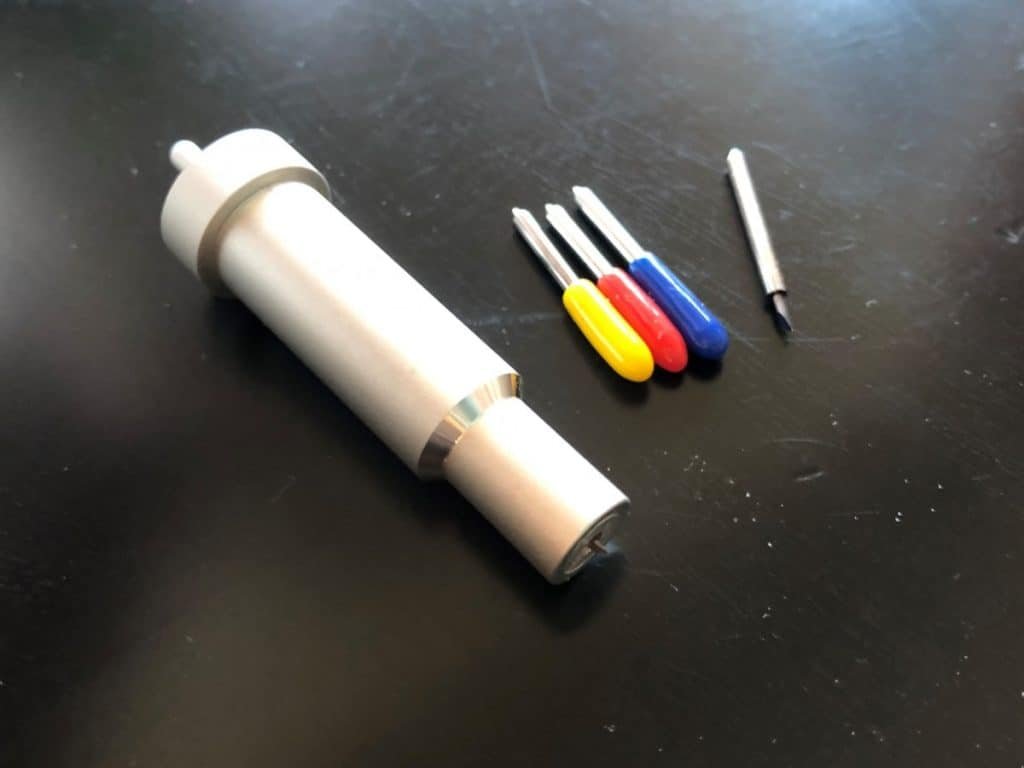 Cricut Sales! Save up to 50% OFF on Materials and Accessories. Plus, get up to $150 off Machines and Heat Presses!
Check Out the Current Deals
Get Free Shipping with Code JANSHIP
How Do Long Cricut Premium Fine Point Blades Last
The blade that comes with the Cricut Explore Air 2 and Cricut Maker is a premium fine point blade. This is the only type of blade that should be used in the standard blade housing for these two machines.
The premium fine point blade is an all-purpose blade. The same blade can be used for multiple projects and materials. This makes life much easier since you don't have to swap the blade every time you switch to a new project. It does, however, mean the fine point blade gets a lot of use for the average Cricut user.
There are two parts to a Cricut blade: the housing and the actual blade. When you replace the blade, you don't need to replace the housing unless the housing is damaged somehow.
One of the tell-tale signs that it's time to change your blade is when it stops cutting all the way through your material. If you've adjusted the pressure and cleaned the blade and it's still snagging or not cutting properly through the material, it's time to replace your blade..
Cricut doesn't specify a time for how long a blade will last. Instead, they state the following:
"Cricut machine's blades need to be changed at different intervals based on the materials you use with your machine. In general, when the cuts are not crisp, then it is time to change your blade."
Since "it depends" is a terrible answer I asked in my Cricut Facebook group. I found that over 80% used their blade for more than a year. This was for crafters who used their machines a ton, even for business purposes, and with a variety of materials.
One caveat to this is to do with the original blade that came with your machine. Many crafters, myself included, found that the blade that came with their machine dulled quickly. It needed to be replaced after only a few months.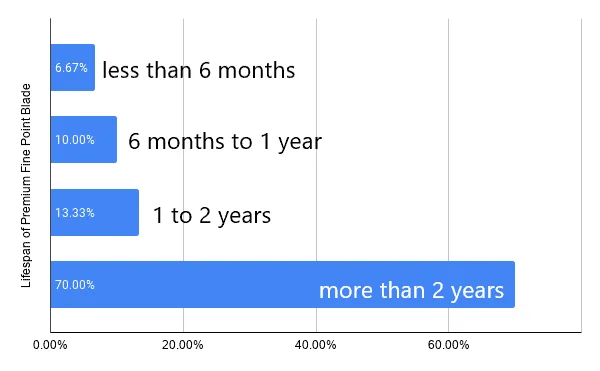 Replacing a Cricut Fine Point Blade
You can replace Cricut blades easily and affordably. Cricut sells a multi-pack of Premium Fine Point Blades so you can always have some on hand. Your local craft store and Amazon carry them as well. 
There are also off-brand blades available in large packs for much less money. These are the ones I choose to buy. They include 3 different blade options a 30 degree, 45 degree and a 60 degree blade.
The standard fine point blade is 45 degrees. The 30 degree blade can be used for thin materials while the 60 degree is the same as the Deep Point Blade.
If you decide to purchase the Cricut brand blades make sure you buy the "Premium fine point blade" if you own a Maker or Explore Air 2. The blades labeled "fine point" only and have a grey blade cover are for older machines like the Expression.
EVISWIY 50PCS Blades for Cricut Explore Air 2/Air 3/3/Make 3/Maker 40PCS 45° Premium Fine Point...
【Compatibility】- These Blades for Cricut are perfect blade replacements for Cricut Explore Air/Air 2 /Maker/ Expression. There are 50pcs blades replacement for cricut...
【Application】- 45 degree blade used for most general purpose cuts; 60 degree blade does the most intricate and delicate cuts; 30 degree blade should be recommended...
【Cutting Material】- These cutting blades for Cricut perform well for cutting media up to 0.25mm thickness. They could be used to cut through thicker and denser...
How to Replace a Premium Fine Point Blade
Replacing your Cricut Premium fine point blade is very simple to do.
Remove the blade housing from your Maker or Explore Air 2
Depress the plunger on the back of the housing to expose the blade
Gently and carefully grab the blade and pull it out, it's held in place magnet so there may be a little resistance, set aside
On your new blade remove the rubber blade protector, this will be white or red depending on the blade you bought
Drop the new blade into the housing making sure the blade is protruding from the housing
Reinstall the blade housing in Clamp B
Place the rubber blade protector on the old, dull, blade and throw it out
Test cuts are always a good idea when you use a new blade for the first time. If you have been using "more pressure" with your old blade reset your settings or even start by using "less pressure". You don't want to ruin the material or cut through your mat.
Can I Sharpen My Fine Point Blade?
Sharpening your Cricut blade to extend the blade's lifespan might sound appealing, but Cricut blades cannot be easily sharpened.
The premium fine point blade is made of German Carbide steel. Sharpening involves grinding the metal down and smoothing out knicks and imperfections. For a blade as small and inexpensive as the Cricut blade, it isn't worth it.
Cleaning your blade will restore some of its original sharpness. This is because residue and build up are removed, but it won't actually sharpen the blade.
How Material Affects the Lifespan of a Cricut Blade
The type of material you are cutting with your Cricut makes as much of an impact on the blade as the amount of time you spend using it. Not surprisingly, heavier, thicker materials will wear a blade out faster than lighter, thinner materials. The more pressure used the faster your blade will dull.
Cardstock and Paper
Cardstock and paper are fairly abrasive and will dull your blade faster than other materials. The type of paper and cardstock you are using will greatly affect the sharpness of your blade.
Lightweight card stock uses less pressure than heavy cardstock, about 20% less. And while glitter cardstock uses less pressure than heavy cardstock, your machine will cut the design twice to ensure a proper cut.
Copy paper, ie standard printer paper, does not use very much pressure since it is such thin material.
If your blade is dragging on your designs, tearing the paper rather than cutting it, then your blade is dull, and it is time to change it.
Adhesive and Heat Transfer Vinyl
Adhesive vinyl and heat transfer vinyl (HTV) have less impact on the sharpness of your blade. Many crafters who exclusively cut vinyl say they have been using the same blade for years.
This is partially due to the nature of cutting vinyl. Vinyl uses some of the least pressure of any material your die cutting machine can cut. Even glitter vinyl doesn't use much pressure but the abrasive nature of glitter can take it's toll.
HTV, or iron-on, and adhesive vinyl are cutting using a kiss cut. This means the backing material is left intact and the front vinyl material is cut. Learn more about what a kiss cut is in my article Die Cut vs Kiss Cut: What's the Difference.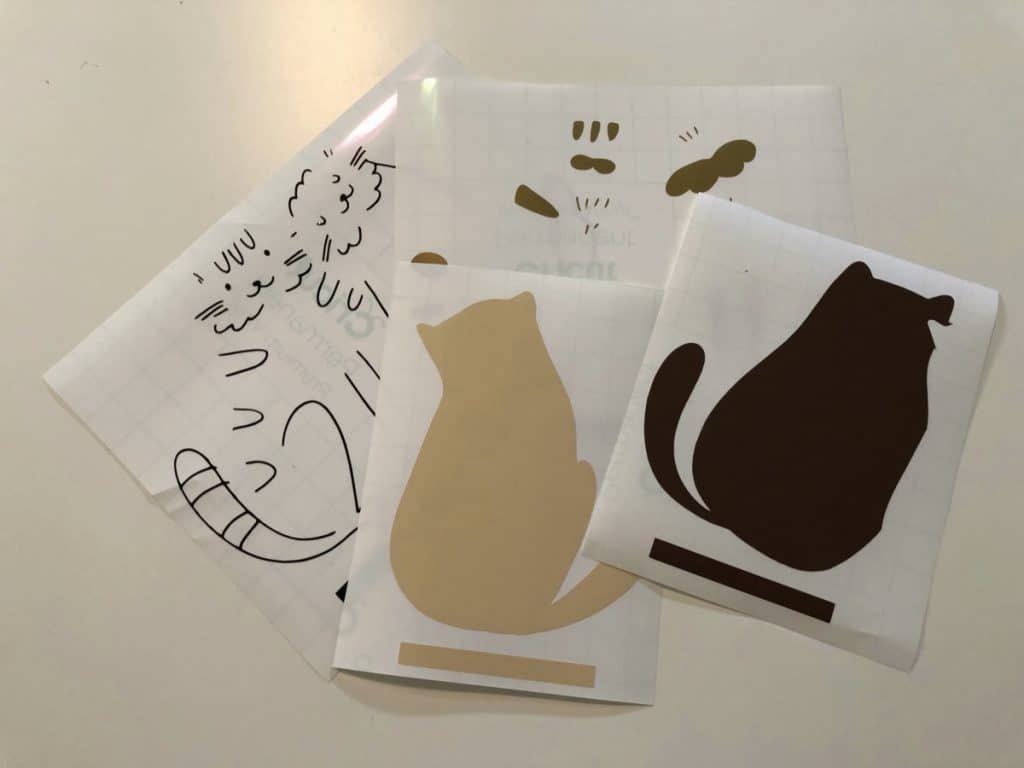 It's time to replace your blade when you find your designs are hard to weed or little sections aren't cut properly and you hear a "pop" that sounds like the vinyl is breaking.
The adhesive from adhesive vinyl can also get caught on your blade, so make sure to clean the blade before declaring it a lost cause. I'll cover how to clean your blade in the next section.
Faux-Leather and Specialty Materials
Faux-leather and other specialty materials like poster board or magnetic sheets will dull your blade much faster than other materials. These materials are thicker than vinyl or paper and will also require more pressure to cut through.
If you try cutting materials that aren't recommended for the fine point blade your blade will dull much faster. Some materials recommend using the Deep-Point blade, the Knife Blade, or the Rotary Blade. Have a look at my article What Can the Cricut Maker Cut to see what blades are recommended with each material.
Cricut Blade Maintenance and Cleaning
Keeping your blade clean and maintained will help it last longer. Performing an inspection of your blade prior to every cut will help you monitor the condition of your blade.
Bits of whatever you're cutting can get caught on the blade as you use it. This is particularly true of materials with felt, glitter, and materials with an adhesive or sticky backing. You can also check for nicks and any damage.
There are two favorite methods of cleaning your fine point blade, using a foil ball or rubbing alcohol.
How to Clean a Cricut Blade with Foil
Aluminum foil is great at removing sticky residues and other fibers from your blade. Ball up about a small piece of aluminum foil, about 1 foot.
Then, take your Cricut blade out of the machine. Push down the plunger on the top of the blade housing to expose the blade. Carefully, poke the blade into the ball of foil. Thirty to fifty pokes should leave your blade clean and ready for action.
The foil ball can be reused many times. I suggest cleaning your blade every time you switch materials to remove any built-up fibers.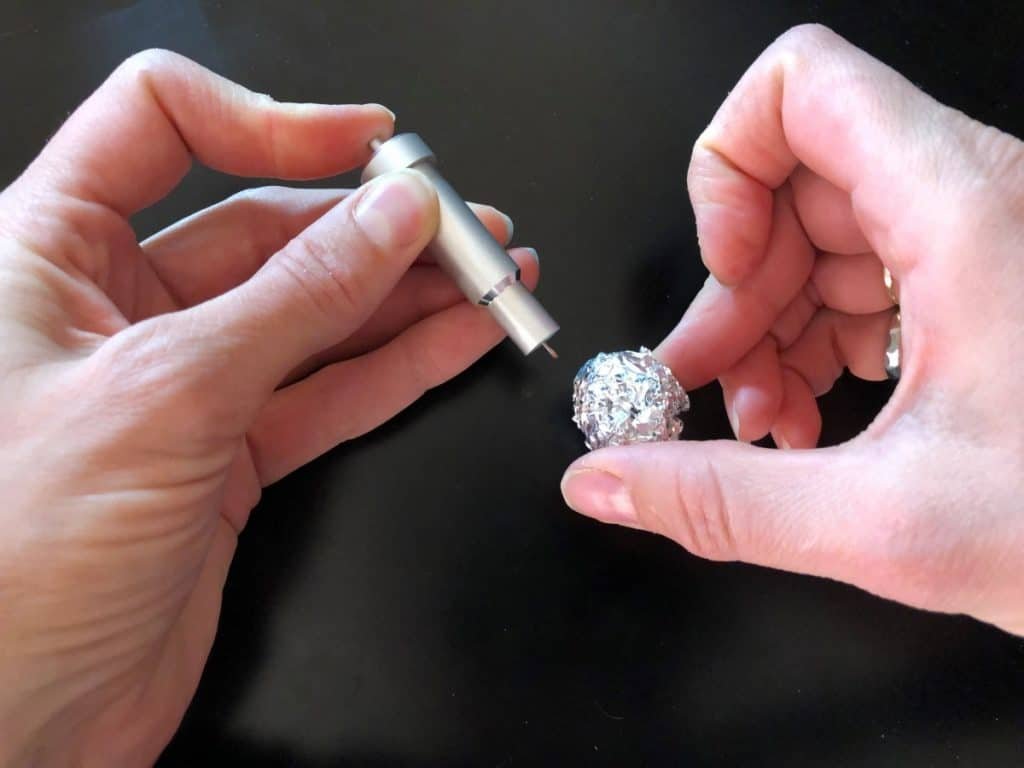 How to Clean a Cricut Blade with Rubbing Alcohol
Using rubbing alcohol to clean your Cricut premium fine-point blade is a simple way to remove leftover adhesive. Materials like vinyl, adhesive cardstock, and sticker paper can all leave behind some sticky residue.
Rubbing alcohol effectively removes this residue without causing oxidation and rust like soap and water can. It will evaporate quickly leaving your blade clean and dry.
Carefully remove your blade from the housing by depressing the plunger and pulling out the blade. Soak a tissue, cotton ball, or makeup pad with rubbing alcohol.
Gently and carefully wipe your blade with the tissue to remove any built up adhesive. Replace the blade in the housing once dry.
Extending the Life of a Fine Point Blade
Keeping your blade clean and only using it on the recommended materials will help extend the amount of time you can use it.
Check the Pressure Used
Having the correct pressure settings will also help extend your blade's lifespan. If the pressure is too high you risk cutting into your mat which will severely dull your blade. Performing test cuts when you use new materials and starting with less pressure can help prevent this.
When you notice your blade is not cutting as well as it used to you can increase the amount of pressure used. Simply select "more pressure" in Design Space when you select your material type.
Using more pressure will get more life out of your blade when it starts to get a little dull. But after a certain point more pressure won't cut it any more, literally.
Designate Specific Blades for Specific Materials
You can also extend your fine point blade's life by designating a different fine point blade for each material type. For example, you can use one blade only for paper products and another only for vinyl.
Your Cricut's front compartment has a magnet where you can easily store the extra blades when you aren't using them. I like to use nail polish on the rubber blade cover to show which blade is for what material.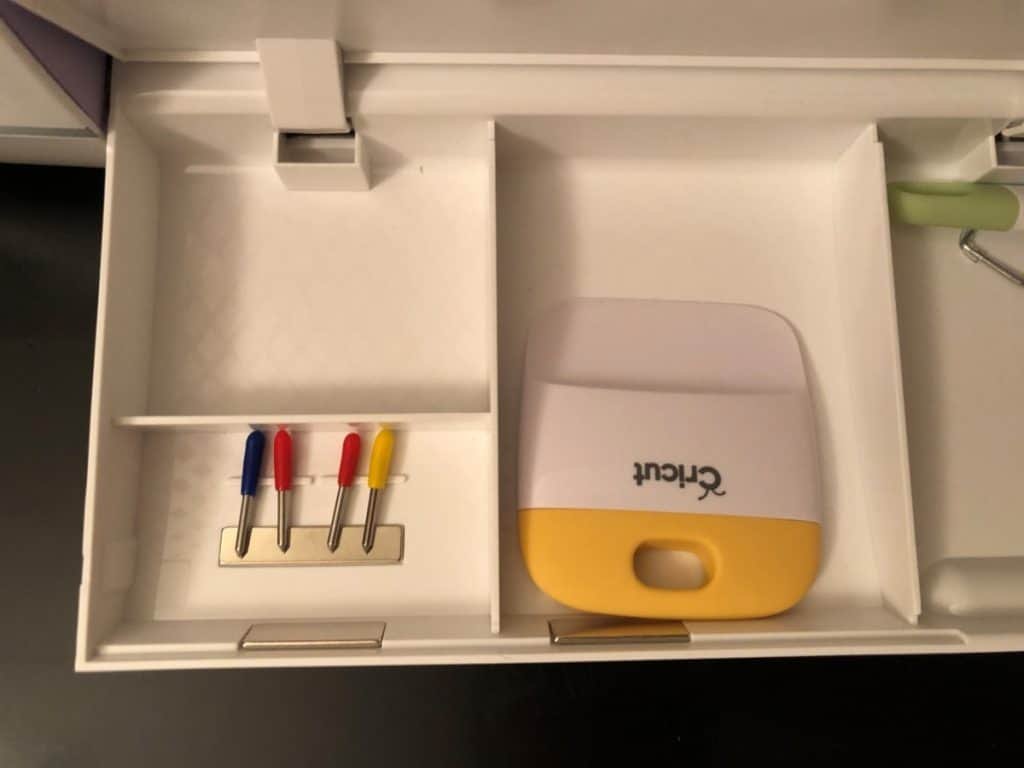 Clean Your Mat
Many times the reason your paper is ripping and your cuts aren't crisp is due to a dirty or old mat. If your material is not well stuck to your mat it may shift slightly during cutting. This will result in tears and ragged cuts, especially with cardstock.
Your cutting mat can be cleaned in several ways. Try using a lint roller, the sticky kind, to remove any leftover fibers and debris. Another method is to wipe it down with a non-alcoholic baby wipe. Check out my article How to Clean a Cutting Mat.
If you have a new mat handy try using it to see how your cuts turn out. A stickier mat might improve your cuts and your don't need to worry about replacing your blade just yet.
Burnishing your material to your mat will help adhere it better. Burnishing is done by using a scraper or brayer on your materials and applying pressure all over.
Final Thoughts
A Cricut Fine Point blade can last many months even years. Ultimately, the way you use your Cricut machine will determine how long your blades last. Heavier use and heavier materials will wear your blade out faster. However, you can always extend a blade's lifespan by cleaning it regularly and only using it on the recommended materials.