This post contains affiliate links.
The AccuQuilt GO! is a manual die cutting machine specifically designed for quilters. AccuQuilt makes high quality cutting machines and precise dies that make cutting out a quilt easy and fast. The GO! is the flagship cutting machine of the company. In this review, I'll cover all the details of the GO!, who this machine is great for, what's included as well as the benefits and drawbacks.
Overview of the AccuQuilt GO!
The AccuQuilt GO! is manual die cutting machine that uses steel ruled dies to cut shapes for quilting. It works by a roller system. The material is sandwiched between the die and a cutting plate then fed through the rollers with the help of a handcrank. The rollers apply pressure to the sandwich and forces the die through the fabric to cleaning cut out the shape. Get all the details on how a manual machine works in my article, How To Use Metal Die Cuts: The Complete Guide.
The GO! is the midrange machine made by AccuQuilt. It is the most popular and commonly used die cutting machine made by AccuQuilt. The machine is fairly portable since the sides fold up so it can be tucked away when not in use or brought to a craft night.
The machine weighs about 15 pounds. When closed it measures 17″W x 5″L x 15″H when open it has a footprint of 30 1/2″ x 17″ and is 6 1/4″ tall. These dimensions include the handle.
The AccuQuilt GO! is compatible with over 200 dies. All dies in the "GO! Me" range and the "GO!" range will work with the GO! cutter. Any die with "GO! Big" or "Studio" in the name is not compatible with the GO! cutter as they are too wide for the machine.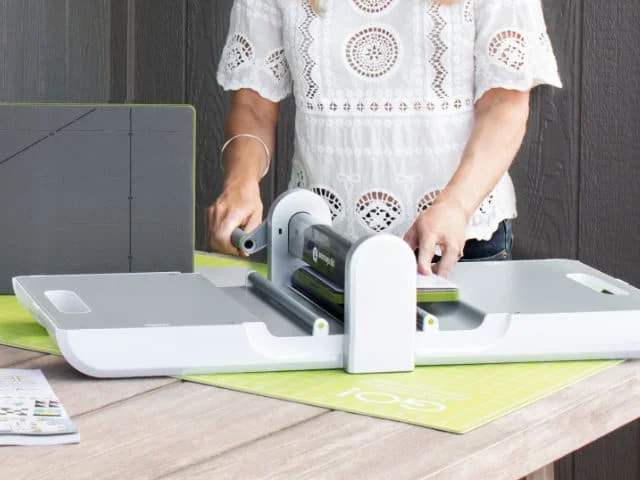 What's Included with the AccuQuilt GO!?
The AccuQuilt GO! can be purchased as small starter set or with a larger bundle. Bundles will provide you with the best bang for your buck especially when compared to buying each die individually with the machine. But if the dies included are not ones that you think you will use then it's not worth it.
The GO! Fabric Cutter Starter Set is the basic set you can purchase and retails for $349. Keep in mind that AccuQuilt is ALWAYS having some sort of sale on so you can likely purchase the machine for closer to $300.
Included in the GO! Fabric Cutter Starter Set is:
GO! Fabric Cutter
Exclusive GO! Value Die (55018) featuring:GO! Cutting Mat-6″ x 12″

Square-4 1/2″ (4″ finished)
Square-2 1/2″ (2″ finished)
Half Square-2″ finished triangle (cuts two)

20- page Pattern Book: GO! Mix & Match Quilt Blocks
Die Pick
Product Registration Card
Quick Start Guide
User's Guide
The Ready! Set! GO! Fabric Cutter Starter Set is the most popular bundle available. It retails for $549 (frequently on sale for under $500) and has a $750 value. The set includes:
GO! Fabric Cutter
GO! Qube 8″ Mix & Match Block (55776) featuring:

GO! Square-4 1/2″ (4″ Finished) (Shape 1)
GO! Square-2 1/2″ (2″ finished) (Shape 2)
GO! Half Square Triangle-4″ Finished Square (Shape 3)
GO! Quarter Square Triangle-4″ Finished Square (Shape 4)
GO! Half Square Triangle-2″ Finished Square (Shape 5)
GO! Square on Point-3 1/4″ (2 3/4″ Finished) (Shape 6)
GO! Parallelogram 45°-2 3/4″ x 3 1/2″ Sides (2 1/16″ x 2 13/16″ Finished) (Shape 7)
GO! Rectangle-2 1/2″ x 4 1/2″ (2″ x 4″ Finished) (Shape 8)
GO! Cutting Mat-6″ x 6″ (55137)

Getting Started DVD
24 page Pattern Book with 9 Block Patterns & 1 Quilt Pattern
Self-contained Storage System
GO! Strip Cutter- 2 1/2″ (2″ Finished) (55017)
GO! Cutting Mat-10″ x 24″ (55113)
GO! Qube Mix & Match Blocks and Quilts Pattern Book by Eleanor Burns-2nd Edition
162 pages; Softcover
46 Block Patterns
16 Quilt Projects
16 page Pattern & Idea Book with 2 Quilt Patterns
Die Pick
Product Registration Card
Quick Start Guide
User's Guide
There are other bundles available which include other popular dies and even the complete set of Qubes.
How does the AccuQuilt GO! work?
The AccuQuilt GO! is very easy to use. Follow these simple steps.
Unfold your GO! cutting machine. Set it up on a flat stable surface.
Place your die foam side up on machine.
Layer your fabric on top of the die. Cover just the shape to be cut, not the entire surface of the die, this will save fabric. It's best to lay the fabric so the lengthwise grain is perpendicular to the rollers.
Place the cutting mat on top of your fabric to make your "sandwich"
Slide the sandwich up to rollers until it is firmly placed against them
Crank the handle of the machine to roll the entire sandwich through.
Remove the cutting mat and your fabric should be perfectly cut.
Accuquilt has many tips and tricks to make using your cutter more efficient and reduce fabric waste. You can learn more in my article Does Accuquilt Waste Fabric? Tips to reduce Fabric Waste.
Benefits of the AccuQuilt GO!
There are many reasons why the AccuQuilt GO! is worth buying. I'd say that the biggest are the ease of use and the large number of dies that you can use with this machine. 
Easy to Use
As mentioned above the GO! fabric cutter is extremely easy to use. It takes just a few simple steps to cut a shape.
One of the big benefits of the cutter being easy to use is that it has helped many quilters with back, wrist and hand issues get back to quilting. It reduces the time and amount of hand cutting needed so quilters who have a hard time using scissors or a rotary cutter can cut out a quilt in no time.
Many quilters say their AccuQuilt cutter has allowed them to enjoy their hobby of quilting once again.
Saves Time
Using the AccuQuilt GO! saves a considerable amount of time. AccuQuilt boasts that using one of their cutting machines is 90% faster than using a rotary cutter. Some have reported that this machine turns hours-long projects into tasks that can easily be done in under half an hour simply because of how quickly and effectively the machine turns out uniform pieces. 
The GO! lets you cut up to 6 layers of fabric at a time. Depending on your die, one pass of a die through your cutter can leave you with many, many cut shapes. For example, if you are using a die like the commonly used GO! Half Square Triangle-4″ Finished Square, there are 4 triangles on the die. If you use 6 layers of fabric you will end up the 24 triangles complete with dog-eared corners.
Compatible With a Wide Variety of Dies
The AccuQuilt GO! is compatible with numerous AccuQuilt dies in various shapes and sizes. I've seen plenty of available pattern sets from AccuQuilt on the market, and each one has enough character to inspire a whole new quilt design. 
As I mentioned, there are over 200 dies available to use in the GO! And AccuQuilt is continually making more dies based upon requests from customers. You can also have custom dies made if you can't find what you are looking for.
The GO! can fit dies up to 10″ in width but can also fit two 6″ dies side by side. This means any die named "GO! Me" or "GO!" will work in the cutter. Unfortunately the "GO! Big" dies are too wide and the "Stuido" dies are completely different and not compatible.
To find out what the most commonly used dies are check out my article, Cost Of 38 Common GO! Dies.
Sturdy and Durable
The AccuQuilt GO! die cutter is very sturdy. It won't move while you're working, and it's durable enough to stand the test of time. The dies themselves are well made and should last for hundreds if not thousands of cuts. Check out my article, Do AccuQuilt Dies Wear Out, where real quilters share their experiences.
The only piece that needs frequent replacement is the cutting mat, which is fairly inexpensive. A replacement mat is all that you need to keep your machine cutting dies over a long time. You can find replacement cutting mats on Amazon, like this 5-inch by 10-inch (13 cm by 25 cm) AccuQuilt GO! mat. Of course you can get them from AccuQuilt directly or from your local quilting store.
You can also make your mat last longer by turning it slightly before putting it into the machine each time. This disperses the pressure the die and roller apply to the mat, keeping it from becoming too worn in any one spot, leading to breaking. 
I also recommend cleaning the cutter's rollers with a clean, dry cloth now and then to reduce lint buildup. Cleaning will help your machine last longer. 
Additionally, you should pick bits of fabric out of the dies when they get stuck, and you should use a lint roller to remove debris from the foam side of the die. The die pick that comes with your machine is the perfect tool to remove bits from your die.
Just make sure that you never use abrasives, solvents, or spray cleaners on your cutter or dies, as this can drastically reduce the life of even the best machines.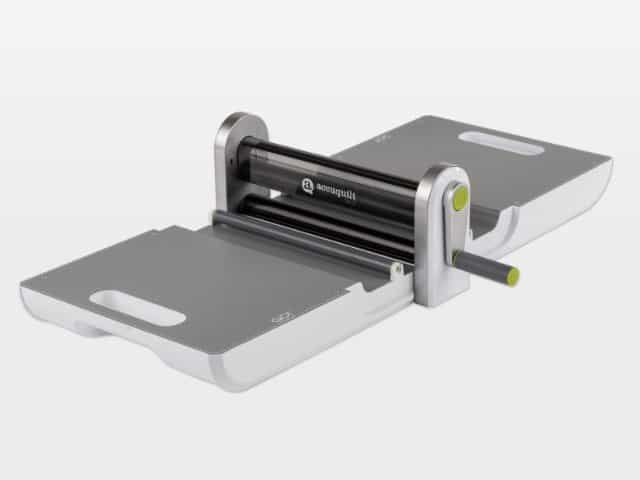 Dies Are Easy To Align
The GO! has guidelines to make it easy to line up pieces of fabric. You can even arrange an entire block on one board, cutting all the pieces you need at once to make sure they fit together perfectly. 
The dies have two-tone foam and guide notches to make it easy to line up your fabric. This makes it easier to get accurate cuttings from your machine. 
To get the most out of your AccuQuilt GO! machine, make sure that you're aligning the grain of the fabric the right way. AccuQuilt recommends aligning your grain so the lengthwise grain (straight of grain) is fed under the rollers.
You should align the fabric along the line of the blades in the die rather than against the base. The blades are often set at an angle, so don't worry if it appears off-center. This is done to make the dies easier to feed through the roller.
Portable
The AccuQuilt GO! die cutter folds shut and has a magnetic closure that keeps it closed while you're transporting it. This makes it an excellent choice for the traveling quilter; it can come with you to quilting bees, sewing classes, or crafting retreats. 
That said, this machine does weigh 15 lbs. (6.8 kg), so I wouldn't plan on carrying it for extended periods unless you have some arm strength. 
It's easy to bring with you to a quilting event and doesn't take up a ton of space when not in use.
Excellent Support from AccuQuilt
One of the best things about the GO! is the support from AccuQuilt. The company provides tons of resources to learn how to use their machines to their full capabilities. They have an active YouTube channel that provides tons of tips and tricks. They also do YouTube lives for different blocks.
So you don't have to hunt all over YouTube, the AccuQuilt GO! starter kit comes with a helpful How-To DVD to show you exactly how to use the machine before you even get started. This reduces the risk that you'll misinterpret written instructions and makes the whole process of figuring out how to work the machine easier and quicker. 
You can also find useful videos, answers, and tutorials on the AccuQuilt website, AccuQuilt.com. Among these resources is a How-To PDF that details:
What materials you can use.
How to load the machine.
Everything else you need to know to get started.
Downsides of the AccuQuilt GO!
Although the AccuQuilt GO! is generally a great choice for quilters, there are a few downsides to be aware of. 
Mainly, you should know that you'll need AccuQuilt dies to pair with the cutter; not just any dies will do. 
AccuQuilt Cutters Are Incompatible With Other Dies
AccuQuilt cutters will only work with AccuQuilt dies. If you already have dies from a different manufacturer, this is more of a downside. 
But if you're just getting started, this shouldn't be much of a problem at all. I find that AccuQuilt dies are generally easy to come by and offer a good value for the price. 
AccuQuilt GO! cutters will also only work with dies of the appropriate size, meaning dies made for that specific AccuQuilt model or a smaller one. Pay attention to the size of any new dies you're looking to purchase, and note whether they're marketed for use by the GO! model versus the GO! Big Electric, which is the next size up. 
You May Need To Trim Strings
The AccuQuilt GO! cutter sometimes leaves stings straggling on the edges of your cut fabric, which you will need to trim by hand with a pair of scissors. 
This is expected, and should only occur where the edge of the die meets. But I want to make sure that you know that even this highly effective die cutter can leave some trimming work to do.
But dies that are not fully cutting all parts of your fabric is not normal. You may be using too many layers or need to add a shim to your sandwich. Typically adding a piece of paper or cardstock to you sandwich is enough to get a die cutting well. Another option is to replace your cutting plate.
Turning the Crank Requires Hand Strength
Although the GO! is easy to use for most people, it does require some hand strength to grip the handle and operate. This may make it less than ideal for users with bad arthritis or other hand or wrist issues that make turning a crank difficult. But the die cutter is a vast improvement over scissors or a rotary cutter.
That said, the average user will find that their grip strength is enough for the job. Children have no issues turning the crank so it doesn't require massive amounts of strength. 
Also, you can feed the fabric and dies in from either side of the machine, so you can favor your better arm when turning the machine's handle if you need to. You can also reduce the difficulty of using the machine by feeding fewer layers at a time, which makes it easier to turn the crank. 
For quilters with advanced arthritis or other hand/wrist issues the AccuQuilt GO! Big Electric is a great alternative. It is still a manual die cutting machine but it automatically runs your dies through it so you don't have any cranking or manual maneuvers.
It Costs a Significant Amount of Money
Although you can frequently find the AccuQuilt GO! on for a reasonable price, any die-cutting machine of this size and quality is going to require some financial investment. 
On top of your initial investment, you'll have to purchase the dies you want to use separately. There are ways to reduce the cost dies like using a lending library or splitting on dies with friends.
If you're looking to get started but don't want to spend a fortune, I recommend you consider a smaller, more introductory model like the AccuQuilt GO! Me. The GO! Me is much less expensive and can still use a wide number of dies in spite of its small size. Learn more in my article all about The AccuQuilt GO! Me.
You May Have More Leftover Scraps of Fabric
You may find when you first start using your GO! that you have more fabric waste. This is part of the learning curve of the AccuQuilt cutting machines.
As you get used to using the cutter you'll learn how to make the most of your fabric and how to align it on your dies. Most AccuQuilt users state that they end up with very little waste once they got the hang of their machine. Especially if they factor in miscuts and errors.
Who Should Get an Accuquilt GO!
The AccuQuilt GO! is a great investment for quilters who want to reduce their cutting time. It also has some great advantages if you enjoy doing appliques since you can cut much more complicated designs than you could by hand.
Whether you are just starting out quilting or have been doing it for years the AccuQuilt GO! is a great investment. It'll speed up your cutting time reducing the time it takes to make a quilt.
It's a great option if you have a small business making quilts or if you sell quilting kits and patterns. You will be able to quickly and precisely cut the fabric pieces for multiple quilts at one time.
If you are wondering if the AccuQuilt GO! is "worth it" read my article, Is AccuQuilt Worth It, and get thoughts from real quilter.
Pros and Cons of the AccuQuilt GO!
Delivers clean cuts and near-perfect lines every time
Good for beginners, as it requires minimal skill to operate
Cuts up to six layers of fabric at once
Folds up for portability
Over 200 dies are compatible with this machine
Has a one-year warranty
Cuts 90% faster than scissors
Sturdy and won't slide around while you're cutting
Can cut thick fabrics like wool, flannel, and fleece 
Manufacturer offers How-To tutorials, guides, and tips
Dies are easy to align fabric on
Cutter is somewhat heavy

, weighing 15 lbs (6.8 kg)

Hand-operated, which may be challenging to use for those with advanced arthritis
Not compatible with non-AccuQuilt dies
Dangling strings may need to be trimmed
Expensive
May have extra fabric waste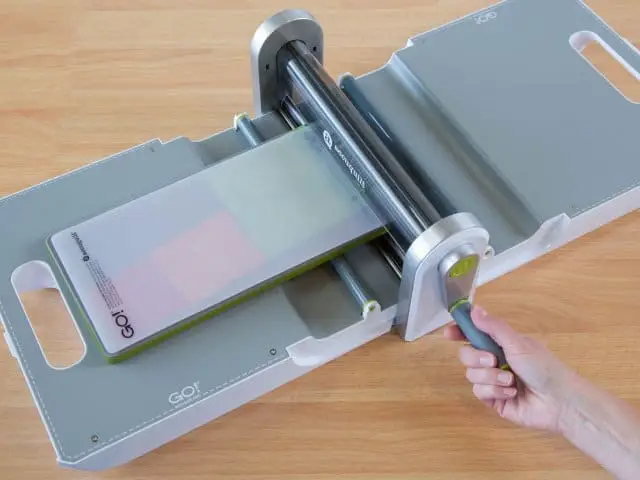 Frequently Asked Questions
Can I Cut Paper With My AccuQuilt?
You can cut paper with your AccuQuilt cutter and dies, but doing this frequently will dull your dies and decrease performance over time. As a general rule, you should treat your cutter and dies like you treat a high-quality pair of fabric cutting scissors. 
How Many Layers of Fabric Can I Cut With AccuQuilt?
You can cut up to 6 layers of 100% cotton fabric with your AccuQuilt GO! Cutter. If you're using thicker fabrics, expect to use less layers. The GO! Me and GO! Big Electric can also cut up to 6 layers of fabric. The Studio 2 cutter can cut up to 10 layers.
AccuQuilt recommends starting with fewer layers then increasing the number of layers and checking the accuracy and crispness of the cut. More complex dies will usually only cut 1 layer well at a time.
Fabric Types
Number
of layers
Batiks
6
Cotton
6
Cotton with fusible web
4
Denim
1
Felt
1 to 2
Flannel
1 to 2
Fleece
1 to 2
Leather
1
Satin
6
Silk
6
Wool
2
Batting
1 to 2
Can AccuQuilt Cut Felt?
All AccuQuilt cutters can cut felt. The GO! line of cutters can cut up to two layers of felt fabric at a time. The AccuQuilt GO! Me is the machine I recomend most for cutting felt.
Learn more in my article, the Best Cutting Machine for Fabric and Felt.
Does the AccuQuilt GO! Come With a Pick?
The AccuQuilt GO! comes with a pick, an instrument that's sharp on both ends and intended to help you pick pieces of cloth from the dies if they get stuck. It's one less piece of equipment you'll need to buy if you buy the cutter from the manufacturer or a seller that includes the full kit. 
Where Can I Find Compatible Dies for the AccuQuilt GO!?
You can find dies for the AccuQuilt GO! for sale on the manufacturer's website, AccuQuilt.com, or from many different online retailers, like Amazon. Just make sure that the dies you're looking at are rated for use with the AccuQuilt GO! or the GO! Me not the GO! Big Electric. 
Final Thoughts
The AccuQuilt GO! Die Cutter is a great die cutter for the quilters looking to transition to using a die-cutting machine. Whether you are an experienced quilt or just starting out with your quilting hobby the GO! is an amazing machine.
It's easy to use and efficient, and it offers the best that die cutters have to give. Just make sure that you can use the machine before you invest; it can be difficult if you have arthritis.