This post contains affiliate links.
Cricut is, without doubt, a leading name when it comes to cutting machines in the crafting world. They have various products targeting different types of crafters, including the Cricut Maker 3. But how does it differ from the original flagship Cricut Maker? 
The major differences between the Cricut Maker and the Cricut Maker 3 include the cut length, speed, and cutting Smart Materials without a mat. The Cricut Maker 3 can work at speeds up to twice as fast as the Cricut Maker's fastest setting, and it can cut Smart Materials as long as 12 feet (3.65 m).
The rest of the article will look at all the differences between the Cricut Maker vs. Cricut Maker 3 in closer detail.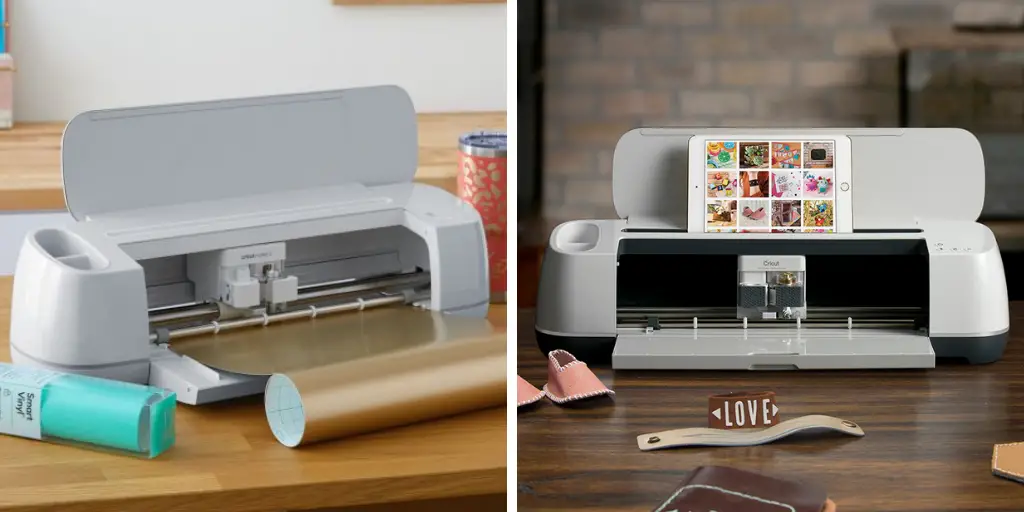 Cricut Sales! Save up to 50% OFF on Materials and Accessories. Plus, get up to $150 off Machines and Heat Presses!
Check Out the Current Deals
Get Free Shipping with Code JANSHIP
Cricut Maker vs. Cricut Maker 3: First Look
The Cricut Maker is a crafting machine designed to cut more than 300 materials. It can cut delicate materials like fabric and crepe paper as well as tough materials like leather, basswood, and matboard. The machine also includes a range of tools for scoring, cutting, writing, and adding decorative effects on the various materials.
The blade on the Cricut Maker is easy to control, allowing you to match the pressure delivered to the material you're working on. 
The Cricut Maker 3 is an upgrade to the original Cricut Maker. It's structurally the same product, with some new features and upgrades that make it more efficient, especially for crafters regularly working on large-sized projects. Learn more about the original Maker in my article, Cricut Maker: An In-Depth Review.
Currently, both machines are available for sale from Cricut. Check out the latest price on the Cricut website for the Cricut Maker 3 and the Cricut Maker.
| | | |
| --- | --- | --- |
| | | |
| | | |
| | | |
| | | |
| | | |
| | | 2x Faster than Explore Air 2 |
| Works with Adaptive Tool System | Yes - 13 compatible tools | Yes - 13 compatible tools |
| | Yes - white & colored materials | Yes - white & colored materials |
| | | |
| | | |
| | | |
| | | |
| | | |
| | | |
| | | |
| | | |
The Differences Between the Cricut Maker and the Cricut Maker 3
Below is a look at the differences between both products in different areas:
Maker vs Maker 3: Appearance
The Cricut Maker comes in various colors, including Rose, Lilac, Blue, and Champagne, while the Maker 3 comes in light blue only (although that will likely change in the future). Another thing that is different is the original Maker only had a metallic colored lid and glossy white body while the new Maker has an all over glossy color with a silver metallic lid.
The buttons on the exterior of the machines are arranged differently as well. While there is a marked "C" button for cutting on the Cricut Maker, the Maker 3 has a "Play" button in that position. The arrow buttons also have a fresher design on the Maker 3. However, all the buttons have similar functions on both machines.
You can also find the Maker 3's name written boldly on its tool housing. This is a quick way to see at a glance what machine you're working with.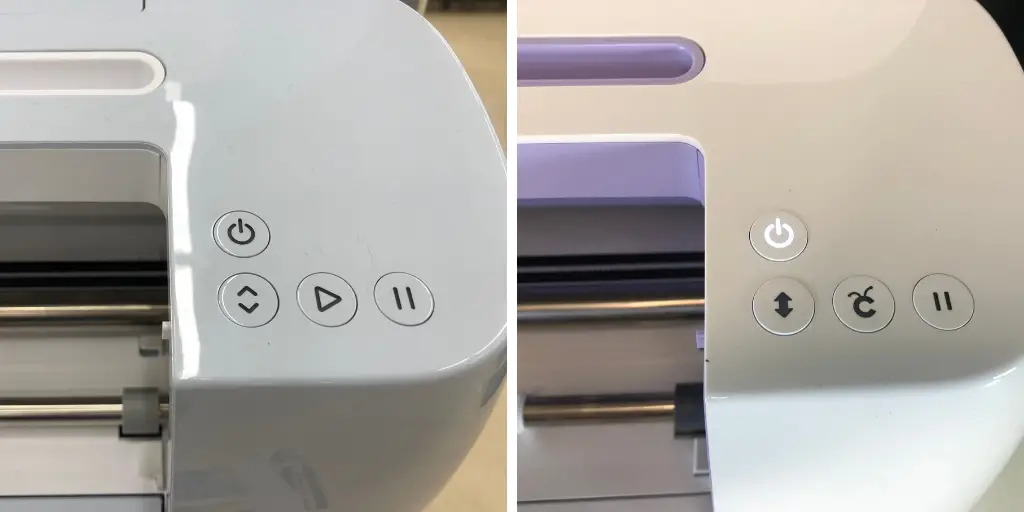 Maker vs Maker 3: Cutting Ability
The Cricut Maker requires a mat to cut all materials, while the Cricut Maker 3 can cut "matless." Crafters can use the Maker 3 to cut 13-inch (33.02 cm) wide Smart Materials like Smart Paper, Smart Iron-On, and Smart Vinyl, working with up to 12 feet (3.65 m) of material without using a mat.
The Cricut Maker 3 can hold large rolls of material because it's compatible with the new Cricut Roll Holder-which you have to buy separately. This helps keep your materials straight and neat while cutting. It also has built in guides to keep the Smart Materials straight when cutting without a mat.
The Cricut Maker doesn't support the Cricut Roll Holder, and it can't cut Smart Materials without a mat.
Maker vs Maker 3: Cutting Speeds
When cutting Smart Materials, the Cricut Maker 3 can work up to two times faster than the Cricut Maker. It can cut at speeds up to 8 inches (20.32 cm) per second. With the faster cuts and the ability to cut up to 12 feet (3.65 m) of material at once, crafters can work on large projects a lot faster. So, you can complete projects in one pass.
The original Cricut Maker doesn't support matless cutting of Smart Materials, so it only works at standard speeds. However, the Maker 3 also defaults to these standard speeds if you're cutting other types of non-Smart Materials.
Maker vs Maker 3: Power Adapter
The Cricut Maker 3 has a more powerful power adapter in the box, which can deliver up to 3 amps of output. This is to help power the matless cutting and faster speeds. The power pack on the older Maker delivered 2.5 amps of output.
Keep in mind that it's impossible to interchange the power cords for the Maker and Maker 3. The receptacles and connectors all have different sizes, so you shouldn't expect to use your old Cricut power cord on the new Maker 3.
Maker vs Maker 3: Accessories in the Box
The Cricut Maker comes with the following items included in the box:
Fine point blade (including the housing)
Fine point pen (black)
LightGrip Mat 12" x 12" (30.48 x 30.48 cm)
Rotary blade and drive housing
FabricGrip™ Mat 12" x 12" (30.48 x 30.48 cm)
20+ sewing patterns and practice materials
The Cricut Maker 3 comes with the following items included in the box:
A sheet each of Smart Vinyl, Smart Paper Sticker Cardstock, and Smart Iron-On.
Transfer tape
Fine point blade
The different materials in the Maker 3 packaging highlight the shift to Smart Materials. There are no mats, fine point pens, or rotary blades and housing. The materials included will allow you to start working on your first project with Smart Materials right off the bat.
If you are planning on working with your materials other than Smart Materials, I highly recommend purchasing a Light Grip mat and a Standard Grip mat when you order your machine. These are the two most used mats by Cricut users.
When purchasing any cutting machine from Cricut, I highly recommend buying a bundle. Bundles will cost more than the machine alone but tones of materials and tools are included for a fraction of the price. Check out the bundles available at Cricut.com.
Similarities Between the Cricut Maker and Maker 3
The two Cricut Maker products have some similarities, including the following:
Maker vs Maker 3: Materials
You can work with over 300 materials on both Maker models. Balsa wood, leather, cardstock, fabric, and vinyl are some of the popular options. You can create custom designs on the materials in the same manner because the blades are the same. To find out what materials the Maker can cut check out my article, What Can the Cricut Maker Cut?
Remember, you'll need mats to cut most materials on both machines, but you can go matless on the Maker 3 if you're working on Smart Materials. Right now, the only Smart Materials you can find from Cricut are the Smart Label Writable Paper, Smart Iron-On, and Smart Label Writable Vinyl, Smart Vinyl.  
There have been rumors of Smart Infusible Ink and other innovative materials, but there's no saying when they'll hit the stores. Cricut has said "we are always innovating for every craft and every crafter. You can expect [Smart Materials] in varieties of colors, textures, treatments, and even purposes to fit your needs."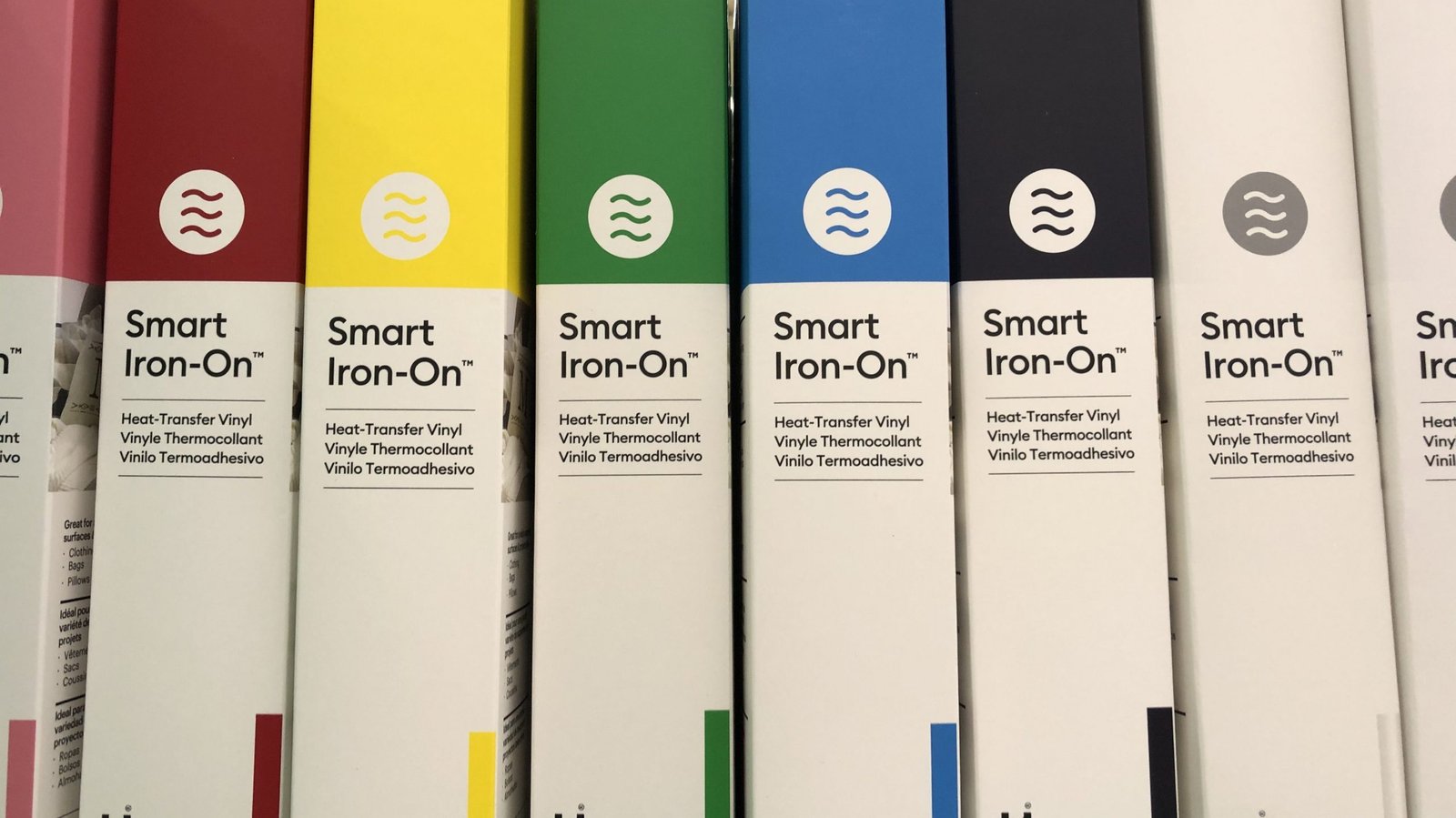 Maker vs Maker 3: Cutting Force
The original Cricut Maker and the new Cricut Maker 3 have the same cutting force. Both have a cutting force of 4000 grams. This is 10x the cutting of the Cricut Explore Air 2 and Cricut Explore 3. The only machine with more cutting for is the Silhouette Cameo 4 but the material cutting abilities are similar to the Maker.
Maker vs Maker 3: Blades and Tools
All the blades and tools that work on the original Maker can also work on the Maker 3. Cricut didn't produce any new blades with the Maker 3, so the blades are interchangeable here. It's likely any new tools or blades created will be compatible with both models of the Maker.
You can find the Adaptive Tool System feature on both machines, as well. This feature allows you to actively manage the blade's position by lifting and rotating it intelligently into the perfect position for your next cut. This enhances precision and makes it easier to maintain optimum pressure.
The machines move the tool carriage to the right at the start of the cutting process to scan and decode the blade in use and adjust accordingly. The technique is also known as "homing" -a vital aspect of the cutting process.
Both machines support the following blade types:
Rotary Blade
Scoring Stylus
Pens
Knife Blade
Bonded Fabric Blade
Deep Point blade
Foil Transfer Tool
Premium Fine Point Blade
Quick Swap Housing including Single and Double Scoring Wheel, Debossing Tip, Engraving Tip, Wavy Blade, Perforated Blade
So, looking at the points above, you can see how the Maker 3 is very similar to the original Maker.
Cricut Maker vs. Maker 3: Pros and Cons
It's best to summarize the advantages and disadvantages of each device so that you can make a better decision. 
Cricut Maker
Cricut Maker 3
Pros
– Cuts 300+ Materials
– Uses 13 tools to score, write, and cut materials
– Available in a range of colors
– Pricing is typically lower than newer models
– Cuts 300+ Materials
– Uses 13 tools to score, write, and cut materials
– Can cut Smart Materials up to 12 feet (3.65 m) long
– Cuts Smart Materials without a Mat
Cons
– Can't work with Smart Materials for matless cutting
– Maximum cut length is 24″
– It costs a bit more
– Only available in one color
Should You Buy the Maker 3 Over the Maker?
The upgrades on the Maker 3 make it worth the investment if you frequently work on large projects and wish to do matless cutting using SmartMaterials. Its faster cutting speed, when compared to the original Maker, makes it worthwhile if you are cut a lot of projects or use your machine for a small business.
The Maker 3 delivers greater speeds if you're working with Smart Materials. With more than double the speed on the Cricut Maker, you can create double the craft in the same amount of time.
The matless cutting also simplifies the cutting process a great deal. Combined with the ability to cut up to 12 feet (3.65 m) of material at once, you'll save a lot of time and money if you're running a commercial-grade operation.
However, most of these advantages only apply if you're working with Smart Materials. If your crafting doesn't involve the four Smart Materials currently available, you can stick with the original Maker if you already have it or if you want to save some money.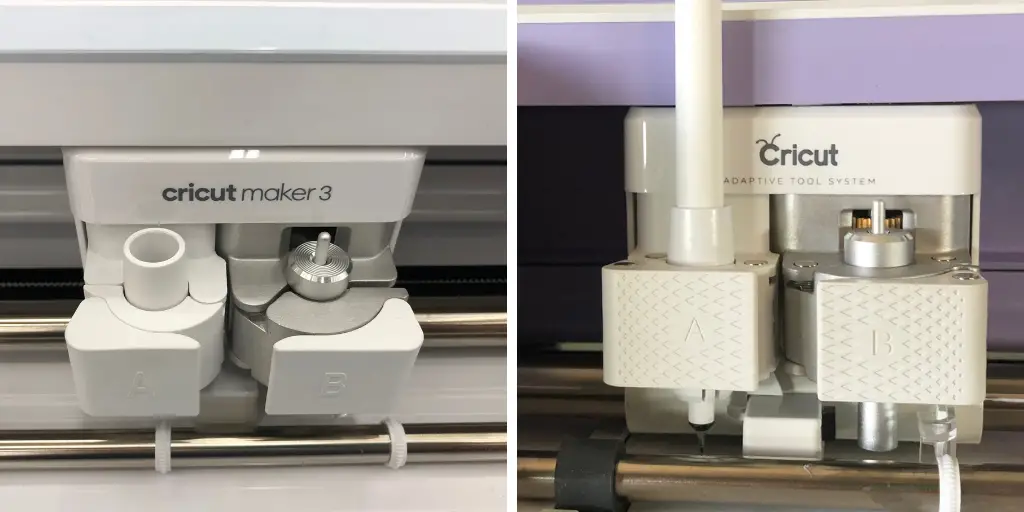 How Smart Materials Work
Smart Materials were created by Cricut specifically for matless cutting using the Cricut Joy. They were originally narrow in width, only 5.5 inches to accommodate for the small size of the Joy.
With the introduction of the Explore 3 and Maker 3, Smart Materials can be purchased in a 13 inch width for use with full sized cutting machines. Design can be cut up to 11.7 inches wide and 12 feet long depending on the type of material used.
According to Cricut Smart Iron-On, Smart Vinyl and Smart Paper all have different maximum cut lengths. Smart Iron-On has a maximum length of 4 feet, Smart Paper has a maximum length of 11.2 inches, and Smart Vinyl has a maximum length of 12 feet. (source)
Smart Materials are designed with special backing, making them easy to pass through a Cricut Maker 3 and other compatible machines without a cutting mat.
The Cricut Design Space software will notify you when it's time to load the material and tell you how much you need to complete a cut based on your original design. Once the material is loaded, your Cricut machine will first measure the load to ensure it's sufficient for the project at hand.
Typically, the machine will add an extra inch of material above your design and 0.5 inches of material below. This is to give the rollers and sensors something to work with and to efficiently feed the materials back and forth through the machine.
Your Smart Material must be at least 6 inches long and full width in order to use it for matless cutting. Scraps can be used in your machine with a cutting mat.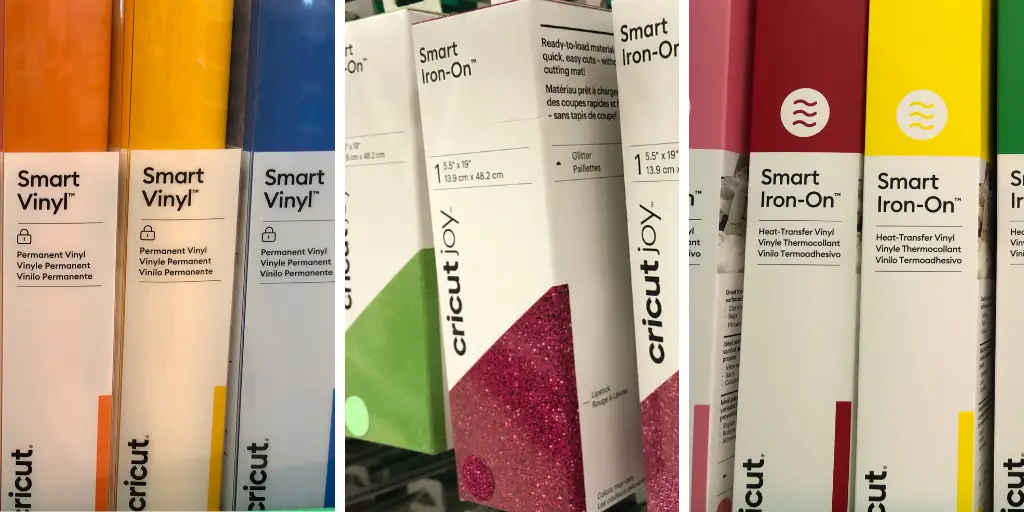 Pros and Cons of Smart Materials
Smart Materials are Cricut's specialty crafting materials that enable working without a mat. What are the pros and cons of using them?
Pros
They speed up the cutting process.
They make it easier to cut individual continuous shapes up 11.7" (29.7 cm) wide and up to 12ft (3.66 m) long.
No need to constantly remove and replace mats.
Cons
They are limited to just four different materials for now.
You can only buy Smart Materials from Cricut.
Should You Work With Smart Materials?
Smart Materials come in vinyl, iron-on, and writable paper. The ability to cut designs up to 12 feet is one main reason to work with Smart Materials. It's more efficient to work with Smart Materials if your project requires cutting any of these; otherwise you don't need Smart Materials.
Many crafters have found more success working with other materials, including leather and other brands of vinyl and iron-on. If you're one of them, you don't need Smart Materials.
As I mentioned above, Cricut is continually innovating and developing so they will likely come up with more variations of Smart Materials, but it might be a while before we see dozens of different types of Smart Materials.
Frequently Asked Questions
What Is the Maximum Thickness Allowed on Cricut Maker 3?
The Cricut Maker 3 can accommodate materials that are up to 2.4mm (0.24 cm) thick. This is the same thickness allowed on the original Cricut Maker.
What Happens to Your Files After Upgrading to Cricut Maker 3?
When you purchase a new Cricut machine, your image sets, uploaded images, and projects are typically saved on Cricut's servers and tied to your Cricut ID. Logging in to Design Space with your Cricut ID after upgrading to the Cricut Maker 3 will still allow you to use your images on your new Cricut machine as well as with your old one.
So, as long as you can remember your ID, you don't have to worry about losing any data.
Can I Work On My Tablet or Phone With Cricut Maker 3?
Like the original Maker, there's a docking slot on the Maker 3 that supports working with a mobile device. The Design Space software also has Andriod and Apple compatible apps. These allow you to design and control projects from any internet-enabled device. 
Do I Need To Update the Cricut Maker 3?
You need to update the Cricut Maker 3 regularly to keep up with firmware releases from the brand. The firmware updates are typically small-sized, but they are important to keep your machine functioning optimally. Once an update is available, you'll get a prompt on the Design Space interface.
What Warranties Are Available?
Cricut generally offers a 1 year limited warranty on machines purchased from authorized sellers. Learn more on the Cricut site or get in touch with their customer care to see your options.
Final Thoughts
The Cricut Maker quickly became a must-have in the crafting world after it launched. To date, it's still one of the most powerful machines you can buy for cutting materials. However, the Cricut Maker 3 promises faster-cutting speeds and the ability to work without mats using Smart Materials.
The Cricut Maker 3 can save you a lot of time if you work on large projects that use Smart Materials frequently. However, the older Cricut Maker will remain the better value for money if you're a hobbyist occasionally working on cuts without the need for Smart Materials.