This post contains affiliate links.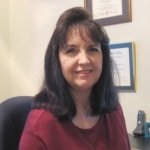 Today we have a guest post by Sandy McCauley, the owner of I Love KNK.com! Sandy has been supporting cutter owners since 2005 when she wrote her first tutorials for the Wishblade and Craft Robo. Since that time, she has written user manuals for KNK USA and Graphtec GB, taught cutter owners at nation-wide KNK retreats, and made over 400 software videos. She answers tech support questions at various Facebook groups, Yahoo groups, and cutter forums. Sandy has helped so many people over the years and we are very happy to have her share 7 learning mistakes made by Cutter Owners.
Mistake #1: Being afraid of making mistakes
I've spent the past ten years teaching hundreds of people how to be successful with their cutters. One thing I learned early on is that successful owners are those who:
Have no fear of making mistakes
Have patience with those mistakes
Find out why they made those mistakes
Try again, based on new information
It's from making mistakes that you learn more about the principles behind cutting. Once you get past the mistakes and have successful cuts, your confidence begins to soar and you'll be excited to broaden your range of projects!
Mistake #2: Believing everything you read… even if it's in the user manual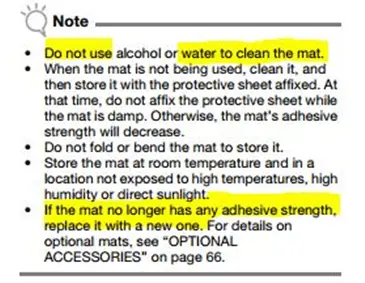 Okay, okay. I know this is unexpected coming from someone who writes user manuals! But, out of curiosity, I sometimes read competitors' manuals and have been amazed at how little the authors know about cutting. For example, it is ridiculous to tell a customer they will need to buy a new mat as soon as the current mat is no longer sticky! I've tested many brands of cutting mats and have yet to find one that couldn't be washed to regain tackiness. Worse case, you might need to apply a new coating of repositionable adhesive after washing, but mats should continue to be useful way beyond that first time the material won't stick. Eventually, a mat needs to be replaced, but that should be based on warping or a lot of deep cuts.
Another example I've read in the past is telling a customer to replace a blade as soon as it is no longer yielding clean cuts. Wrong! With most blades, gradually increasing the force will allow one to continue getting successful cuts for an extended period of time.
Is it the naiveté of the author that erroneous things get written? Perhaps, but remember that it's in the self-interest of the cutter company to have its customers regularly buying replacement items.
Mistake #3: Not reading the user manual
This may sound like a contradiction to the prior mistake, but it's not. You should read the user manuals for your cutter. Now, I don't expect anyone to read the entirety of a KNK user manual because it's over 240 pages and meant to serve as the user's complete hardware and software reference guide. But I do expect new owners to at least read the first few chapters so that they understand the basics of cutting and using the KNK machines. It's also a good idea to skim through the entirety of a manual and bookmark things like:
Recommended settings
Controlling where shapes will cut
Required calibrations
Troubleshooting guides
Where to go for help!
Mistake #4: Not utilizing all of the available resources
Besides the user manual, there are other ways to master your cutter:
Look for recommended forums and online groups listed in the user manual. Many cutter owners love to help others. Let them do that for you.
Join Facebook to take advantage of the cutter company's own page plus any user groups that have been created for your cutter.
Many cutter owners have their own blogs with helpful tips, inspiring projects, and free cutting files. These blogs are usually found in the signatures of members posting at the various forums. You can also find them by searching the cutter brand name on Pinterest.
Finally, YouTube and Vimeo are excellent resources, as well. While a picture is worth a thousand words, a video is worth ten thousand.
Mistake #5: Not providing enough detail when posting for help
Don't get frustrated, get help! But also follow a few "rules of etiquette" out of respect for those who are eager to assist. This saves both time and the posting of incorrect solutions. A few suggested guidelines:
List the brand of the cutter, the model, the software you're using, and which operating system is installed on your computer.
Describe the problem in detail:

A bad post would say, "My cutter is not cutting right."
A better post would say, "I'm attempting to cut cardstock and I'm seeing a lot of tearing."
The best post would say, "I'm attempting to cut 65 lb Recollections cardstock and I'm seeing a lot of tearing. My force is at 60 and my speed is at 150. I'm using the standard material blade."

Post photos if possible.
Check back often. Nothing is more frustrating to someone helping than to never hear from the person again. Even if you get help somewhere else or you figure out the problem on your own, it is respectful to post back with the solution you found. This solution may help others in the future!
Mistake #6: Assuming you need to buy more software for designing
The software you receive with your cutter should always be thoroughly checked out first. It is seldom necessary to purchase more software than what came with your cutter. For example, Make The Cut, KNK Studio, Silhouette Studio, and Sure Cuts A Lot offer a full range of designing, vectorizing, and editing functions that allow users to create exactly what they need for their projects. Do not discount the value of these programs just because they came free with your cutter.
Some new owners of cutters already own and use Adobe Illustrator, Corel Draw, Inkscape, or various CAD programs. That's great and those programs can certainly continue to be used for designing. But you do not need any of these, in most cases. 
Mistake #7 Purchasing a new cutter without thoroughly researching your options
First, make a list of what you really want and/or need. For example, do you have a range of different materials you need to cut or, perhaps, you only plan to cut vinyl and paper? Do you want a 24″ cutter or will you be happy with a 12″ cutter? Are you willing to invest a day or two into learning the cutter or do you want an "easy bake oven" kind of cutter?
Don't assume your favorite software will be compatible with any brand or model of the cutter. I see this happen too often at Make The Cut's forum. People will buy some "random cutter", either assuming MTC will work with it or assuming MTC programmers will create a plug-in without even having that cutter at their disposal.
Don't use comparison charts to compare various brands of cutters. Every current chart I've seen is out-of-date, listing cutters no longer sold and/or missing newly-released cutters. Further, every current chart also contains incorrect data. If you think you've found a good comparison chart, send me the link and I'll point out the errors it contains. They're all wrong! Instead, visit each company's website and create your own ad-hoc comparison chart with the information you need to make a selection.
When visiting a company's website, locate the support section. If the company hides most of their support until after purchase, be leery! Here is a checklist of important things that should be provided prior to purchase:

Contact information (phone number, email, ticket system) for tech support
Online version of the user manual
Drivers
Downloads for software and info on lost registration
Links to support videos
Links to company's user forum or other recommended forums and groups

While it's always useful to read customer reviews, be skeptical. You can always find users posting that their cutter is the best one made but remember that particular user may have only ever owned that one cutter. Further, a bad review may reflect more on the owner than on the cutter itself.
Without a doubt, different people need different cutters. Some people buy a high-functioning cutter and that's not what they really want. They're happy just cutting existing files from light materials and will do well with a Silhouette Cameo or even a Cricut. Other people will buy one of these two cutters and then, a month or two later, be wishing they had studied the market longer. As it turns out, they want to cut heavier materials, such as craft plastic, thick leather, denim, wool, which need a high force cutter like one of the KNK models.
Summary
I hope this list has provided you with useful information to keep in mind. I welcome questions and feedback from all readers. Please post here or email me: sandy@iloveknk.com.