This post contains affiliate links.
UPDATE: Both the Portrait and the Cameo have been upgraded. Learn more about these two machines in my reviews, Silhouette Portrait 3 Review and Silhouette Cameo 4 Review.
Looking to compare the differences between the Silhouette Portrait and the Silhouette Cameo? We are here to help guide you through what's different about the two machines.
Silhouette Portrait vs Cameo Comparison Chart
Choose between the two machines
The main differences between the Silhouette Portrait and the Cameo are the size and the touchscreen. Aside from those differences, both machines can both cut and draw equally well. They use the same Studio Designer Software, allowing users to import, buy, or create customized designs from scratch.
Silhouette Portrait

If you are looking to save some desk space and won't be cutting material wider than 8 inches, or want to save some money, the Silhouette Portrait is a good choice. There is no touchscreen on the Portrait, so you have to be connected to a computer to cut. If you have a laptop, this can be a great option when traveling.
Silhouette Cameo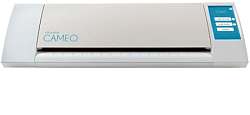 If you are looking to cut wider materials up to 12″ and are willing to spend the extra money, consider the Silhouette Cameo. The Cameo does come with a touchscreen, allowing you to load designs directly from a USB drive without a computer. This is a good option if you are going to craft meetups or craft fairs, and don't want to bring your computer with you.
Which machine is better
Both the Silhouette Cameo and the Portrait are good machines. Deciding what machine to get comes down to personal preferences for portability/size, and if you want to operate the machine without a computer.
I hope this guide helps you decide between the Silhouette Portrait and Cameo. If you have any questions or comments, please leave a comment! We'd love to hear from you!