Note: AccuQuilt has discontinued the GO! Baby Fabric Cutter, it has been upgraded and replaced with the GO! Me Fabric Cutter available on the AccuQuilt website.
Check out my article Best Die Cutting Machines for Fabric and Felt to see other great alternatives to the GO! Baby.
The AccuQuilt GO! Baby Fabric Cutter is a small and portable fabric cutting machine. It's essentially a die cutter for fabric. If you are a quilter or sewer who wants to cut several pieces of fabric at once without having a large machine, then this AccuQuilt GO Baby Fabric Cutter Review might be right for you!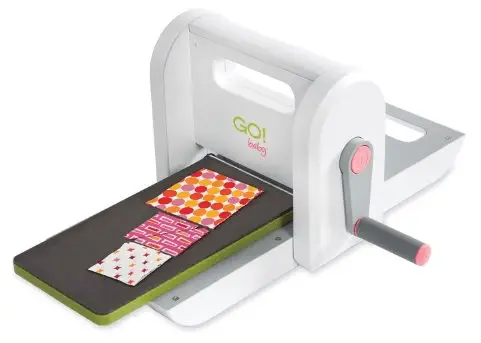 Machine features
The Acciquilt Go! Baby is a portable fabric cutting machine for appliqueing. It's perfect for beginners and smaller projects. The machine folds up and weighs only 8.5lbs, making it easy to carry with the handle.
Here are some of the machine features
90% faster than rotary cutters or scissors
Cut up to 6 layers of fabric at once
Doesn't use electricity or batteries.
Sides fold up making it portable.
Easy for children to operate
Cutting multiple layers of fabric
The number of layers you will be able to cut will depend on what material you will be cutting. Check out the chart below to find out how many layers the Accuquilt Go! Baby can cut.
| | |
| --- | --- |
| Material | Layers |
| Cotton | 6 |
| Cotton with Fusible Web | 4 |
| Batiks | 6 |
| Fleece* | 2 |
| Flannel* | 2 |
| Denim | 1 |
| Leather | 1 |
| Wool | 2 |
| Batting | 2 |
| Felt | 2 |
| Silk | 6 |
*Cut only one layer with Rag Dies.
Sometimes some threads will remain that aren't cut. This is common with all die cut machine when cutting fabric.
Cutting Dies
Only Accuquilt dies are compatible with the Accuquilt machine, but there are over 95 dies to choose from. Check out the Accuquilt Die Compatibility Chart. Dies from other manufacturers are not compatible.
Cutting with the dies is super easy. All you have to do is place your fabric on the die, add the cutting plate, and then crank the handle to push the sandwich out the other side.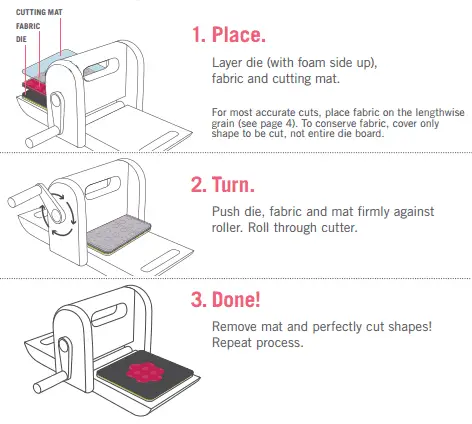 Overall Review
Overall, the AccuQuilt GO! Baby Fabric Cutter is a nice, portable machine. Cuts are accurate and can save a lot of time if you are cutting multiple layers of fabric.
One downside to the machine is its limited size. If you are looking for something that is bigger or more versatile, check out other die cut machines for cutting fabric.
Looking for the best places to buy?
Do you think the AccuQuilt Go! Baby is a good cutter? Leave a comment and let us know what you think!