This post contains affiliate links.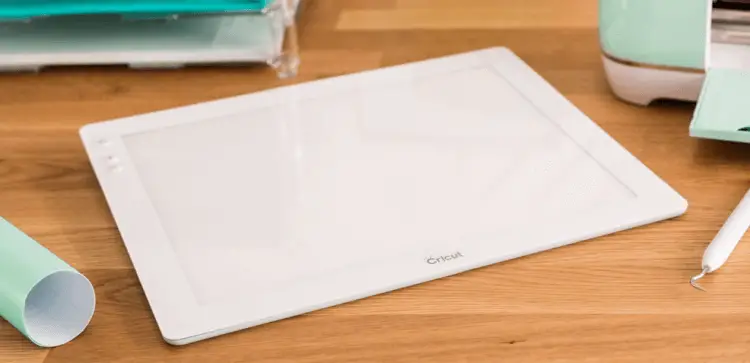 If you do a light of weeding with vinyl tracing, and you don't know what a light pad is and are wondering "what is a bright pad?" or "why do I need a light pad?", then we got you covered. Cricut has recently released their own light pad and it is called the BrightPad. Is it something that you can use? That's what we are going to find out in this Cricut BrightPad review.
How I First Discovered Light Pads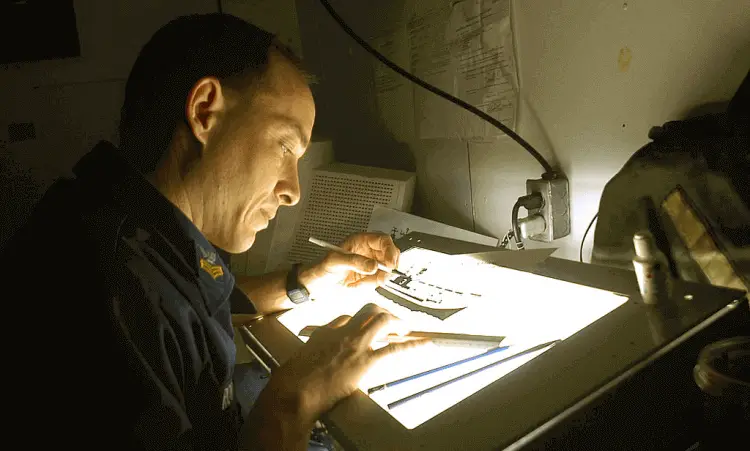 So a little story… When I first got started with die cutting and cutting vinyl, my engineer friend had this huge drafting table he used whenever he worked on his blueprints. The surface is made of glass and there is this bulb that emits white light from underneath. Whenever I do tracing or vinyl weeding, I thought it would be so cool to have something like that to make weeding and tracing so much easier.
So, you can Imagine my excitement when I started seeing light pads being sold from craft stores. The concept of lighted tracing tables is nothing new though. They have been around for a little while being used mostly by engineers and architects, but crafters are now realizing that they can use these devices for a lot of their crafting needs.
What Is A Light Pad And What Do You Need It For?
There's a bunch of things you can do with a light pad, and some of them may even surprise you. Though it's handy for things like tracing and weeding vinyl, there are other uses such as painting and even baking!
Tracing with a Light Pad
If I have a printed design that I want to copy via tracing, I would need to use a really thin piece of paper to put on top of my design and go over the lines and curves using my drawing instrument. But what if I wanted to copy the design onto thicker paper, or a plastic sheet, or even vinyl? That's where the light pad comes in handy.
The idea behind the light pad is unbelievably simple. It is a flat, translucent plane where light shines from underneath. When you place a piece of paper with your printed or drawn design on it, the design becomes visible through another sheet of paper.
Now, you can copy designs without needing tracing papers! I've used it for tracing embroidery designs on thick fabric and it worked beautifully. You can even use it for training your hand in copying letterings or calligraphy.  You can also use it for water coloring, stamping, and paper piecing.
Weeding with a Light Pad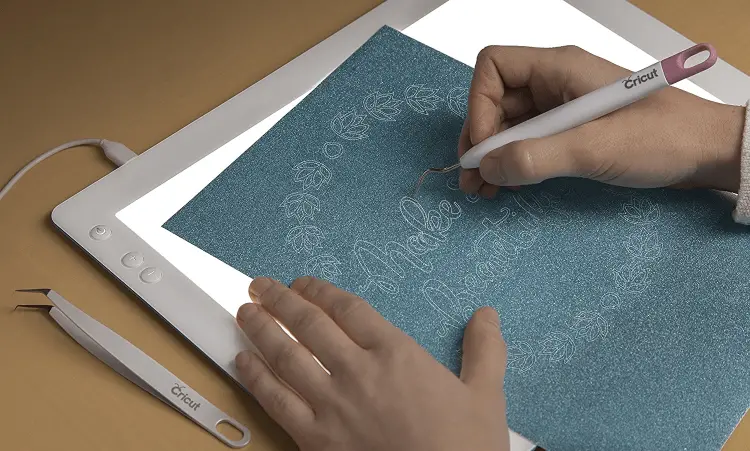 One area in crafting where light pads are proving to be useful is vinyl cutting. This is when you make a design by cutting pictures or letters onto a sheet of vinyl. You can do this using a sharp knife but, for intricate designs, it is best to use a cutting machine. Once the initial design has been cut onto the vinyl, you'd have to remove or "weed" out the parts that you don't need.
The final design will then emerge and can be transferred onto the surface you want to decorate. Many crafters know that weeding vinyl can be a bit tricky. It is so difficult to see the cuts on the sheet especially if the lines and curves are so fine. I used to place my vinyl on the side of the lamp's cover just to be able to see which part to pick out. Thankfully, you can now use a light pad. The cuts are shown by the light that gets through.
What Other Projects Can You Use The a Light Pad For?
The Cricut BrightPad is not solely for tracing and weeding vinyl, you can also use it as a work surface for making jewelry. Keeping track of the small beads and metal parts is now easier.
You can also use it for water coloring. You won't need to pencil in the outlines because you can just slip the outline of the design under the watercolor paper. No more erasing those pencil marks after you're done painting.
Some users expressed the possibility of using the light pad for making beautiful chocolate and icing designs for baking. You just need to put wax paper on top of your design and start piping in the sweets. Clean up is definitely going to be an issue for this use so you better keep that sugar away from the Cricut BrightPad.
Now that we have proven how essential light pads can be for artists and crafters alike, let us take a closer look at a specific light pad – the Cricut BrightPad – and see if it is worth buying.
The Pros Of Getting A Cricut Brightpad
I'll first say there are other light pads out there on the market, and some of them are decent. In fact, you can get a decent-sized lighted tracing pad for as low as $20 (check out Amazon for other light pad options), but the Circut BrightPad has some advantages you may want to consider.
Lightweight
It is extremely lightweight. It is only 2.9 pounds light. You can place the BrightPad on your lap without cutting off circulation. Plus, you won't strain yourself if you decide to carry it around. It was quite a surprise that it is slightly heavier than a typical tablet.
Oh, fun fact! Before light pads, I used to use my tablet for tracing designs. The images would always swim around because no matter what drawing instrument I use, the screen registers it and thinks I am trying to swipe on the images. Needless to say, the tablet was not an effective light pad for me.
Slim Design
The BrightPad is also very slim. This is a plus for people who use this for hours as you wouldn't have to keep your hands and arms lifted in the air in order to work on its surface. Imagine spending the whole day weeding an intricate design on an iron-on vinyl without resting your wrist on the table's surface. Oof! With the Cricut BrightPad, working on it feels just like writing on a thick notebook.
Great Size
The screen is big enough to easily view a letter-sized paper, which is perfect for most projects. It features a lit area of 9 inches by 11.5 inches. It is also just big enough to slip into your tote bag just in case you feel like weeding vinyl on the go. For the regular crafter, this is a big enough surface area. However, for artists who are used to working on drafting tables, this might not be big enough to work on. You'd have to copy designs in sections by moving your sheets around.
Wide Range of Brightness
One of the unique features of the Cricut BrightPad is the adjustable brightness setting. You can set the brightness to the following lumens:
This is great because I tend to craft a lot. Sometimes I stay in a room that's a bit dark so I need to lower the brightness of the light pad just so I don't blind myself. Its light doesn't flicker like the ones from cheaper brands. This is a big plus for me because I often get headaches from looking at flickering lights. And if you crank it up to 4000 lumens, it's really bright!
Ease of Use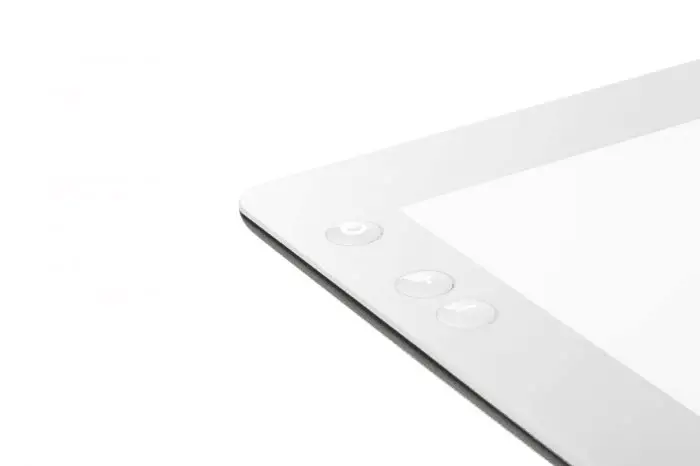 It is so easy to use because it only has three buttons. It has the power button to switch it on and off. Then it has the + and – buttons that control the brightness. That's it!
Non-Slip Design
The BrightPad has tabs at the bottom to prevent it from slipping. This is actually extremely helpful as it would probably go flying off the table as you try to fish out an extremely stubborn piece of vinyl. It is perfect for accident-prone people like me.
Hardened Scratch Resistant Surface
One thing that is especially good about the BrightPad is its polycarbonate surface, which is rated at a 6H hardness. In simple terms, anything with a hardness less than 6H will not be able to scratch it. A lot of cheap light pads are only rated for 3.5H, which makes the Bright Pad really good. At 6H, things like ordinary steel blades and x-acto knives will not be able to cause scratches.
Scraping the surface of the light pad will eventually cause it to get grooves and dings that will affect the integrity of your tracing. It would be like doing art on top of your cutting mat. Your pencil will eventually catch on one groove and ruin everything.
Choice of Colors
Finally, it comes in two colors: Mint and Rose. It goes well with the other Cricut cutting machines like the Explore Air 2 or the Cricut Maker.
The Cons Of Getting A Brightpad
Once you open the box, you will find the Cricut BrightPad, the manual, a welcome booklet, and a USB power cord. Pretty straightforward. And no, the USB power cord is not for recharging. This is the only downside to getting this particular light pad. Unlike others that have rechargeable batteries, the BrightPad has to be constantly plugged into a power source in order to work.
Having it plugged into a wall socket isn't too much of an issue really. I bought a couple of cheap extension chords from the dollar store that allow me to work where I want. I heard some suggestions of people using a battery pack instead (check out these inexpensive battery packs), which got me thinking.
I immediately got the battery-pack that I use for my phone and plugged the BrightPad in. Voila! Mobility. You can now bring the light pad out with you and use it basically anywhere.
Another complaint that some users have is the smooth surface. They say that the vinyl tends to slide over the surface of the light pad. This is notable but not really a deal-breaker. If you are bothered by your sliding sheets, just attach them to the surface using tape.
Overall Review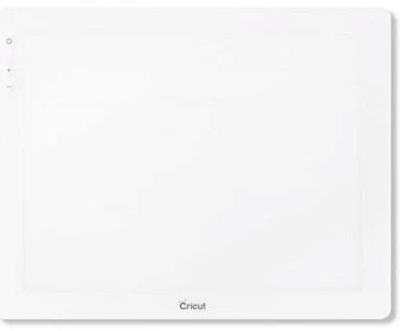 Overall, I like my BrightPad. It is a little bit on the pricey side compared to others, but it's good quality. You can also keep an eye out for Cricut sales.
In a nutshell, the Cricut BrightPad is:
Lightweight
Big enough for normal work but small enough for putting in your bags
Slim
Easy to operate, with only three buttons
Adjustable with 5 brightness options
Slip-resistant
Scratch-resistant
It does have a few cons:
It is a little expensive
It needs to plugged in
It has a slippery work surface
All in all, is this something that you should buy? I think it is worth the investment if you are a serious crafter and artist. It has so many possible uses and the benefits that it brings is definitely worth the price tag.