This post contains affiliate links.
UPDATE: The Silhouette Cameo was upgraded to the Silhouette Cameo 4. Learn more about the Cameo 4 in my detailed article, Silhouette Cameo 4 Review. Brother has also come out with several new machines, you can view the different models here on Amazon.
The Silhouette Cameo and Brother ScanNCut cutting machines have some similarities and differences. The Cameo and ScanNCut both are similarly powered, being able to cut the same types of materials, but the software and capabilities are quite different. The Cameo is better for creating custom designs, and the ScanNCut is designed to be a stand-alone machine. Let's cover some of the differences between the Silhouette Cameo and Brother ScanNCut and decide what machine is best for you.
Silhouette Cameo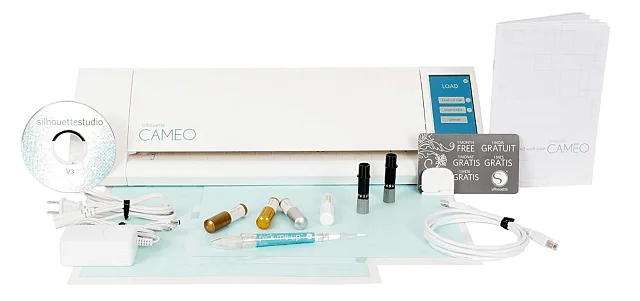 The Silhouette Cameo is one of the most well-known die cut machines out there, and there is a large following to get help and support from. Similar to the Brother ScanNcut, the Silhouette Cameo primarily cuts paper-based material, vinyl, and fabric, along with some other materials.
Some features of the Silhouette Cameo include:
Cut up to 12 inches by 10 feet with lined media (12″ x 24″ with cutting mat)
Print and Cut – print designs from the printer and have the Cameo cut them out
PixScan technology – allows users to use their camera or smartphone to take a picture of the design and have the Cameo cut it out.
Onboard touch screen to cut designs loaded from a USB port
Silhouette Studio Designer
The Silhouette Cameo comes with the basic version of the Silhouette Studio Designer, which is powerful software that allows users to create custom designs from scratch. Users are also able to work with .jpg, .bmp, and .png file types. If you wish to import .svg files, you'll need to upgrade the software for $50. Thousands of finished designs are also available for purchase through the designs store, typically for 99 cents.
Brother ScanNCut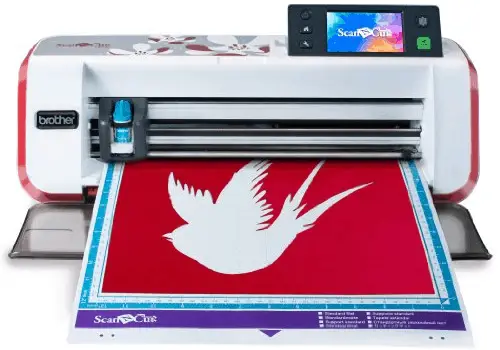 The Brother ScanNCut is more expensive than the Silhouette Cameo but is one of the only die cut machines with a scanner. The built-in 300DPI scanner allows hand-drawn designs, photographs, or magazines cutouts to be scanned into the machine to be cut.
Some features of the Brother ScanNCut include:
Cut and draw up to 12 inches by 24 inches
Built-in 300 DPI Scanner to scan and create designs.
USB drive input for saving files or importing new designs
Internal memory for storing custom designs
Full-color LCD touch screen to edit designs.
What's also neat about the scanner is that you don't have to use it just create designs. You can use it as a regular scanner and import images to your computer.
The Brother machine also has some neat features for using fabric, where you can create seam allowances and sewing guides.
No Computer Required
One interesting aspect of the ScanNCut is that it doesn't connect to a computer directly. The Brother machine has a touchscreen to edit and manipulate designs, making it a stand-alone machine. You can still use the free Brother ScanNCut Canvas software, which allows users to import .jpg and .svg file types. You can import designs that were created on the computer, but you will need to use a USB drive to transfer the files from the computer to the machine. The Brother ScanNCut does come with some pre-loaded designs and fonts.
Differences between Silhouette Cameo and Brother ScanNCut
Compare the differences between the Cameo and ScanNcut.
| | | |
| --- | --- | --- |
|   | | |
| | | |
| | 12 inches x 10 feet (with lined media, 12" x 24" with mat) | |
| | | |
| | | |
| | | |
| | | |
| | | |
| | | |
| Edit images with touchscreen | | |
| | Silhouette Studio Designer | |
| | | |
| | | |
While both machines can cut fabric, the ScanNCut does come with a deep-cut blade, allowing it to cut more types of materials.
Another difference to know is that both the Silhouette Design Studio and the Brother Canvas software can import .svg files, but to be able to import .svg files in the Silhouette Design Studio, you must upgrade for $50.
What machine is better, the Silhouette Cameo or Brother ScanNCut?
The Cameo and ScanNCut both have different features. Getting the right machine for you will depend on your needs.
Why the Silhouette Cameo is better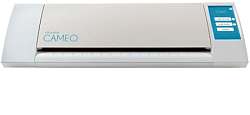 If you are more interested in creating your own designs with advanced software, and will primarily be cutting paper-based products or vinyl, then consider the Cameo.
Why the Brother ScanNCut is better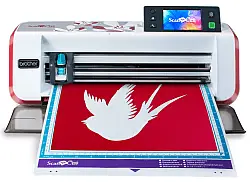 The Brother ScanNCut is more of a stand-alone machine that has a built-in scanner and doesn't require a computer. The software is more limited and is more for importing designs rather than creating on the computer. If these are the types of features that seem more appealing, consider the Brother ScanNCut.
What machine do you think is better? Leave us a comment!