The Silver Bullet cutter is an excellent combination of capability and quality. It's fast, accurate, and powerful, but has a quiet motor that makes it perfect for using at home or in the office without disturbing the peace like some other die cutters do. Its capabilities span the gamut from cutting to embossing to engraving, among others, and it can handle a wide variety of materials with ease.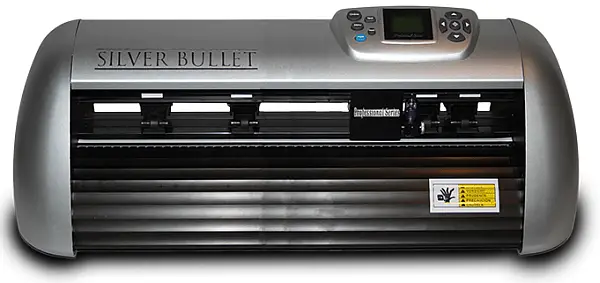 While the machine is certainly pricey, and novice crafters can find similar machines that cost less, nothing beats the Silver Bullet for pure, long-lasting value. Although there is a serious learning curve in learning to use the machine and its software, the accompanying customer service is excellent. And with such a wide range of design features, the Silver Bullet makes one of the best die cut machines on the market.
Design and Features
With up to 1,250 grams of cutting force and operating at speeds of 800 mm/sec, the Silver Bullet is both highly effective and highly efficient, making it excellent for the serious crafter or graphic artists who want fine detail. It makes exacting cuts without losing quality, and can handle even the most delicate of materials, such as tissue paper, without ripping. Because it can handle such a wide range of goods, from paper-thin to balsa-thick, the Silver Bullet is the only die cutter you will ever need again.
Laser Like Cutting
Graphic artists often want detailed accuracy that laser cutting offers, but laser lights can often burn edges of materials, making them unusable. With the Silver Bullet, you can get similar speed and accuracy as a laser cutter. A lot of manufacturers don't recommend their machines operating at full speed, but the Silver Bullet is meant to operate with such quickness, even with intricate designs, making it one of the fastest machines on the market. Although this machine is fast, it is super accurate down to an amazing .025 mm.
See the amazing details of the Silver Bullet running at full speed:
Unlike other models, which may only have three or fewer pinch wheels, the Silver Bullet has four individually operated wheels to keep materials in place for precision cuts. The user has ultimate control over each cut, adjusting speed, pressure and depth from the control panel at the top of the machine. Such capabilities do make the Silver Bullet a little bulky, but if excellence is what you want and you're willing to buy a machine that should probably stay in place, it's worth it.
Beyond Cutting
The Silver Bullet series also embosses and engraves materials, offering detail and specificity that's impossible to match. The engraving tool will also punch holes in items or distress them, and with a diamond tip, will provide long-lasting service without frequent replacement, if ever. By adding a pen tool, you can have the Silver Bullet draw designs for you that you can then send to the cutter for a wide variety of materials.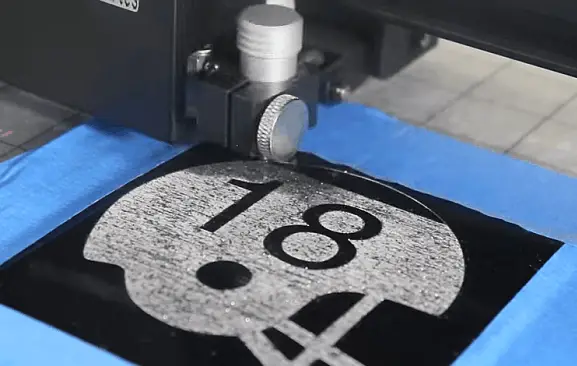 The Lineup
The Silver Bullet series consists of a 13-inch, 15-inch, 18-inch and 24-inch. All of these machines have unlimited cutting length, making them great for larger projects. Only the larger two offer a maximum cutting pressure of 1,250 grams, while the two smaller models offer 950, which is still very considerable. All have a max speed of 800 mm/sec, and the kind of precision cutting abilities that will make upgrading an obsolete notion. The main difference between in the size of the machines is the size of the project each can handle, so if you think you may someday need the largest model, it might be best to opt for it now.
Materials and Projects
Among the Silver Bullet's top selling points is its flexibility. While it has the strength to deal with tough chipboard, it is also delicate enough to precision-cut vinyl, tissue, and fabric with precision and ease. Other materials the Silver Bullet is capable of cutting include:
Vinyl
Felt
Stiffened Felt
Fondant
Mat board
Acrylic
Foam Core
Paper
Cardstock
Cork
Balsa Wood
Cotton
Clay
… and more. While various materials may require adjustments of the pinch wheels to properly secure them, the Silver Bullet's adaptability is unparalleled among die cutter machines. Plus, the engraving tool works on materials as wide-ranging as metal, glass, mirror, soap, plastic, leather, acetate, acrylic and chocolate.
See how the Silver Bullet can cut tissue paper in the video below:
You can engrave metal for picture frames or belt buckles, emboss invitations or stationery, and create amazing precision-cut scrapbooking elements. The incredible accuracy of the cuts makes the Silver Bullet a good companion to cake bakers, who like delicate fondant patterns, and tee shirt designers, who desire quality stencils of their own design. And that's just the beginning.
Comparable Machines
The two closest comparisons to the Silver Bullet are the Black Cat Cougar, made by That's Scrap as well, and the KNK Maxx Air. Both are excellent machines, but if you are looking for something less expensive, consider the KNK Zing Air.
Black Cat Cougar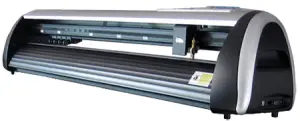 While the Silver Bullet hovers in the thousand-dollar range, the Black Cat Cougar starts at around $750. Made by the same company, this earlier model has a slightly easier learning curve – though a learning curve nonetheless. Crafters who want to spend a little less money might opt for this route, but some familiarity with die cutter machines will ease the learning experience. Those who aren't familiar can still learn to use it, especially considering the excellent customer service available for the machine. However, the Black Cat Cougar is slower, louder and not quiet as accurate.
KNK Maxx Air
The KNK Maxx Air is also similar to the Silver Bullet 24″. Both these models are priced at around $1,200 and have the same cutting width and cutting speed, but the KNK Maxx Air has over 1,500 grams of cutting force, compared to 1,250 grams of the Silver Bullet. The Maxx Air also has blue-tooth technology (PC only) so you can operate the machine wirelessly up to 30 feet way. Another advantage of the Maxx Air, is that it comes with $300 worth of blades, materials, and other goodies. When it comes to software, the Silver Bullet comes with SCAL, while the Maxx Air comes with MTC. If you have trouble deciding which software best suites you, you are free to download and test both software packages before you buy.
KNK Zing Air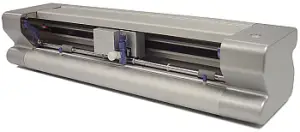 The KNK Zing Air is in the $300-$500 range, depending on what model you buy and what specifications you choose. This is significantly less than the Silver Bullet but comes with a reduced cutting force of 750 grams. For less serious crafters, however, it can still cut a wide range of materials and still do engraving, embossing, and more. You can read more about the KNK Zing Air on our review page.
Software
The Silver Bullet cutter machine comes with Sure Cuts a Lot software. However, part of the Silver Bullet's appeal is the fact that it works with other software, such as Make the Cut. It also enables imports of SVG files originating in Adobe Illustrator, Inkscape, Corel Draw, and PSP.  It is compatible with XP, Vista, Windows and Mac OS X. If you rely on the software that comes with the cutter rather than an outside program, you won't be disappointed. It enables you to cut various layers, cut along a path, weld words and even draw designs. If you're just starting out and need templates to work with, Sure Cuts a Lot provides plenty of patterns.
Support
The Silver Bullet comes with the full support package: phone, email, forums and a dedicated Learning Center with experts on hand to answer questions. Even those who have used software-enabled die cutters before will probably need some help somewhere along the way, just because the machine contains so many advanced features. Luckily, the phone and email responses are rapid and the forums abound with avid users who will happily answer all sorts of questions.
Conclusion
Overall, the Silver Bullet may be a little slow to begin using, what with minor assembly, blade insertion and software learning. While it may not be the best machine for newbie crafters to start with, it's an indispensable tool for crafters with experience using die cutters.
If you travel a lot and plan to take your machine along, though, this may not be the one for you – or you may wish to keep a travel cutter on hand for when you're on the road – because even the smallest model is bulky and difficult to transport.
However, if you're looking for a cutter with endless cutting, embossing, engraving and designing capacity, this is it. The Silver Bullet truly tops the market in terms of innovation, ability, and sophistication, so if you want the top of the line, you've found it.