This post contains affiliate links.
Make The Cut (MTC) and Sure Cuts A Lot (SCAL) are two very popular and inexpensive cutting programs with tens of thousands of users. A small portion of you may already own and have mastered both programs. Thus, I'm sure you are already comfortable using one or the other for those features you like. The focus of this post is to help other readers who fall into a different category, such as:
You already own both programs but are only using one of them
You already own one of these programs and are interested in knowing more about the other
You are considering a new cutter that only works with SCAL but unsure about giving up MTC
You own a cutter that came with its own software but have heard a lot about MTC and SCAL
You are interested in buying SCAL but not sure if you need the Pro version
Be sure to also check out the new SCAL5 Software.
What MTC and SCAL have in common
There are actually lots of similarities between the two programs, especially if you compare either to higher end vector programs, such as Adobe Illustrator or Corel Draw. Briefly, these similarities include:
Both programs can be used to design what you need. Both have functions for auto-tracing, freehand drawing, node editing, placing text and shapes on a path, shadowing, Bezier operations, temporary font installation, lattice design, rhinestone design, jigsaw design, and more.
Lattice Designing in MTC: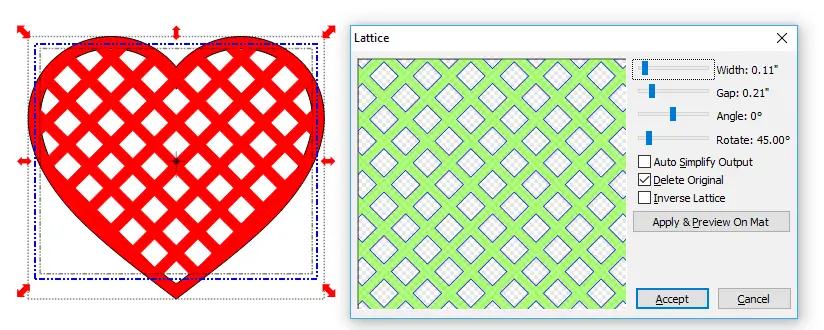 Lattice Designing in SCAL:

Both programs can import a wide range of file formats. Vector importing includes SVG, AI, EPS, PDF, GSD and WPC. Raster importing includes PNG, JPG, BMP, GIF, and TIF.
Both programs are in the same price range (MTC: $58, SCAL4: $60). SCAL does have a professional version that's considerably higher at $199. The additional features in the SCAL4 Pro version are presented later in this post.
How do the two programs differ?
There are certain features that can make one program preferable over the other, depending on what you need at the time. For example:
Engraving patterns can be designed in either program, however, it's far easier to create one in SCAL with its Line Fill feature.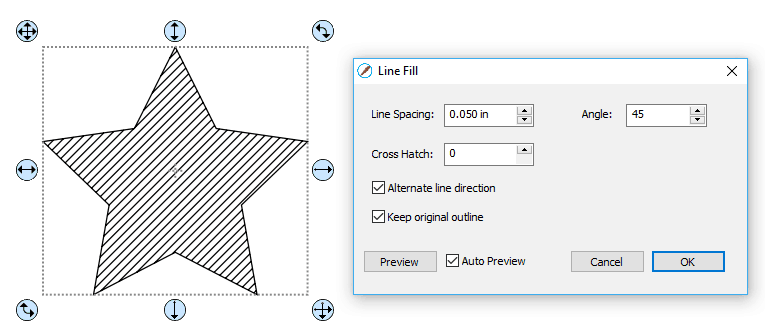 The same goes for stencil designing because SCAL has a specific tool for bridging interior shapes.

While both programs have similar auto tracing capability, MTC's settings are more sensitive, thus yielding better results with certain images.

There are dozens of other examples, like these, so I put together a table to summarize more of these differences that can affect users choosing between the two. However, first check out the major strengths and weaknesses of MTC and SCAL.
MTC's Strengths
Superb Auto-tracing – MTC has an easy-to-learn and extremely powerful pixel trace function that opens up a world of free cutting files. While SCAL has a similar tracing function, MTC's offers a few extras that makes it a better choice. Besides the aforementioned higher sensitivity to settings, MTC also has the following:

Ability to copy/paste images from the Internet directly into the trace window
Ability to apply multiple traces of the same image (using different options) before leaving the trace window
Ability to preview the tracing on the virtual mat

Ability to resize overly large raster images that could later cause a software crash or even just a problem printing: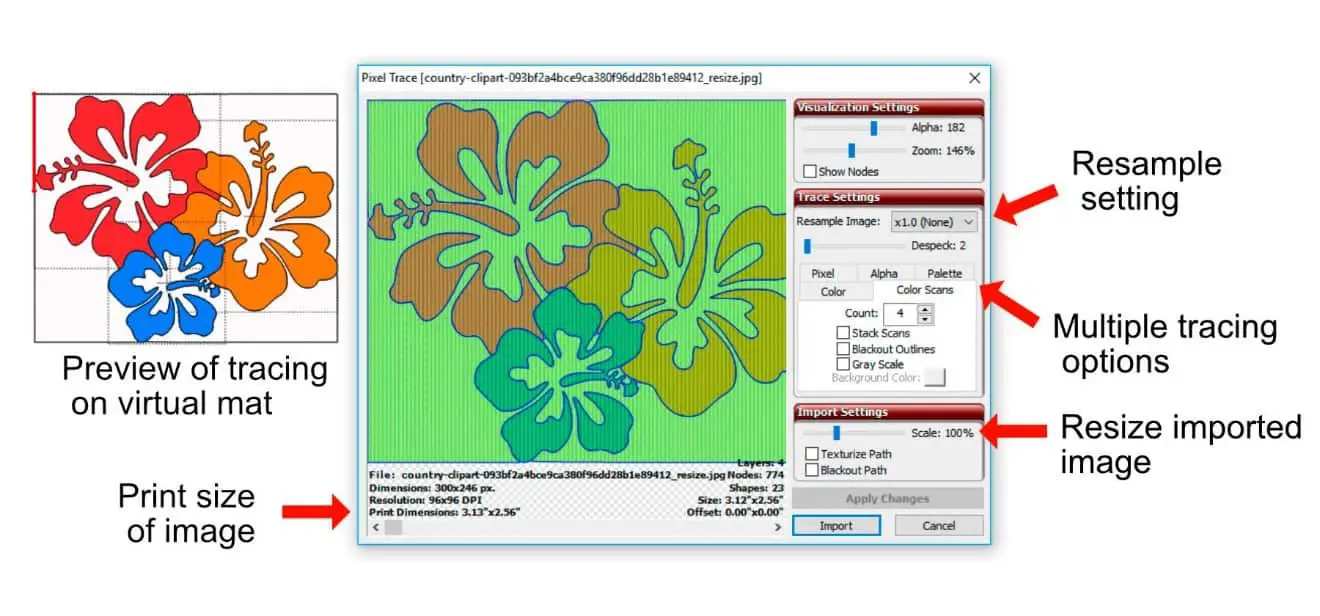 Many free resources – MTC's forum remains active and welcoming to all MTC users. Even if you ask a question that's been answered dozens of times already, you will find experienced users eager to answer again. The comradery between members and the respect shown to everyone makes this an enjoyable online place to ask, answer, and share project photos. Other resources include:
Impactive features which are missing in SCAL:

Preview of five Boolean Join operations, making it faster to select the correct one
Customizable auto-save option
Ability to install fonts permanently (versus temporarily) from within the program. This is especially important with the OPF (single line) fonts where there is no way to install them permanently otherwise.
A better Eraser tool with a straight-line option and Inverse Erase for adding to shapes:

SCAL's Strengths:
Stays current – SCAL offers both Mac and PC versions and stays on top of the latest cutters on the market. Offering plugins for over 30 models, no other cutting program is better suited for someone who buys multiple cutters or upgrades to a new cutter every few years.
Customizable User Interface:

Units include options for inches, mm, and cm
Grid spacing can be changed, as well as turned off
The stroke on shapes can be changed in color, thickness, and shape, either individually or globally
The opacity can be changed on individual shapes or globally
Layers can be dragged up and down the layer panel (versus clicking up/down arrows)
Files can be organized into custom folders within the program: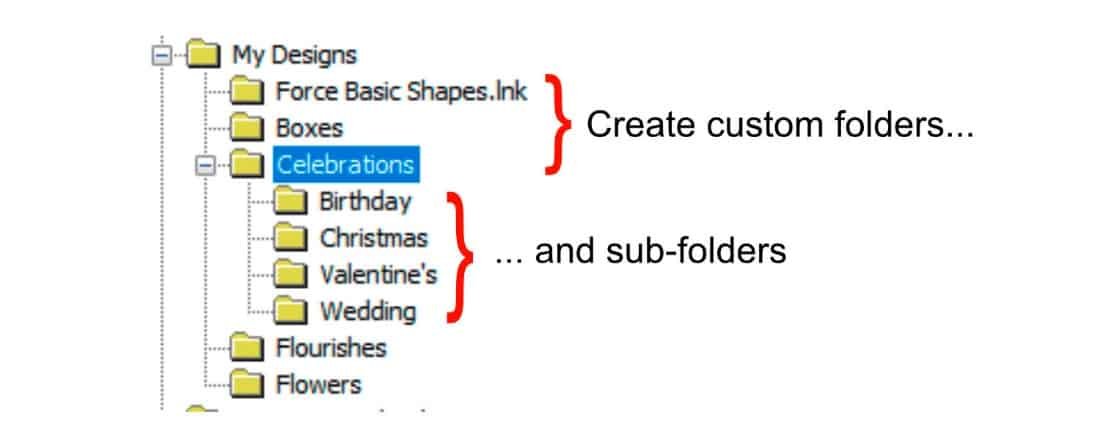 The cutting window offers more features:

Options to mirror or flip images before cutting
Customizable presets for materials and blades
Prompt option when needing to change out tools during a cut

Impactive features which are missing in MTC:

Line Fill feature, with cross-hatch, for engraving or coloring-in with pens and markers
Stencil function for bridging interior shapes
A rhinestone design feature that offers simulations and automatic adjustment when the design is resized: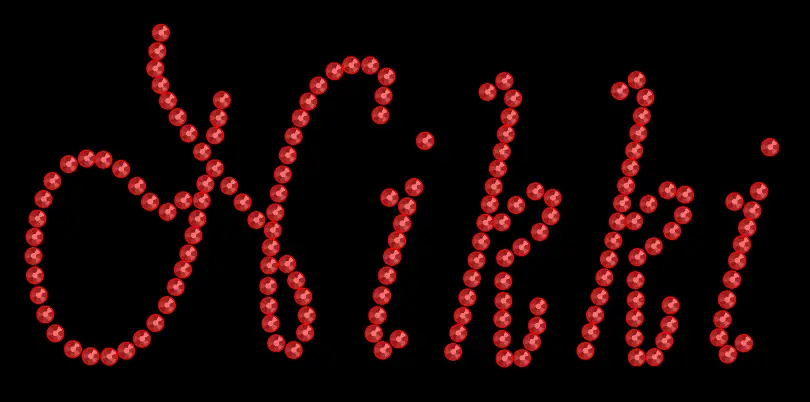 MTC's Weaknesses:
MTC has not had any updates in over three years and some users are referring to it now as "abandonware." While there may never be another update, MTC continues to be sold and continues to support its owners with installation and registration issues. However, before purchasing, you should verify that your cutter will work with MTC. Do NOT count on a plugin being published at some point in the future.
MTC is a Windows based program. While a Mac version appears on its download page, this version runs on an embedded emulator called Wine, limiting some functionality such as being able to copy and paste between applications or from the Internet. Further, this Mac version will only cut to three brands of cutters (Klic-N-Kut, Black Cat, and Silver Bullet).
MTC only displays in inches. There are some workarounds for those who prefer metric but this has been a major complaint about MTC by those outside of the USA.
MTC will come to a crawl if files with several hundred or more shapes are ungrouped for detailed editing. This can also affect importing certain files, such as rhinestone alphabets or SVG's converted from DXF format.
SCAL's Weaknesses:
SCAL cannot have more than one project open unless a second instance of SCAL is opened. It further lacks the ability to copy/paste between these two instances. You also cannot copy/paste between other vector programs, such as can be done between MTC and Inkscape or Illustrator.
SCAL cannot import the raster part of a PDF file. It also cannot export as PDF. Fortunately, it's easy to install a print to PDF application and most newer operating systems have it already included.
The regular version of SCAL doesn't include a tiling function or the ability to cut longer than 72 inches, both of which exist in MTC. These two items are, however, part of the more expensive SCAL Pro version.
You cannot apply Boolean join functions to shapes with a pattern fill whereas you can in MTC. This can then pose a problem when designing certain print and cut projects. While SCAL does offer a pattern fill function, imported patterns are reduced to a lower pixel resolution and may not then be suitable for printing.
Most updates are not announced and no information is provided regarding their content. Further, checking for updates within SCAL often fails to indicate that a new one is available.
What else is different between MTC and SCAL?
The following table summarizes the strengths already discussed plus a few additional items. The table below indicates which program excels in specific function areas and why. In several cases, both programs are strong enough in features within that topic area that one program doesn't stand out over the other.
| | | | |
| --- | --- | --- | --- |
| Function | MTC | SCAL4 | Comments |
| Overall |   | Yes | SCAL has both PC and Mac versions, option to work in metric, frequent updates, and works with over 30 models of cutters, staying up to date with the latest cutters. |
| Support | Yes |   | MTC has a very active forum with hundreds of hours of free webinars and free videos. |
| User Interface |   | Yes | SCAL has better zoom functionality, ability to drag layers up and down on the layers panel, opacity, and customizable grid settings. |
| Importing Files | Yes |   | Both programs are similar in import capability but MTC can import raster PDF files for tracing, can copy/paste from other applications such as AI and Inkscape, and has over 15,000 free files available in its user gallery, which is accessible from within the program. |
| Exporting Files | Yes | Yes | Besides SVG, MTC can also export as PDF, AI, and EPS. SCAL has special export options for popular cutters unable to cut directly from SCAL. |
| Shape Coloring |   | Yes | SCAL offers an opacity setting as well as stroke color, thickness, and shape. It also has a multi-color gradient fill function with linear and radial options. |
| Shape Manipulation |   | Yes | SCAL has the ability to choose which part of a shape corresponds to an XY location on the screen, has separate horizontal and vertical spacing control when duplicating shapes, and the ability to group shapes. |
| Shape Organizing |   | Yes | SCAL can separately organize SVG and project files into user-defined folders and subfolders. SVGs, project files, and even fonts can be assigned to a Favorites category for quick access. |
| Text | Yes | Yes | MTC can install fonts permanently from within the program and has split options within the text window. SCAL has the ability to change the font after text is entered and will display full character sets without the annoying empty boxes. |
| Designing | Yes | Yes | MTC shows previews of each Boolean Join operation. Further, Boolean Join can be applied to shapes with a raster (texture) fill. Conversely, SCAL has an easier pattern fill and 7 extra design functions not available in MTC. |
| Auto-Tracing | Yes |   | MTC can copy/paste from the Internet, resize large imports, apply multiple tracings within the tracing window, preview tracing on virtual mat and the settings are more sensitive. |
| Drawing | Yes |   | MTC has fat path drawing with superior smoothing and the ability to draw with dots and dashes. |
| Editing – Simple | Yes | Yes | MTC's Eraser tool has a straight-line option plus inverse erasing. SCAL has a stencil feature and doesn't lag if there are hundreds of individual shapes. |
| Editing – Node/Path |   | Yes | MTC and SCAL has similar node and path functionality although SCAL permits multiple nodes to be selected at once for moving or deleting. |
| Cutting |   | Yes | SCAL has a line fill feature for engraving or coloring in, works with Wi-Fi enabled cutters, and works with dual-head cutters. It also has a prompt option allowing for tool or pen change-outs during the "cut." |
| Print and Cut |   | Yes | SCAL has the ability to set layers as "print-only" or "cut-only" for easier print and cut use. It also has customizable registration marks. |
What does SCAL Pro offer?
The professional version of SCAL Pro offers the following additional features:
Extended cutting length to cut longer than 72 inches
Weeding options to easily add weeding boxes and lines
Tiling (MTC has this feature)
Duplicate cutting (from within the cut window)
Cut by color
Color layer alignment
3D shadow
Import DXF, PLT
You can find more information and examples of these features.
Conclusion
If you are interested in testing Make The Cut, you can download a trial version. Note that you will need both the program and the plugin for your cutter (if you wish to test your cutter in trial mode). The trial version of SCAL is also available for testing. Note that it expires after 15 days so be sure you have some time available to try it out.  Note that both MTC and SCAL trial versions will make watermark cuts through your project.
If you want to see an even more detailed list of MTC and SCAL features, here is a table showing most of the individual assets that stand out when assessing the two programs.
I welcome feedback on the information presented in this article. If I have omitted anything you feel is significant or if I have any errors in the information provided, please do point them out and I will make corrections. Thanks for reading!
By Sandy McCauley