This post contains affiliate links.
The KNK Force die cut machine is the latest machine announced by Klic-N-Kut. Development is complete and a KickStarter campaign has been launched to help with production and have the machine be released sooner.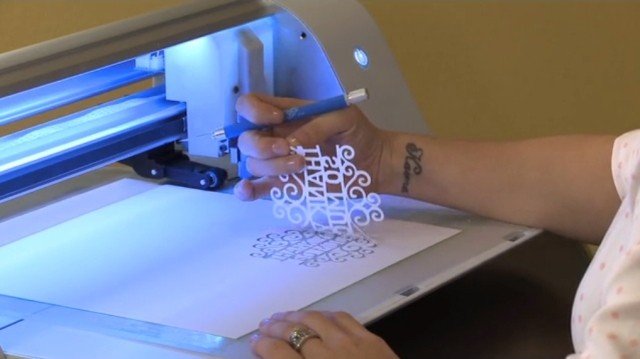 What makes this machine so exciting is that its low cost with huge power.
Visit the KickStarter Campaign to donate and pre-order the KNK Force!
KNK Force Overview
Here is what we do know about the machine so far:
Dual cutting heads
True Z axis
MASSIVE 8.8lbs of cutting force (~4000 grams)
15″ cutting width
Camera alignment
Built-in computer
Wireless
Let's break down what this all means in more detail…
Dual Cutting heads with Z-Axis
Most conventional machines have a simple solenoid that moves up and down. The KNK Force, however, moves up and down with a motor. This allows the blade depth to be controlled.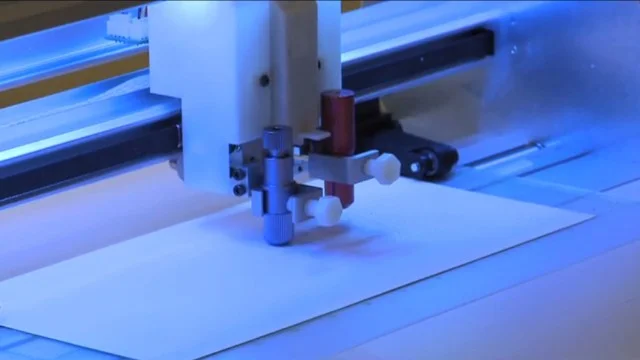 Massive Cutting Force
With about 4000 grams of cutting force, the KNK Force will be 5 times stronger than the KNK Zing, and almost 20 times stronger than the Silhouette Cameo.
With such high cutting force, the KNK Force can also do wood engraving. Here are some things that the machine can cut:
Wood
PVC
Acrylic
Leather
Fabric
Engraving material
Cardstock
… and lots more!
Camera Alignment
One of the complaints that Klic-N-Cut had with machines that use traditional optical alignment is that it isn't always the best in low-resolution settings. This new take on the optical eye is expected to work much better.
Built-in Computer
Okay, this is another awesome thing with the KNK Force machine… It has a built-in computer! This means you can access the machine wireless from almost any device that uses a web browser, with any operating system. It takes SVG files, which means you can import designs from a variety of software such as Illustrator, Make the CUT, or InkSkape.
Overall Thoughts
We are super excited about the KNK Force. The retail price is only $599, which compared to other machines that cut with the same force, is really affordable. We love all the things that you will be able to do with the machine, such as engraving and cutting PVC. We are also excited about the camera alignment and built-in computer.
If you pre-order now, you can save $24 off the retail price. Check out their Kickstarter Campaign!
What do you think about the KNK Force machine? Leave us a comment!