This post contains affiliate links.
Update: Cricut has now released the Cricut Explore 3. The orginal Explore and Explore Air are no longer being manufactured. Check out the difference between the latest machines in the Explore line in my article Cricut Explore 3 vs Explore Air 2: What's the Difference.
Not too long ago, the Cricut Explore Air was released, and it seemed to have created some buzz. So, what's really the difference between the Cricut Explore and the Cricut Explore Air?
Well, not much, unfortunately. That's not to say that the machines aren't good machines. They are, and you can read the Cricut Explore Review. But I think some of us were expecting something more.
According to Provo Craft, the only difference is the Cricut Explore Air has built-in wireless capabilities. The Cricut Explore does have Bluetooth capabilities, but an adapter must be purchased separately.
Here is what Provo Craft had to say about the differences:
The Explore and Explore Air only have one difference. The Cricut Explore Air™ comes with a built-in Bluetooth® and does not require the Cricut Explore® Wireless Bluetooth® Adapter. The Explore requires the Bluetooth® Adapter to connect via Bluetooth® to cut wirelessly.
If you have the Cricut Explore Air, you don't have to use the wireless. It still has a USB connection to hook directly to the computer.
This means, if you have the external Bluetooth adapter for the Cricut Explore, you can do everything that the Cricut Explore Air can do.
Well, this isn't technically the only difference. The Cricut Explore Air does come in a nice looking blue, so if you don't like the green, you do have more options.
What's the advantages of going wireless?
If your wondering if you should go wireless with the Cricut Explore, there are a couple advantages. For one, it means less wires and greater portability. Have you wanted to move the machine but the cord wasn't long enough? Or put the machine on a shelf? Or even have the machine be in the next room over? Well, that's what you can do with wireless.
Another awesome thing you can do with the wireless Bluetooth is use it with your iPad (iPad 2 and newer). And, according to Provo Craft, they are working hard to create an app for Android users as well.
If you are looking for the Cricut Explore App, you can download it from iTunes.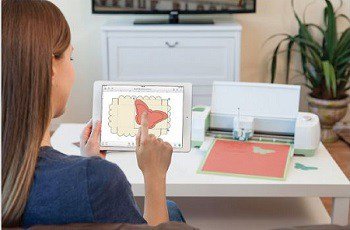 Should you upgrade? And which machine should you buy?
If you have the Cricut Explore already, I would not recommend upgrading. If you want the wireless feature, save some money and buy the Cricut Wireless Adapter.
If you are deciding between the two machines, the Explore Air is nice, but you may be able to save some money by buying the Cricut Explore and purchasing the wireless adapter separately.