This post contains affiliate links.
Buying a die cutting machine can really help you step up your card making game. These machines will let you cut out all types of unique shapes. Some will let you emboss designs and images while others will write in your card for you.
Using a die cutting machine whether it's digital or manual will let you personalize and customize your cards. It can help you start up a card making business or help you make beautiful cards for friends and family. Many of these machines can be used for more than just making cards.
In order to find the best possible cutter for making cards, I've looked for machines that met some specific criteria. These are things such as machine dimensions, quality of paper cutting, ability to customize cards and how versatile they are for other projects. So with all the die-cutting machines on the market, which one is the best for card making? Let's take a look!
Which Are The 4 Top Die-Cutting Machines For Card Making?
Whether you are a beginner using your first die-cutting machine, or a seasoned crafter, a machine is available for your particular requirements. I have listed some of the best die-cutting machines for card making on the market to help you decide.
| | | | | |
| --- | --- | --- | --- | --- |
| | | | | |
| | | | | |
| | | | | |
| | | | | |
| | | | | |
| | | | | |
| | | | | |
| | | | | |
| | | | | |
| | | | | |
| | | | | |
| | | 5.50 in x 8.40 in x 4.25 in | 14.25 in x 12.375 in  x 6.625 in | 22.44 in x 7.68 in x 6.69 in |
| | | | | |
| | | | | |
| | | | | |
The Silhouette Curio is the best machine for making cards. It can easily cut, emboss, deboss, write, stipple, and etch. It can do this on many different materials like paper, metal, foam, and fabrics.
The Curio is a digital die cutting machine. You create your design on your computer then send it to your machine to be cut, etched, or sketched. The design software, Silhouette Studio, gives you the ability to create anything you can think of or you can import designs and images created by others.
The SIlhouette Curio is very unique in that it can perform embossing, stippling, and etching. The only other machine with this ability is the Cricut Maker 3, which can etch and deboss.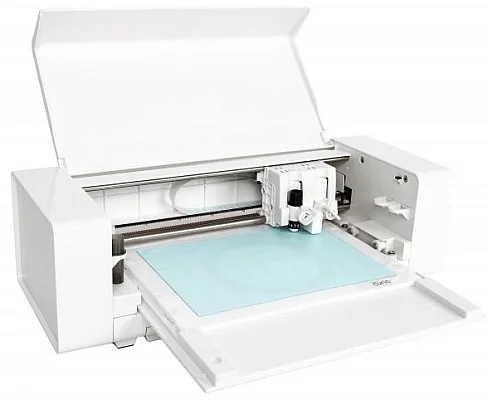 Embossing is where an image or design is pressed into the paper creating a raised effect. Debossing is the opposite of this where a depressed effect is made.
Another unique feature of the Curio is the ability to Print and Emboss. You can print an image from your computer printer then set up your Curio and it will emboss the design. This is similar to the Print then Cut feature that other machines are capable of.
The Curio also has a very high clearance. It can cut materials up to 2mm in thickness but can perform other techniques like embossing on materials up to 5mm in thickness. It also has a dual tool holder so you can cut and draw at the same time.
The Curio is perfect for crafters wanting to make cards and paper products. It also has some very unique abilities and is amazing for creating jewelry and leather projects.
Check out the Curio over at Swing Designs for the current price and more details.
Can write and cut
Can emboss, deboss, stipple and etch
Affordable
Highly Versatile
Works with materials up to 5mm thick
Ability to Print and Emboss
Dual tool holder
Some learning curve with software

No Bluetooth connection

Not a very strong cutting machine
The Cricut Joy is the smallest digital die cutting machine on the market. This portable cutting machine measures less than 9 inches (22cms) long and can cut cards up to 5.5 inches (13cms) in width.
The Cricut Joy boasts a unique card cutting mat, the Standard Grip Card mat. It lets you cut images and designs out of the front of a folded card and write on the inside. You can easily personalize all of your cards and thank you notes, setting the Cricut Joy machine apart from the rest.
The Joy connects to a computer or smart phone via Bluetooth. On your device you use Cricut Design Space to design your cards and send your projects to the machine.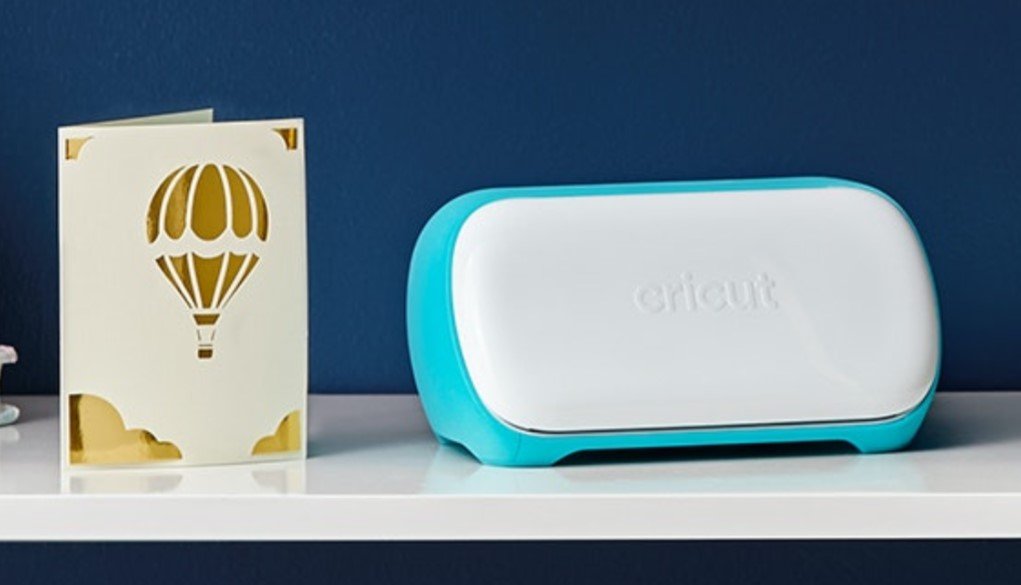 This machine has a very low cutting force making it only appropriate for cutting vinyl, iron on, or paper. As a card maker, these are the only materials most will use. Another downside is it only has a single carriage, so you need to swap tools to change between cutting and drawing.
Learn more about the Cricut Joy in my dedicated article, Cricut Joy Review: Small Machine Big Ideas. You can also check out the current price of the Joy at Cricut.com.
Extremely portable
Specific card making mat
Can write and cut
Cuts paper well
Cannot emboss, deboss
Needs Bluetooth connection
Low cutting force
Can only make cards up to 5.5 inches in width
Single tool holder
The Sizzix Big Shot is one of the most versatile manual die cutting machines. It is one of the best machines on the market for cutting paper and cardstock. It also has the ability to emboss paper which can add some great effects to a card.
The Big Shot is a manual machine which means you need to turn the hand crank to send your material through the machine. You start by creating a die cutting sandwich. The layers will depend on the type of dies or embossing folders being used.
Generally, the sandwich will be as follows: the platform on the bottom, then a cutting pad, next the die, then the paper, and another cutting pad on top. The sandwich will be fed through the machine using the hand crank. Your paper will be cut out from the pressure of the die into the material similar to a cookie cutter.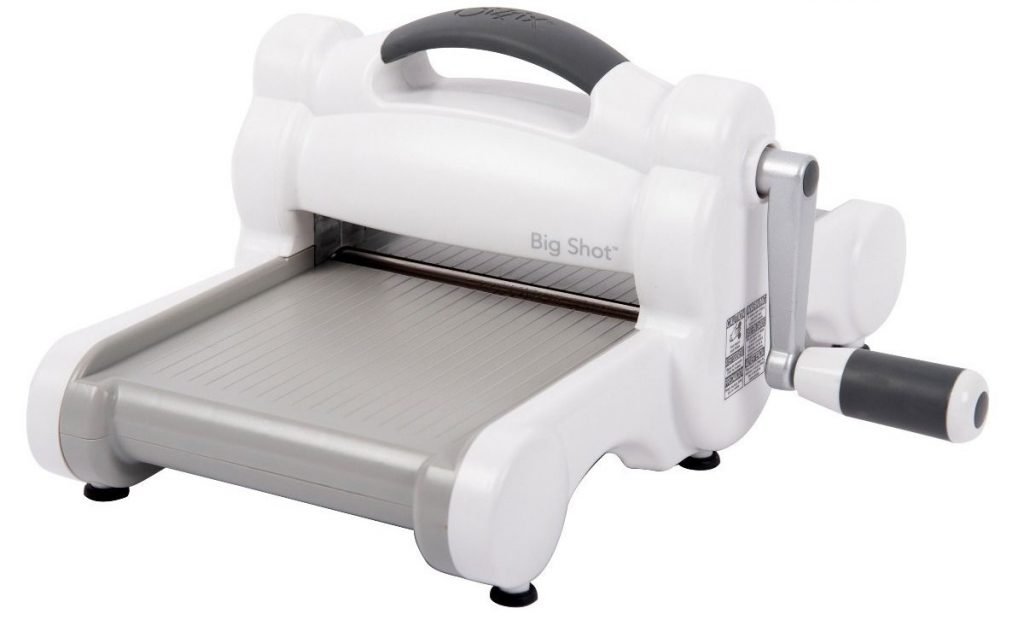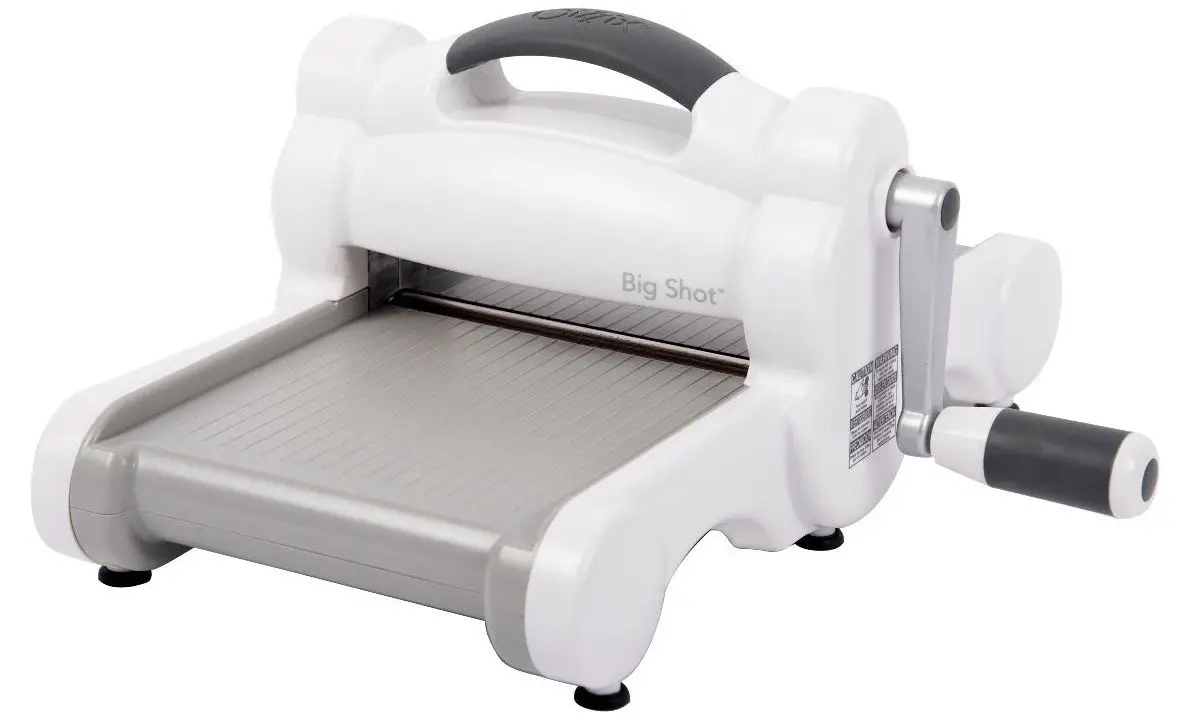 The Big Shot is fairly compact and relatively light. It measures 14 1/4″ x 12 3/8″ x 6 5/8″ and only weighs 7.5 lbs. Manual machines are very easy to use with little to no learning curve.
The one downside to a manual cutting machine is that you need to purchase dies separately to cut different shapes out from your paper. Fortunately, there are hundreds of dies that are compatible with the Big Shot. Many dies made by manufacturers other than Sizzix are compatible as long as they are less than 6 inches across.
The Big Shot can be purchased as a stand alone machine or in a starter kit. The Starter Kit is a great option and includes, the extended multipurpose platform, cutting pads, several dies, and embossing folders, as well as cardstock to get you started.
Learn more about the Sizzix Big Shot cutting machine in my detailed review, The Sizzix Big Shot Manual Die Cutting Machine Review. Check out the latest price of the Big Shot at Sizzix.com
Fairly portable
Easy to use
Cuts paper and card stock cleanly
Can emboss
Dies must be purchased individually
Manual machines require hand cranking
Cutting pads will need to be replaced after many uses
Cannot draw or write
Silhouette Cameo 4 is an amazing, versatile full sized digital die cutting machine. This machine can cut paper, cardstock, vinyl, and fabric up to 12 inches (30cms) wide. There are actually two other versions of this machine that can cut 15″ in width and 24″ in width. They are basically the same as the 12″ but with a wider opening.
Of all the machines listed the Cameo 4 is the largest machine desktop machine, measuring 22.44 x 7.68 x 6.69 inches (56 x 19.5 x 17cms). This means it is not a portable machine.
The Cameo 4 does have some extraordinary features, the most unique being the pop-out cut mode! This feature allows you to cut out materials and cardstock without using the cutting mat. Using the pop-out cut mode keeps the materials in place by using perforation cuts in strategic locations. The design pops out of the material once it is removed from the cutting machine!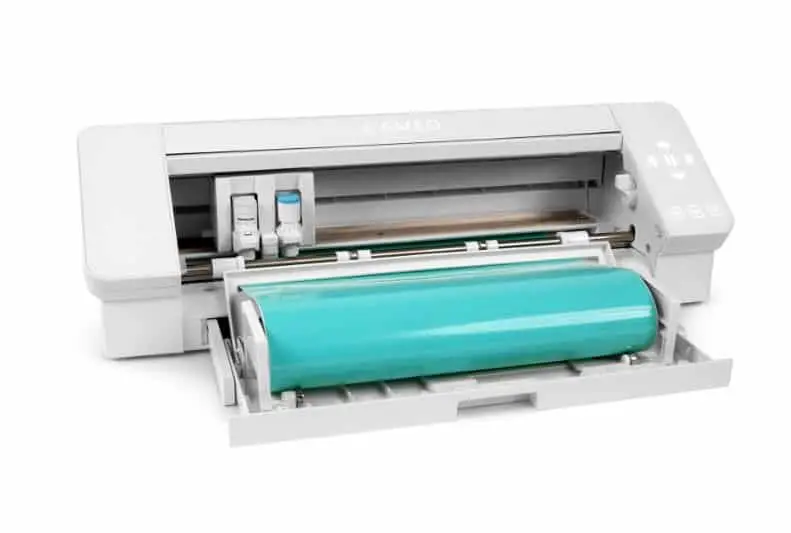 The Silhouette Cameo 4 uses the Silhouette Studio design software to create your designs which are then sent to your machine either via a cord or Bluetooth. You can create your own design or choose from thousands of designs available on the internet.
The Cameo has a very high cutting force, which allows you cut many heavy duty materials. As a card maker, this may not be as important but it does open up other possibilities for exploring new crafts. It also has a dual carriage so it can hold two tools at one time.
You can also Print and Cut with the Cameo 4. Meaning you can print a beautiful image with your computer printer then cut it out with your machine
High cutting force
Can write and cut
Dual tool holder
Can Print and Cut
Cannot emboss or deboss
Expensive
Why Should I Use A Die-Cutting Machine For Card Making?
Die-cutting allows you to create anything from simple shapes on custom cards to more elaborate designs to use on t-shirts, mugs, and more. Many different materials can be used to cut out your designs and creations, including vinyl, cardboard, and leather, to name a few.
Card making is a great way to make a personalized gift for your friends, colleagues, and family. A die-cuttings machine simply gives you the ability to create a more elaborate, professional-looking, but customized design. You can create a tailor-made card for someone special and add images and designs of everything they enjoy.
The card can be big or small, thick or thin, and in any color of your choosing. You can write and cut out any words or images using any font or simply use an outline of any picture to create something unique. Your design is only limited by the space of the card that you are working on.
While some hobbyists rely on a pair of scissors or a crafting knife to cut out the designs that they need for their cards, a die-cutting machine allows you to take your craft to the next level and saves you time in the process!
Final Thoughts
Before buying a die-cutting machine, consider what you need to use it for, the size of your projects, and what you need to cut for your designs. If cards and paper are your main material then the Silhouette Curio is the perfect option.
If you want portability get the Cricut Joy. For simplicity buy the Sizzix Big Shot. And if you want an all around machine that can everything then go for the Silhouette Cameo 4.