This post contains affiliate links.
Update: The Silhouette Portrait 1 & 2 are no longer available for sale by Silhouette. Read my full review of the Portrait 3, the latest model.
The Silhouette Portrait 1 and Portrait 2 may seem the same from the outside, but the insides are a bit different. The Silhouette Portrait 2 has all the same features of the Portrait 1 and more. It has been upgraded to allow for a lot of the same features as the Cameo 3. It's also worth noting that both machines both use the Silhouette Studios Software.
Silhouette Portrait 1

The Silhouette Portrait 1 offers all the features you would normally expect from the original Cameo inside a smaller machine:
Cut and draw
8″ x 12″ (20.3 x 30.5 cm) cutting area with mat
Cut up to 10 feet with a lined media (such as vinyl)
210 grams of cutting force
PixScan™ technology compatibility – create designs from pictures
Print then Cut
Silhouette Portrait 2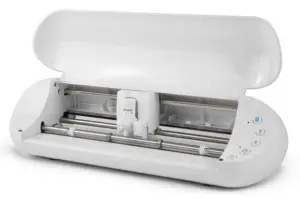 As stated earlier, the Portrait 2 has all the same features included in the Portrait 1, with some enhancements.
The most noteworthy change is AutoBlade compatibility. The AutoBlade is a blade that automatically adjusts its depth according to the material being cut. This takes out some of the guesswork and saves times.
Another enhancement is deep-cut blade compatibility and higher 2 mm clearance. This means you will be able to cut thicker materials.
Bluetooth is also available, so you can save yourself from having those tangled wires.
You can get the full details in my Portrait 2 Review.
Which is Better? The Silhouette Portrait 1 or 2?
Considering the Portrait 2 has all the features and more, we will have to say the Portrait 2 is a better machine. If you are simply looking to save money, then the Portrait 1 may be a better deal.