This post contains affiliate links.
Last year, we compared the Silhouette Curio vs Silhouette Cameo 2. With the Silhouette Cameo 3 just released, we thought it would be worthwhile to compare the Silhouette Curio to the Silhouette Cameo 3 and talk about the differences between them.
Silhouette Curio Overview
The Silhouette Curio is a craft machine released by Silhouette in 2015. Even though it caused a lot of excitement, the machine ended up being somewhat of a disappointment, as you can tell by some of the Amazon reviews. It can do most things that the Cameo 3 can do and more. The Curio can not only cut and draw, but also emboss, score, sketch, stipple, and etch. It dual carriages so you can mix and match functions and use different pen colors.

The Silhouette Curio is more versatile than the Silhouette Cameo cutting machine, but it's not meant to be a replacement, but rather a supplement or companion tool. The Curio has an 8.5 inch by 12-inch cutting surface, compared to the Cameo 3, which is capable of cutting 12 inches wide and up to 10 feet long.
What can the Curio do that the Cameo 3 machine can't?
Here is a list of capabilities that the Curio can do, but the Cameo can't:
Metal and foil stippling
Metal etching
Dual carriage multitasking (multiple tasks in one pass)
Embossing
Score & Emboss
Print & Emboss
Using thicker materials as project surfaces (example: stencils sketched directly onto wood up to 5mm thick)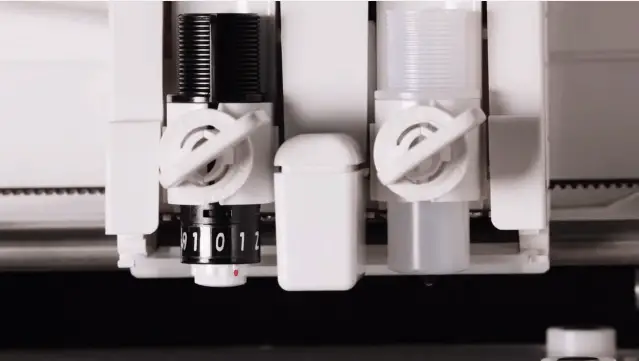 The Curio comes with dual carriage heads, so you can mix and match tools. For example, you could print and cut, or print and emboss, or even use two different colored pens.
What can the Cameo 3 do that the Curio machine can't?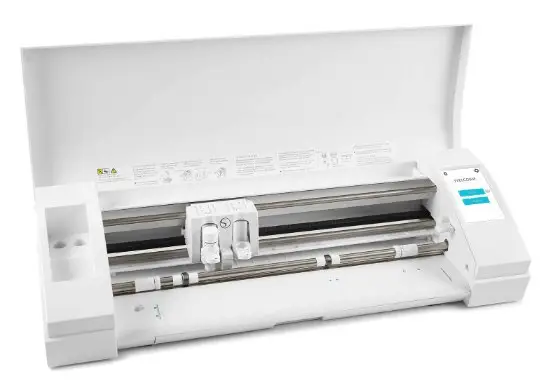 The Cameo machine is better for cutting. The cutting width of the Cameo is 12 inches, and it can cut up to 10 feet long without a mat. This is great if you are making large banners or home decor.
Similar to the Curio and unlike the Cameo 2, the Cameo 3 has dual carriages, which means you can draw and cut without having to stop the machine to swap tools.
What's really nice and only available for the Cameo 3, is the autoblade. The autoblade is a special blade that auto-adjusts its blade depth to the material to be cut. So far, this is only available for the Cameo 3.
The Cameo also has an onboard touch screen, where you can load and cut designs without a computer using a USB drive. This is handy if you are traveling with the machine and won't have access to a computer.
Silhouette Curio vs Silhouette Cameo 3
Here is a side by side comparison comparing the Silhouette Curio vs Silhouette Cameo 3.
| | | |
| --- | --- | --- |
|   | | |
| | | |
| | | |
| | | |
| | | |
| | | |
| | | |
| | | |
| | | |
| | | |
| | | |
| | | |
| | | |
| | | |
| | | |
| | | |
Both the Curio and Cameo will be using the same type of software, except the Curio will have more software features unlocked for capabilities such as embossing and etching.
What kinds of materials can be used?
Anything type of material that the Cameo can die cut, the Curio can cut, even fabric materials. However, the Curio can use materials as much as 5mm thick and cut materials such as foam and leather, which will require a deep cut blade
Curio Etching
The Curio can etch onto soft metal surfaces, such as aluminum, copper, and brass.
Curio Embossing and Scoring
The Silhouette Studio designer is optimized to emboss and score on paper products. With some experimentation, however, you could try embossing on soft/think metals.
Overall Differences
The main difference between the Silhouette Curio and Silhouette Cameo 3 are the capabilities and size. The Curio is designed to have more variety when it comes to capabilities, like embossing and etching, but the Cameo 3 with its 12-inch cutting width is best for cutting materials.
Which machine do you use? Leave a comment and let us know!