The Tattered Lace Baby Blue die cutting machine is a cute, compact, and ergonomically designed die cutting machine offered through Create and Craft TV. Having a 7.5 cm / 3" cutting and embossing width, it is best for smaller projects, such as homemade cards or scrapbooking.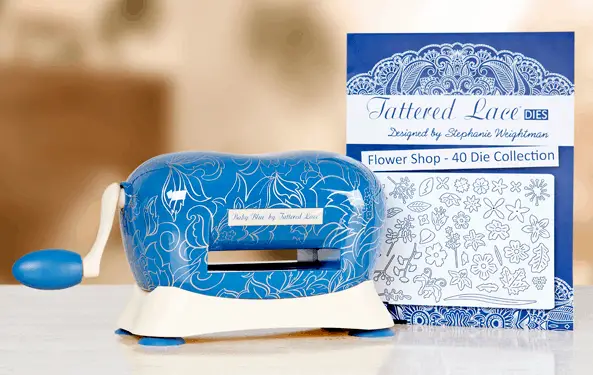 The Baby Blue die cutting machine is lightweight and compact, making it great for traveling and saving space in your craft room. The machine has an internal aluminum body and suction feet to secure it to you are working area.
This machine is also great for beginners because it comes pre-assembled and there are no complicated sandwiches to figure out, which also make it ideal for younger children.
Packages and pricing
Right now, there are two machine packages that are priced significantly different. One of the packages comes with the Flower Shop Die Collection and is priced at £129.98. The stand-alone package without the Shop Die Collection is only £49.99. If you are a Create and Craft TV member, you will be able to save on both of these packages.
Each package comes with the following:
Tattered Lace Baby Blue Die-Cutting Machine
1 A Base Plate (7.8cm x 16cm approx.)
2 B Cutting Plates (7.8cm x 16cm approx.)
Instruction Booklet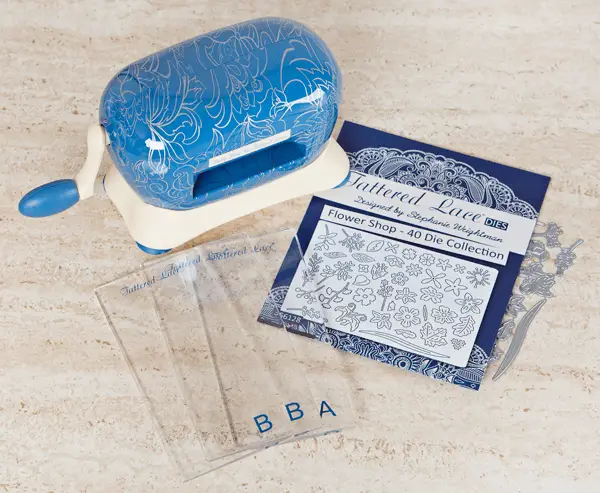 The Flower Shop Die Collection package comes with a whopping 40 dies, and none of the packages include an embossing mat. Some users have suggested you buy a larger embossing mat and cut it down to the right size.
Comparable Machines
The Baby Blue machine is very similar to the new Spellbinders Sapphire machine, which cuts and embosses up to 5.71cm / 2.25″. The Sapphire Machine does seem to have some advantages over the Baby Blue. Unlike the Baby Blue, the Sapphire machine has folding sides to help guide the sandwich through the machine. It also comes with an embossing mat.
Common Questions
Here are some common questions about the Tattered Lace Baby Blue die cutting machine:
What is the dimensions of the largest die I can cut?
You can cut any die up to a size of 7.8cm wide x 16cm long (3.07" wide x 6.29" long) on the standard plates and 7cm wide x 25cm long (2.7" wide x 9.8" long) on the extra long cutting plates.
Will the Baby Blue cut other brands of dies?
Yes, as long as they are thin dies that fit within the plate dimensions.
Why is the die not cutting all the way through?
Very detailed dies may take more than one run through the machine to cut. It may also be beneficial to add a paper shim to the sandwich.
How do I emboss a long strip of card using an embossing border folder?
Create the sandwich. Run the sandwich through the machine. Move the folder along the plates and run through again. Repeat until the strip is completely embossed.
Overall Thoughts
The Tattered Baby Blue die cut machine is great for working with smaller projects. Its compact size and lightweight material make it easy to store and carry around. Be careful, however,  what package you buy as there is a significant difference in price.