The Spellbinders Grand Calibur Die Cutting Machine has been around for a while and is still well known in the craft circles. The Grand Calibur machine by Spellbinders is similar to other manual die cut machines on the market such as the Cricut Cuttlebug and Sizzix Big Shot, but it does have its own advantages and disadvantages.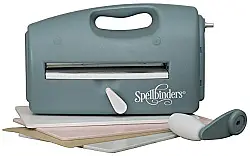 Now, if you are used to seeing the raspberry red colored machine, this teal version is Spellbinders newest machine. The only difference between the teal machine and the red machine is that the teal machine is stronger. The teal version has been given stronger support beams and gears
Machine Features
The Grand Calibur can cut, emboss, and stencil. Stenciling is a unique feature of Spellbinders that no other machine has. Another unique feature is that is can take full size 8 1/2 x 11 pieces of cardstock without trimming.
List of features:
Cut, emboss, and stencil
Cut 8 1/2 x 11-inch pieces of paper
Stability base that suctions to the table
Compatible with Cuttlebug and Sizzix dies and folders (excluding Sizzix Bigz)
Pros
One of the biggest advantages of using the Grand Calibur is the width of the machine. It can take full-size pieces of paper. This isn't the only machine that is wide enough for this, though. The Sizzix Big Shot Plus also has an 8 1/2″ opening, and Sizzix Big Shot Pro has a 13-inch wide opening.
Using the Spellbinder Grand Calibur is simpler than some of the competition. Because dies are limited, it's a lot easier to figure out how to create your sandwich and not deal with shims and various sized plates.
Cons
One of the drawbacks of the machine is that it isn't as small as some of the other machines like the Cuttlebug. The Cuttlebug folds up to save space, but the Grand Calibur is bulkier.
Another drawback of the machine is that the old machine has had a bad reputation of failing. Users have had handles break and loose screws come undone inside the machine. The new machine has stronger gears, but users still encounter problems. Surprisingly, though, despite these issues, some users still love their Calibur, and some say it embosses better than some of the other machines.
Overall Review
The Grand Calibur isn't the best machine, but it still has its purpose and there are users who still love the machine for its size and how well it can emboss. The machine often fails, and even though it does come with a 1-year warranty, it is an inconvenience to replace the machine.
Our recommendation is that you try out the Sizzix Big Shot, which is a lot more reliable and versatile.