The Klic-N-Kut Force is an innovative digital die cutter with features not found on other cutters in the hobby world. When it comes to power, there is no other die cut machine that compares. The force is also unique in that it has an onboard camera and a true z-axis. Learn all about the Force in this KNK Force Review.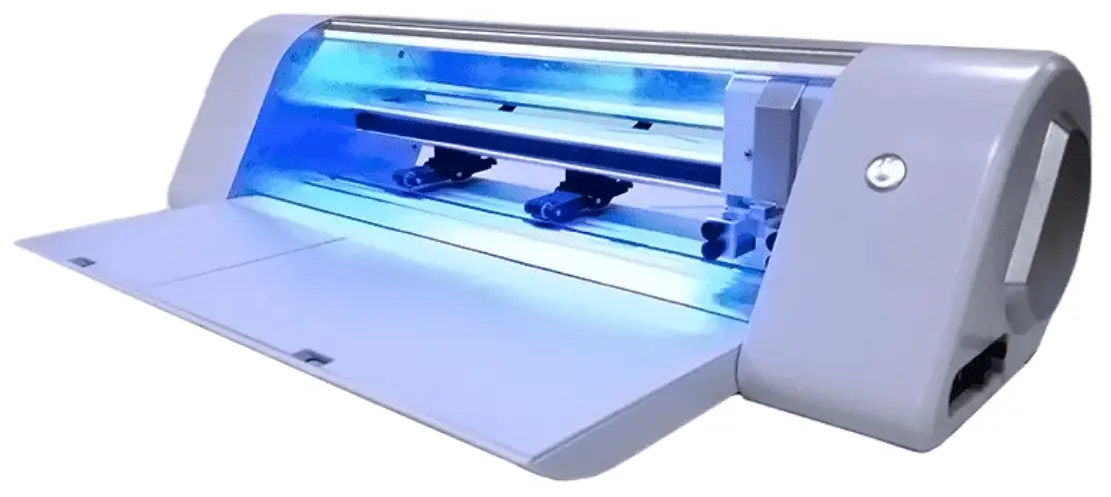 KNK Force Features
Here are some key specs of the Force:
It has a whopping 4000g of cutting force, thus the reason for the name. This is due to Z-axis control which will be explained later. By comparison, the Maxx Air has 1500g, Silver Bullet – 1250g, Pazzles Vue – 1000g, and all Silhouette models – 210g.
The maximum cutting speed is 750 mm/sec making this cutter ideal for production cutting as well as for busy crafters.
The cutting range is over 15" in width with unlimited length. A 15" x 15" mat is included with the Force, but you can also cut rolled materials, such as vinyl and HTV, without the mat.
There are three pinch wheels which can be moved to four different locations to accommodate other cutting mats or material widths.
The Force comes with one blade holder and two blades (one for thin materials and one for thick materials). Other optional accessories include a fabric blade, embosser, engraver, punch/piercer, rotary tool, and blade holders in other colors.
Z-Axis Control
The most important difference in the Force is that it can control both distance and speed moving vertically, unlike the typical solenoid cutters which drop the blade with a user-specified pressure. This feature, called Z-Axis control, results in a new approach to blade-based cutting and enables the use of the optional rotary tool.
Even though the Z-axis controlled head invokes a high downward force, this machine can still cut the thinnest of materials (i.e. paper and vinyl) with intricate detail:

The controlled downward speed allows the rotary tool time to drill to a certain depth before proceeding with cutting out a shape. It also permits cutting of denser materials like chipboard, without fear of breaking the delicate tip of the blade: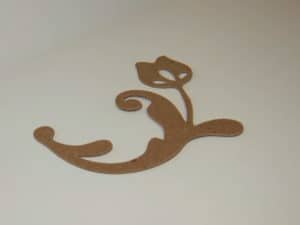 Multi-pass cutting is improved due to the ability to set both a starting depth and an ending depth. This allows the blade to work its way through a material instead of being forced through the material at a set pressure. The result is smoother edges on thicker materials like mat board:
The rotary tool further expands cutting to even thicker (~ 5 mm, 0.2 in) materials such as wood, acrylic, PVC, foam board, and even "old school" vinyl record albums:

The rotary tool also adds the ability to carve out materials, such as a Speedball stamp block:
Connectivity and Software
The KNK Force connects via Wi-Fi or Ethernet. Normally you set up the Force as a device on your home or office network. However, the Force can also be connected in a stand-alone Wi-Fi mode directly to a computer.
The Force has a built-in Raspberry Pi computer hosting a program called C3. While the program is currently only designed to open and cut SVG files, the cool aspect of C3 is that it works on any smart device you own. Thus, you can use your computer, tablet, and smartphone to launch C3 (all at the same time, if you desire) in your favorite browser (Chrome, Firefox, and Safari) to open and cut your file. Note that an Internet connection is not required unless there's a new update to download and install.
Besides C3, the KNK Force also cuts from Sure Cuts A Lot (SCAL), a popular vector design program amongst crafters. At a retail price of only $60, SCAL offers everything most users need in the designing and cutting of vector files. It imports a wide range of file formats, converts imported graphics (JPG, PNG, BMP) into cutting files, and includes dozens of easy-to-learn designing features.
Two Heads Are Better Than One!
Dual heads on the Force allow the user to draw and cut, score and cut, emboss and punch, and so forth in one execution. While several other cutters in the hobby market have dual heads, none of them allow you to insert virtually any marker or pen directly into the cutter or use other brands of embossers, punch tools, engravers, etc. Any two tools can be calibrated for alignment giving the owner a range of applications. The following video shows a score and cut application to make a box:
Onboard Camera for Print and Cut Applications
Print and Cut (PNC) applications are achieved using a built-in camera which projects an image onto your monitor or smart device. The magnified image allows for extremely fast and accurate alignment by simply moving a red + over the corner of a projected registration mark:

Force owners who have owned other brands of PNC machines report very high satisfaction with the accuracy and speed of the camera process. Here are some examples of user-shared PNC projects:
Additionally, the Force passes the litmus test of perfectly cut, pre-printed circles across a full sheet. This is seldom possible with other hobby cutters on the market because of a gradual drift in accuracy as the cuts progress:
PNC Drift Test conducted on KNK Force:
Similar PNC Drift Test conducted on Silhouette Cameo (note inaccuracy in top few rows):
Similar PNC Drift Test conducted on a Pazzles Vue (note inaccuracy in lower right segment):
Issues
All cutters have some drawbacks. The following issues are the standout ones on the Force:
The Force is not a plug and play device. The initial setup requires adherence to specific steps in the user manual. Those owners with outdated routers or certain brands of network equipment (such as an all-in-one router-modem combination) may not be able to establish reliable Wi-Fi connectivity. However, KNK USA will happily assist anyone needing help setting up their Force.
Learning how to successfully use the Force requires one to read certain sections of the user manual. There are video links in the manual to facilitate learning, but you will not master this machine by experimenting or relying on knowledge about other cutters. Especially important is the chapter on the rotary tool. Failure to follow those instructions can result in cutting through the material, the mat, and into the Force itself!
Not all SVG files will open in C3. Documentation is provided for SVG export from Adobe Illustrator, Corel Draw, Inkscape, Make The Cut, and Sure Cuts A Lot. If you do not know the source of an SVG file, then usually you must open and re-export it from one of these programs. This issue, fortunately, does not affect cutting from SCAL.
At the time of this writing, the auto PNC feature is not complete. Manual PNC, as described earlier, works well and is far easier and faster than the laser-alignment method on older KNKs and other brands of cutters, such as Silver Bullet, Black Cat, and Gazelle. But Force owners were promised Auto PNC and are still awaiting its arrival. The delay is due to resolving other software issues first and KNK USA has assured its customers that these issues are actively being addressed. Auto PNC, as well as other enhancements to C3, are still very much on the To Do list.
Availability and Support
The KNK Force is available worldwide with distributors in the USA, Canada, United Kingdom, Australia, Ecuador, Saudi Arabia, South Africa, and Poland.
KNK USA's commitment to customer satisfaction is second to none. With over 25 years of experience in selling and supporting cutting machines, KNK USA knows the importance of making sure customers buy what they need. Prior to purchase, sample materials can be submitted for testing and mailed back to the prospective buyer for inspection. Detailed user manuals, online videos, Facebook and Yahoo support groups are open to the public, as well as to all KNK owners. When tech support is needed, owners can either call in or start a support ticket. If necessary, help by phone or Skype can be scheduled outside of KNK USA's normal Monday-Friday office hours.
Overall KNK Force Review
While the KNK Force has had some growing pains in its first year and requires new owners to read and learn how to properly operate it, it's also proven to be a solid machine capable of production cutting from a wide range of materials. Further, it offers precise print and cut applications, accurate dual head functionality, plus the ability to engrave, emboss, pierce, and draw:
The rotary tool provides additional functionality not possible with any other digital die cutter in the hobby market:
If these exceptional features are something that will work for your business or just enhance your crafting experience, may the KNK Force be with you!