The Fiskars Fuse Creativity System is no longer available through Fiskars, but because it's still popular, we felt the need to write a review. You can still buy the Fiskars Fuse new from Amazon for a fraction of the retail price. The Fiskars Fuse is a die cut machine has a wide 12″ opening. Not only can the Fuse die cut and emboss, but also letterpress, which is a process of making inked impressions.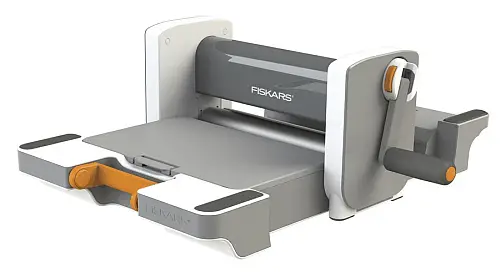 Machine Features
The Fiskars Die-cut and Letterpress Creativity System is a manual die cut machine, which means it is hand operated. There is no batteries or electricity needed for this machine. Materials are sent through the machine by cranking the handle, which is easy to turn.
The Fiskars die cutting machine allows users to mix and match capabilities, such as:
Die cut (die only)
Die cut + letter press (die, plate + ink)
Die cut + deboss (die, plate)
deboss (plate only)
letterpress (plate + ink)
To see how the Fiskars Fuse can die cut and letter press, see the following video:
Users have had very good results die cutting and letter pressing with the Fuse machine. When die cutting, the material is cut with nice crisp edges. When letter pressing, the ink is very vibrant and vivid.
Some other neat features about the Fiskars die cut machine is that it has a storage compartment underneath the base and the machine folds up like a suitcase. The Fuse machine weighs about 26 pounds, which is heavier than your typical manual die cut machine, but it's still transportable. Because of it's weight, the machine is very stable. The Fuse is also durable and is the quality that we would expect from Fiskars.
Cutting dies
The Fiskars Fuse has a 12-inch cutting width, which is much larger than the Sizzix Big Shot and Cricut Cuttlebug machines. The Fuse can take a wide variety of dies from other manufacturers, however, to do so, the machine requires the Adapter Kit.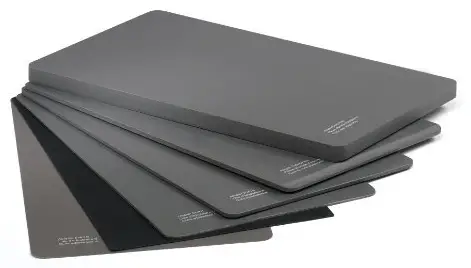 The Adapter Kit is made up of various plates and shims, so you can use dies from other companies such as Sizzix, Provocraft, and Accuquilt. Keep in mind, the adapter plate measures 7 inches wide and 13 inches long. If you have dies bigger than this, the plates won't work.
Some users have had success making their own plates and shims out of plexiglass and gasket sheets.
Check out the Adapter Kit Sandwich guide below.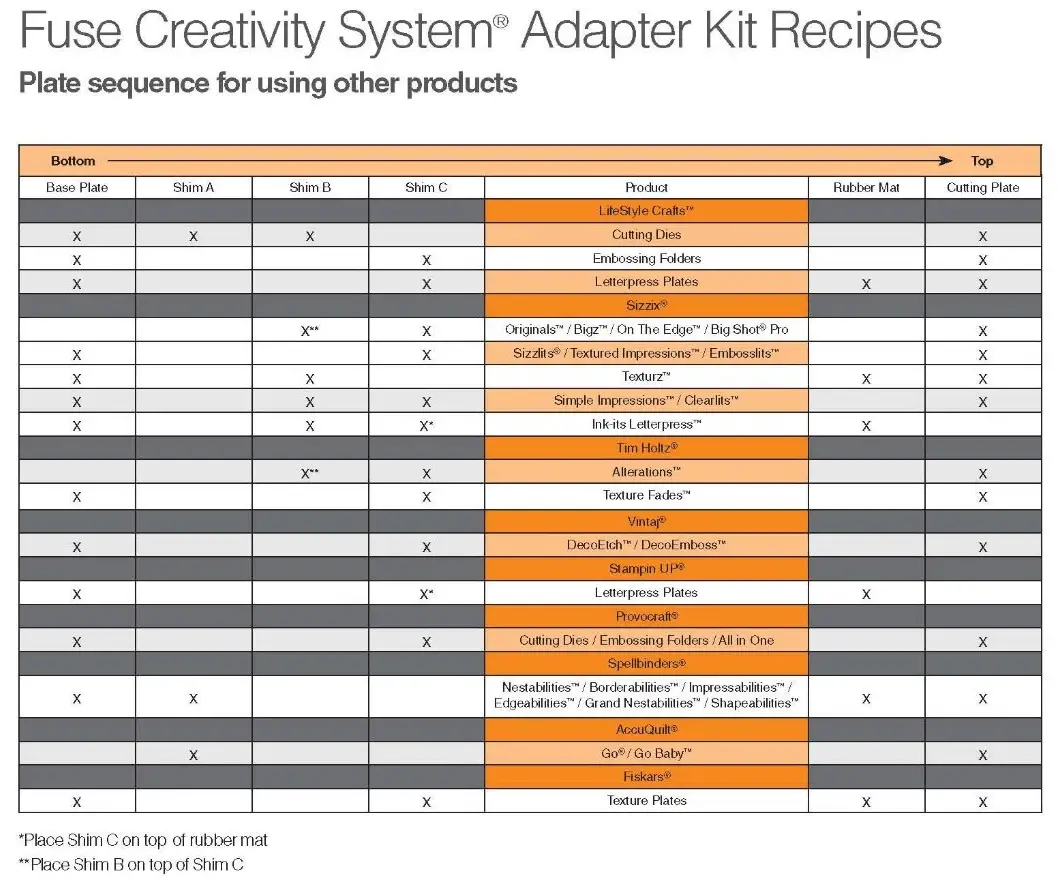 Letterpress and Embossing
For either letterpress or embossing, once you have a design set, you can buy purchase expansion sets. Expansion sets have the same shape as the design set, but have a different design. For example,you may have the Fiskars Fuse Creativity System Tag Design Set, which comes with a die and two letter press designs. If you wanted more letter press designs, you can purchase the Fiskars Fuse Creativity System Tag Desing Plate Expansion Pack.
Overall Review
Overall, the Fiskars Fuse is a versatile and well-built machine. It has been discontinued, but you can buy it for a fraction of the original price, which makes it quite appealing. It has some weight to it, but it can fold up, making it more portable. The main appeal of the machine is its compatibility with dies from other companies and letter pressing capabilities.
If you are aren't interested in letter pressing and don't need such a large size, consider the Sizzix Big Shot instead. The Big Shot is a smaller die cutting and embossing machine, and it can work with dies from other companies too.
If you are looking for something even bigger and rugged, consider the Sizzix Big Shot Pro. The Big Shot Pro is designed to be stationary and has a 14-inch wide opening. It's also more expensive than the Fuse.
We hope this Fiskars Fuse Review has helped! Do you have any questions or comments? Do you own a Fuse machine? Let us know what you think and leave a comment below!